Suica And Pasmo IC Cards - How To Purchase Your Own
IC cards are convenient prepaid transportation tickets, such as Suica and Pasmo. These rechargeable passes can be used on trains, subways, and buses in Tokyo, Osaka, and most areas in Japan. This article explains how and where to buy Suica and Pasmo cards, and IC cards of other regions, like ICOCA.
Suica, Pasmo, and IC Cards - Buying Prepaid Transportation Passes in Japan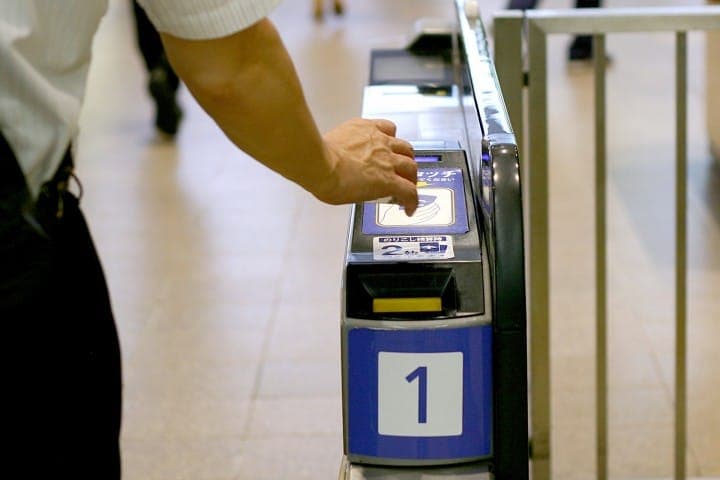 Tap an IC card at a train station gate to enter.
IC cards such as Suica, PASMO (Pasmo), and other prepaid transportation tickets are commonly used in Japan. They are very helpful to travelers and visitors as well. 
Reusable and rechargeable, these prepaid cards allow you to ride train and subway stations with just a tap at the entrance, in Tokyo, Osaka, Kyoto, Nagoya, and most areas in Japan. You can also use IC cards for other public transportation methods, including buses, and for shopping at convenience stores and other retailers.
This article introduces how to purchase to Suica and Pasmo cards, two major IC cards sold in the greater Tokyo and east Japan area. Learn how and where to buy these useful reusable tickets for riding trains and public transportation like a local.
What Is a Suica Card?
Suica is a prepaid IC card issued by JR East Railways. This IC card allows you to travel all across Japan with just a tap, useable at subway and metro stations, JR lines, and non-JR lines. As the Japan Rail Pass only works on JR lines, having a Suica is highly recommended when using other railways. The Suica can also be used to make purchases at station kiosks, convenience stores, and vending machines.
The Suica card can be charged at any train station and even at convenience stores. With a Suica card, there is no need to buy tickets for each ride on subways and trains. You can enter and exit the train stations by merely touching the card reader with your Suica card.
You can also use your IC card to pay at convenience stores, at most vending machines and shops inside train stations and even some restaurants.
Suica cards are only sold in the eastern Japan area (wherever East Japan Rail operates). This includes the greater Tokyo area and Tohoku (northern Japan).
How to Purchase a Suica Card: Online and In-Person
Purchasing a Suica card is very simple. One way is to reserve Suica online, using companies like Klook. Pick it up at Narita or Haneda airports, or within Tokyo. You'll be ready to start using your Suica without any stress or hassle.
Click to Reserve your Suica Card
For those who are buying one at a train station, follow the directions below to buy a card.
1. Find a Ticket Machine
Suica cards can be purchased through ticket machines available at any JR East station. To buy one, please find a ticket vending machine as shown above.
First, we recommend changing the language to English to make the following steps easier.
2. Purchase a New Suica
After you changed the language setting, you need to press the "Purchase a New Suica" button. In this picture, it is the blue button.
3. Select the Type of Suica
You can choose the amount of yen to put on your Suica initially. Anything from 1,000 yen to 10,000 yen is possible. Select the button of the Suica card you wish to purchase. In this case, we chose a Suica card worth 2,000 yen.
4. Insert Your Payment
If you choose the card worth 2,000 yen, the card itself will have a 1,500 yen charge. The cost of the card itself is 500 yen and is a deposit. Go to the JR East Green Service Counter, also known as "Midori no Madoguchi", to get your deposit back by returning your Suica.
5. Use Your Suica Card
The Suica card is ready to use right away. Now you do not have to worry about buying tickets each time you ride on trains, subways, or buses. If the Suica is empty, charge it at one of the tickets machines.
Buy a Mobile Suica
Suica can be even more straightforward with the use of a smartphone application. Just download the app and connect it to your credit card. You can recharge it wherever and whenever you want.
You can either purchase a new Suica card via this app or transfer your old one by scanning it with your mobile camera. Once you have created your mobile Suica, touch your phone on the card reader whenever you enter or exit the gates at the train stations.
What is a PASMO Card?
A PASMO card is nearly identical to the Suica. It allows for entrance and exit to train, subway, and metro stations with a simple tap. It can also be used on some buses and to make purchases. The only significant difference is its appearance (shown above) and where you can purchase it.
Non Japan Rail (JR East) stations in eastern Japan sell PASMO. In Tokyo, you can purchase it at Tokyo Metro, Toei Subway, and most other railway companies, like Keisei. PASMO is very convenient if you are not at a JR station but want to get a prepaid card quickly. It can be used at JR stations and across Japan as well.
The PASMO card is purchased in a similar way to the Suica. Go to a ticket machine, change the language to English, and follow the instructions.
A special PASMO with Sanrio characters, called the PASMO PASSPORT, is available to buy at station ticket counters (not at machines). It is an IC card usable for 28 days. You can purchase it at Narita and Haneda airports, as well as at Tokyo Metro stations like Ueno, Shinjuku, and Meiji-jingumae.
ICOCA in Osaka, Kitaca in Hokkaido - IC Cards All Over Japan
Each major region of Japan sells a different prepaid, reusable transportation card. The above-mentioned Suica and PASMO cards are used widely and sold in eastern Japan. In the Osaka, Kyoto, and greater Kansai region (West Japan Rail Company), ICOCA is used to get around. You can purchase an ICOCA card online via Klook or at ticket machines at train stations in west Japan, in a similar method to the Suica or PASMO.
Other cards include Kitaca in Hokkaido, Manaca in the Nagoya area, and Sugoca in southern Japan (Kyushu). It is possible to use a Suica card in these areas as well (some exceptions apply).
Whatever their name might be, they work all the same and can be purchased the same way. If you are mainly planning to travel around in Japan by subways, trains or buses, IC cards are the easiest way to go.
Get Around with Ease with an IC Card
An IC card is the easiest way to get around and make casual purchases in nearly every area of Japan.

An IC card also makes a great souvenir and can be reused during future visits. Be sure to purchase an IC card and enjoy convenient, eco-friendly travel on Japan's trains and public transportation.

The information presented in this article is based on the time it was written. Note that there may be changes in the merchandise, services, and prices that have occurred after this article was published. Please contact the facility or facilities in this article directly before visiting.