Japanese Vending Machine Guide - How To Use And Lesser-Known Facts
Vending machines can be found nearly everywhere in Japan. Learn which types of beverages and items to buy and how to successfully use these handy machines. We also introduce facts about vending machines and some unusual things you can find.
Japanese Vending Machines - Convenient and Ever-Present
Have you ever used or heard of vending machines in Japan? They are found in nearly every corner in the world, but this extremely useful invention is particularly abundant in Japan. With around 2.47 million beverage vending machines throughout the country, Japan has the highest density in the world. There is even a vending machine on Mt. Fuji's summit.
Continue reading to learn about why there are so many vending machines in Japan, see what types of beverages you can buy, and discover some out-of-the-ordinary machines.
Background and Success in Japan
A vending machine corner at JR Akihabara Station with coffee, milk, and other beverages.
The significant amount of vending machines in Japan compared to other countries is related to several factors. Historically, vending machines started being used in the 1960s and are thought to have become successful due to the low crime rate in Japan. Also, in 1967, the supply of 100 yen was reminted and increased, making these machines easier to use.
Other major factors that have helped vending machine maintain their presence is a high population density and a need for convenience from the employed population. Operating at all hours, vending machines are simple and handy for quenching thirst and hunger when no stores are open. Vending machines can be operated at a low cost, requiring no employees to sell the merchandise, unlike convenience stores.
How to Use a Vending Machine in Japan
Vending machines in Japan are simple to operate, but many of them do not contain English explanations for operation or drinks. It might be a little confusing if you are a first-time user.
1. Insert Your Payment
Perhaps the most important thing to know about vending machines in Japan is that you must insert your payment first. Once you do so, the lights on the vending machine will be illuminated. Vending machines take 1,000 yen bills, 500 yen, 100-yen coins, along with 10 yen coins. You cannot use 5 yen or 1 yen coins, or other denominations of bills.
Sometimes you will find vending machines at train stations with digital touch-pad displays. You can pay with cash at these machines, but they also accept different prepaid IC cards. Tap your card first before making your selection.
2. Choose your Beverage
After inserting payment, select which beverage you want by pushing the button underneath. Vending machines sell both cold and hot drinks (hot drinks are available during fall and winter only). Pictured above is a vending machine with an inventory of hot and cold beverages, including water, soft drinks, energy drinks,  juice, tea, and canned coffee. This is a common selection, but the selection and price vary by machine.
If you don't read kanji (Chinese characters) it may be difficult to buy your desired drink or know what options there are. For example, a beverage that resembles water may be flavored or a carbonated sports drink. It can also be hard to tell which coffee contains milk and sugar. Below is a table with some common beverages.
| | |
| --- | --- |
| Common Labeling | Meaning |
| 水 | Water |
| ジュース | Juice |
| お茶, 御茶, 緑茶 | Green tea |
| コーヒー | Coffee |
| ミルクティー | Milk tea |
| 麦茶 | Barley tea |
| ココア | Cocoa |
| 砂糖, 微糖 | Contains sugar; reduced sugar |
| 無糖 or ブラック | No sugar, black (coffee) |
3. Don't Forget Your Change!
After choosing your desired drink, pick it up from the bottom of the machine, and take your change. People often forget their change, but the coins make noise upon falling into the change tray (shown above). If you get a warm drink, be careful of the heat when you first hold it, as it will be hot. Open the beverage and enjoy!
Sold-Out Drinks and a Money-Saving Trick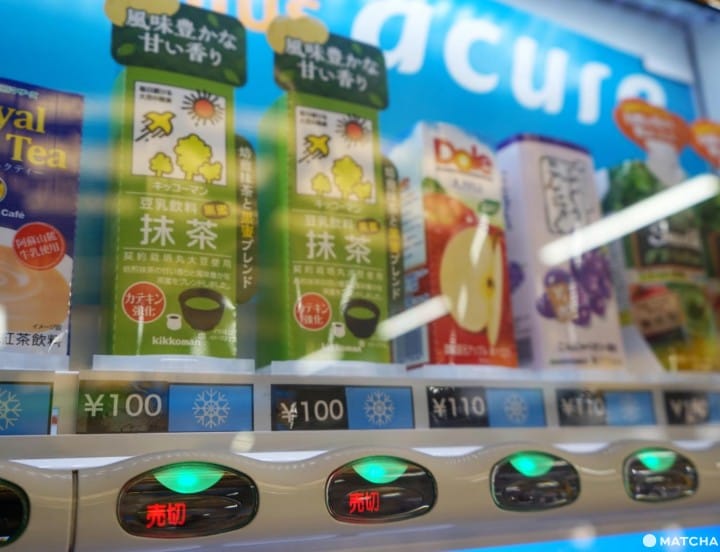 Sold-out matcha soymilk
On rare occasions, there will be no reaction from the machine after you choose your desired drink. If the button flashes red or displays what is shown above, the drink is not in-stock. Unless there are multiple slots with the drink, you will have to order a different beverage or push the change lever for a refund. If this does not happen, there is a chance the machine is broken.
In addition, prices vary by vending machine. For instance, the drinks sold at train station platforms may be available for a lower price at a machine outside of the station. Also, you can find 100-yen coin vending machines (pictured above) where you will find all or most drinks for 100 yen.
Strange Vending Machines
Canned Oden and Snacks
While vending machine selling the beverages mentioned above are the most common, you may see ones with more unusual options. Pictured above is the selection from a vending machine corner in Akihabara. It sells oden in a can (upper-right). Another option you will find sometimes are various snack items, like potato chips.
Beer and Dashi
Another surprising drink you can buy is alcohol. Machines selling beer, cocktail drinks, and even sake can be found occasionally in big cities like Tokyo and Osaka, as well as in rural regions. As the legal drinking age in Japan is twenty, an identification card is required to buy alcoholic beverages.
The popular sightseeing area of Asakusa has a vending machine that sells dashi, or soup stock. This is high-quality dashi made with kelp, and it even has a fish inside. It is meant for use in cooking soups and other Japanese dishes, so please do not drink this by itself.
The Hospitality of Vending Machines
Vending machines are a basic but vital invention for everyday life in Japan. Available 24 hours a day, the convenience and reliability of these machines perhaps reflect many aspects of Japanese culture and society, too. Come experience this for yourself by going to a vending machine for a refreshing beverage. Please keep in mind that there are many other types of beverages and food available that are not listed in this article. Have fun exploring!

The information presented in this article is based on the time it was written. Note that there may be changes in the merchandise, services, and prices that have occurred after this article was published. Please contact the facility or facilities in this article directly before visiting.