Yamato Transport's Hands-Free Travel Service - Enjoy Tokyo Hassle-free!
Hands-Free Travel is a luggage storage service for visitors to Japan. Store your luggage for just 800 yen/day at one of Yamato Transport's Hands-Free Travel counters. We introduce the features of this service focusing on the Asakusa Nakamise Center.
Tokyo is the most densely populated city in Japan. In addition to the people living here, the city has a constant flow of visitors every day. Moving around with a suitcase in the busy areas means a lot of hassle for both travelers and residents.
Why not leave your suitcase at one of Yamato Transport's Hands-Free Travel service counters and explore Tokyo's popular sightseeing districts without hassle or delay?
Yamato Transport's Hands-Free Travel Service
The logo mark of Yamato Transport's Hands-Free Travel counters. Picture courtesy of Yamato Transport Co., Ltd.
Yamato Transport Co., Ltd. is one of Japan's leading delivery service companies. Its trademark, a black cat carrying a kitten against a yellow background, is easily recognizable. They are known and loved for the quality of their services.
Hands-Free Travel is a service launched by Yamato Transport in response to the needs of international visitors to Japan. Travelers can leave their luggage temporarily at one of the Hands-Free Travel counters while they enjoy sightseeing around the city.
While all the major train stations have coin lockers, it is often the case that they are all full or that the lockers are not large enough for the suitcases. You wouldn't have to worry about if you use the services of a Hands-Free Travel counter.
Moreover, you can open your luggage any time to store something inside or take something out without paying the storage fee a second time.
Bought too many souvenirs? Forgot to take your jacket out of your bag? No problem! Just ask for your baggage at the counter, solve the problem, then put it back. Afterward, you can keep enjoying your sightseeing with free hands.
Here's How It Works! Yamato Transport Asakusa Nakamise Center
The Yamato Transport Asakusa Nakamise Center is a Hands-Free Travel counter located close to the famous Sensoji Temple in Asakusa. It can be reached in 5 minutes by foot from Asakusa Station.
The great news is that you don't need to apply beforehand. Simply roll in with your suitcase and ask for the Hands-Free Travel service.
The storage fee is 800 yen per item. The staff will give you a paper slip to fill in your name, the date, and your telephone number in case they need to contact you. (From October 1, 2019, you can register using just your e-mail address.)
The storage fee is paid beforehand. You can only pick up your suitcase within the business hours (8:00 to 21:00 on weekdays, 8:00 to 20:00 on Saturdays, Sundays, and holidays). If you miss the closing time, an additional 800 yen per item is charged. You can pay the additional fee when you pick up the suitcase on the next day.
Your suitcases can also be delivered to your hotel or to the airport from here. The delivery fee varies depending on the distance. Please inquire to the staff if you are interested in this option.
While the coin lockers in Asakusa Station may be all already occupied, you won't have any trouble storing your suitcase at the Yamato's Asakusa Nakamise Center. They have storage space for at least one hundred normal size suitcases.
Enjoy Traveling around the City Hands-Free!
Once you got rid of your luggage you can start freely exploring the city. Here are some of the advantages of using the Hands-Free Travel service in Asakusa, one of the most popular sightseeing areas in Tokyo.
1. Easily Navigate through Crowded Places
Just arrived in Japan and want to explore the city right away? There is no need to drop by your hotel first to leave your luggage and lose precious time. You can come directly to Asakusa, leave your luggage at the Asakusa Nakamise Center and then start exploring the city right away.
Dragging a suitcase through crowded places like Asakusa can be really troublesome, so once you've stored your luggage at the Hands-Free Travel counter, you won't need to worry about it anymore.
You will not be bothered by uneven ground or the narrow streets that already barely have enough space for people to walk.
2. No Heavy Laguagge at Stations without Escalators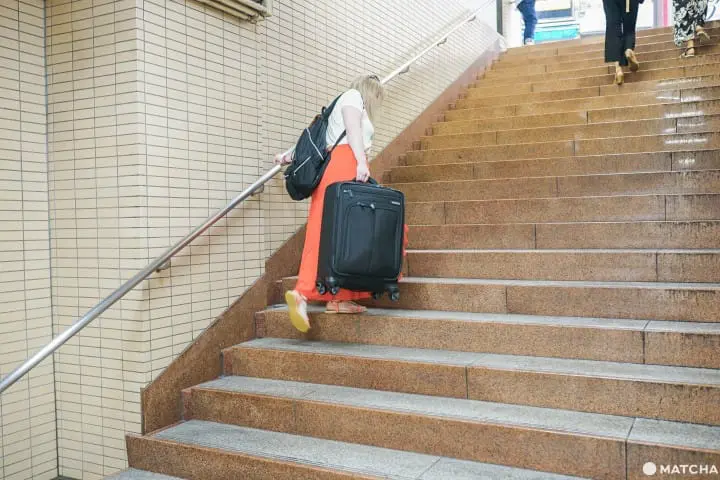 Some of the train station exits have no escalators. If you want to take the train and visit some other part of the city or you're just looking for a coin locker that isn't occupied, you would have to carry your suitcase up and down the stairs.
By storing your luggage at the Hands-Free Travel counter, you just drop off your luggage and leave. No need to search for lockers or lift heavy luggage all day.
3. Take Memorable Pictures in the City
If you get rid of your luggage immediately after your arrival, you can start taking pictures and exploring the city as soon as you arrive. No worries about having an eye on your suitcase while you try to keep it out of your photo.
There is also no need to skip out on places you wanted to go to just because it is simply too tiring to pull the suitcase there. You can go wherever you want and start making great memories of your trip from the first day.
4. Enjoy Asakusa's Retro Cafes
Asakusa is known for its nostalgic cafes with their variety of green tea delights and traditional snacks. These cafes, though charming, tend to be small and are usually very crowded. There is hardly any space for a suitcase or a big bag.
If you want to enjoy Japan's famous snacks and sweets right away, it's best to get rid of your luggage first.
5. Enjoy Snacks and Drinks while Exploring Asakusa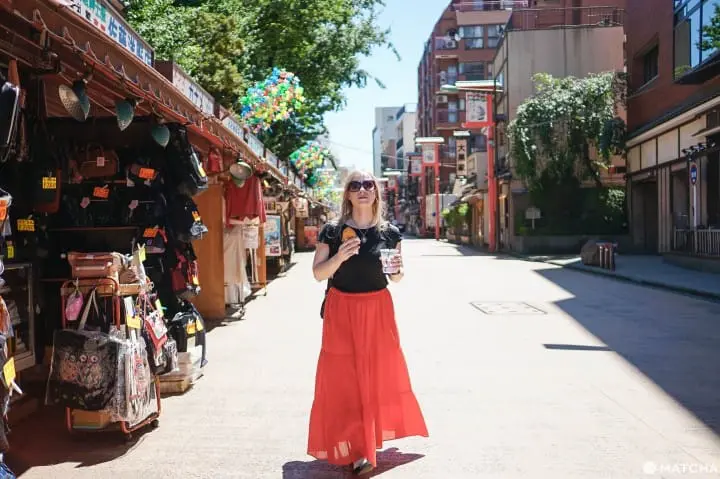 All around Asakusa, there are small shops offering local snacks and drinks such as taiyaki (fish-shaped sweet treats), bubble tea, ice cream or fresh mochi cakes. It is hard to enjoy these delights when one of your hands is occupied with a suitcase. This is another good reason to store your luggage at the Hand-Free Travel counter first and then start exploring the city.
Please note, however, that it may be alright to eat while walking in some areas of Japan, but other places might prohibit it, especially if it's on shrine and temple premises. Most stalls and shops have benches to sit on or an area where customers can stand while enjoying the snacks.
Other Hands-Free Travel Counters in Tokyo
Asakusa is not the only place where you can find a Hands-Free Travel center. There are Yamato Transport Hands-Free Travel counters all around Tokyo, including places like Tokyo Station, Akihabara, and Kanda. Here are the main centers in eastern Tokyo.
Center
Address
Weekdays
Saturdays
Sundays and holidays
Suzurandori
MAP
Chiyoda, Kanda Jinbocho 1-32 Omiya Nex Building
9:00-19:30
9:00-18:00
Closed
Kojimachi Kaizaka
MAP
Chiyoda, Hirakawa-cho 1-5-5 Ohno Building 1F
9:00-19:00
Closed
Closed
Jinbocho Ekimae
MAP
Chiyoda, Jinbocho 2-4 Ueguri Buiding 1F
8:00-20:00
Closed
Closed
Asakusabashi Ekimae
MAP
Taito, Yanagibashi 1-13-6 Yaguchi Building
8:00-20:00
8:00-18:00
8:00-18:00
Kappabashi Dogu-gai
MAP
Taito, Matsugaya 1-9-15 Ishikura Building
9:00-21:00
9:00-19:00
9:00-19:00
Ueno 5-Chome
MAP
Taito, Ueno 5-8-5 CP 10 Building
8:00-21:00
8:00-21:00
8:00-21:00
Akihabara Ekimae
MAP
Chiyoda, Sotokanda 1-15-8 Hoshino Building
9:00-19:30
11:00-18:00
11:00-18:00
Please keep the business hours in mind in order to avoid paying for two days of storage instead of one.
Another important point is that Yamato Transport can deliver luggage anywhere in Japan but they do not ship overseas.
For more information, please visit the official website of Yamato Transport's Hands-Free Travel service:
Yamato Transport's Hands-Free Travel Official Website
Use the Hands-Free Travel Service and Enjoy Traveling Hassle-free!
Searching for a free coin locker and dragging a heavy suitcase around busy streets takes a lot of time and precious energy that you could use for exploring the city instead.

By using Yamato Transport's Hands-Free Travel service, you can enjoy sightseeing without worrying about your luggage. After shopping for souvenirs, you can drop by the center and put the items in your suitcase, then keep on exploring the city.

Why not enjoy Tokyo hassle-free?



Written by Chiara Mischke
Sponsored by Yamato Transport Co., Ltd.

The information presented in this article is based on the time it was written. Note that there may be changes in the merchandise, services, and prices that have occurred after this article was published. Please contact the facility or facilities in this article directly before visiting.