From Museums To Shopping! A Trip Itinerary For Kurashiki
Kurashiki, located in Okayama, is a beautiful place with many historical townhouses and warehouses. In this article, we follow a one-day itinerary designed to showcase these stunning locations and art spots.
What Kind of Place Is Kurashiki?
Kurashiki, located in Okayama prefecture, is a town that flourished under the direct control of the Edo Bakufu government. With traditional machiya houses and warehouses in abundance, you're sure to feel the weight of Japanese history in the air around you as you walk by the white plastered walls of this popular town. And with the Ohara Museum of Art as its representative art gallery, Kurashiki has also become a city where the fine arts have prospered as well.
How to Reach Kurashiki from Okayama
The most convenient route to take from Okayama city to Kurashiki is the train. Take the JR Sanyo line from Okayama Station to Kurashiki Station; it takes only 15 minutes and costs 320 yen. The majority of the sightseeing spots and the most beautiful districts in Kurashiki are located with about a 15-minute walk from the station.
For directions on how to travel to Okayama from Tokyo or Osaka, please refer to:
Okayama and Kurashiki Travel Guide: Sightseeing, Local Food, Festivals, specifically the section entitled 'Access to Okayama'.
Model Sightseeing Course for Kurashiki
Photo courtesy of: Kurashiki Tourism Board
This model itinerary for Kurashiki will focus on its two most famous points: viewing some of the more beautiful and historical buildings in the town and checking out some of the galleries. By using the following course as a guideline, you're sure to spend a very aesthetically satisfying day in Kurashiki.
9:00 Depart from Kurashiki Station for Ohara Museum of Art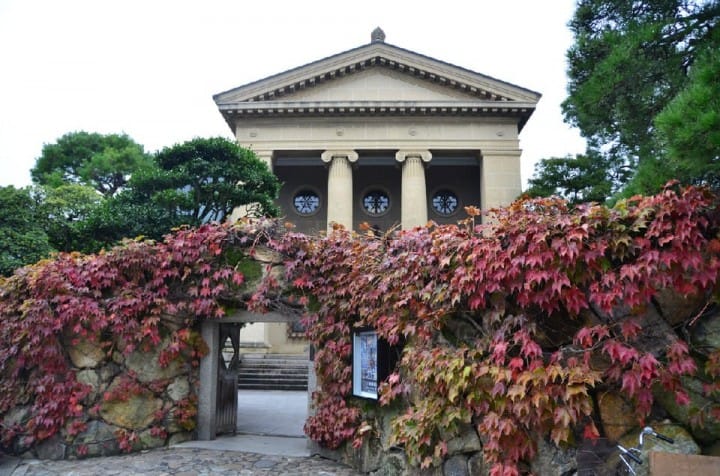 The Ohara Museum of Art is a 15-minute walk from Kurashiki Station.
At the Ohara Museum of Art, not only will you find works by Picasso, Monet, Gauguin and other internationally known painters, but carvings and other pieces by Japanese artists as well. Visitors can also appreciate Japan's four seasons here at the incredibly popular Shinkeien Garden, which has free admission. It's best to visit this place in the morning - that way you can really take your time and enjoy the space. For more about the Ohara Museum of Art, please see: Monet and Picasso!? Early Works of World-Famous Painters at Ohara Museum of Art.
Ohara Museum of Art
Address: Okayama, Kurashiki, Chuo 1-1-15
Website: Ohara Museum of Art
10:30 Stroll Through the Beautiful District and Have Lunch
After taking in the arts at the Ohara Museum of Art, let's now head towards the beautiful, historical district known as a 'Bikan' in Japanese. The numerous historical machiya houses spread out around you here, making it a charming place to enjoy the atmosphere of the past, as this area has been both preserved and protected for over 300 years, from the Edo era.
Some of the machiya and warehouses have been re-purposed into restaurants, cafes, and small shops selling various souvenirs and general goods. Stop by one of these renovated traditional houses for lunch and then soak up the historical ambiance of the area by looking for souvenirs at Nyochikudo, a great little shop that has a variety of interesting items.
Also, after sunset, the lights are lit in the city, creating different fantastic sights, such as the effect of the lights as they reflect through the old latticed windows, or the image of the white walls as they reflect on the river. To learn more about this stunning area, see: Kurashiki Bikan - Where 300 Years of History Still Linger.
13:00 Boating Downstream
Photo courtesy of: Kurashiki Tourism Board
On the Kurashiki River that flows to the center of the Bikan, you can also enjoy a trip downstream piloted by their expert boatmen. The cruise departs every 30 minutes from 9:30 to 17:00 and costs 500 yen for adults and 250 yen for children. Tickets can be purchased from the Kurashiki Tourist Information Center.
Kurashiki Tourist Information Center
Address: Kurashiki Chuo 1-4-8
Website: Kurashiki Tourist Information Center
13:30 Visit Kurashiki Ivy Square
Photo courtesy of: Kurashiki Tourism Board
Nearby the Bikan area you will find Kurashiki Ivy Square, a red brick building built in the Meiji era that housed a spinning mill that is covered in lush green ivy - hence the name. At Kurashiki Ivy Square, you will find the Kurabo Memorial Hall, which has exhibits on the history of spinning in Kurashiki, a workshop where you can take part in pottery making classes, a music box museum, and the Kojima Torajiro Memorial Hall, so please take your time here and enjoy the sights. Tickets for the Kojima Torajiro Memorial Hall can be purchased from the Ohara Museum of Art.
Kurashiki Ivy Square
Address: Kurashiki, Honmachi7−2
Website: Kurashiki Ivy Square
15:00 Visit the Momotaro Folktale Museum
As soon as you exit Ivy Square, you will come across Momotaro's Karakuri Museum. The popular folktale Momotaro is said to have originated in Okayama, and in this museum you can see exhibits of historical materials and other exciting attractions made using karakuri, or mechanical dolls.
Momotaro's Karakuri Museum
Address: Kurashiki, Honmachi 5-11
Website: Momotaro's Karakuri Museum
In Conclusion
And that brings us to the end of our one-day course in Kurashiki. If you find that you have extra time after visiting the museum, why not stroll through the town and see how the atmosphere of this historical townscape changes once the sun sets? Please think of this article as your guide to sightseeing in Kurashiki.

** Any prices included in this article are based on information provided by the facilities themselves, and are current as of December 2016. These are subject to change, so please check the prices yourself before traveling.

The information presented in this article is based on the time it was written. Note that there may be changes in the merchandise, services, and prices that have occurred after this article was published. Please contact the facility or facilities in this article directly before visiting.