Okayama And Kurashiki - Discover Amazing Fruit Desserts And Love Shrines
Thanks to its tasty fruit, Okayama is also called "Japan's Fruit Kingdom". Today, we bring you on a trip that will make your mouth water and your heart full of hope - a sweet and tasty trip to discover Okayama's fruit and love fortune shrines!
Okayama - The Land of Sunshine and Kingdom of Sweets!
Okayama, also known as "the land of sunshine", is located in the Chugoku Region of Japan and has the perfect environment for fruit production, thanks to its warm climate and many sunny days. As it is the land of delicious fruit, it is also often called a "fruit paradise". The three qualities – the ideal percentage of sugar, along with the impeccable aroma and flavor, are the perfect triangle that describes the deliciousness of Okayama fruit.
But, not only delicious fruit wait for you in Okayama. You'll discover its charming landscapes, shrines, and other tourist spots, too. So, our MATCHA team decided it is time to show you the tastiest fruit, as well as the popular spots for gaining some love fortune, in Okayama and Kurashiki!
Let's begin the sweetest voyage and get our hands on some love bliss and heavenly fruits!
Enjoy a Sweet Okayama Trip! First up - Okayama City
In the city of Okayama, located in the southern area of Okayama Prefecture, you can admire one of the one hundred famous castles of Japan, Okayama Castle, as well as one of Three Great Gardens of Japan – Korakuen. After visiting these two tourist attractions, we suggest hopping on a train to our next two destinations – love fortune shrines.
Kibitsu Shrine - Pray for Luck in Love
Kibitsu Shrine is a shrine you just have to visit when in Okayama. The hero Kibitsuhiko no Mikoto, who was an inspiration for the character Momotaro from a famous Japanese legend, together with his wife Momota Yumiya-hime are enshrined there.
Although Momota Yumiya-hime sadly lost her life fighting with a demon (an oni), she was enshrined together with her beloved husband.
For that reason, it is believed that Kibitsu Shrine helps with love fortune and matrimonial happiness, which inspires many people to come and visit.
While at Kibitsu Shrine, we especially recommend witnessing the so-called narukama ritual, held every day except Friday from 9:00 to 15:00. The origins of this tradition are said to be in a dream of Kibitsuhiko no Mikoto, in which Ura, the demon he defeated, had something to say. Ura demon told his wife, Aso-hime, to prepare the offering food using a cauldron, and to use it to tell the fortune.
During the narukama ritual, the noise made while preparing the rice is said to tell the good or bad fortune. Even today there is a rule that the woman who prepares the rice during this ritual must be a person from the Aso district, just like Aso-hime was.
The ritual where both the "benevolent" hero couple of Kibitsuhiko no Mikoto and his wife, and the "bad" couple of Ura demon and his wife, are celebrated to this day, shows how broad-minded and warm is this shrine.
* Narukama ritual attendance: 3,000 yen. The ritual is held every day except Friday from 9:00 to 15:00 (last entry at 14:00).
Don't forget to get your hands on nozokimomo-mamori, a love-charm souvenir from Kibitsu Shrine!
Nozokimomo love charm: 700 yen each (tax included)

Lovely Momo Charms from Kibitsuhiko Shrine
Another shrine located in Okayama City, and only one station away from Kibitsu Shrine, is Kibitsuhiko Shrine. You'll notice the word "hiko" added to the name of our previous shrine, Kibitsu Shrine. This shrine's deity is Kibitsuhiko no Mikoto, too, and inside you'll learn about the many legends connected to the story of Momotaro.
Not to forget is the red and white set of lucky charms, or omamori, which you can buy after touring the shrine! It is said that your wish ought to come true if you devotedly pray to your omamori every day for a year.
Charms for luck in love: 1 set 1000 yen (after tax)
Look at the cute peach-shaped fortune slips! Choose the one you had a little "moment" with. Inside you'll find a paper fortune slip, and in this package shaped like a peach, it is said to be the charms for good fortune in love affairs and for avoiding (blocking) bad luck.

Head out for a Dessert!
White Peach Shaved Ice at Omachido & FRUTAS
If someone asked about a popular café to enjoy some delicious desserts in Okayama, the name Omachido & FRUTAS would certainly pop out in an instant. Their greatest feature is that each menu item, be it a cake or juice, shaved ice, or something else, is made of fresh fruit in large quantities!
Their most popular dessert is milmilk – a portion of shaved ice topped with refined milk syrup. But, there is more! If you take the milmilk, add a whole white peach on top, and then cover it with homemade custard sauce, you'll get white peach milmilk special.
The unforgettable flavor combination of sweet and watery white peach, superb custard cream, and fluffy ice will make you shout in a delirium – that is how great of a taste this dessert has.
White peach milmilk special: 900 yen (after tax)

Make Way for the Fruit Pizza! At APPETITO AEON MALL Okayama
However, there is yet another store in Okayama offering an original dessert made of white peach, other than shaved ice. APPETITO AEON MALL Okayama is one of three pizza restaurants in Okayama who have received the approval of the "Real Neapolitan Pizza Community" for offering the "real deal".
The seasonal 6 types of cheese Yoshida Farm's caciocavallo and white peach pizza, is, as the name says, a dish made with fresh white peaches and caciocavallo cheese produced by Okayama's Yoshida Farm. It is a masterpiece combining the aromas of refined cheese and fresh white peach.
6 types of cheese, white peach, and Yoshida Farm's caciocavallo pizza: 1944 yen (tax included)
** Prior reservation needed. Only 20 portions made per day.

Second Destionation on the Sweet Okayama Trip - Kurashiki City
Next to Okayama is Kurashiki, which is well-known for its picturesque scenery. Still, perhaps the one most famous of all could be the Kurashiki Bikan Historical Quarter. This fascinating site keeps Kurashiki's popularity off the charts, and attracts many visitors from all over the world.
On the both sides of Kurashiki River you can see rows of green willows and traditional houses, the ferryman rowing a small boat in the sun – it is a sight truly worth of a photo, and it will inspire you to take some, surely.
One More Love Fortune Spot - The Enmusubi Tree at Achi Shrine!
Very close to the Kurashiki Bikan Historical Quarter is Achi Shrine, famous for bringing luck to the love life of its visitors.
In the shrine's yard, you'll see a great cleyera tree, or Japanese ternstroemia (mokkoku). As in the language of flowers this tree means "a warmhearted person," and "stronger bonds", it became the symbol for bonding and (love) relationship. Therefore, it is quite common to see many couples entrusting their wishes and prayers to this tree.
After taking a walk around the shrine grounds, how about writing your love wish to the Achi Shrine-only enmusubi ema? "Enmusubi" refers to the sacred things granting luck in love. The rabbits drawn on its sides are meant to help your wish come true.
Enmusubi ema: 500 yen (after tax)

A Luxurious Parfait Overflowing with Fruit - at Kurashiki Momoko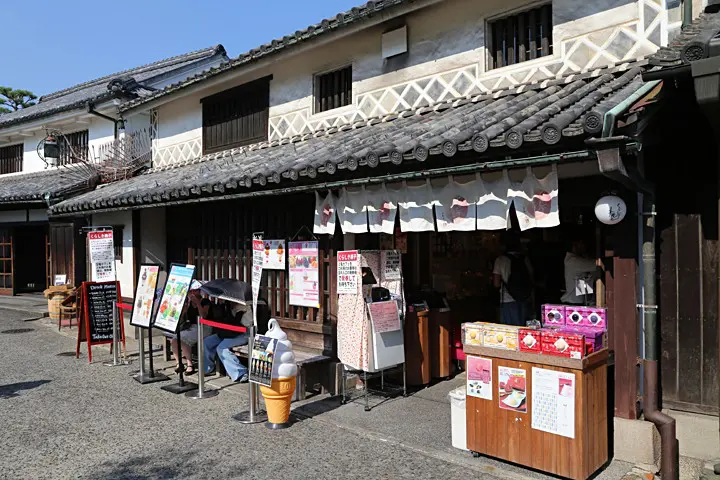 If you're looking for a famous place where you can ravel some sweets in Kurashiki area, we present Kurashiki Momoko. The main store in Kurashiki is an old kura-style house – dozo-zukuri (*1) house, divided in two sections – with a souvenir shop on the first floor, and a café on the second floor.
At the café you can savor a delicious parfait rich in seasonal fruits.
One quite popular item on the menu is the grape parfait, luring the customers with lavish amounts of Shine Muscat and New Pione large-sized grapes. Momoko parfait is a dessert you can enjoy at any time of the year, graciously decorated with a white peach on top. One thing is for sure – both are so beautiful you can even think it is a pity having to eat this dessert!
*1 Dozo-zukuri... One of Japan's traditional architectural styles. One of its characteristics is the so-called "mud wall" – outside walls that are covered in mud and plaster.
Momo parfait: 1404 yen; grape parfait: 1728 yen (both after tax)

Retro Cafe in Machiya Miyake Shoten
Upon entering Miyake Shoten, a renewed old traditional house that remembers stories and centuries, the first thing you will notice is its very retro ambiance. But, the dish you're about to try here isn't skewered chicken, nor some lunch set – it is a dessert.
There are some gentle rays of light spreading through the interior of the café. You'll see how both wooden tables, and the utensils used for serving the shaved ice are all giving off the retro spirit. The all-time favorite is the white peach shaved ice, a simple dish with a white peach topping a portion of shaved ice. However, the deliciousness lies in the simplicity, because this way you can fully absorb the natural beauty of the white peach.
White peach shaved ice: 680 yen (after tax)

Taste the Fruits of Okayama! Welcome to the Okayama Fruits Time!
Okayama Fruits Time is an event held in Okayama Prefecture, which lasts until October 31st, 2018.
During this period, in 150 stores all over Okayama Prefecture, there is a special menu made with fruits grown in Okayama. If you expected it to be dishes such as cakes, shaved ice, parfaits, and such, you are right, but that is not all – there are also pastries, pizza, and even pasta! Everything is Okayama-only, so don't miss out on this great opportunity to enjoy the flavors of this prefecture!
** Please note that items on the menu, as well as the prices, are subject to change depending on the season.
The Wondrous Momo Illumination!
But, you can expect something other than the delicious gourmet food. There are also numerous special, this-time-of-the-year-only, seasonal events to stir things up some more. At one the most famous tourist spots in Okayama, Korakuen, there is a giant white peach sculpture made of washi. During the night, this area becomes a dreamlike ambiance, thanks to the special night illumination.
The area on the side of the giant peach, filled with many smaller ones, is a great spot to take a photo, so take out your camera and snap some special souvenir photos!
Okayama Korakuen Mirrorbowler Art Momo: July 1st, 2018 – August 31st, 2018
Time-Limited! Momo Juice Faucet
Certainly the most representative fruit of the Fruit Kingdom Okayama is the peach. In order to have as many people as possible experience the true beauty of this delicious fruit, the city decided to temporarily set up peach juice faucets on various locations, such as the tenshukaku of the Okayama Castle, Korakuen, and other.
Just turn on the faucet and you'll be surprised at the vigorous flow of a sweet scented peach juice. Take this chance to try the lovely asset Okayama is proud of, right there on the spot!
The peach juice faucets event period: weekends and holidays from July 1st to August 31st, 2018
** Up to 100 cups each time. For partaking in the event, the numbered ticket is required. For further information relating the time of the event and other details, visit the official website.
To Okayama, for Your Share of Love Fortune and Fruity Riches!
For all of you who wish to taste the riches of the Fruit Kingdom Okayama, peaches and grapes, we suggest joining the Okayama Fruits Time event. It is a once-in-a-lifetime chance to have your fill of the most delicious fruits of all!
Okayama Fruits Time Official Site 2018.7.1-10.31 (Japanese)
Written by Chia
Sponsored by Okayama Prefectural Tourism Federation
Pictures courtesy of Okayama Prefectural Tourism Federation

The information presented in this article is based on the time it was written. Note that there may be changes in the merchandise, services, and prices that have occurred after this article was published. Please contact the facility or facilities in this article directly before visiting.