Get Your Okayama Souvenirs Here! Our Top 4 Souvenir Spots
Okayama is famous for its fresh fruits and kibidango, but worries about the expiration dates might get in the way of your shopping. Here are four places where you can purchase great items with long shelf lives in Okayama.
What Souvenirs Does Okayama Have?
Located in the Chubu region, Okayama prefecture is famously known for its stunning old townscape in Kurashiki and for having one of Japan's three most famous gardens - Okayama Korakuen, among countless other stunning sightseeing spots.
When it comes to souvenirs from Okayama, the most popular of all are the kibidango (*1), which feature in the Japanese fairytale Momotaro, and are shown in the photo above. In addition, regional brand-name fruits such as white peach and grapes, which grow well in the mild climate by the Seto Inland Sea, as well as fresh seafood taken from there, are other popular souvenirs from Okayama.
But, if you are traveling a long distance to visit Japan, you might be worried about the expiration dates of these and other items when shopping for souvenirs. But don't worry. Okayama is also famous for its sake made from local spring waters and rice, locally grown and canned fresh fruits, and many other souvenirs with long shelf lives. Furthermore, you can also find Momotaro Denim, a brand of jeans loved by people in more than 20 countries worldwide, as well as Bizen-ware pottery, both of which are Okayama-limited products. Non-food related souvenirs are available in abundance as well here.
Today, we will be introducing souvenirs that have long shelf lives so that travelers coming from far away can have peace of mind when shopping. All these items are sold at souvenir spots that are convenient to access.
*1 Kibidango: Okayama prefecture's famous local specialty sweet, made from millet flour. Learn more about dango here.
1. Hare no Kuni Okayamakan
Hare no Kuni Okayamakan is a specialty product shop located right by Okayama castle. It goes without saying that they sell Okayama's famous kibidango, but they also have fish pickled in brine or oil from the Seto Inland Sea, local cuisines, traditional handicrafts, and many other interesting regional products.
An incredibly durable type of Bizen-ware pottery, said to not break even when thrown is available from 1080 yen with tax, items made from Okayama produced denim from 756 yen with tax, and plenty of other affordable items.
Although there are many things we would like to recommend, one of the foremost are the canned Shimizu peaches (1620 yen with tax). These are juicy white Shimizu peaches harvested in Okayama that have been hand canned, making them quite the luxurious treat. At Hare no Kuni Okayamakan, you can also find canned muscat grapes, jams and jellies made from white peaches and grapes, and many other products featuring Okayama's delicious fruits.
Hare no Kuni Okayamakan
Address: Okayama, Okayama, Kita, Omotecho 1-1-22
Hours: 10:00-19:00
Website: Hare no Kuni Okayamakan
2. Omiyage Kaido Momotaro
Omiyage Kaido Momotaro is a souvenir shopping area on the Okayama Station shinkansen concourse. If you've forgotten to pick up some souvenirs for anyone during your trip, it's a good idea to pick them up here at the station. It is important to note however, that if you do not have a shinkansen ticket or aren't traveling by bullet train, you won't be able to access this area.
In the shop you can purchase cookies and cakes made with Okayama's famous peaches, lemons, and muscat grapes, and murasuzume, a thin, crepe-like sweet filled with anko (sweet red bean paste) that is a traditional dessert famous in the Kurashiki area of Okayama. Murasuzume come in packages of four and cost 650 yen, with tax.
In addition, they also have goods featuring Okayama's mascot character Kumanaku Tabinyan, as well as Gotochi Kitty, which is Hello Kitty showing off the regional specialties of a given area.
We recommend picking up some Tsuyama horumon udon flavored kakipi (432 yen with tax). These are kakipi (*2) snacks that have been flavored like the famous Tsuyama beef offal udon, from Tsuyama, Okayama. This udon dish features beef offal, vegetables and udon prepared in a secret sauce.
*2 Kakipi: a popular savory snack often sold mixed with peanuts, these are fried small dough slices that have been coated in soy sauce and other spices.
Omiyage Kaido Momotaro
Address:Okayama, Okayama, Kita, Ekimotomachi 1-1-1 (Okayama Station 2F Shinkansen Ticket Gates)
Hours: 7:00-21:00
Website:Omiyage Kaido Momotaro (Japanese)
3. Okayama Ichiban Gai - Sun Station Terrace Okayama
Okayama Ichiban Gai is an underground shopping district located beneath JR Okayama Station, while Sun Station Terrace Okayama (shortened to Sansute Okayama in Japanese), is a shopping center located in JR Okayama Station . Not only can you find souvenirs here, but you can also shop for clothes and assorted other goods as well.
If you are looking for souvenirs though, the second floor of the Sun Station Terrace Okayama south building has many different shops to choose from. In fact, at the Sansutekan, you can not only purchase goods from Okayama, but also souvenirs from all across the Shikoku area as well. And at Satomin, you can find Okayama-limited Hello Kitty, Rilakuma, Snoopy and other licensed characters goods for sale. And at Bisen, a Bizen-ware pottery specialty shop, a diverse selection of pottery for daily use is available for purchase.
At places like Okayama Ichiban Gai - Sun Station Terrace Okayama you can find shops offering various items in price ranges to suit any budget, so if you are really struggling to find the perfect souvenir, a trip here is a must.
Okayama Ichiban Gai - Sun Station Terrace Okayama
Address: Okayama Ichiban Gai - Okayama, Okayama, Kita, Ekimotomachi Ichiban Gai Underground; Sun Station Terrace - Okayama, Okayama, Kita, Ekimotomachi 1-1
Hours: 7:00-20:00 (Gift corner)
Website:Okayama Ichiban Gai - Sun Station Terrace Okayama
4. Aeon Mall Okayama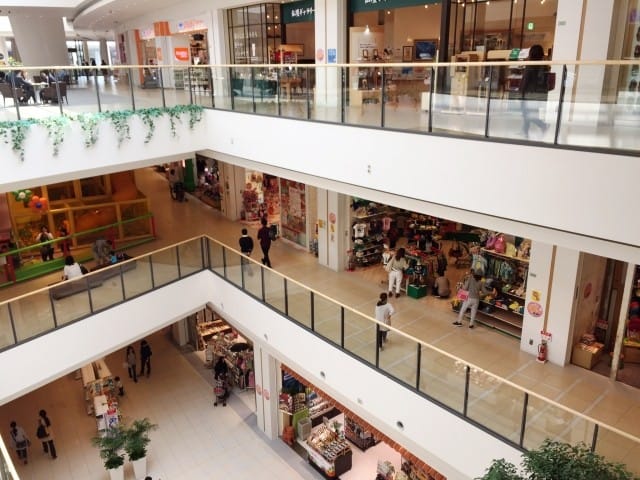 The Aeon Mall Okayama is a shopping center located to the south of Okayama Station. An enclosed shopping mall, here you will not only find many international brands, but also numerous domestic shops selling a wide variety of different wares. Some of the shops here also have duty free services as well. This is a very spacious shopping center, with restaurants on the sixth and seventh floors, which makes this a spot you can spend an entire day in easily.

At Meets Answer on the third floor, you can purchase Momotaro Denim brand jeans, which have a ten-year guarantee and are one of the most famous products made in Okayama prefecture. The complex and custom patterning and the manner in which the denim fades are two of the most appealing points of these denim products. The longer you wear them, the more they become your custom jeans.

At the Starbucks on the fifth floor, you can of course get coffee, but you can get exclusive Okayama prefecture themed tumblers here as well. These limited edition tumblers feature designs with Momotaro Denim, mascot characters and other motifs related to the prefecture.

This mall has 350 shops to choose from, including the popular 100 yen store chain Daiso, the internationally loved life goods store Muji, and a Sanrio Gift Gate, where you can find all the Hello Kitty and My Melody goods you could ever want.

Aeon Mall Okayama
Address: Okayama, Okayama, Kita, Shimoishii 1-2-1
Hours: 10:00-21:00 (Aeon Mall specialty shop area)
Website: Aeon Mall Okayama

The information presented in this article is based on the time it was written. Note that there may be changes in the merchandise, services, and prices that have occurred after this article was published. Please contact the facility or facilities in this article directly before visiting.