Stroll About In A Yukata While Visiting Kinosaki Onsen, Hyogo
Kinosaki Onsen is a hot spring resort with a 1300 year long history. Many people come here to enjoy strolling about in yukata and savoring the historical atmosphere.
What Kind of Place Is Kinosaki Onsen?
Kinosaki Onsen is a hot spring resort located in Kinosaki, an area within Toyooka city in Hyogo prefecture, which is part of the Kansai region. The hot springs here are said to have a history spanning 1,300 years. This hot spring town is located along the Ootani river, which runs through the heart of the town and is lined with numerous old wooden buildings.
One of the many enjoyable aspects of visiting this hot spring area is the chance to wear traditional Japanese garb as you stroll through the streets. In fact, you will see many people here doing just that! We happily recommend wearing yukata and geta when visiting Kinosaki Onsen. Being able to not only wear a yukata but also see this historical town as you do so it just one of the charming points of Kinosaki Onsen.
The Effects and Features of Kinosaki Onsen
The waters of Kinosaki Onsen contain both sodium and calcium chloride, which are said to aid in soothing neuralgia (sore nerves), muscle aches, bruises, and gastrointestinal diseases.
*The effects vary based on the spring quality at each facility.
How to Reach Kinosaki Onsen from Tokyo and Osaka
First, in order to reach Kinosaki Onsen from Tokyo, you will need to take the shinkansen from Tokyo Station to Shin-Osaka Station. The journey will take about two and a half hours, and will cost 13,620 yen. For more on how to get to Osaka from Tokyo, take a look at: Traveling from Tokyo to Osaka? A Guide for Prices and Times.
From Shin-Osaka station, take the JR limited express Kounotori-Go train bound for Kinosaki Onsen and get off at the final stop, Kinosaki Onsen Station. From Shin-Osaka Station, it will take about three hours and cost 5080 yen. The hot spring town is located a ten-minute walk away from the station.
Day Trip Bathing Spots at Kinosaki Onsen
Now we'll introduce you to some bathing facilities at Kinosaki Onsen that you can enjoy on a one day trip.
At Kinosaki Onsen, we recommend going around the seven hot springs within the town and doing the seven outdoor hot springs tour. A one-day all-you-can-enter hot spring ticket called Yumepa (1200 yen adults, 600 yen kids) is available and can be bought at each hot springs ticket window. For more information on the seven outdoor hot springs tour, please check the Kinosaki Hot Springs Tourism Association site.
Satonoyu
This hot spring is located right next to Kinosaki Onsen Station. Starting with the large open-air bath on the roof, they also have an Arabic style public bath, a Japanese stone bath, a sauna, and various other baths to choose from.
Entrance fee: Adults 800 yen, children (ages 3-elementary) 400 yen (*tax and bathing tax included)
Address: Hyogo, Toyooka, Kinosaki, Imazu 290-36
Ichinoyu
Ichinoyu (meaning "Number One Waters" in Japanese) was given this name by a famed herbalist doctor named Kagawa Shutoku during the Edo era, as he declared this to be the best hot spring on earth. The kabuki theater-like building is sure to catch your attention right away. There are no outdoor baths here, but they do have a very popular cave bath instead.
Entrance fee: Adults 600 yen, children (ages 3-elementary) 300 yen (*tax and bathing tax included)
Address: Hyogo, Toyooka, Kinosaki, Yushima 415-1
Kounoyu
It's rumored that a stork was found soothing its injured leg in this hot spring many years ago, and as a result, there is a stork statue displayed at the entrance to this hot spring. There is an open air bath here as well.
Entrance fee: Adults 600 yen, children (ages 3-elementary) 300 yen (*tax and bathing tax included)
Address: Hyogo, Toyooka, Kinosaki, Yushima 610
Recommended Ryokan in Kinosaki Onsen
Here are some of the best ryokan, or Japanese-style inns, located at Kinosaki Onsen.
Tajimaya
With its modern Japanese style rooms and polite customer service, this is a popular inn for both groups of women and couples. You can rent a yukata for free if you spend the night. If you don't know how to put on a yukata, they even have a service where a staff member will help you put it on correctly.
You can use their three rentable baths for free. There isn't a large bathing area, so those who want to go to a large bath should enter one of the seven open-air baths instead.
Address: Hyogo, Toyooka, Kinosaki, Yushima 453
Website: Tajimaya
Kinosaki Sightseeing Hotel Higashiyama Sou
This hotel has a large bathing area as well as rentable outdoor baths. There are yukata rentals for women as well, although these must be reserved in advance. To make a reservation in English, please book through the English reservation site beforehand. You can select either Japanese style rooms or a Japanese/Western mix room, which features a bed resting on tatami flooring.
Address: Hyogo, Toyooka, Kinosaki, Yushima 835
Official Website: Kinosaki Higashiyama Sou (Japanese)
Nishimuraya Hotel Shogetsutei
This is a well-established inn with 150 years of history. They have jacuzzi's, mist saunas, and rental baths along with outdoor baths. It's an inn popular for its cooking, which uses Matsuba queen crab and Tajima beef.
Address: Hyogo, Toyooka, Kinosaki 1016-2
Official Website: Nishimuraya Hotel Shogetsutei
Fun Events at Kinosaki Onsen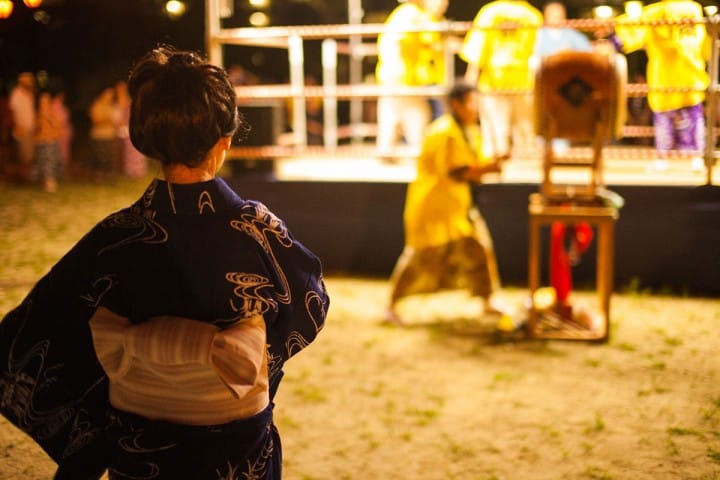 Events and festivals are held throughout the year at Kinosaki Onsen.
In April, there is the Hot Spring Festival, where people parade about the town wearing historical costumes, while in August during the Furusato Festival, many outdoor events are open to all. There are also fireworks at this time. Meanwhile, in October, festival floats called danjiri are pulled and pushed about in the Autumn Festival. It is even more fun to visit Kinosaki Onsen during one of their festivals.
It's also a good idea to taste the locally popular Tajima beef and Matsuba queen crab when visiting, although the crab is only available during the colder months of the year (from November to March).
Hot springs and gourmet food are bound to make coming to Kinosaki Onsen an unforgettable experience. If you are planning a trip to the Kansai area, then this is a place you definitely shouldn't miss out on!
For more information on how to enter hot springs, please take a look at What You Should Know About Bath Culture In Japan.
*The information contained in this article about traveling times, transportation fees, and bath entrance fees are based on the official websites of each facility. This information is accurate as of March 2017, but is subject to change.


The information presented in this article is based on the time it was written. Note that there may be changes in the merchandise, services, and prices that have occurred after this article was published. Please contact the facility or facilities in this article directly before visiting.