Arima Onsen - Complete Guide To Japan's Oldest Hot Spring Town
Arima Onsen in Kobe is Japan's most ancient hot spring resort town, thought to be founded over 1,000 years ago. In this comprehensive guide, we'll introduce the best hot springs, cafes, and other ways to enjoy this area.
What Is Arima Onsen?
Arima Onsen is located in Arima Town in the Kita ward of Kobe, Hyogo prefecture. It is Japan's oldest onsen resort. Together with Ehime's Dogo Onsen and Wakayama's Shirahama Onsen, it is counted as one of Japan's Three Ancient Springs.
While many underground springs have been dug up from a depth of over a kilometer, by the 6th century, Arima Onsen was already known as a hot spring with naturally gushing waters. Due to Emperor Jomei and Emperor Kotoku's fondness for Arima Onsen, it became popular with the common folk, as well. Since it is perfectly situated for a day trip visit, many people come to Arima Onsen from Osaka, Kobe and all over the Kansai area. It can also be accessed via highway bus from Universal Studios Japan® (USJ). Why not spend a nice day having fun out at USJ, then reinvigorate your tired body in the hot springs at Arima Onsen?
For more information about USJ, check out our Universal Studios Japan®(USJ) access guide.
Arima Onsen's Characteristics and Effects
Arima Onsen has one golden spring and two silver springs.
The Golden Spring (Iron Chloride Spring)
Springs with plentiful salt and iron content take on a reddish brown hue, and are called golden springs. The water is said to help with chills, backaches, muscle and joint pain, and circulation problems. It also has moisturizing effects, because the salt forms a thin film on the surface of the skin, and is allegedly good for burns, cuts and skin problems.
The Silver Springs (Carbonated and Radon Springs)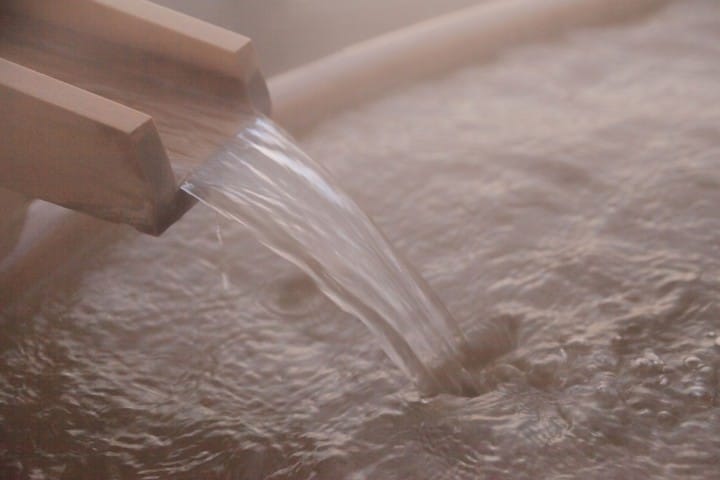 The silver springs get their moniker for their clear waters. There are two silver springs at Arima Onsen: the carbonic spring and the radon spring.
Take a dip in the carbonated spring and your blood flow will improve due to your expanding capillaries. This is why you can expect some lowered hypertension. Drinking carbonated water stimulates the secretion of gastric juices in your stomach, so it is beneficial for increasing appetite as well. The radium contained in the steam of the radon spring activates your immune system, and is said to raise your healing rate. The radon spring is also recognized for helping with gout, rheumatism, menopausal disorders and other medical issues.
For more about onsens in Japan, check out our bathing etiquette guide.
Going to Arima Onsen
To get to Arima Onsen from Tokyo Station, take the shinkansen to Shin-Osaka Station (2 and a half hours, 13,620 yen). From Osaka and Kobe, you can either continue onward by train, or go directly to Arima Onsen via highway bus. For more information about traveling from Tokyo to Osaka, check out our access guide.
From Osaka and Kobe by Train
From Shin-Osaka, get on a train on the JR Kobe Line and get off at Sannomiya Station (30 minutes, 550 yen). From Kobe Station, you need to head to Sannomiya Station (5 minutes, 120 yen). Take the municipal subway from Sannomiya Station to Tanigami Station, then switch to a train bound for Sanda on the Shintetsu Arima Line. Ride it up until Arimaguchi. From Arimaguchi, switch to a train bound for Arima Onsen and get off at the last stop (30 minutes, 930 yen)
From Osaka and Kobe by Bus
The Arima Express goes directly to Arima Onsen. It leaves from Shin-Osaka Station (1230 yen, about 90 minutes), Osaka Station (1370 yen, about 90 minutes) and Sannomiya Station (770 yen, about 30 minutes). All seats are reserved seats, so it is essential to make a prior reservation. Do this at the English page of JR West, which operates the Arima Express. There are also Chinese and Korean versions of the website.
From Universal Studios Japan®(USJ) by Bus
You can take the Arima Express from USJ to Arima Onsen (1370 yen, about an hour and 10 minutes). Make a reservation at at the English page of JR West, which operates the Arima Express.
Arima Onsen Day Trip Onsen Spots
These are some of the places you can enjoy when visiting Arima Onsen for a day.
Kin No Yu, the Golden Spring
Enjoy the reddish gold waters at Kin No Yu, a community bathhouse operated by Kobe City. There are no open-air baths. Adjacent to Kin No Yu, a foot bath and spring water drinking well are installed, and you can use them for free.
Admission: 650 yen for adults (over JHS age), 340 yen for children (elementary school age)
Address: Hyogo, Kobe, Kita, Arima 833
Homepage: Kin No Yu
Gin No Yu
You can enjoy the carbonated and radon springs at Gin No Yu, a public bathhouse operated by Kobe City. It does not have open air baths, but there are large bathtubs, water jets and a sauna. If you want to try Kin No Yu and Gin No Yu, we recommend getting a pass for 850 yen, which allows the holder access to both of them.
Admission: 550 yen for adults, 290 yen for children (elementary school age)
Address: Hyogo, Kobe, Kita, Arima 1039−1
Homepage: Gin No Yu
Kanpo No Yado, Arima
This inn boasts a free-flowing spring. While many onsens at Arima Onsen have admission priced at over 1000 yen, weekday visitors to Kanpo no Yado can use the hot springs for 800 yen. The inn contains a restaurant and cafe, so you can relax after your bath. On weekends and holidays, the inn also offers a lunch buffet with over 60 Japanese and Western dishes.
Address: Hyogo, Kobe, Kita, Arima 1617−1
Weekday admission: 800 yen for adults, 400 yen for children under 12
Weekend (holiday admission): 1000 yen for adults, 700 yen for children under 12
Homepage: Kanpo No Yado
Recommended Arima Onsen Inns
These are our Arima Onsen inn recommendations.
Arima Gyoen
This traditional inn has large public baths and three buildings: the main building along the Arima River, the annex building that looks out over Arima Onsen Town, and a deluxe suite building, the Hibiscus Cottage. The Hibiscus Cottage contains sophisticated guest rooms that come with cypress open air baths. Arima Gyoen's centerpiece is its Kobe beef cuisine, made using the famous regional specialty. There are all sorts of luxurious dishes containing Kobe beef, with kaiseki dinner trays, shabu shabu, steaks and more. No matter which building you're staying in, you can order from the Kobe beef menu.
Address: Hyogo, Kobe, Kita, Arima 1296
Homepage: Arima Gyoen
The Maple Arima
The Maple is a stylish bath facility that resembles a European spa, and is popular with women and young people. In addition to the large silver spring baths, there are sleeping baths where you can lie in the water fully horizontal, as well as six kinds of special baths and a sauna. Guests can choose from Japanese-style rooms, Western-style rooms, and tatami rooms with Western bedding. The Maple also offers Kobe beef dishes.
Address: Hyogo, Kobe, Kita, Arima 406−3
Homepage: The Maple Arima
Kinzan
Known for being a high-quality inn that strives to provide the best hospitality, this traditional inn has two large baths and one open air bath, sourced by a golden spring. Guests to Kinzan can choose from Japanese-style or Western-style rooms. Kinzan also boasts Kyoto kaiseki dinners that were written up in the Michelin Guide, so try them yourself.
Address: Hyogo, Kobe, Kita, Arima 1302−4
Homepage: Kinzan
Sightseeing Spots Around Arima Onsen
There are several representative Hyogo sightseeing spots near Arima Onsen, such as the Kobe Sanda Premium Outlets, Kobe Motomachi, the former settlers' residences (the Ijinkan buildings) and more. In addition, you can get from the heart of Osaka to Arima Onsen by train or bus in one to two hours, so after you've visited Osaka Castle and Universal Studios Japan® (USJ), Arima is the perfect final stop on your day's itinerary.
View Information
Arima Onsen
| | | |
| --- | --- | --- |
| | Address | Hyogo, Kobe City, Kita Ward, Arima Town, 790-3 |
| | Business Time | 9:00-19:00 |
| | Fixed holidays | None |
| | WiFi | Not Available |
| | Accepted Credit Cards | Not Available |
| | Nearest station | Arima Onsen Station |
| | Access | About 1 hour from Shin-Osaka Station to Arima Onsen via train and municipal subway, 30 minutes from Sannomiya Station via municipal subway |
| | Telephone number | 078-904-0708 |
| | Website | Arima Onsen |