[Hyogo Tajima] Enjoy "Stork Nurturing Rice" at Kinosaki Onsen! Wild bird watching tours with lunch are popular!
This service includes sponsored advertisements.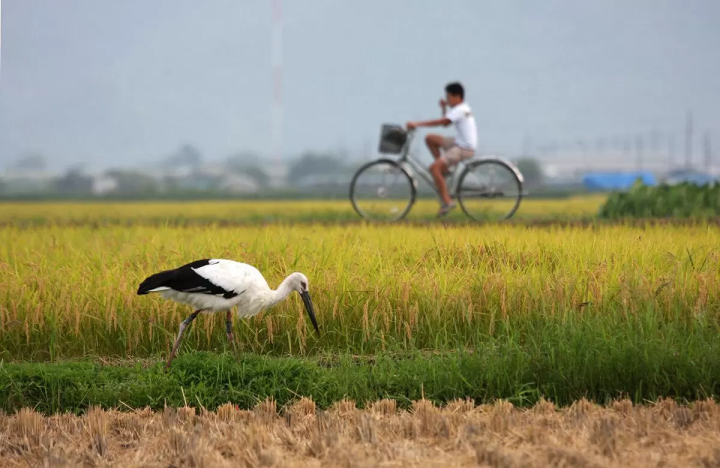 In Toyooka City, Hyogo Prefecture, Visit Kinosaki is attracting attention as it tells the story of the efforts to protect and reintroduce storks from extinction, in order to restore the landscape where storks were once seen frequently on a daily basis. Now, let's experience the "Stork Watching Tour"...
Toyooka City, Hyogo Prefecture, the hometown of storks
Located in the northern part of Hyogo Prefecture along the Sea of ​​Japan, this area with a population of just under 80,000 has the Maruyama River flowing north and south into the Sea of ​​Japan, the famous hot spring resort Kinosaki Onsen, and a rich natural environment teeming with life. A relaxed cultural environment that embraces coexistence is thriving here.
During the Edo period, the stork was a bird that could be seen all over Japan. However, due to overhunting during the Meiji period, the development of farmland after World War II, the disappearance of wetlands due to river improvement, and the use of pesticides, the last remaining wild stork died in 1971, and the stork disappeared from the skies of Japan. Ta. Its last habitat is Toyooka City, Hyogo Prefecture.
Despite its graceful appearance with a wingspan of 2 meters, it is a carnivorous bird that can swallow even a tree frog whole. That is the stork that brings good luck!
"Visit Kinosaki" Stork Watching Tour
It is pronounced ``stork'', the symbol of Toyooka City, Hyogo Prefecture. Doesn't this font look like a "stork"?
When you visit Kinosaki Onsen, why not take part in the ``Stork Watching Tour,'' learn about storks with all five senses, and eat delicious ``rice that grows storks.'' Applications are accepted from 2 people! This tour is for overseas customers, so an English-speaking guide is included.
1. Stroll through the wetlands that are the habitat of storks
Toshima Wetland is an essential place when talking about Toyooka City's white storks. The official famous spot is ``Toyooka City Hachigoro Tojima Wetland,'' and it is located near the mouth of the Maruyama River, a first-class river in the northern part of Toyooka City. The Sea of ​​Japan is 3km away, Kinosaki Onsen is on the other side of the river, and you can enjoy the beautiful scenery of Japanese fields.
A well-lit wetland that is a good feeding ground for storks. An artificial stork nest tower is built on the mountainside of this wetland.
Hachigoro's Toshima Wetland is a wetland that has been certified under the Ramsar Convention, an international treaty regarding ``wetlands of international importance, especially as habitats for waterfowl.'' The Convention aims to assess and conserve wetlands of global importance.
From inside the facility, you can watch storks from up close, view images through a telescope, and listen to explanations from staff on panels without putting any psychological strain on the storks. In addition to storks, you can also experience an environment where a variety of other creatures live, including various water birds and other creatures that feed on them.
Once a stork has secured a suitable place to raise its young, the same couple will raise them over and over again. Now, since 2008, the same stork couple has been returning here every year.
At Toshima Wetland, we carry out maintenance work such as cutting weeds to protect the environment, and we are looking for a wide range of volunteers. If you are interested, please contact us from the official website!
Toshima Wetland of Toyooka City Hachigoro
1362 Imazu, Kinosaki-cho, Toyooka-shi, Hyogo 669-6103
TEL:0796-20-8560 FAX:0796-20-6302
Opening hours: 9:00-17:00
Closed: Tuesdays (the following day if it falls on a holiday), New Year holidays (December 28th to January 3rd)
Admission fee: Free (Please donate to the One Coin environmental donation)
2. Hyogo Prefectural Stork Park/Toyooka City Stork Culture Museum
Hyogo Prefectural Stork Park is the last place in Japan where white storks lived, and efforts are currently being made to reintroduce them into the wild, as well as protect and breed them. Release of birds began in September 2005. There is also an observation facility within the park where you can observe storks up close.
We watched an introductory video for about 15 minutes that talked about Toyooka City's reintroduction of white storks into the wild and introduced current efforts. Subtitles are available in multiple languages, including English, Chinese, and French.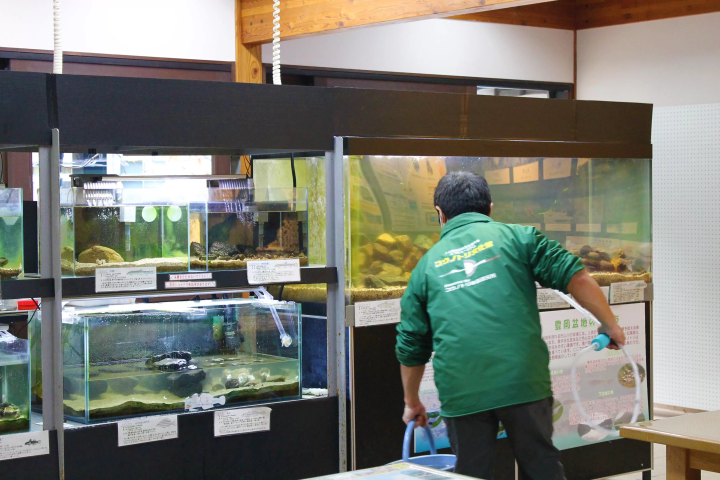 Toyooka City is known as a city that has successfully reintroduced white storks to the wild, but it's not just about artificially rearing them and releasing them. In order to prepare the environment for their return to the wild, we have been working on the ``stork-nurturing farming method,'' which is organic cultivation that does not use chemical fertilizers or pesticides, by cultivating a variety of organisms that serve as food for storks (e.g., loaches, storks, frogs, etc.).
Toyooka City formulated the Toyooka City Environmental and Economic Strategy in March 2005, and has been promoting initiatives aimed at creating a region that is both environmentally and economically compatible, using the stork as a symbol, such as branding ``rice grown by storks.'' Masu.
Because storks are very territorial, cages are separated by couples. Still, it seems that there are times when they threaten other cages from inside the cage.
Why are storks so territorial? Parent birds require 0.5 kg of food per day and 1 kg of food per day during the growing season. This is due to the harsh nature of the natural world, where parent birds raise two or three chicks every year and cannot survive if other family members enter their feeding grounds.
When you hear the story of a parent stork watching over the fledgling, and the harsh stories unique to the natural world, you can understand the desire to protect the environment.
Toyooka City is working to create an environment that is kind to nature and people, with a focus on storks, and is leading a community that supports the SDGs. A stork post has been installed on the premises to send out happiness.
Hyogo Prefectural Stork Park/Toyooka City Stork Culture Museum
127 Shounji, Toyooka 668-0814
Opening hours: 9:00-17:00
Closed: Every Monday (the next day if it falls on a public holiday or substitute holiday), New Year holidays (December 28th to January 4th)
Free admission: (Stork environmental cooperation fee 100 yen/optional), Free parking
3. Lunch where you can enjoy "stork-grown rice" and local ingredients
On this tour, we will have lunch at Sanpo Nishimuraya Honten, which is located next to Nishimuraya Honten, a long-established restaurant in Kinosaki Onsen (on the site of the former Gosho-no-Yu hot spring). Nishimuraya, a hot spring inn that has been in business for 160 years since the Edo period, opened in the spring of 2019. This area is said to be the birthplace of Kinosaki Onsen, and is a hot spring town with a historical atmosphere, including ``Ko no Yu''.
On the first floor of Sanpo Nishimuraya Main Store, the dining area is nested around the charcoal yard, and you can get a glimpse of the inside from the street. The open wooden structure is a warm and relaxing space.
There is a ``Sanpo Salon'' on the second floor, where you can enjoy drinks and other drinks for a fixed price. This is a great spot to stop by on your way to visiting Kinosaki Onsen public baths.
The lunch course begins with an aperitif of ``Tajima's native red rice amazake'' being poured right in front of you, followed by a ``Sanpo Gozen'' where each item is prepared with attention to local ingredients. Beautiful food follows.
Please try the soy sauce koji made in Ayabe, Kyoto, and the combination of crispy skin and fluffy meat of the free-range chicken. Adding it to honey mustard made with Toyooka honey will enhance the flavor even further. The brightly colored naturally farmed vegetables are the main flavor on their own, and the marriage of local ingredients is a special flavor.
Finally, we warmed up with rice made using the ``stork-nurturing farming method'' and miso soup that we learned from a local farmer's grandfather. Finish off your meal with Kinosaki Gelato for dessert.
Experience the best hospitality in an informal atmosphere, with our sommelier-qualified staff carefully explaining each dish in multiple languages.
The facility also has a gift store called ``Sanpo Gift,'' where you can find high-quality souvenirs that can only be found here, as memories of your trip or as gifts for your loved ones. This is a place you should stop by at least once in Kinosaki Onsen.
Sanpo Nishimuraya
463-2 Yushima, Kinosaki-cho, Toyooka-shi, Hyogo 669-6101
11 minutes walk from JR Kinosaki Onsen Station
Business hours 10:00 - 22:15 (closed on Wednesdays)
[Official] Hyogo tourism site HYOGO! navigation
The official website of Hyogo Tourism Headquarters, which provides tourist information for Hyogo Prefecture (Kobe, Himeji, Kinosaki, Awajishima, etc.). There is a lot of recommended travel information, including special sightseeing spots such as Hyogo Prefecture's Japanese heritage sites and cycling, as well as model courses where you can enjoy hot spring culture and Japanese sake, so be sure to check it out!
Written by

Welcome to Hyogo Hyogo is a gateway to the Kansai region, which nurtures the blessed land that connects the Sea of ​​Japan, the Chugoku Mountains, and the Seto Inland Sea, as well as the blessed climate. There are many spectacular views that will catch your eye, such as Himeji Castle, a World Heritage Site that was selected as one of the 100 Best Cherry Blossom Spots, and the panoramic night view from Mt. Rokko. The world-famous Kobe brand, KOBE BEEF, which is synonymous with Tajima beef, is one of Japan's leading beefs, and the sake rice ``Hyogo Yamada Nishiki'' is a gem that will surprise your tongue. Arima Onsen is a famous hot spring, and Kinosaki Onsen has appeared in many literary works. Surrounded by nature, you can relax your mind and body. You can come across memorable sounds such as the thunderous sounds of the whirlpools of Naruto on Awaji Island, and the dynamic sounds of the fireworks festivals held in various places in the summer. In the herb gardens and botanical gardens in the prefecture, you will be healed by the gentle and pleasant scent of herbs and flowers throughout the four seasons. Enjoy a new journey in Hyogo that stimulates the five senses of sight, taste, touch, hearing, and smell.

The information presented in this article is based on the time it was written. Note that there may be changes in the merchandise, services, and prices that have occurred after this article was published. Please contact the facility or facilities in this article directly before visiting. Some of our articles contain affiliate links. We kindly ask our readers to exercise careful judgement when making a purchase or booking a service online.

The contents on this page may partially contain automatic translation.