Arima Onsen Cafes - Lose Track Of Time At Tchic Tac And Café De Beau
Arima Onsen Cafes - Lose Track Of Time At Tchic Tac And Café De Beau
Though Arima Onsen is a historical hot spring area, there are many sophisticated cafes there too. Today we introduce Tchic Tac, a cafe known for its delicious lunches, and Café De Beau, a place where you can sample Arima-style sweets.
Arima Onsen - A Place with Many Historical and Fashionable Cafes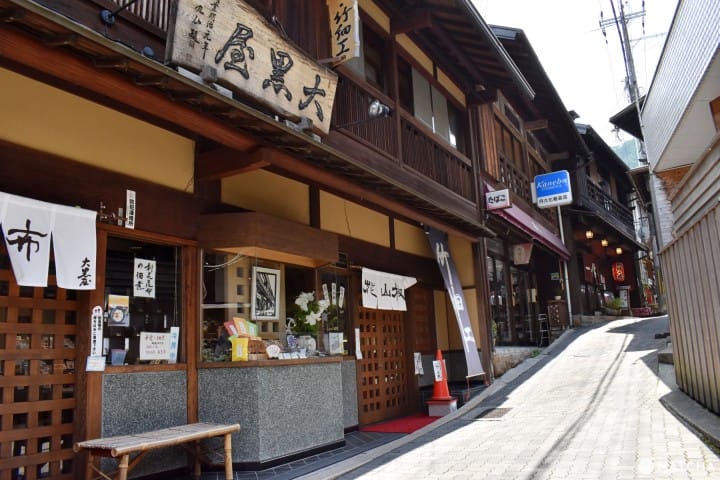 Arima Onsen, located north of Rokko Mountain in Hyogo prefecture, is a small hot spring town measuring only one square kilometer in size. Lined up side by side along this narrow sloping street, are shops that have been in business for many years.
Even though Arima Onsen's is a truly historical place, you can also find some fashionable cafes here. We'd like to recommend two places in particular. The first is Tchic Tac, a cafe inside a traditional Japanese home. It is known for its delicious lunches. The other is Café De Beau, a shop where you can enjoy sweets found only in Arima.
Today we'll introduce these two popular cafes in Arima Onsen and give you all the details you need to know about their menus and background!
1. Tchic Tac - Carefully Prepared Delicious Lunches
First I'd like to introduce Tchic Tac. It's a cafe inside a renovated traditional Japanese home known for serving delicious and healthy food.
The shop, located behind the famous public bathhouse Kin no Yu, can be found at the top of a narrow set of stairs. With its characteristic wooden appearance, you probably wouldn't realize that this is a cafe if you didn't know it's there.
 The cafe was created by renovating the manager's former living quarters in this building. The building itself was constructed more than 100 years ago. The entrance to the shop is just a little walk down the street, on the left side in the picture above.
The shop's interior design is highlighted with wooden accents and has a calm, relaxing atmosphere.
Although the shop sign and its logo design have a dignified feel about them, you also get a sense of freedom and relaxation. This piece was designed by an artist by the name of Hirosuke Watanuki.
Watanuki's designs incorporate various kinds of art, including Asian, European, and folk art. They can also be found in other places such as Arima's long-standing ryokan, Goshoboh.
Let's Try This Exquisite Omurice!
Of course, you can drop by Tchic Tac for only a drink but their special lunches are most popular. Today I ordered the Natural Eggs Omurice (omelet rice). It's covered in a delicious demi-glace sauce. This homemade sauce is created by slowly simmering onions and white wine for one complete day.
The fluffy eggs come from the Sanda farms in Hyogo prefecture. The chickens are raised free-range and grow up in a relaxed environment. The resulting eggs are characterized by their high nutritional value and strong sweetness.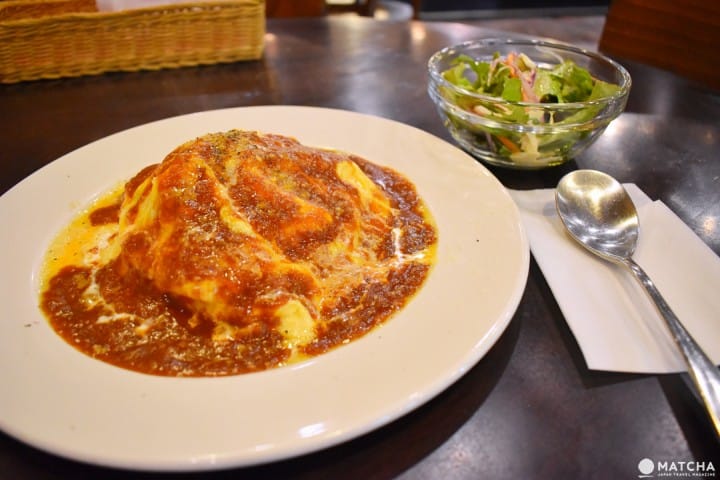 The chicken rice inside the omelet is ketchup-based. The sauce and the eggs mix well with the chicken rice, giving this signature dish its mild, but deep taste. The Omurice set (1,360 yen with tax) includes a salad with sesame seed dressing and olive oil.
After lunch, how about trying a refreshing Arima Cider (380 yen with tax)? Arima Onsen's specialty product is cider. The cider, a carbonated drink with a refreshing sweetness, can be found at various cafes and eating and drinking establishments in Arima. With its strong carbonic acid, it tastes smooth and refreshing.
Another popular menu item is Arima Yakuzen Curry. The curry contains kanpo, a Chinese traditional medicine, and also Sansho pepper, a specialty of Arima that serves as the dish's spice ingredient. The original menu was designed with the hopes to have health and beauty benefits together with the hot springs. Visitors were supposed to be able to eat food that's also good for the body.
The menu items sometimes sell out, so it's best to come to the cafe early in the day if you want to have a bigger choice. International visitors don't need to worry, as shown above, there's an English menu available.
A Shop Interior Filled with a Sense of Fun!
In one corner of the shop, there's something that caught my attention. It's a pinball machine that's still in operation (100 yen per try). This looks like a fun thing to try while you're waiting for your food to arrive! The machine is a bit of an antique, so please be gentle with it.
This is the shop manager, Mr. Takeda. Tchic Tac, the shop's name, refers to the onomatopoeic sound of the moving hands of a clock in Japanese.
In addition, Tchic Tac has one more meaning. Using Mr Takeda's name as a play on words, it also means "Mr. Takeda's house." The Japanese character for Take (竹) can also be read as Tchic, and the character for house (宅) can also be read as Tac.
Tchic Tac also has an adjoining souvenir shop. This shop, which has stylish accessories lining its shelves, is a branch of Yoshitakaya (Japanese), just ten minutes away on foot.
Tchic Tac is a cafe where the time moves slowly, just like the hands of a clock. Please spend some relaxing time at this former traditional Japanese home, located in one of Arima's back alleys.
2. Café De Beau - Try Some Local Arima Sweets
The next place that we'll introduce is Café De Beau, a shop surrounded by lush greenery. It's a former house that was renovated into a cafe by its owner, who also happens to be the 14th generation to operate a ryokan called Goshoboh, located at the backside of Café De Beau.
It's a spacious cafe with a relaxing atmosphere. The cafe is loved by a wide range of customers, from couples all the way to families. I also came here as a child with my family numerous times. It was like I had just wandered into an adult's world, and I remember feeling a sense of wonder and excitement!
I recommend a window seat, where you can gaze out at the garden overflowing with greenery. Here you will be able to spend a pleasing time.
Black Tea and Sweets Made with Great Care
Café De Beau is well stocked with a full selection of Arima-style sweets. Inside the shop, you can sample the homemade goods, from cakes to baked confectioneries.
Among the wide selection of goods is an Arima specialty, Arima Roll Cake (280 yen). This roll cake recipe uses a special salt that's made by boiling Arima Onsen kinsen in a hot pot. Kinsen is reddish-brown hot spring water that's pumped up from the ground. The water is boiled off, leaving behind this natural salt. The roll cake's gentle sweetness is accented by the slight bit of this saltiness.
The shop is filled with sweets that are only available here, such as tarts, puddings, and other delicacies made with high-quality ingredients such as black beans. If you order one of the western-style desserts made with cream or fruit along with a drink you get a fifty yen discount!
The drink that came with my dessert was an original flavor tea called Traditional Arima Maki (800 yen plus tax). Using sencha as its base, it also contains various herbs and vanilla and gives off a sweet fragrance. Sansho Japanese pepper adds a nice accent.
There are other original flavor teas such as hojicha, wakocha (a black tea using Japanese grown tea leaves), and jasmine-blended inei (800 yen plus tax).
Hagiwara Coffee's Ice Coffee (620 yen plus tax)
The cafe doesn't have a lunch menu. However, if you want, you can buy some bread products in the shop's affiliated store, Pan De Beau, and eat them in the cafe. How about having them together with a cup of Hagiwara Coffee, Kobe's premier coffee brand?
Actually, Tchic Tac and Café De Beau are affiliated with each other, and the managers are brothers!
These two shops, which are loved by the locals in Arima, were taken over by these siblings and built with the nearby community in mind.
Relieve Your Fatigue at an Onsen, Then Go to a Cafe
In addition to the two shops we introduced in this article, there are many wonderful cafes hidden along the back alleys of Arima Onsen. Even ones that normally can't be found when walking along these side streets.
While you stray onto Arima's sloping streets, how about finding a cafe that appeals to you?
In cooperation with Tchic Tac、Café De Beau
The information presented in this article is based on the time it was written. Note that there may be changes in the merchandise, services, and prices that have occurred after this article was published. Please contact the facility or facilities in this article directly before visiting.