Sake Ichiba - Arima Onsen's Unique Standing Bar And Local Sake Shop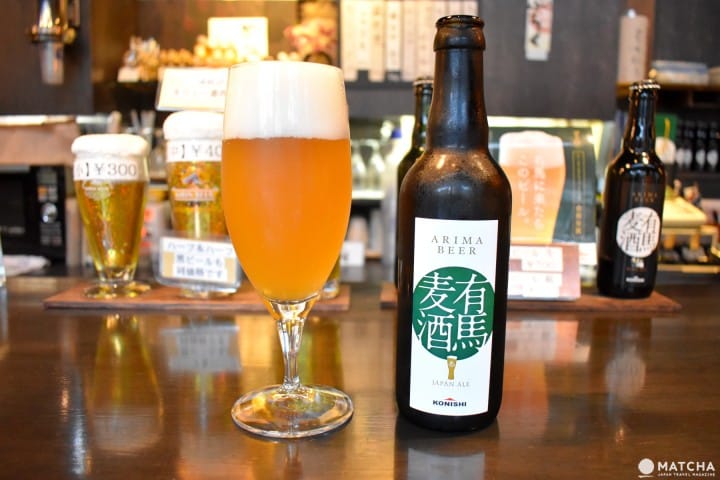 After enjoying the famous hot springs, how about satisfying your thirst with alcohol beverages exclusive to Arima Onsen? In this article, we will be introducing you to Sake Ichiba, a standing bar that serves beer and sake that you cannot find elsewhere
A Place to Satisfy Your Thirst at Arima Onsen!
Arima Onsen is Kansai's most famous hot spring destination. With various facilities to choose from, it is the perfect place to relax and recharge.
After using the hot springs you might feel thirsty. It is also not uncommon to crave a glass of alcoholic beverage after a hot bath. If this should be the case, then there is a place in Arima Onsen we highly recommend as we believe it will be able to satisfy these cravings!
In this article, we will be introducing Sake Ichiba, a standing bar managed by a local liquor store. It offers not only delicious alcohol and food combinations but also a wide range of alcoholic beverages that cannot be found anywhere else.
Choose From a Variety of Beer and Sake
This is Arima Onsen's famous standing bar, Sake Ichiba. The bar itself is managed by Arima's local liquor store, Arima Katayama Mikio Shoten.
Upon entering the liquor store, you will find the standing bar on the left, and the liquor shop on the right, where an assortment of alcoholic beverages such as sake (Japanese rice wine), beer, Japanese whisky, and wine can be purchased.
This small standing bar can hold up to seven people, and manages a steady flow of customers.
On the menu, you can find a substantial number of beer choices. They also offer exclusive alcoholic beverages such as Arima's exclusive craft beer, green apple and strawberry flavored fruit beer, original sake and shochu (Japanese liquor). The menu is available in both English and Japanese.
The staff is welcoming and friendly. Customers are welcomed to seek advice from the staff should they be unsure about an item on the menu.
What are we waiting for? Let's order!
Arima's Onsen Local Beer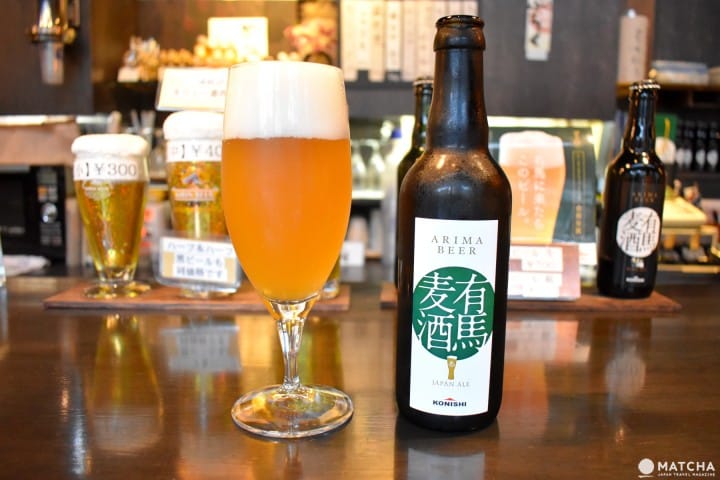 This is Arima Beer, a signature craft beer exclusive to Arima Onsen. Arima Beer is made from subterranean river water that comes from the nearby Mount Rokko. It is brewed with Yamada Nishiki, a Japanese rice ideal for brewing beer. This particular rice brings out both the sweet and the umami flavor which are followed by a bitter aftertaste.
In 2016, Arima Beer was awarded the gold medal in the International Beer Cup, organized by the world's third oldest craft beer association. Arima Beer is without a doubt a beer loved and praised by many people. Photographed here are a bottle of Arima Beer Japan Ale and Black Ale ( both 660 yen plus tax). Arima Beer Black Ale is a delightful black beer that is light and perfect to be enjoyed after a bath in the hot springs.
On the right is Sake Ichiba's limited edition sake, Arima Yama. Arima Onsen is located in Hyogo prefecture, the largest sake manufacturing region in Japan. A reason for this is that they house the finest quality rice as well as water ideal for making sake. Fresh mineral water and the large yet soft grains of Yamada Nishiki (a high-quality Japanese rice brand) create a high-quality sake.
The Arima Yama you get at Sake Ichiban is made from 100% Yamada Nishiki rice. They also offer Hakushika, a sake brewed locally in Hyogo. Hakushika is also delivered to the store as genshu(*1), so customers can enjoy freshly made genshu (on the left) when visiting the bar which is not very common. Both sake cost 300 yen plus tax per glass.
*1: Genshu: Unprocessed sake without added water.
Delicious Food and Refreshing Alcoholic Beverages!
Sake Ichiba has a wide variety of snacks and appetizers that go well with their alcoholic beverages. The side dishes are simple but delicious and very fairly priced between 300 and 500 yen.
The side dish menu changes slightly according to seasons. We will be introducing some of the bar's recommended snacks and appetizers that are available regardless of the season. 
First is Sake Ichiba's dry-cured ham (500 yen plus tax), shown in the photograph above. The ham is flavorful and the onions are fresh and juicy which pairs extremely well with beer.
Next is Suji Kon (300 yen plus tax), Sake Ichiba's original dish. It's a beef tendon and konjac root stir-fry with garlic and a little bit of ponzu.
This Suji Kon has a very appetizing garlic aroma and a chewy yet juicy beef tendon texture. This dish also goes extremely well with beer.  If you add a bit of shichimi togarashi(*2) and black pepper it will accentuate the flavors. This addictive dish is often sold out during the weekends.
*2: Shichimi Togarashi: a Japanese blend of spices and condiments such as chili peppers and sansho pepper.
These are steamed soybeans with sansho pepper (300 yen plus tax). Made fresh every day, the soybeans are steamed in soy sauce and sake. They are seasoned with sansho pepper which adds a spicy yet refreshing flavor. Sansho pepper is known as one of Arima's signature condiments.
Every day, over ten different kinds of side dishes are available at Sake Ichiba (the side menu is only available in Japanese). Besides the items recommended in this article, there are many other seasonal side dishes that you can enjoy at the bar. All you have to do is ask the staff "osusume wa nan desuka?" (what do you recommend?).
Let's Get Hyogo's Alcoholic Beverages as Souvenirs!
The right side of Sake Ichiba is where you can find a small selection of various alcoholic beverages such as sake from Hyogo. While it is a small store, it perfectly functions as both a standing bar and liquor shop.
Freshly made Hakushika genshu and Arima Yama can both be purchased as souvenirs. Both are individually priced at 1500 yen plus tax for 720 ml.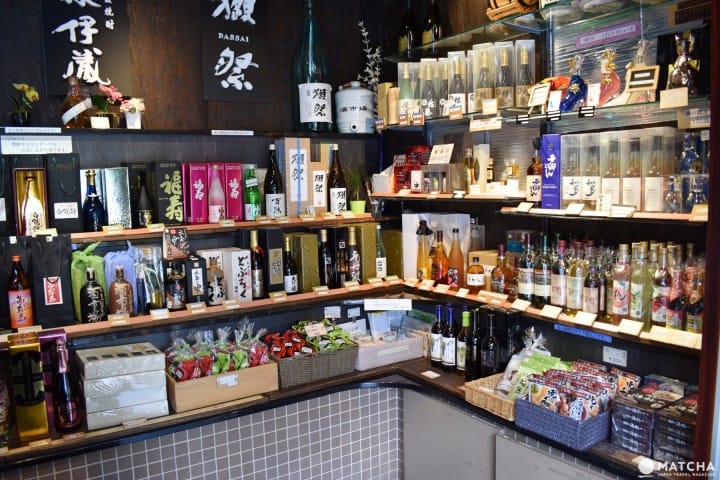 Japanese whiskeys and the famous sake brand, Dasai, are popular alcoholic beverages as well. How about purchasing your favorite Japanese alcoholic beverage as a souvenir?
Access
Hankyu Bus, Arima Onsen Bus Stop
Sake Ichiba is located across the road from the Arima Onsen Hankyu Bus Stop or a 5-minute walk from Arima Onsen Station. It is easily accessible as it is located on the main street.
Let's also Try Cinq Bar du SAKE
Located near Yumotozaka, you can also find Cinq Bar du SAKE, a sake bar that opened in 2018. Just like Sake Ichiba, this store is managed by Arima Katayama Mikio Shoten. At Cinq Bar du SAKE, you can enjoy sansho pepper flavored karaage (fried chicken), sake from Hyogo and craft beer!
Enjoy Arima Onsen's Unique Bars!
Arima Onsen offers many places to enjoy a cold glass of alcohol after a hot bath. When you are done with your time at the hot springs, we recommend that you visit Sake Ichiba or  Cinq Bar du SAKE for a unique bar experience!
In cooperation with Sake Ichiba

The information presented in this article is based on the time it was written. Note that there may be changes in the merchandise, services, and prices that have occurred after this article was published. Please contact the facility or facilities in this article directly before visiting.