Yoshitakaya, Arima Onsen - Popular Souvenir Shop In A Hot Spring Town
Yoshitakaya is a shop with a variety of one-of-a-kind goods with a Japanese hot spring theme. The original goods here include cosmetics, bath products, and unique snacks that make the perfect memorabilia for your time at Arima Onsen in Kobe.
Yoshitakaya for Souvenir Shopping Around Arima Onsen
The Kansai region is home to many onsens (hot springs) in Japan, and located in Hyogo Prefecture is Arima Onsen. This town is known for its narrow hill roads and maze-like alleyways containing cafes, restaurants, and shops.
There are many different souvenir and gift shops at Arima Onsen that are perfect for sightseeing and exploring. We would like to recommend one in particular.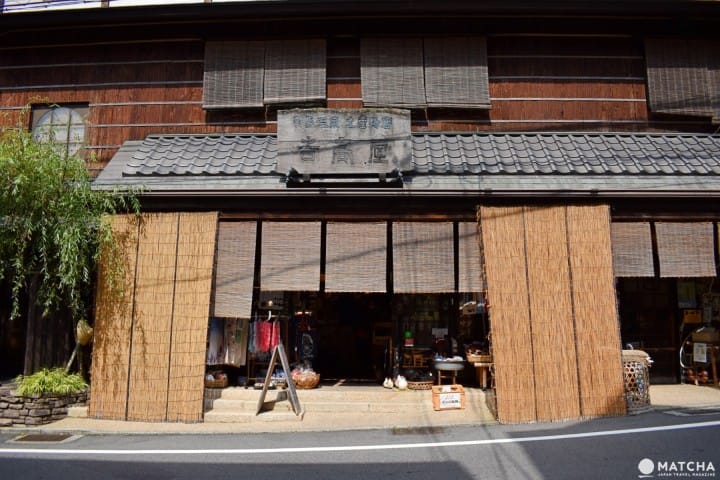 Yoshitakaya, established in 1868, is one of Arima Onsen's oldest souvenir shop, easily distinguished by its entrance.
The shop is located a 5-minute walk away from the heart of Arima Onsen. At MATCHA, our writer has visited Arima Onsen multiple times since childhood and always makes a visit to Yoshitakaya.
One of the reasons behind Yoshitakaya's success with customers is due to the abundance of tastefully and uniquely-designed goods!
At Yoshitakaya, you can find different items, from classic travel souvenirs to unique and original goods.
In this article, we will be introducing a range of popular hot spring exclusive bath and cosmetic products and a range of miscellaneous goods selected by the shop owner. Without further ado, let's dive into the fascinating world of this small souvenir shop.
Prices listed are at the time of coverage and are subject to change without prior notice.
Re-Create a Hot Spring Experience at Home!
The top of our list is a bath additive known as Kame Shiru Raw Bath Mineral (1 box comes with 5 packets for 1,000 yen before tax).
Bath goods are a popular souvenir choice when visiting hot springs in Japan. By simply adding the product into hot water, you will instantly greeted by the aromatic scent of hot springs. Bath additives are a simple and easy way to achieve an authentic hot spring experience at home.
Kinsen Foot Bath located next to Kin No Yu (Arima Golden Hot Spring Spa)
At Yoshitakaya, there are two types of bath additives available to choose from: kinsen (gold water) and ginsen (silver water).
Kinsen and ginsen are two well-known hot spring waters at Arima Onsen. Kinsen is a brown colored hot spring water that is rich in iron. It turns brown as a result of oxidization when it comes in contact with air. It is highly effective in moisturizing and facilitating body warmth retention. Ginsen is a clear hot spring water that has moisturizing properties that keeps one's skin healthy.
At Yoshitakaya, you can find bath additives Kinyu and Ginyu. Kinyu has similar properties to Kinsen, as they both contain a blend of sodium chloride and iron. Ginyu contains a blend sharing the same properties as Ginsen. These bath goods allow you to create a close to identical kinsen and ginsen hot spring experience in the comfort of your own home. With Kinyu, not only are you able to re-create kinsen's color, but you can also indulge in its authentic scent.
Kinyu is also manufactured professionally so customers are able to enjoy its natural color without worrying about bathtub discoloration.

Another highly recommended bath product is Teppo Water Bath (250 yen before tax). It shares an uncanny resemblance with Japan's traditional tablet-shaped candy, Ramune, but Teppo Water Bath actually contains bath tablets.
The package says Arima cider scent.
Arima Cider, Photography: Tick Tac
Cider is a signature drink of Arima Onsen. You can find bottles of sweet and refreshing carbonated Arima cider at many restaurants and cafes.
Teppo Water Bath is a bath additive that has a similar scent and sparkling effect as Arima cider. Our writer tried Teppo Water Bath at home, and upon opening the package, said they were instantly engulfed by the cool and fresh scent of Arima cider. After dropping a few tablets into a bathtub of hot water, foams and bubbles are formed, turning the tub of hot water white.
As these bath tablets are filled with moisturizing skin properties, after your bathe your skin will appear shiny and supple. Be careful not to mistake them for candy and consume them!
A Wide Range of Original Cosmetic Products!
At Yoshitakaya, you can also find an abundance of original cosmetic products that are unique to hot springs.
The most popular cosmetic product is the above pictured Bihada Soap (700 yen before tax). This soap is made from Arima Onsen's fresh hot spring water through a natural maturing process of 80 to 90 days.
Packed with collagen and deep moisturizing content, this soap can be used for both face and body. Many customers have claimed to have much softer and dewy skin after using this soap.
Another highly recommended product is the Facial Cleansing Soap (1,000 yen before tax). The packaging might seem perplexing.
However, you will find a squishy, jelly-like soap inside. Made with ingredients like potato starch and mannan, this soap is filled with beautifying benefits and is far softer to the touch than any ordinary soap. Over 30% of its content contain ingredients including collagen, hyaluronic acid, and coconut oil.
To use the soap, gently massage it directly onto your skin. Just using the soft and silky soap is entertaining. After cleansing, your skin will be soft and supple. This is a bath product that will enhance your everyday routine!
Inside the shop you can also find sample products to try before purchasing.
These are also popular beauty and heathcare items.
On the left, we see a face mask. This face mask is made from 70 percent of hot spring water from Arima Onsen. By putting this mask on overnight, you will see much smoother and supple skin the next morning! Each packet comes with 1 sheet and costs 380 yen (before tax).
On the top right, is a jar of hand cream. This hand cream is made from a mixture of hot spring water, mineral oil, and yuzu (a citrus fruit) peel oil (550 yen before tax). During summer, it is recommended to place it in the refrigerator before use for an extra refreshing effect.
On the bottom right is facial mist made from hot spring water, hyaluronic acid, and silkworm cocoon extract (1,500 yen before tax).
Cute Toys and Gifts
At Yoshitakaya, you can also find an overwhelming variety of adorable toys, gifts, and miscellaneous goods.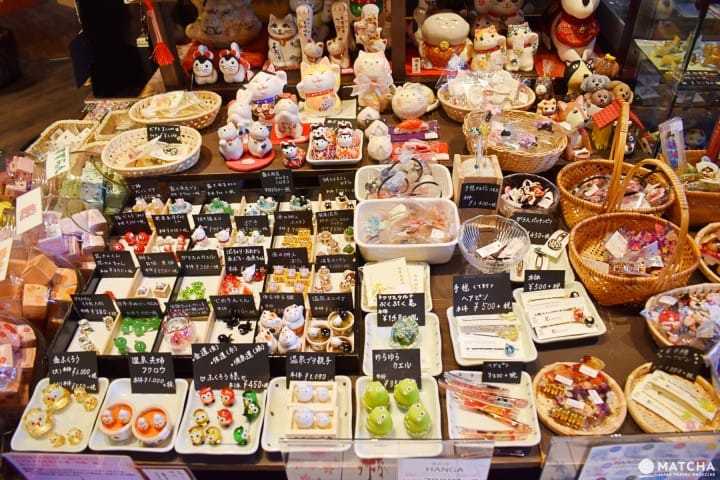 You can find products such as hair pins and adorable animal goods, such as frogs and owls, at an affordable price.
These colorful coasters are exclusively available for a limited time only. They feature an adorable design with a wide range of patterns, such as seasonal flowers, Arima cider bottles, and black cats (350 yen before tax).
As you explore deeper in the shop, you can find even more animal designed products, including these felt coasters that are almost too cute to use (600 yen before tax).
There are also many different kinds of towel products such as face towels, body towels, and tenugui (thin cotton towels). The variety gives customers the freedom to choose their favorite size and design.
These summer-friendly Japanese style patterned pouches would pair perfectly pairing with yukata (Japanese summer kimono) (2,000 yen before tax).
Arima Onsen's Classic Souvenirs
One classic souvenir at Arima Onsen is Tansan Senbei (carbonic acid crackers).
The name "tansan" comes from the sparkling carbonic acid hot spring water used to make the crackers.
The crackers are lightly sweetened and contain a crisp and light texture. They are also a healthy, egg-free option. This snack can be enjoyed by both the old and young. They are addictive crackers that will keep you coming back for more.
At Yoshitakaya you will find many different brands of tansan senbei produced by different local manufacturers. Each brand has a unique flavor. We recommend Yu No Hana Do in particular. With plenty of samples to taste from, be sure to try sample some from each brand before deciding on the tansan senbei to purchase.
Access
Kobe Electric Railway (Arima Onsen Station)
Yoshitakaya is located along the narrow alley road that leads up to Kobe Electric Railway's Arima Onsen Station. Its location makes it convenient for tourists traveling by train to drop by to purchase souvenirs and gifts before returning home.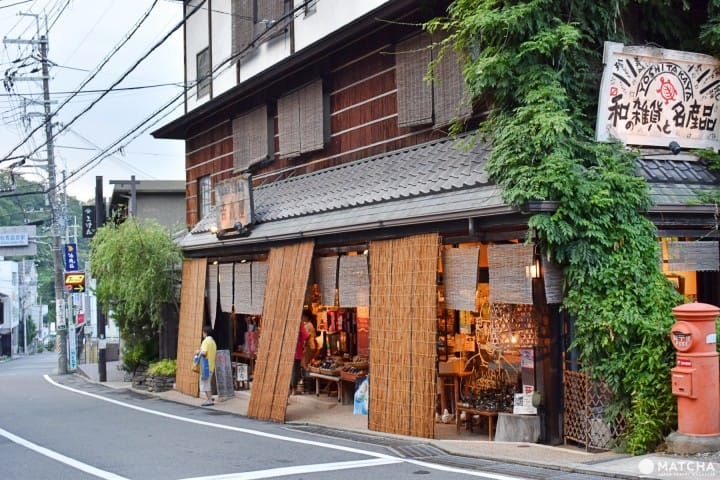 Although the shop is located slightly away from the heart of Arima Onsen, the town is small and you can get to Yoshitakaya with a 5-minute walk. Make sure to refer to the map on the information board for instructions.
Find the Perfect Souvenir Just For You!
Fun and charming souvenir shop Yoshitakaya is the perfect place to find a memento for your trip to Arima Onsen.
If you ever visit Arima Onsen, be sure to make a visit to Yoshitakaya!

In cooperation with Yoshitakaya

The information presented in this article is based on the time it was written. Note that there may be changes in the merchandise, services, and prices that have occurred after this article was published. Please contact the facility or facilities in this article directly before visiting.