[Hyogo] Experience the world's oldest traditional art "Noh" at "Nishinomiya Noh Theater"! Experience 700 years of history
This service includes sponsored advertisements.
At Nishinomiya Noh Theater, you can not only watch the performance from the audience seats, but also go up to the stage and experience the profound spirit and world of Noh through experiences such as shuriashi, wearing a Noh mask, and wearing costumes. My first time at Noh! You can experience Japane...
Noh, the world's oldest traditional art
Nohgaku has been passed down for about 700 years. It is the world's oldest traditional art, and has had a great influence on later generations of Ningyo Joruri Bunraku (Ningyo Joruri Bunraku), Kabuki, and even modern artistic activities.
"Nohgaku" is a collective term for "Noh" and "Kyogen." ``Noh'' is a traditional performing art in which a story unfolds on a very simple stage, with ``utai'' sung and ``hayashi'' (music accompaniment). Noh masks delicately express people's emotions, such as joy, anger, sadness, and joy, and liven up the progress of the story and the atmosphere of the stage. On the other hand, ``Kyogen'' is a comedy that focuses on dialogue, and uses dialogue to tell various humorous stories from the lives of common people.
Nishinomiya Noh Theater where you can experience Noh
Nishinomiya Noh Theater not only regularly performs Nohgaku, but also offers experience menus related to Noh. We offer a wide range of menus to suit the needs of our visitors, including Noh mask-wearing and singing experiences, as well as costume-dressing workshops. You can experience Japan's authentic "traditional performing art, Noh" with all five senses.
In addition, during the Noh experience at Nishinomiya Noh Theater, we also offer additional options tailored to the needs of our visitors, allowing them to fully enjoy traditional performing arts and Noh. This time, we will introduce the basic ``Experience Program Basic Course'' and additional ``Options''.
"Experience program" where you can enjoy "Noh" with all five senses
Nohgaku explanation by watching DVD (history, Noh stage, Noh masks, Noh fans)
First, while watching the DVD, listen carefully to the history of Noh and the structure of the stage. You can feel the depth of 700 years of history. It comes with English subtitles and commentary, so people from other countries can also watch it.
You can actually hold a Noh fan, which is a Noh play tool, and take a close look at it.
Sliding foot experience
The basic walking movement of Noh, ``suriashi'', involves moving smoothly while keeping the center of gravity of the body parallel to the ground, without moving the upper body. It is said that similar movements are used not only in stage performing arts such as Noh, but also in martial arts.
The experience of ``sliding'' on stage is quite a difficult opportunity, but by walking slowly and calming your mind, you can enjoy the experience.
Noh mask explanation and Noh mask experience
One of the characteristics of Nohgaku is the Noh mask. Among the approximately 60 types and 250 shapes of Noh masks, the most representative ones have been selected. They are not imitations for the experience, but real ones that are actually used on stage, so you can experience each historical piece one by one. Noh masks are tools that express emotions and expressions through subtle changes in angle, up and down, left and right. After listening to explanations about each person's role and the program used, they put it on their face and walk on stage.
Originally, ``suriashi'' is difficult. It feels even more difficult when wearing a Noh mask. Walking is more difficult because visibility is limited. I once again feel the greatness of Noh actors.
Uta experience
You sit in your seat and listen to the Noh performer's guidance on the Noh song ``Hagoromo.'' You can enjoy even difficult songs by experiencing Noh music closer to you!
break time
During the experience, there will be time for you to take your time and sample the sake. The sake served is local sake from Nishinomiya City, where the Noh Theater is located. You can enjoy the unique characteristics and characteristics of local sake that has inherited history and tradition. *As an option, you can choose from three types of historical local sake.
For those who cannot drink sake, Japanese tea is available. Enjoy the taste and aroma and experience Japanese culture. *As an option, you can choose from three types of local Japanese tea.
Kamishibai Screening
Look at the picture-story show of ``Hagoromo'' on the slide. Learn about the legend of Hagoromo, which has been passed down from ancient times in Japan, and learn the plot. There is also English audio, so people from other countries can also enjoy it.
Appreciation of the dance "Hagoromo"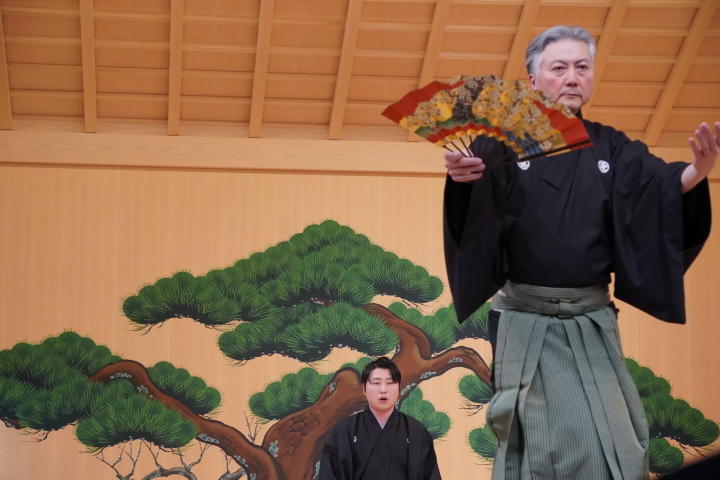 A Noh performer wearing a crest performs the final dance on a beautiful stage. By taking your time to enjoy the performance, you can get a better feel for the traditional Japanese performing art of Noh.
Additional ``options'' that allow you to enjoy the depth of Noh
Nishinomiya Noh Theater's ``Experience Program'' allows you to have a valuable experience of enjoying Japanese culture. By adding your desired options, you can enjoy Noh even more.
Workshop on wearing costumes *Optional
In the costume experience, participants will try on the Noh "Hagoromo" costume. You will be dressed in kimono by a Noh performer.
In the costume dressing experience, you can wear Karaori and take photos while listening to the explanation of the costume experience!
Hayashi (hayashi) musical instrument explanation and experience *Optional
There are four types of instruments used in Nohgaku: flute, small drum, large drum, and taiko. Each instrument has its own unique score and playing method. The performer will carefully explain the instrument and teach you how to play it. Even beginners can enjoy playing musical instruments.
Access to Nishinomiya Noh Theater
The Nishinomiya Noh Theater is located in Naruo, Nishinomiya City, Hyogo Prefecture, which also appears in the story of Takasago. Easy to access, 5 minutes walk from Naruo Station on the Hanshin Main Line and 10 minutes walk from Koshien Station.
If you would like to know more about how to get to Nishinomiya Noh Theater and the experience menu at Nishinomiya Noh Theater, please click on [Official Website].
Hirabayashi Hall Nishinomiya Noh Theater
Address: 3-6-20 Naruo, Nishinomiya City, Hyogo Prefecture 663-8184
TEL:0798-48-5570
FAX:0798-48-5571
[Official website] Hyogo prefecture tourism site HYOGO! navigation
The official website of Hyogo Tourism Headquarters, which provides tourist information for Hyogo Prefecture (Kobe, Himeji, Kinosaki, Awaji Island, etc.). There is a lot of recommended travel information, including special sightseeing spots such as Hyogo Prefecture's Japanese heritage sites and cycling, as well as model courses where you can enjoy hot spring culture and Japanese sake, so be sure to check it out!
Written by

Welcome to Hyogo Hyogo is a gateway to the Kansai region, which nurtures the blessed land that connects the Sea of ​​Japan, the Chugoku Mountains, and the Seto Inland Sea, as well as the blessed climate. There are many spectacular views that will catch your eye, such as Himeji Castle, a World Heritage Site that was selected as one of the 100 Best Cherry Blossom Spots, and the panoramic night view from Mt. Rokko. The world-famous Kobe brand, KOBE BEEF, which is synonymous with Tajima beef, is one of Japan's leading beefs, and the sake rice ``Hyogo Yamada Nishiki'' is a gem that will surprise your tongue. Arima Onsen is a famous hot spring, and Kinosaki Onsen has appeared in many literary works. Surrounded by nature, you can relax your mind and body. You can come across memorable sounds such as the thunderous sounds of the whirlpools of Naruto on Awaji Island, and the dynamic sounds of the fireworks festivals held in various places in the summer. In the herb gardens and botanical gardens in the prefecture, you will be healed by the gentle and pleasant scent of herbs and flowers throughout the four seasons. Enjoy a new journey in Hyogo that stimulates the five senses of sight, taste, touch, hearing, and smell.

The information presented in this article is based on the time it was written. Note that there may be changes in the merchandise, services, and prices that have occurred after this article was published. Please contact the facility or facilities in this article directly before visiting. Some of our articles contain affiliate links. We kindly ask our readers to exercise careful judgement when making a purchase or booking a service online.

The contents on this page may partially contain automatic translation.