Kobe Area Guide - Sannomiya, Kitano, Bay Area, And Arima Onsen
Kobe is a port city close to Kyoto and Osaka. Although this city is known for its shopping, there is more to discover here. In this article, we introduce 10 unique areas to enjoy in this exciting destination.
Discover Exciting Kobe
Kobe, a port city in Kansai, is well known for its shopping and dining with a stylish ambiance. It is impossible to tire of walking in the Kobe area as there is so much to enjoy, from the interesting coastal townscape to its one-of-a-kind shops and businesses.
Kobe contains many different, vibrant areas. We cover 10 areas, each representative of this unique city, including the iconic Bay Area, shopping streets filled with local history, and Arima Onsen, home to some of Japan's oldest natural hot springs.
Use this article to learn about the different regions and neighborhoods of Kobe before taking your trip!
Kobe Area Guide
1. Sannomiya Area – The Heart of Kobe-Sightseeing
Sannomiya Center Street, one of the shopping streets in Kobe
Sannomiya is an ideal starting point for sightseeing around Kobe. In Sannomiya, you can experience firsthand two very different sides of the city depending on which part of Sannomiya Station you exit from: the north side leads towards the mountains, and the south side will show you the beauty of the sea.
The north side of the city is bustling with bars, cafes, and restaurants, and there are endless shops offering delicious Kobe beef. Ikuta Shrine is a Shinto shrine dedicated to love and relationships that is also located in the area. If you climb up the Kitano Slope, you'll reach the Kitano neighborhood, with its rows of Western-style residences.
The south side of the station boasts Sannomiya Center Street, one of the shopping streets of Kobe. A 600-meter long shopping arcade shopping connects Sannomiya with Motomachi. Head more south towards the coast to visit a neighborhood with designer brand stores in a historical former foreign settlement area.
Sannomiya Station is located conveniently in the middle of the Sannomiya area. It is a terminal station connecting many transit lines, such as JR and Hankyu, making it easy to visit from Osaka and Kyoto, too.
Sannomiya Station Google Map
2. Kitano Area – Charming Western-Style Houses on a Hill
The Kitano area is around a 15-minute walk north of Sannomiya. Because this area is located near the mountains, many of the streets are built on slopes. Along these hilly streets, you'll notice numerous Western-style houses, called "ijinkan" in Japanese.
Kazamidori Hall, a representative Western-style house of the area
Ijinkan were built in after the Kobe port was opened for trade in 1868, providing houses for people who came from abroad to live in Japan. Over 30 of these residences remain to this day, and visitors can even view inside some of the houses.
The refined Kitano area is known for its many shops and stores with a relaxing, serene atmosphere. The bars and restaurants, cafes, and boutiques here make a mere stroll fascinating. You can walk down a narrow alley to make your stroll more interesting.
Kitano Ijinkan (Kazamidori Hall) Google Map
3. Bay Area – Port Tower, Meriken Park
Picture from Kobe Port Tower - The Red Symbol Of The City Sparkling In The Sky
The red tower that stands out in the Bay Area is Kobe Port Tower, a landmark of the city. Climb up to the observation deck to see Kobe City together with the mountains and the sea.
Meriken Park, which surrounds the Port Tower, is a spacious park by the sea. Take a commemorative photo in front of the monument for a keepsake or spend some time relaxing at one of the cafes.
Kobe Brick Warehouse
If you walk along the shore for about 10 minutes, you'll reach the shopping facility, Harborland. Visit Umie and Kobe Brick Warehouse (Kobe Renga Soko) to enjoy some shopping with a refined ambiance.
Many companies organize cruising tours around the Bay Area. There are plenty of styles of rides to choose from, including a sightseeing cruise shorter than one hour and a cruise on a boat-restaurant where you can feast on an extravagant dinner. We recommend this to feel the refreshing sea breeze on a cruising tour!
Kobe Port Tower Google Map
4. Motomachi Area – Walk and Eat in Chinatown!
Located only one stop away, or 10 minutes by foot from Sannomiya Station is Nankinmachi, a famous Chinatown in Kansai. The neighborhood has over 100 different stores and occupies an area of 270 meters east to west, and 110 meters north to south.
Enjoy exquisite Chinese food for lunch, or snack on delicious treats from the food stands along the alleys. For just a few hundred yen, you can treat yourself to a pork steamed bun (nikuman) or other types, like buns with pork cube filling (kakuniman), or even Peking duck.
There are a large number of local, established businesses in the vicinity of Motomachi Station. They can be found under the elevated railway of the station.
Kobe Nankinmachi GoogleMap
Areas Perfect for Shopping
Next on our list are great shopping spots in the Sannomiya and Motomachi areas!
5. The Former Foreign Settlement – Designer Brand Shops
On the south (sea) side of Sannomiya Station is the Former Foreign Settlement area (Kyukyoryuchi). Visitors from abroad who came on business after Kobe's port opened to trade used to live here.
Today, this area is one of Kobe's most renowned shopping spots, with a variety of luxury brand stores carrying stylish apparel. The buildings have a charming, classic look, lined up in neatly-organized blocks. The area contains a historical atmosphere which travelers can experience walking around the neighborhood.
The Former Foreign Settlement – Daimarueki-mae (closest station to the Former Foreign Settlement) Google Map
6. Sakaemachi – Endless Unique Shops!
Further south from Motomachi and Nankinmachi is the Sakaemachi area, a personality-filled and classy neighborhood. There are a number of remodeled antique-style accessories shops, apparel shops, galleries, and cafes to explore.
While the neighboring Former Foreign Settlement area is popular for its famous brand-name stores, Sakaemachi is known for its many small shops run by individual owners. Visitors can enjoy browsing these shops in a relaxed atmosphere. Take your time to explore the small 2-story buildings and adorable shops.
Sakaemachi Pass (Sakaemachidori) Google Map
7. Torwest – Great for Strolls around the City!
The shopping area in between Sannomiya Station and Motomachi Station is known as Torwest. Visit the narrow backstreet alleys and discover cozy clothing stores, second-hand shops, and cafes. This neighborhood is ideal for shopping while leisurely strolling around.
After you've found some casual and irresistibly cute clothes,  have a snack at a cafe specializing in dishes using all-natural ingredients. You can experience another side of Kobe by exploring Torwest and visiting its many one-of-a-kind shops.
Torwest Google Map
8. Shinkaichi – A Historical Downtown
Picture from Enjoy A Retro Kobe Vibe At The Artsy Yume Nomad Hotel!
Visitors wanting to immerse themselves in a local atmosphere are recommended to visit the Shinkaichi area. Once a neighborhood bustling with movie theaters and performance venues, this enchanting spot now draws people with its retro buildings, local Japanese-style cafes (kissaten), and shopping streets.
This area allows you to get to encounter another part of Kobe, different from its polished and refined image seen in other places.
Shinkaichi Station Google Map
9. Nada Area – A Paradise for Sake-Lovers!
Picture from Hakutsuru Sake Museum In Kobe - A Must-See For Liquor Lovers
The Nada area is a must-visit for Japanese sake enthusiasts. In fact, Hyogo Prefecture, where Kobe is located in, is Japan's largest producer of sake. One place that stands out for its number of sake breweries is Nada. Hakutsuru Sake Brewery Museum and certain breweries allow factory tours and a chance to try some freshly brewed sake for free!
Hakutsuru Sake Brewery Museum Google Map
10. Arima-Rokko Area – Relax in Hot Springs and Enjoy Nature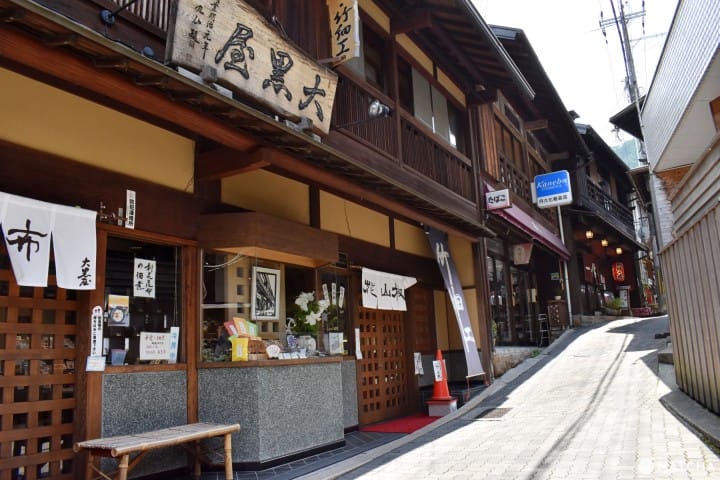 Arima Onsen, around 40 minutes by bus from Sannomiya Station, is one of Kansai's most well-known hot spring areas.
A nice stroll around the onsen-town atmosphere will leave you in the mood for relaxation at the unique hot spring "Kinsen." The high amount of iron turns the water a reddish-brown color. The water is said to relieve back pain and help improve cold sensitivity.
Arima Onsen (Bus Terminal) Google Map
Picture courtesy of KOBE TOURISM BUREAU
Visitors preferring serene nature should head to Mount Rokko. Have a barbecue at Rokko Country House, and enjoy some physical activity at Rokko Field Athletics. At Rokko Farm, you can play with cuddly animals and try some fresh milk and cheese.
Mt. Rokko is known for its stunning and dynamic nature throughout the year. Visit the official homepage for further information on the mountain.
An easy way to enjoy Arima Onsen and Mt. Rokko in-depth is on a guided tour. View the following link for more details on this tour, which includes a hike and time at the hot springs at Arima: Arima Onsen and Hiking Experience Tour
Rokko Country House Google Map
Visit Kobe!
Kobe is a city filled with many exciting areas and neighborhoods that each have an individual atmosphere. Stay longer than one day in Kobe and immerse yourself in what this city has to offer!

The information presented in this article is based on the time it was written. Note that there may be changes in the merchandise, services, and prices that have occurred after this article was published. Please contact the facility or facilities in this article directly before visiting.