Experience Everyday Life In Japan At Guesthouse Maya In Kobe
Guesthouse Maya, which opened in 2017 with the help of local residents, is a wonderful hostel where you can experience everyday life in Kobe.
Guesthouse Maya, An Inn to Enjoy Carefree Everyday Living
Photo provided by: Guesthouse Maya
In addition to those who travel with sightseeing in mind, you often see tourists who think, "I want to experience quiet, everyday life in Japan." In this article, we will introduce Guesthouse Maya, a place in Kobe where you can experience an idyllic way of living. From JR Sannomiya, Kobe's hub station, Maya is one stop away at Nada Station, a two minute trek. From the station, the guesthouse is about a five minute walk going northeast.
The building is a renovated former neighborhood clinic, and Maya opened in 2017, with help from local residents. Customers come from places like South Korea, the USA and Taiwan. Apparently many people find out about Maya through hostel reservation sites, reviews and blogs, or get introduced by people who live in town.
Check In First
Check-in is from 16:00 - 22:00. When you check in, the staff will tell you about shops frequented by locals, notable hidden gems and other ways to enjoy the surrounding area.
After you check in, you will get a little wooden plate that serves as your room key. The combination padlock is for your locker in the dormitory. There is no curfew, so once you've checked in, it's not a problem if you get back late.
There Are Dormitories or Private Rooms
A co-ed dormitory room for six people starts at 3300 yen a night, and a women-only dormitory room for six people starts at 3500 yen a night (shown in the photo above). The mountain hut-esque triangular roofs are cute.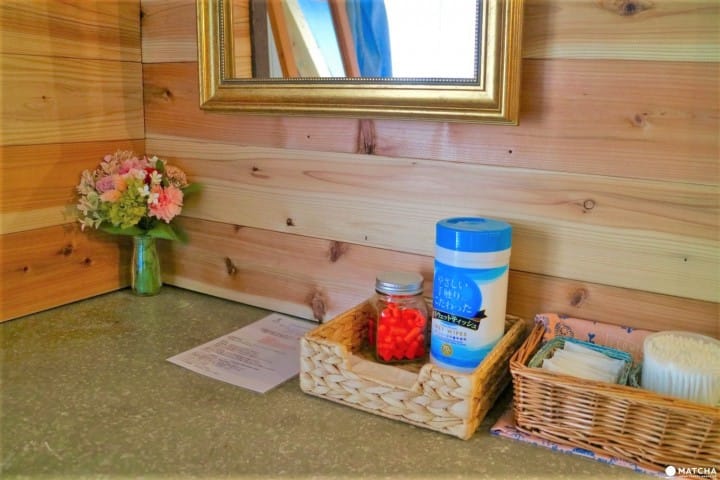 Women-only dormitory rooms have a convenient space for doing makeup, complete with cotton swabs, cotton, wet tissues and other amenities.
Private room bed areas come with a clean futon, blankets, a reading lamp, power outlets, curtains and a lockbox. There is also a place to put your bags, next to the futon.
Other than the dormitory rooms, there are single rooms, double rooms and rooms for two to four people. All rooms are decorated simply and naturally, and you can relax. Rates vary by number of guests, so check prices on the homepage.
A Playful Shared Space
There is a shared kitchen and dining area on the first floor where you can cook for yourself. In the back, there is a round, scallop-shaped lounge. There are also spiral benches, and the lounge is a good place to eat, read, talk with other guests or just take a break and hang out.
There are shared bathrooms and three shower rooms, as well as separate women-only shower rooms and bathrooms. The showers are usable 24 hours a day, but dryer use at night is restricted, so ask when you check in.
Enjoy the Handcrafted Feel of the Decor!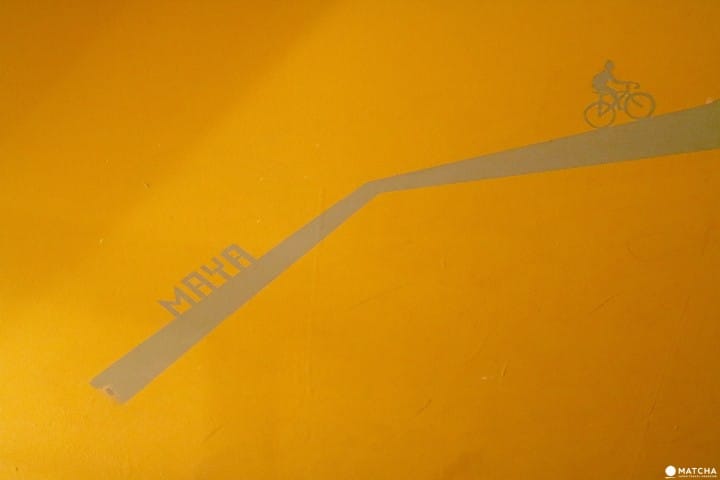 There are various designs and contrivances all over the inside and outside of the building, which feel very handcrafted. Look for the word "MAYA" around the building. How many can you find? As a side note, the kanji in the name "Maya" refers to the aspiration to become a place for ten thousand people to gather. It also has the same name as Mt. Maya, a famous mountain in the Rokko mountain range, which symbolizes the city of Kobe. From the Maya Kikuseidai, you can get a great view of Kobe at night.
As Maya was the site of a small clinic, the clinic's once-used medical tools now spell out MAYA at the guesthouse. You can feel the kindness of the owner, treasuring the memories of the old proprietor.
How About Some Delicious Bread in the Morning?
The guesthouse does not offer meals, but Kobe is known as a bread city, and there are recommended bakeries nearby. There is also a toaster in the guesthouse, so pick up some delicious bread at Hagihara Coffee (200 yen) for a great breakfast!
We picked up a croissant at Leman Bakery. It's a traditional bakery, and we also recommend the sandwiches there.
Stay at Maya and Go on an Eating Tour at the Shotengai!
At Maya, there is an irregularly held eating tour of the Suidosuji Shotengai shopping district, which is within walking distance. Suidosuji is a long-established, bustling shotengai that supports the lifestyles of local residents, with fishmongers, greengrocers, tofu shops, general stores and more.
Park-san on the left is the owner. He took pictures with Maya guests and people in the shotengai.
Enjoy sampling various food and chatting with shopkeepers, as you enjoy a tour that feels like you like in the area. Ask about prices and when the tour will be held when you get to Maya.
A Guest Extending Their Stay Due to the Cozy Guesthouse
When we went to cover Maya, we spoke to a guest from South Korea (on the left), helped by interpretation from Park-san. He said it was his fifth time visiting Japan, and his first time coming to Kobe. He found Guesthouse Maya by looking on hostel reservation sites and blogs. He said he liked the homey feel of Maya, and would stay longer.
The Owner With a Wonderful Smile, Park-san
Finally, we asked the owner Park-san, who is from South Korea, about how Guesthouse Maya got started, and what he's tackling now. "When I was in high school, I got interested in international exchange through Japan-Korea student exchanges. After that, I ended up living in Japan, and I felt that it was possible for us to understand each other if we met directly, even if our countries and cultures were different. I wanted to open a guesthouse where travelers from all over the world could meet, and form connections with the local area. Now, this is the result."
"While I was looking for a place to start up a business, I went around Kobe's various locales, and I became fond of this place, with its energetic shotengai community. However, at first I didn't know anyone at all, and someone who came in by chance introduced me to people associated with community development. I worked in town and did volunteer work, and looked for real estate while I forged bonds with the community, and after two years, I found our current location.
"It took four months and the help of about 300 people in total, local residents, friends and others, who assisted with various tasks like painting and laying down roof tiles and floorboards, before the guesthouse opened. I felt the hospitable warmth from the community, and the area gladly welcomes new arrivals. In response to that feeling, I thought about what I could do from the perspective of a hostel, and I want to help invigorate the town."

Park-san's sincerity and enthusiasm left a strong impression on us. In addition, we heard from a someone who helped with the renovations, who said that they enjoyed helping to build the guesthouse: "I have work so I was only helping on weekends, but before I knew it, I came to look forward to the next weekend." By all means, choose to stay at Guesthouse Maya, a place that values human connections. As you enjoy the local Kobe scene, your trip album will surely fill up with memories.

In cooperation with: Guesthouse Maya

The information presented in this article is based on the time it was written. Note that there may be changes in the merchandise, services, and prices that have occurred after this article was published. Please contact the facility or facilities in this article directly before visiting.