Wakayama Castle Guide- Top 6 Spots For Enjoying Scenery And History
We suggest visiting Wakayama in Western Japan, especially if you've already seen Osaka, Kyoto, Nara, and Kobe! Take a break from the crowds and experience Japan's local culture for yourself. This article features the symbolic Wakayama Castle.
Wakayama Castle: A Uniquely-Designed Japanese Castle
The symbolic Wakayama Castle is located just past the west side of JR Wakayama Station.
In 1585, Toyotomi Hideyoshi (*1) commissioned his younger brother to build this castle. During the Edo period, Kishu Tokugawa, one of the three branches of the Tokugawa Gosanke (*2), took over control of the castle during its long history.
The castle was destroyed in 1945 during World War II, so the current castle tower is a reconstructed version from 1958.
*1 Toyotomi Hideyoshi: a general commander during the Sengoku period, who was known for unifying Japan. He was also responsible for the construction of Osaka Castle.
*2 Tokugawa Gosanke: also known as "the Three Houses of the Tokugawa," this refers to three important branches of the Tokugawa clan during the Edo period. Each one of the houses was led by one of clan founder Tokugawa Ieyasu's sons, and all three were high ranking feudal lords.
The tallest part of Wakayama Castle is the tenshukaku, or castle tower, which is comprised of the main tower and three smaller towers. All of the towers are connected by a corridor. When viewed from above, it forms a rectangular shape.
This design is known as renritsushiki tenshukaku, which is rare and unique type of castle construction in Japan. There are only a handful of other castles constructed in this manner, including Himeji Castle, Matsuyama Castle, and Takatori Castle in Nara Prefecture. These castles are must-visits for castle enthusiasts.
The Top 6 Ways to Things to Do Wakayama Castle
In order to give you a better idea of exactly what's on the castle grounds, next is an introduction of Wakayama Castle with some tips on where to take photos.
1. See All of Wakayama City from the Castle Tower
The castle tower is a great place to visit during dusk. From here you can take in 360-degree view of Wakayama City, along with the sun setting over the ocean, making this an ideal photo spot.
There are also castle artifacts inside that visitors can view. If you have the time we recommend taking a look.
Hospitality ninja, ready to give directions, take pictures, and assist visitors in wheelchairs, stand at the sloped entrance facing the tower (tenshukaku) and at the tower entrance of Wakayama Castle.
Pamphelts on Wakayama Castle are available English, Chinese (traditional and simplified), and Korean versions as well.
2. Nishinomaru Teien Garden and Tea House - Capture Lovely Photos
Nishinomaru Teien is a Japanese garden that is said to have been built in the early part of the Edo period. The garden is known for its beautiful fall foliage.
When autumn arrives, many travelers and local residents come to visit. The mornings are usually not very crowded, so we suggest that visitors who want to take their time observing the gorgeous leaves and taking photos come during this time.
There is also a tea house inside the garden where you can enjoy matcha green tea and wagashi (Japanese sweets). From 9:00 to 16:30, a green tea and Japanese sweets set is available for 460 yen in the tea house.
3. Ohashi Roka Bridge-Features an Unusual Hidden Corridor!
When going to Nishinomaru Teien, you'll see ohashi roka, a bridge that slopes diagonally. During the Edo period, its use was restricted to the castle lord, his guests, and servants, so it's been designed so that the inside can't be viewed from the outside.
However, nowadays, anyone can enter after removing their shoes. Though it has a steep slope, it's secure enough to walk on as the floor has a bumpy, non-slip kind of surface. Don't worry about not crossing the bridge safely.
4. A Zoo Worth to Visit with Your Kids
Wakayama Castle also has an adjoining zoo where visitors can see animals free of charge. There are about thirty different kinds of animals including goats, penguins, bears, and deer.
This is an outing that families and visitors with children can enjoy together.
5. Wakayama Historical Center - Learn All About the Castle
Right next to Wakayama Castle's bus parking lot is the Wakayama Historical Center.
At the center, visitors can watch a virtual reality video about the castle's history and view a display of swords and helmets. The video is subtitled in English, and the various exhibits are accompanied by English explanations.
We recommend starting your walk here to first learn about Wakayama Castle's history.
You can also use the virtual reality smartphone application, street museum, here. At ten specific places within the castle, you can see a virtual reality image of Wakayama Castle during the Edo period, as you listen to the commentary on the audio guide. This smartphone application also has English explanations.
6. Wakayama City Hall - See the Entire Castle
If you'd like to get an all-encompassing view of Wakayama Castle, visit the observation deck of Wakayama City Hall. It's about twenty minutes away on foot from the castle.
You can get an impressive overall view of the castle just like the one shown in the above picture.
Also, next to the observation deck is a restaurant called "The 14th-floor Farm" where you can look at the castle while you have a leisurely meal.
The restaurant is buffet-style with around fifty dishes, offering a nutritious menu with an emphasis on vegetables.
Stunning Scenery in Each Season
Picture courtesy of Wakayama City
Wakayama Castle is famous for its cherry blossoms and autumn foliage, so visitors can enjoy different scenery throughout the year.
See a Castle Blanketed in Snow!
Picture courtesy of Wakayama City
It snows on rare occasions in Wakayama, and when it does, the snow only sticks to the ground about once a year. However, the castle area transforms into a magical wonderland.
Visit the Local Shopping Street
Cross the intersection in front of the Wakayama Castle bus stop and continue stragiht to get to the Burakuricho, a shotengai (traditional Japanese shopping street).
There's also a place (pictured above) where you can try a game called smartball, which is similar to pinball.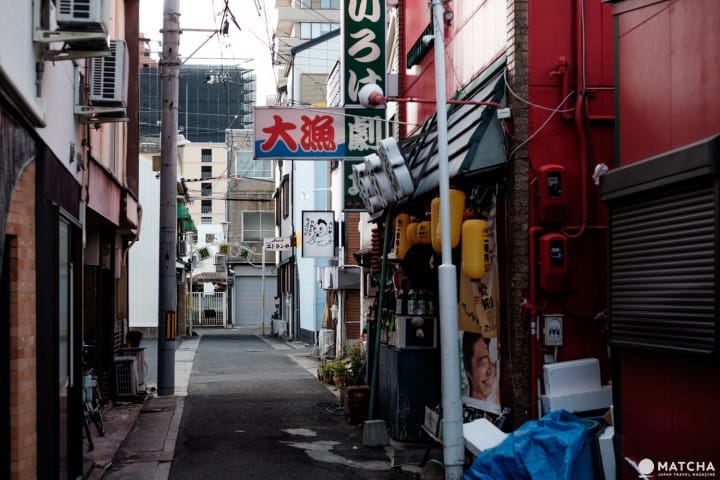 A number of narrow alleys lined with various shops are along both sides of this shopping street.
Many of the signs are written in Japanese, creating a retro atmosphere reminiscent of Japan's Showa period in the mid-20th century.
How to get to Wakayama
Next we introduce how to get to Wakayama in ways convenient for after sightseeing in Osaka.
Access from JR Osaka Station
From JR Osaka Station to Wakayama Station:
At JR Osaka Station, take the Kishuji Rapid Line leaving from platform number one. It takes about 90 minutes and the one-way fare is 1,240 yen.
Make sure to board one of the last four cars of the train! Trains departing from JR Osaka Station for Wakayama Station have eight cars. However, the first four cars of the train line disconnect from the others along the way and head for Kansai International Airport.
From the Station to Wakayama Castle:
From JR Wakayama Station you will use the bus. Take either the Number 0 or Number 25 bus and get off at Koenmae bus stop. It takes about five minutes and costs 230 yen.
When you pay the fare on the bus, you will not get any change back. If you do not have exact fare on you, please use the change machine at the front of the bus beside the driver's seat.
Access from Dotonbori (Nankai Namba Station):
From Nankai Namba Station to Nankai Wakayamashi Station:
If you'd like to visit Wakayama after sightseeing in Dotonbori in Osaka, we suggest using the Nankai Electric Railway!
From Dotonbori's Glico sign area (see picture above), head south for about fifteen minutes to get to Nankai Namba Station.
Limited Express Southern (Nankai Main Line) is convenient to use when between traveling Nankai Namba Station and Wakayamashi Station. The first four cars of the train are reserved and the last four cars are non-reserved.
It takes around one hour and the one-way fare is 920 yen. A reserved seat ticket costs an extra 510 yen. We recommend a reserved seat if you'd like to relax and enjoy a leisurely ride.
From the Station to Wakayama Castle:
After exiting Nankai Wakayamashi Station, cross the street and go to the pedestrian bridge. After walking about ten minutes, you'll arrive at the moat that encircles Wakayama Castle.
Venture to Wakayama!
If you have seen Osaka and Kyoto a number of times, the atmosphere of Wakayama City's will be a refreshing change!

Wakayama is also easily accessed from Kansai International Airport as well, so it might also make a fun stop on your next trip.

In cooperation with Wakayama City / Wakayama Castle Maintenance and Planning Division

The information presented in this article is based on the time it was written. Note that there may be changes in the merchandise, services, and prices that have occurred after this article was published. Please contact the facility or facilities in this article directly before visiting.