Himeji Guide: The Castle, Museums, And Other Sightseeing Spots
Himeji is best known for its World Heritage site, Himeji Castle, but it actually has many more wonderful points of interest. We explain how to reach Himeji from Kyoto or Osaka and introduce fun things to do and places to visit in the city.
Himeji: An Outline of the Area
Himeji is in the southwestern part of Hyogo Prefecture, which is in the Kansai region. It is part of the Banshu region, and is known as a day trip destination for tourists coming from Osaka and Kyoto. Himeji is also famous for being the home of places like the World Heritage Site Himeji Castle, as well as Engyoji Temple - called the "Mt. Hiei of the west" - in addition to crafts like Himeji tops and Myochin long metal chopsticks.
Read about how to get around Himeji and learn about its famous products, to help you enjoy your Himeji trip to the fullest.
Contents
1. Access To Himeji
2. Getting Around Himeji City
3. Six Sightseeing Spots In Himeji
4. What Is Himeji Castle?
5. A Himeji Model Itinerary
6. Himeji Souvenirs And Shopping
7. Himeji Weather And What To Wear
8. Other Useful Information For Your Trip
Access to Himeji
From Tokyo to Himeji
You can get to Himeji from Tokyo by Shinkansen or airplane. When going by air, you have to go through Kobe Airport and switch to local trains from there. If you want to save time commuting, please take the Shinkansen.
For those with plans on visiting multiple destinations in Japan, the Japan Rail Pass is highly recommended, as it allows unlimited bullet train rides and JR train rides for a designated price within 7, 14, or 21 days.
From Osaka to Himeji
Go by train or car from Osaka to Himeji. From Osaka Station, you can take a special rapid train on the JR Kobe Line bound for Himeji, eight stations away. The trip is about an hour. By car, you can get from Osaka City to Himeji City in about an hour and 20 minutes.
From Kyoto to Himeji
From Kyoto Station, take a special rapid train on the Kyoto Line to Himeji, 11 stations away.
For more information, read our Himeji Castle - History, Scenic Highlights And Access article.
Getting Around Himeji City
Now we'll introduce the public transportation options for getting around within Himeji.
By Bus
Buses for various places in the city leave from Himeji Station. If you're heading to Mt. Shosha (Engyoji Temple), take the Shinki Bus bound for the Shosha Ropeway. If you're going to Himeji Castle, Kokoen Garden, or Senhime Peony Garden, use the Himeji Castle Loop Bus.
Himeji Castle Loop Bus
The Himeji Castle Loop Bus, operated by Shinki Bus KK, is very convenient for tourists. The bus leaves from Himeji Station, then stops at Himeji Castle, as well as the surrounding municipal art museum, the museum, and Kokoen Garden.
Fare: 100 yen for adults, 50 yen for children (per ride)
By Bike
The distance between Himeji Station and Himeji Castle is about a kilometer, making it just right for cycling. You can rent a bike from one of the Himechari or Ekirin-kun bike rental shops. If you travel around on a bike, you might discover some unexpected treasures.
Himechari
Rental rate: 100 yen for the first hour, another 100 yen for every subsequent half hour
Website: Himechari
Rental Cycle Ekirin-kun (Himeji)
Rental rate: Once for 310 yen (until 10:00 the following day)
Operating hours: 6:30-23:00
Website: Ekirin
By Taxi
Since Himeji's city center is relatively compact, travel by taxi is also a reasonable idea. The ride from Himeji Station to Himeji Castle will take from 740 yen to 970 yen.
Website: Shinki Loop Bus
Six Recommended Sightseeing Spots In Himeji
We've put together a short list of things you'll want to see when you visit Himeji.
1. Himeji Castle
In December 1993, Himeji Castle became the first place in Japan to be registered as a World Heritage Site. The castle gleams brilliantly due to its white plaster walls, which is why it is also called the Egret Castle.
Address: Hyogo, Himeji City, Honmachi 68
Hours: 9:00-16:00 (gates close at 17:00)
Summer hours (4/27 to 8/31): 9:00-17:00 (gates close at 18:00)
Castle admission: 1000 yen for adults, 300 yen for children (from elementary to high school age)
Website: Himeji Castle
2. Kokoen Garden
Kokoen Garden was constructed on Himeji Castle's western premises in 1992. While it is a new garden, the elegant scenery - with buildings reminiscent of a samurai mansion and a view of Himeji Castle in the distance - is beloved. The autumn foliage is a real standout. Due to its quintessential Japanese scenery, Kokoen Garden has been used as a backdrop for historical dramas such as "Mito Komon."
Address: Hyogo, Himeji City, Honmachi 68
Garden admission: 300 yen for adults, 150 yen for children (from elementary to high school age)
Website: Kokoen
3. Mt. Shosha (Engyoji Temple)
This prestigious temple is called the Mt. Hiei of the west. The massive auditorium and bell tower on the grounds are designated as important cultural properties. The temple was also the birthplace of traditional Shosha-nuri lacquerware.
Website: Shosha
4. Senhime Peony Garden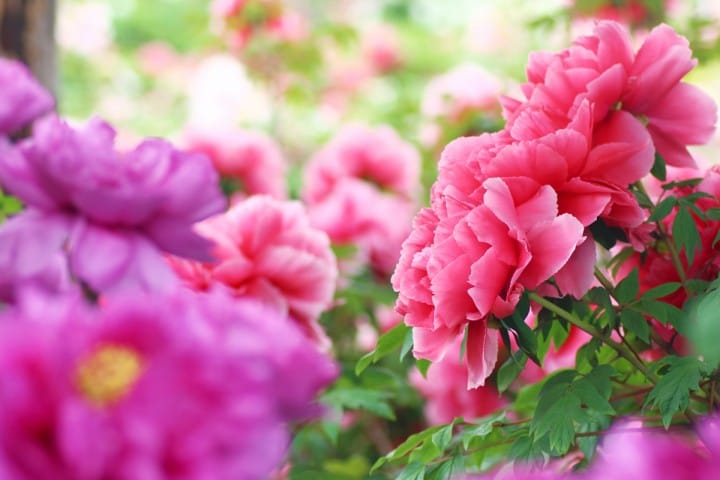 This garden is located on high ground in the Sannomaru square at Himeji Castle. Every May, the garden boasts roughly 2000 peonies in full bloom.
Address: Hyogo, Himeji City, Honmachi 68(within Himeji Castle)
Garden admission: Free
Website: Senhime Peony Garden
5. Japan Toy Museum
This museum has local Japanese toys, recent toys, traditional dolls and more, and its collection contains over 90,000 items. There is also a section for you where you can touch the toys and even play around with them. You'll want to visit this place with your family.
Address: Hyogo, Himeji City, Kodera-cho, Nakanino 671-3
Admission: 600 yen for adults, 400 yen for HS and university students, 200 yen for children over 4
Hours: 10:00-17:00
Website: Japan Toy Museum
6. Safari Resort Himeji Central Park
The Central Park grounds contain both a safari park-style zoo and an amusement park. On the popular safari drive, you can take either your own vehicle or hop on the safari bus, and experience an impressive tour with tigers, lions and elephants.
Address: Hyogo, Himeji City, Toyotomi-cho, Kamiya 1436−1
Admission: 3100 yen for adults, 1900 yen for children (elementary school age), 1200 yen for children over 3
Website: Central Park
What Kind of Place Is Himeji Castle?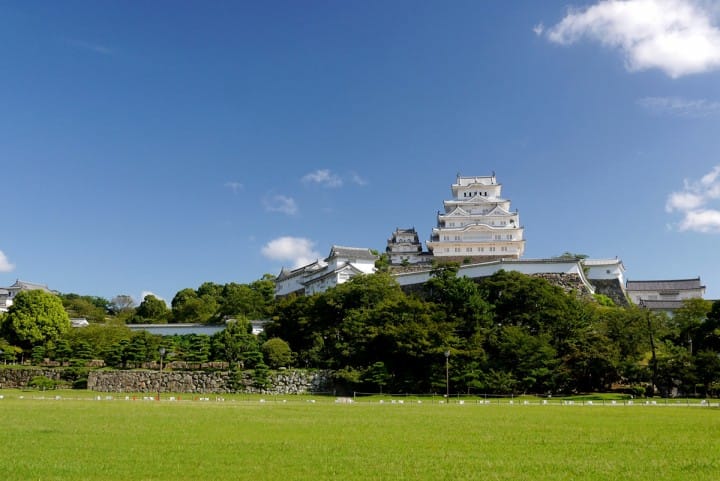 Himeji Castle was built in 1346, and its keep, which was built before the Edo period, is of great historical value. The castle's white walls are the reason for its other name, the "Egret Castle." Viewed from the west bailey, the white keep is quite prominent, making it a perfect spot to take castle photos. For more on this castle, read our Himeji Castle article.
Getting from Himeji Station to Himeji Castle
It is about a kilometer from Himeji Station to Himeji Castle, so you can walk, take a taxi or hop on the bus. The walk is about 20 minutes. For more, read our Himeji Castle access guide.
A Himeji Model Itinerary
Here is a model itinerary to get the most out of your trip around Himeji.
In the morning, leave for Himeji Station from Osaka or Kyoto. Visit the castle and Kokoen Garden. Have lunch at one of the Kobe beef restaurants near the station.
In the afternoon, explore Mt. Shosha. If you have some extra time, you can drop by the Japan Toy Museum, a little ways away from Himeji Castle. In May, another option is the Senhime Peony Garden, as the flowers will be in full bloom.
Himeji Souvenirs
Himeji has leather crafts, spinning tops and other traditional handicrafts available as souvenirs. These colorful Japanese items are sure to become fond keepsakes.
You can buy these souvenirs at Himeji Castle, at the Bansankan in front of Himeji Station, or at the Piole building connected to the station. For more details, check out our Himeji souvenirs article.
Himeji Weather and What to Wear
Himeji is usually sunny and has comparatively calm weather, but summer brings heat waves and sweltering nights. In the peak of summer, the temperature can exceed 35 degrees, so be careful to avoid sunburns and heat stroke. It may also snow in winter. Come dressed in light clothing in the summer, but bring protection against the cold if you visit in the fall to see the foliage, or if you drop by in winter.
Useful Information For Your Trip
Where can you exchange foreign currency? Head to a bank or 7-11 ATM.
When you're out of pocket money, look for any ATM with a Plus insignia to use cashing services with no hassle.
Here are some useful Japanese phrases you can use when you're staying at a hotel.
To use the convenient free wi-fi services in Japan, download this app beforehand.
How much can you expect to spend on food while traveling in Japan? Figure out your budget before you set out on your journey.
** Travel times and expenses are based on publicly available information, and are current as of March 2017. May be subject to change.

The information presented in this article is based on the time it was written. Note that there may be changes in the merchandise, services, and prices that have occurred after this article was published. Please contact the facility or facilities in this article directly before visiting.