Ride The Ropeway Up The Mountain To Matsuyama Castle, Ehime
One of Japan's 100 Castles, Matsuyama Castle in Ehime can be accessed via ropeway. We will introduce this beautiful historic castle and a nearby major festival.
What Is Matsuyama Castle?
Photo provided by: Matsuyama Tourism Convention Association
Matsuyama Castle is located in the city of Matsuyama in Ehime, one of the prefectures in the Shikoku region. The castle was constructed on a mountain, at an elevation of 132 meters. While you can climb up to the castle via stairs, there is a cable car ropeway installed, so we recommend you take that in order to enjoy the contrast between the historical castle and the convenient modern vehicle. Matsuyama Castle was named one of Japan's Top 100 castles, and was later chosen along with Matsuyama City's Dogo Onsen as one of Japan's Top 100 Beautiful Natural Views. It's said that those who visit have all their expectations fulfilled, and more.
While several fire outbreaks prior to 1949 caused the loss of some of the castle structures, 21 buildings - including the great keep - still stand today, and some of those burnt-out structures have been reconstructed. The Matsuyama Castle keep is one of only twelve castle keeps in Japan whose construction dates back to before the Edo period.
Ascend the Mountain on the Ropeway!
Since it's up on a mountain, the climb to Matsuyama Castle can be quite difficult. Take the ropeway or the lift to enjoy the scenery as you ascend the mountain.
The platform for the ropeway and the lift is at the castle's Shinonome exit. The ropeway can handle 47 riders, and takes just three minutes. The lift is for a solo passenger, and takes six minutes. Both cost 510 yen for adults and 270 yen for children.
Matsuyama Castle Admission and Operating Hours
Admission
Admission to the castle keep is 510 yen for adults, and 150 yen for children (elementary school age). A pass that includes roundtrip fare for the ropeway and lift is 1020 yen for adults and 410 yen for children (elementary school age).
Operating Hours and Holidays
The ropeway is open all year. The keep undergoes major cleaning on the third Wednesday of December, so on this day only, the castle is closed.
Operating hours:
Ropeway and lift - 8:30-17:00 (approx.)
Castle keep - 9:00-17:00 (approx.)
Matsuyama Castle's citadel plaza is a public park, and is open from 5:00 AM to 9:00 PM (5:30 AM to 9:00 PM from November to March)
Matsuyama Castle Highlights
Of course, the best part of a visit to Matsuyama Castle is the view from the keep. Climb to the top and enjoy the scenery from a 360-degree vantage point. The keep contains exhibits of warriors' spears, armor pieces and more. You can even try on real armor and a helmet for yourself!
After seeing the keep, we recommend taking a stroll to see the structures in the castle courtyard and the garden. Matsuyama Castle has four walking courses, ranked from one star to four stars in terms of difficulty. The most difficult course is the "Matsuyama Castle Total Conquest! Complete Course." On this course, you will use all four of the castle courtyard's mountain paths as well as the ropeway (or lift) to get good views of the Matsuyama Castle keep and Ninomaru Garden. The course is 6.1 kilometers long, and takes up to two hours to finish. While you will have to pay admission for the keep and the garden, you will only need to use the ropeway one-way. Doing the course costs 980 yen for adults and 380 yen for children.
If you want to enjoy the castle sights without spending money, you can take the "Loop Matsuyama Park Course." Walk around the border surrounding the castle while you look up at the buildings. The course is 4 kilometers long and takes from an hour to an hour and 20 minutes, and it's free.
Getting to Matsuyama Castle
To get to Matsuyama Castle from Tokyo or Osaka, you will need to head to Okayama Station by shinkansen. Switch to the limited express Shiokaze train on the JR Seto Ohashi Line, then get off at Matsuyama Station. The journey takes about two and a half hours, and costs 6310 yen.
From JR Matsuyama Station, get on a local train bound for Dogo Onsen, get off at Okaido and walk for five minutes. The fare is 160 yen.
Matsuyama Castle Seasonal Events
Photo provided by: Matsuyama Tourism Convention Association
Every summer, the Matsuyama Festival is held in Matsuyama City. Typically the festival takes place over three days in mid-August. This year, it is planned for August 11th through the 13th. The festival is mainly about dances, and began in 1966. Shikoku has a long tradition of dancing, from Tokushima's Awa Odori dance and Kochi's Yosakoi Naruko Odori dance to Kagawa's Takamatsu Odori dance. After the founding of this Matsuyama Festival, every prefecture in Shikoku had its own unique dance performed at festivals.
These three days are a high point of the summer, with dancing and festival music, so by all means, check out the Matsuyama Festival.
Souvenirs Around Matsuyama Castle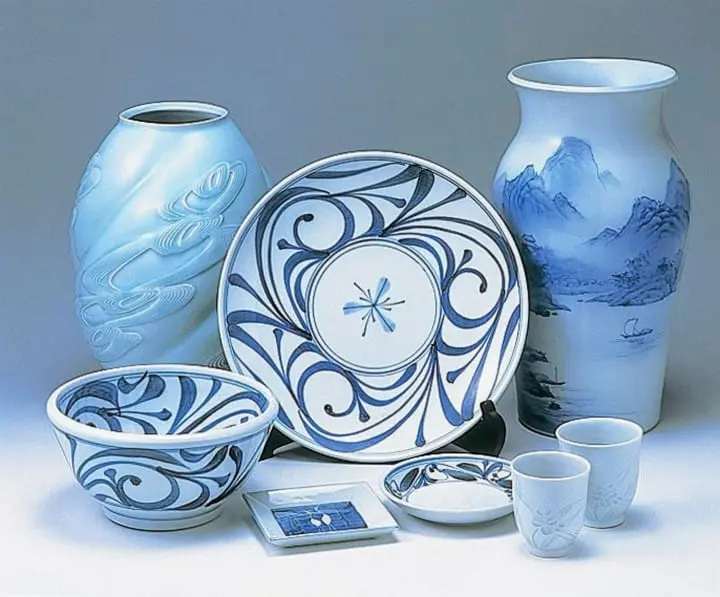 Photo provided by: Matsuyama Tourism Convention Association

The town of Tobe is half an hour south of Matsuyama City by car. Here in Tobe, there is a robust local industry producing Tobeyaki ceramics. Tobeyaki ceramics mostly consist of tableware and vases, and they are a designated Ehime intangible cultural asset for their simple white design, adorned with pictures rendered in blue paint. Compared to other kinds of ceramics, Tobeyaki pieces are thick and have a real heft to them.

At the Togeikan in Tobe, artwork and Tobeyaki ceramic souvenirs are available for purchase. There are also kilns set up in the facility so you can attempt to fashion your own Tobeyaki ceramics. We recommend this spot for ceramics and pottery fans.


The information presented in this article is based on the time it was written. Note that there may be changes in the merchandise, services, and prices that have occurred after this article was published. Please contact the facility or facilities in this article directly before visiting.