Vegan Food At Japanese Supermarkets - Shopping Guide And Tips
Shopping for vegetarian and vegan groceries in Japan is not easy, but it is possible. This article covers easy-to-cook and pre-made vegan-friendly supermarket foods, from ramen to tofu and ice cream bars. Learn tips for eating a balanced plant-based diet while traveling or with no kitchen.
Vegetarian and Vegan Food at Japanese Supermarket - Ingredients for Easy Plant-Based Cooking
Photo by Pixta
Cooking food is not part of most peoples' Japan travel plans. However, it can be necessary for those with dietary limitations, such as vegetarianism or veganism, and is also a way to save expenses on dining out.
This article introduces ten vegetarian and vegan-friendly food products and where to purchase them, and tips on shopping. Ideal even for those with none or very limited kitchen access, it is possible for all to enjoy satisfying food with nutritious, flavorful options at the grocery store in Japan.
*Vegan in this article is defined as food made without animals, including fish and seafood, or ingredients derived from animals, including fish and seafood, dairy products and eggs, as well as honey. White sugar processed via animal bone char may be included in some of the items listed below. Concerned consumers are encouraged to contact companies directly. Also, please note that selection at supermarkets varies by season and location; the items listed in this article may not be available at the store you visit.
1. Instant Vegan Ramen
Several brands of vegan ramen can be found at select supermarkets in Japan. Ramen makes an easy and quick meal, ideal for those with minimal kitchen space or cooking abilities. This is an especially convenient choice while traveling. To make a more balanced meal, be sure to add vegetables and a protein, like tofu or natto.
Some of the most common brands of vegan ramen include Osawa Japan and Sakurai Foods (pictured above). You can find instant ramen at Natural House and stores that carry natural and health food products.
2. Chaya Macrobiotics - Keema Curry
Pre-made sauces and food products is another convenient option for those with less time and limited kitchen access, as only partial cooking is needed. Pictured above is a soy meat keema curry, made by Chaya Macrobiotics (Japanese), a vegan-friendly company that makes food products without chemical additives or preservatives.
To make the curry, warm up the pouch in hot water or in the microwave, and then pour it over rice. To make a more complete meal, be sure to add vegetables. Peppers pair well with the savory soy meat flavor and light spice.
One box is enough for one meal, and each box costs around 450 yen. You can find Chaya Macrobiotics's curries, pre-made sauces, and food products at Natural Lawson and supermarkets carrying natural and health food products, like Natural House and Seijo Ishii (all links in Japanese). Other tasty recommendations are the soymilk carbonara sauce and pumpkin soup.
3. Tofu
The quality, flavor, and texture of tofu in Japan are one of the best in the world. From standard firm and silken varieties to black sesame and even edamame tofu, the options are endless. Cooking tofu is great if you have use of a kitchen, but there are also ready-to-eat tofu sold at supermarkets. Try silken tofu topped with soy sauce, or flavored tofu, which is delicious eaten by itself. The richness of the tofu is delicious and an experience that can be had only in Japan.
Prices for tofu range from 40 yen for plain silken and firm tofu to around 200 yen for high-quality flavored varieties.
Atsuage - Deep Fried Tofu
Photo by Pixta
Atsuage, or deep-fried tofu, is a popular version of this satisfying protein option. Prepare this tofu by warming it up for a few minutes in a frying pan. After cooking, top with soy sauce or a simple teriyaki sauce, grated ginger, and green onions. Outside of the tofu becomes slightly crispy and has a great texture.
This is a versatile choice that goes well with ramen, rice or eaten alone. Atsuage is sold at most supermarkets in Japan and costs around 75 yen to 120 yen, depending on the brand and supermarket.
4. Soy Meat
Soy meat is another protein alternative sold at some supermarkets in Japan. The most economical and common form is dried soy meat, which needs to be soaked in warm water before preparing, making this an ideal option for those with access to a kitchen.
Soy meat is found at natural grocery stores like Natural House, and large supermarket retailers in certain locations. There are several different brands of soy meat: look for "大豆肉" or "大豆ミート" on the packaging.
5. Soymilk
Picture from Japanese Soy Milk - Varieties And Flavors For Every Taste!

All types of soymilk are sold in Japan, from soymilk with a plain soybean taste to those flavored with matcha and chocolate. Sold at every grocery store and most convenience stores, it isn't hard to find a vegan-friendly beverage with a protein. For those with a sweet tooth and a freezer, chilling flavored soymilk for the night will create a tasty ice cream-like dessert.
Small 200ml soymilks cost around 100 yen or less, and 1-liter sizes tend to be around 230 to 250 yen. Please note that some varieties of flavor-adjusted soymilk may contain sugar and emulsifiers that use animal-derived ingredients. It is suggested to inquire directly about vegan-friendly options.
6. Brown Rice Flour Bread
Bakeries in Japan are very popular and offer a variety of bread and baked goods, like curry-filled buns and pillow-like white loaves. However, the majority of bread in Japan contains dairy products and is therefore not vegan-friendly.
For those craving bread, the loaf pictured above is a smart option. Made from brown rice flour, it contains no dairy or animal-derived products, and it is also gluten-free. It has a slightly crumbly texture but makes delicious toast. A loaf costs around 400 yen and can be found at Natural Lawson, Natural House, and Seijo Ishii stores nationwide.
Another vegan-friendly brand to look for is the brown rice bread by maisen Genmai. You will find loaves, palm-sized plain bread, and red bean paste-stuffed treats. English labeling it dairy-free and egg-free.
If these brands are not at your nearest supermarket, try French bread, which typically does not contain dairy products; be sure to confirm directly at the bakery you are visiting or with the manufacturer.
7. Oatmeal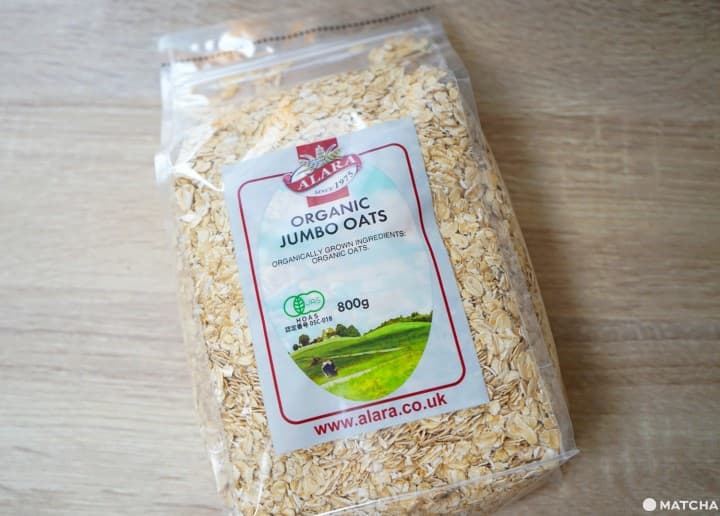 Full of protein, minerals, and fiber, oatmeal is a great way of eating a nutritious meal while in a rush or during travel. Plain oatmeal is sold near the cereal sections of most supermarkets.
The oatmeal above is imported, sold at health food stores. It will last one person a few weeks, making it suitable for larger groups.
8. Soy Yogurt
Great for pairing with oatmeal or eating by itself, soy yogurt is a healthy and easy option for breakfast. The consistency is not too thin and the light soy flavor is delicious.
Look for the Marusan container above (400 grams), which contains unsweetened, unflavored soy yogurt. It is vegan-friendly with no dairy- or animal-derived ingredients. Soy yogurt is sold at some major supermarkets, including LIFE and Santoku. It costs around 250 yen or slightly less.
9. Chocolate
Chocolate lovers may have a challenging time finding treats without milk in Japan. However, the Meiji-brand 72% cacao chocolate pictured above is suitable for vegans. Higher cacao percentages, like 86% and 95% of the same line are also vegan-friendly. All major supermarkets in Japan carry this, making it simple to satisfy a chocolate craving.
One box contains 15 individually-wrapped pieces and costs less than 250 yen.
10. Azuki Bar
Picture from Vegan Snacks And Meals At Japanese Convenience Stores
A tasty dessert option on a hot day is an Azuki Bar, delicious ice treat suitable for vegans, made of red bean and sugar. These bars are sold in boxes of six at most supermarkets in Japan for less than 350 yen, making them a reasonable and refreshing sweet.
Shopping Tips and Other Vegan Items at Supermarkets
The majority of processed food items, including miso soup, instant noodles, and many sauces and pre-made mixes will contain fish or meat-derived ingredients, eggs, or dairy. Dashi, the broth used in Japan is often from bonito and is a key ingredient of most foods.
Rather than purchase processed foods, it is advised to buy vegetables and fruits, nuts, and other whole ingredients to avoid consuming something unwanted.
Stay Plant-Based in Japan
Vegetarian and vegan-friendly options in Japan are still rare, making it difficult to cook and eat out in many parts of the country. However, with some planning, it is possible to eat balanced and varied meals without consuming animal-based products. With more new products and awareness of alternative diets, it will only become easier to find delicious options.

The information presented in this article is based on the time it was written. Note that there may be changes in the merchandise, services, and prices that have occurred after this article was published. Please contact the facility or facilities in this article directly before visiting.