BentoYa Cooking - Make Bento Boxes And Vegan-Friendly Japanese Dishes
BentoYa holds workshops in English and Chinese, teaching how to cook vegetarian and vegan Japanese food. Participants learn how to make classic Japanese dishes, like character bento boxes to ramen and gyoza, in Tokyo, Yokohama, and Kyoto.
Fun and Healthy Cooking - Classic Japanese Food for Everyone
From sushi, tempura and ramen, to elaborate kaiseki course meals, internationally-renowned, UNESCO intangible heritage-designated washoku, or Japanese cuisine, is undeniably a must-experience part of Japan for many. However, traditional dishes are heavy in fish and seafood products, making it difficult for all to indulge in conventional Japanese food.
BentoYa Cooking is changing this, though, with a completely vegan cooking school in the greater Tokyo, Yokohama and Kyoto areas. Surprise your taste buds and improve your cooking skills with the delicious dishes here.
BentoYa Cooking - Easy-to-Follow Lessons for a Good Cause
BentoYa Cooking started in 2018 with a concept of creating Japanese food made of plant-based ingredients, as the number of children in Japan with dietary allergies and people with dietary restrictions is increasing. Most courses take around 3 hours, from cooking preparation to enjoying the final product. The classes at BentoYa are conducted in English, and some lessons are available in Chinese, too.
Even though Japanese cooking requires many steps, BentoYa's classes are simple to follow. The instructors and other participants all work together, and the recipes and cooking directions are printed out in English, so you can take it home and make again. On top of this, the recipes include ingredients that are purchasable outside of Japan.
Part of BentoYa's mission is to make positive societal impact. A portion of the proceeds is given to charities, and the instructors donate food to children in poverty in Japan. Reservations can be made online on the official website and payment via PayPal and international cards.
Japanese Character Bento Course - Create Your Own Kyara Ben
One of the most popular courses is the Character Bento Box, where participants learn how to prepare a kyara ben, a fun Japanese bento lunch packed with several ingredients, designed like a character. BentoYa teaches participants how to make Shaun the Sheep, an animation from the United Kingdom also popular in Japan.
The bento contains everything a conventional packed lunch in Japan does: ongiri (rice balls), protein, and vegetables. Every dish is made from ingredients such as soy protein, tofu, and vegetables.
Onigiri - Make Shaun the Sheep Rice Balls
The centerpiece of the bento is a Shaun the Sheep face, made from different-sized rice balls and nori seaweed. The instructors will show you how to easily shape the rice balls and make an adorable character.
Soy cheese or tofu are finishing touches for the cute eyes. Shaun the Sheep goes in the center of the bento box.
Vegan Tamagoyaki, Soy Protein Karaage
Another fun part of the bento class is making tamagoyaki, a rolled omelet common in lunches in Japan. This vegan version is made from vegetables, seasonings, and other plant-based ingredients.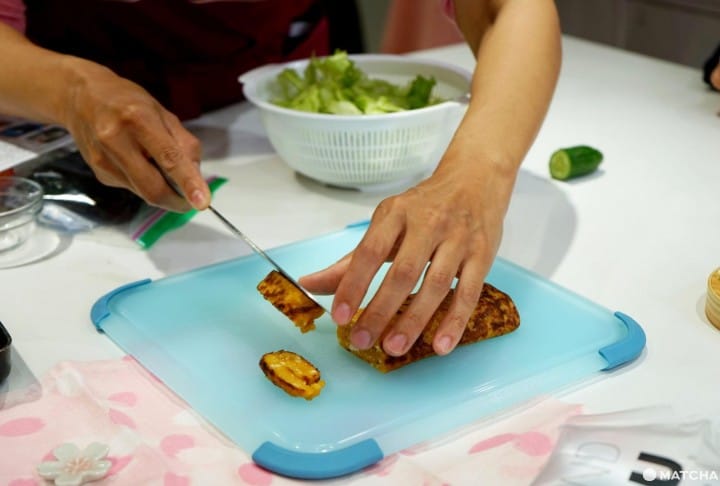 The instructors show how to cook it in a rectangular pan and roll it correctly. After cooking, the tamagoyaki is cut and arranged into heart shapes for the bento box.
Soy protein karaage, a plant-based version of classic Japanese fried chicken, is marinated and flavored with soy sauce, ginger, and seasoning for around 10 minutes.
After the soy protein has absorbed enough flavor, the soy protein gets coated in cornstarch and fried in sesame oil. The final product is crispy, golden brown, resembling conventional karaage. It is full of flavor from the marinade and has a great texture.
Flower-shaped Carrots and Bento Decorations
To add color and nutrition to the bento, instructors will teach how to make glazed carrots in the shape of flowers to add nutrition and bright colors to the bento. Using cookie cutters to make the flowers, boil the carrots, adding sweetener and soy sauce over medium heat.
Cucumber rings are also used to create a lovely contrast with the carrots.
A Bento As Delicious As It Is Cute!
Once all the ingredients and side dishes are prepared, it's time to arrange the bento. You can be as creative with the arrangement as you want when filling up the bento box.
Pictured above is the final product, with Shaun the Sheep in the center, vegetables, and vegan tamagoyaki hearts surrounding him.
The soy meat karaage is crunchy and well-seasoned, and the tamagoyaki has a unique, satisfying flavor and texture similar to an egg. With the help of the instructors, all the ingredients and side dishes are well-cooked and simply exquisite.
Learn to Cook More Japanese Dishes - Ramen and Gyoza and Other Courses
Picture courtesy of BentoYa Cooking
The bento-making course is popular option at BentoYa, but there are also several other options to choose from, like a gluten-free ramen and gyoza class where participants can learn how to make savory, satisfying noodles.
Additionally, there are sushi-making classes, classes for katsu curry. Courses on wagashi-making and traditional vegan Buddhist cuisine (shojin ryori) are offered irregularly.
BentoYa Cooking - A Social and Delicious Way to Enjoy Japan
BentoYa Cooking is more than just a cooking class -- the friendly and knowledgeable instructors and community service aspect of the workshops are sure to contribute to your trip or daily routine in Japan. Take part in a class to learn how tasty and fun cooking with vegetables can be.
BentoYa Workshops and Class Information
Classes are held regularly in the greater Tokyo, Yokohama, and Kyoto areas. Where classes are held depends on the date and type of class. Please check the official website to confirm.
Prices and times of the classes vary by location and item being made.
Made in cooperation with BentoYa Cooking

The information presented in this article is based on the time it was written. Note that there may be changes in the merchandise, services, and prices that have occurred after this article was published. Please contact the facility or facilities in this article directly before visiting.