Adorable Vegan Sushi In Tsukiji! Cooking Local On airKitchen
Taste the world of Japanese cuisine through airKitchen, a culinary experience platform that allows people to book classes led by locals! Find out more about a hands-on sushi workshop in Tsukiji with vegan, vegetarian, and Halal options that all can enjoy, and airKitchen's other workshops.
Try Sushi Making and Culinary Experiences in Japan
From sushi to mochi and miso soup, Japan is the best place to try these authentic delicacies firsthand. For those looking for an in-depth experience, cooking is a great way to immerse yourself in the great food culture here.
airKitchen, a platform that allows you to book cooking classes, is an easy way to find lessons that allow you to discover tastiness and make memories. Many classes are flexible and accommodating of dietary restrictions, often including plant-based and vegan options.
Continue reading to learn about booking on airKitchen and the art sushi roll making workshop where you can make and indulge in gorgeous sushi closely with a local near Tsukiji, where many famous sushi restaurants are and where the fish market used to be.
Make Vegan Sushi Art in Tokyo
The art sushi roll making class, where participants learn how to create artfully designed sushi (kazari sushi), is a must-try. The host, Mami, is an experienced and certified instructor and cook with eight years of teaching sushi making and Japanese sweets. She has experience living in the United States and is fluent in English.
See more details on Mami's class here:
Art Sushi Roll and Mochi Workshop
Please be aware that Mami's classes are popular, so book early to make sure you get a spot!
Rolling Sushi!
Mami begins her lessons with introductions and an explanation of kazari sushi and its ingredients. Throughout the workshop, she introduces different parts of Japanese culture, including old-style green tea and wagashi (Japanese sweets). She always wears a kimono to the workshops, so you can ask her about traditional clothes as well.
This type of sushi-making involves putting together small details with different ingredients. Mami will help you every step of the way to make your rolls, as it can be a little difficult! However, with her tips, it is possible to make the final product, even if you are a complete beginner. Participants will choose from a variety of kazari sushi they can make, ranging from simple square-like ones to flowers and intricate designs.
I chose the square pattern. You will first wrap ingredients tightly in seaweed (Mami's has cute patterns printed on them) and then make the other necessary parts with rice. My vegan version contains carrot and cucumber.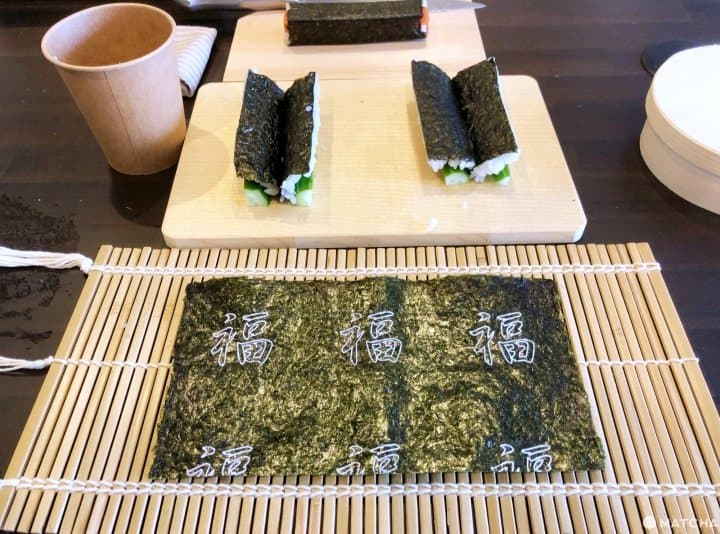 Each roll contains a few different parts and requires careful assembly. Go slowly and ask for help if you need it. You will also learn how to cut the rolls properly when assembling the different sushi parts, requiring a light touch.
After your hard work, it will be time to slice the roll. I couldn't help but smile when I saw the adorable pattern after making the first cut.
Mami also made the delicate flower roll, too, which contains colorful, flavored rice (the vegan roll above uses tomato powder; traditional versions use fish-based ingredients).
As mentioned above, feel free to ask anything throughout the workshop, related to sushi or anything about Japan.
Try Your Creations
The next step is to indulge in what you've made. Each piece will be put on a miniature conveyor belt, recreating a kaiten sushi restaurant. In between each piece of sushi were soy sauce, candies, and other treats.
To enjoy your sushi, you can either use chopsticks or your hand. Mami even had some wasabi to grate fresh for the sushi. It is a delightful experience. You can eat as much (or as little) as you want!
At the end of the lesson, Mami will make a small portion of mochi for you to try. Mochi is made simply by pounding rice. You can try a mini-demonstration of this, too, and see how it is created first-hand.*
You will leave full of delicious sushi and new knowledge about Japanese culture. Mami will even give you some souvenirs and recipes for the rolls so you can try to make the adorable sushi another time.
*Mami also offers a full mochi class if you want to learn more. Please see this page for all of Mami's airKitchen classes.
airKitchen - Make Japan Food and Memories
airKitchen is a cooking class booking platform that helps you find the perfect hands-on activities related to food, from making sushi like Mami's to ramen and soba noodles. Classes are available in Tokyo, Kyoto, Osaka, and other parts of Japan, and provide a close-up look at making food, taught by hosts passionate about their cuisine and sharing it with people.
Classes are booked online, and payment is made via debit or credit card (international cards and payments are accepted), making it easy to reserve a workshop whether or not you are in or outside of Japan. After booking, you will receive confirmation and a message from the host with instructions on how to get to the class.
Many airKitchen classes are very accommodating to diversity in diets, like veganism, vegetarianism, and Halal (pictured above are Halal-certified ingredients Mami has). Some hosts can also provide gluten-free options. There is an option for dietary restrictions you can fill out when making a reservation on the website, so be sure to make a request if you need so.
With so much delicious food in Japan, it is an incredibly rewarding experience to try making it for yourself during a trip. You can bring back your insider culinary knowledge and try to cook again no matter where you are. airKitchen classes provide the right opportunity to do this in a comfortable, welcoming environment.
See details on Mami's art sushi roll making and mochi class:
Art Sushi Roll and Mochi Workshop
See all vegetarian and vegan-friendly airKitchen experiences in Tokyo:
Vegan Cooking Classes in Tokyo
See all airKitchen experiences in Tokyo:
Cooking Classes in Tokyo
In cooperation with Mami Maki, airKitchen

The information presented in this article is based on the time it was written. Note that there may be changes in the merchandise, services, and prices that have occurred after this article was published. Please contact the facility or facilities in this article directly before visiting.