Japanese Vegan Food In Kamakura! Flavorful Dishes At Sorafune Cafe
Sorafune Cafe in Kamakura is a restaurant with vegetarian and vegan Japanese food. Conveniently close to public transportation, shrines, and sightseeing, the truly delicious dishes and serene environment make this a must-visit for all travelers.
Visitors hungry for a classic and nutritious Japanese meal should go to Sorafune Cafe, a vegan restaurant in Kamakura. Located in a traditional home overlooking a garden, diners can savor their meal in a tatami room and recharge in this serene environment. The exquisite dishes, peaceful atmosphere, and convenient location make this a must-try restaurant when in Japan's ancient capital. Stop by, no matter if you are vegetarian, vegan, or just want to eat more vegetables.
Sorafune Cafe - All-Vegan Japanese Food in Kamakura
Sorafune Cafe is an all-vegan restaurant open during lunch hours in Kamakura. The owner originally started learning vegan and macrobiotic cooking to help a family member who became sick.
Macrobiotic food is a type of Japanese cooking that emphasizes balanced nutrition as a means to improve health. A typical meal consists of brown rice and whole grains, vegetables, varieties of seaweed, and soybeans.* Macrobiotic cooking also avoids the use of heavily processed carbohydrates, like white sugar, rice, and bread. The change in diet helped the restaurant owner's family and resulted in Sorafune Cafe being opened in 2014.
*Macrobiotic food can include small amounts of meat, fish, and other animal-based ingredients, but Sorafune Cafe's menu is 100% plant-based.
Customers can enjoy dishes in an intimate space in a remodeled Japanese home. There is a tatami area with low tables where diners sit on traditional floor cushions, and there are also Western-style tables with chairs.
Rice, Miso Soup, and Sides - Delicious Set Meals
The menu at Sorafune Cafe contains set meals, which include brown rice and miso soup. The main dishes and sides change depending on the vegetables that are in-season and available from local producers. There is an English menu, too.
For lunch, I chose the Fried Soymeat Set Meal (1,400 yen). This voluminous meal is a customer favorite and comes with brown rice, miso soup, side dishes, and crispy, juicy fried soy meat. I highly recommend trying this on your first visit!
A dash of black sesame and salt compliments the rice. The flavorful miso soup is made with shiitake mushroom and kelp broth. The side dishes during my visit were dark purple carrots and konnyaku (konjac, or potato starch) cooked in miso paste, and pumpkin mash. There were also tsukemono (Japanese pickles) and a salad with an amazake (a sweet drink made from fermented rice) and chia seed dressing.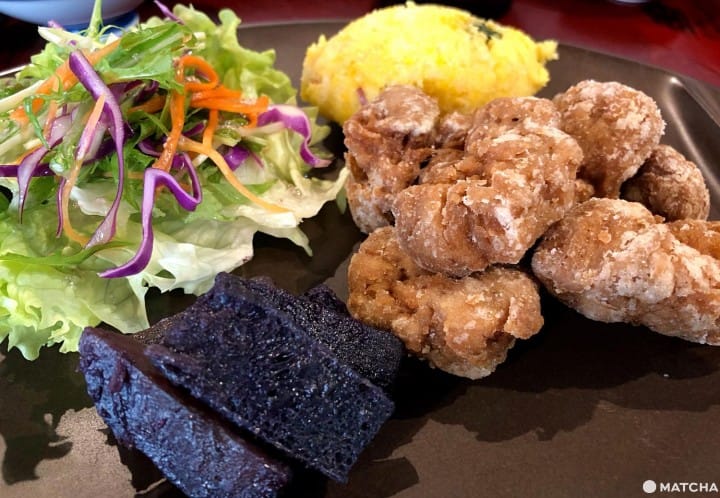 As karaage (fried chicken) is popular in Japan, its plant-based version, fried soymeat, is on the menus of many vegetarian and vegan restaurants. One of the best preparations is at Sorafune Cafe. According to the restaurant owner, the recipe is simple, with just a marinade of soy sauce and ginger before the soy meat is cooked. It is full of flavor and the texture is crispy on the outside and soft inside!
Other choices on the menu include a daily special, which comes with the main dish of the day, in addition to side dishes, brown rice, miso soup, and tsukemono. There is also the Brown Rice Reset Set, which comes with brown rice, sides, miso soup, and tsukemono. If you are looking for something light, try the Rice Ball Set, which has two rice balls and miso soup.
Enjoy Desserts and Tea Time, Too
The meals are generous in portion but don't forget to satisfy your sweet tooth and enjoy an afternoon beverage, too. The desserts and drinks at Sorafune Cafe are all vegan, like the rest of the menu. Dessert change depending on the day and season, but there are usually cakes and scones to choose from. Pictured above is a slice of mixed berry cake and brown rice scones. All desserts use maple syrup or amazake as a sweetener instead of white sugar or honey.
I enjoyed a cup of brown rice coffee (550 yen including tax,* pictured above), which was unlike anything else I've had before. It is a non-caffeinated drink with a satisfying coffee-like aftertaste, but the brown rice flavor is also prominent. If you are avoiding caffeine or want to drink something different, try this! I also tried a brown rice scone (550 yen including tax). It was mildly sweet, slightly crumbly on the outside, and fluffy on the inside.
*You will receive 200 yen off when you order a beverage with a meal.
Stay Awhile - Enjoy the Charming Interior and Books
Customers feel comfortable enjoying a leisurely meal at Sorafune Cafe. The inside is warm and inviting, with adorable decorations and macrobiotic cooking books you can look through.
There is also seating next to the windows that overlooks the garden.
Getting to Sorafune Cafe
The entrance to Sorafune Cafe
Sorafune Cafe is about a 7-minute walk from JR Kamakura Station. It is easy to access but is separated from the bustle of the major shrines, temples, and shopping in Kamakura.
To get to Sorafune Cafe, go out the east exit of JR Kamakura Station and go straight, crossing safely through the bus and taxi area. You will reach the main street that leads to Tsurugaoka Hachimangu Shrine, one of the most well-known shrines in Kamakura. Turn right here, heading the opposite way of the shrine.
Walk until you see a Lawson convenience store and make a left (pictured above).
Continue along, passing by the train tracks. After a few minutes, you will arrive at Sorafune Cafe. The restaurant is on the right side of the street but the sign is small (pictured above). Walk through the passageway through the picturesque garden.
A Lunch to Recharge Your Body and Soul in Kamakura!
The nourishing and flavorful dishes at Sorafune Cafe make this a must-try for not only vegetarian and vegan guests, but for all coming to see Japan's ancient capital. As the restaurant is within walking distance of JR Kamakura Station, this is an ideal lunch spot if you are seeing the shrines and temples close by. You can also come here before or after seeing the Giant Buddha, Hasedera Temple, or Enoshima. Stop by this vegan Japanese restaurant for a relaxing break with food that will refuel you and help make your travels all the more special.


Made in cooperation with Sorafune Cafe

The information presented in this article is based on the time it was written. Note that there may be changes in the merchandise, services, and prices that have occurred after this article was published. Please contact the facility or facilities in this article directly before visiting.