Kamakura's Best 10 Cherry Blossom Viewing Spots for 2021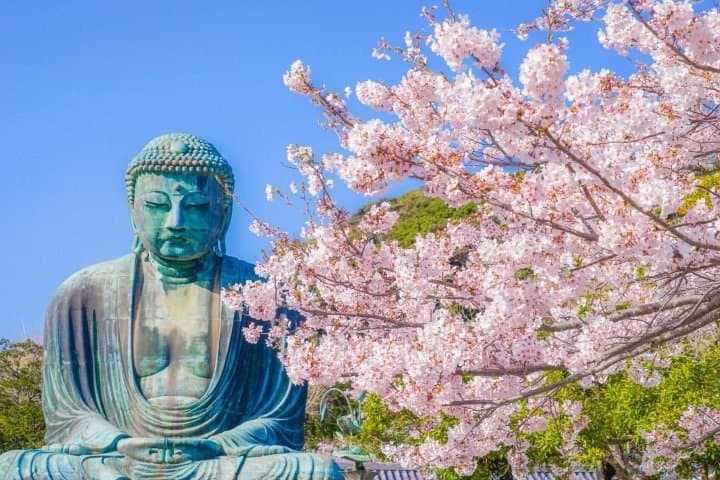 Only an hour from Tokyo, Kamakura is a history-rich city with many amazing natural spots to enjoy. Let's take a look at the best cherry blossom viewing spots in Kamakura. For travelers in spring 2021, these spots are a must-see!
Kamakura's Cherry Blossom Season
Located in the southern part of Kanagawa prefecture, Kamakura boasts numerous historical buildings and examples of traditional architecture, as well as natural landscapes that change with the seasons. Conveniently located an hour from Tokyo, Kamakura is visited all year long by both domestic and international travelers.
One of the most popular times to visit Kamakura is in the spring, for hanami (cherry blossom viewing parties). The cherry blossoms in Kamakura, which include the very popular Somei Yoshino type, are in full bloom during the period from the end of March to the beginning of April.
There are also varieties that flower earlier such as the Kawazu-zakura that blossoms from February to April. These early sakura make Kamakura the ideal place to see many different types of sakura over a long period of time.
The 10 Best Cherry Blossom Spots in Kamakura
One of the charms of viewing cherry blossoms in Kamakura is seeing them alongside temples and shrines or throughout the traditional cityscape. Now, let's take a look at ten of the best sakura spots in Kamakura.
1. Tsurugaoka Hachimangu Shrine
Tsurugaoka Hachimangu is a shrine located about 10 minutes on foot from JR Kamakura Station. During the 12th-13th centuries, Kamakura prospered as the center of Japanese politics under the shogunate. See Tsurugaoka Hachimangu in Kamakura, Once the Center of Japan to learn more about this shrine and its role in Japanese history.
At Tsuruoka Hachimangu Shrine, in addition to Somei Yoshino cherry trees, you can find early-blooming Kawazu-zakura, which bloom in February, and Higan-zakura, another type of early blooming cherry blossom. If you would like to have more time to enjoy the cherry blossoms, then this is the perfect place to visit.
As there are also rose-colored Kanzakura and white Oshima zakura here too, this is a fantastic place to see the multitude of varieties of cherry blossoms that Japan has to offer. In fact, many say that searching for the differences between the flowers is the main appeal of having a hanami here.
Address: Kanagawa, Kamakura, Yukinoshita 2-1-31
Access: 15 minute walk from Kamakura Station East Exit
2. Genjiyama Park
Genjiyama Park is a public mountain park that lies around the circumference of the Minamoto residence that was once located in Kamakura. Standing 93 m tall, it was on this hill that the Minamoto soldiers stood before setting off into battle, which earned it the nickname 'Hatatateyama' (Planted Flag Mountain).
Genjiyama Park is an area surrounded by rich nature that becomes even more lovely when the seasons change, the cherry blossoms in spring and fall foliage in autumn being of particular note. From this park there are also hiking trails that lead to Kitakamakura and Kotokuin (Kamakura Daibutsu), so you can enjoy a leisurely stroll as you appreciate this lovely seasonal sight as well. This is a great spot to see come spring or fall.
Address: Kanagawa, Kamakura, Ougigayatsu 1
Access: 20-minute walk from Kamakura Station West Exit
3. Engakuji Temple
Engakuji is a temple located right by JR Kitakamakura Station. Erected by the influencial government official Hojo Tokimune in 1282, this temple, which belongs to the Rinzai sect of Buddhism, has a very tranquil air throughout its grounds. Here you can take part in zazen lessons and other Buddhist activities.
When spring arrives, cherry blossoms bloom throughout the precincts of the temple, but a particularly lovely sight is of the sakura against the backdrop of the Yamamon Gate.
Here you will not only find Somei Yoshino but also Botan-zakura, which have peony-like petals, and other varieties, so please check these out closely.
Address: Kanagawa, Kamakura, Yamanouchi 409
Access: 1-minute walk straight from Kitakamakura Station
Hours: March-Nov. 8:00-16:30, Dec.-Feb. 8:00-16:00
Closed: None
Admission: Adults 300 yen, children 100 yen
4. Hongakuji Temple
Hongakuji Temple is a temple of the Nichiren sect of Buddhism that was built in 1436. The remains of the founder of the Nichiren sect are located here in the Nichiren Shonin Bunkotsudo, as is the grave of the famous Kamakura swordmaker Masamune.
The most famous sight of all is of the long trailing branches of the Shidare zakura, or weeping cherry tree, found near the Nichiren Shonin Bunkotsudo. These bloom at the same time as the Somei Yoshino, so if you are planning a trip to Kamakura in the spring, please pay a visit to Honkakuji as well.
Address: Kanagawa, Kamakura, Komachi 1-12-12
Access: 3-minute walk from Kamakura Station East Exit
5. Komyoji Temple
Komyoji is a temple belonging to the Jodo sect of Buddhism built in 1243. From the time it was established until the Edo era, the powers that be, including the shogun Tokugawa Ieyasu, were charged with protecting this temple.
Starting at the end of March when the cherry blossoms bloom, Kan'okai or cherry blossom viewing parties are held here, and many people come to make their way through the temple grounds and look at each of the different sakura trees in turn. And as the upper part of the large temple gate is open to the public, many climb up here to gaze out at the sight of all the cherry trees in full bloom together.
Address: Kanagawa, Kamakura, Zaimokuza 6-17-19
Access: 10 minutes by bus from Kamakura Station
6. Kotokuin Temple
Kotokuin is a temple located a 10 minute walk from the Hase Station of the Enoshima Electric Railway (Enoden for short). The Great Buddha of Kamakura resides within the precincts of this temple, making it an incredibly popular sightseeing spot all year round.
The best place here to see the cherry blossoms is near the Great Buddha, as the contrast between the statue and the blossoms is very striking. There aren't the only sakura trees to see though, so walking through the grounds and looking at the other trees is a must.
Address: Kanagawa, Kamakura, Hase 4-2-28
Access: 7-minute walk from Hase Station, Enoden line
Visiting Hours: April-Sept. 8:00-17:30, Oct.-March 8:00-17:00
Tour inside the Great Buddha Hours: 8:00-16:00
Closed: None
Admission: Adults 200 yen, children 100 yen
Admission inside Great Buddha: 20 yen
7. Kamakurayama
Kamakurayama is a hilly area with an altitude of 100 m located in the western part of Kamakura city. By taking the bus from JR Kamakura Station for about 13 minutes to the Tokiwaguchi bus stop, you can enjoy the Sakuranamiki, a nearly 3 km long stretch of about 200 cherry blossom trees.
This area was a favorite for holiday homes during the Meiji era, and one of the most appealing points of Kamakurayama is that visitors can appreciate the sakura in comfortable silence. Named as one of the 100 Best Flower Spots in Kanagawa because of the beautiful cherry blossom scenery, this is a place that you simply have to see to believe.
Address: Kanagawa, Kamakura, Kamakurayama
8. Kenchoji Temple
Kenchoji is a Buddhist temple belonging to the Rinzai sect, located between JR Kitakamakura and Kamakura Stations. Famous for being the first Zen Buddhist temple in Japan, as well as for its great temple gate and Japanese garden, here you will still find many monks training and striving to perform zazen meditation.
When spring comes, visitors can see the cherry blossoms both in front of the main gate and the main hall of Kenchoji. There are also beautiful sakura to enjoy along the road to the Hansoubou Shrine, which stands atop a 245 step staircase.
Address: Kanagawa, Kamakura, Yamanouchi 8
Hours: 8:30-16:30
Admission: Adults 300 yen, children 100 yen
9. Hasedera Temple
A 5-minute walk from Hase Station on the Enoden, Hasedera is a Jodo Buddhist temple. Often called the Flower Temple, the sakura in spring, hydrangeas that bloom during rainy seaason, and the fall foliage make this a gorgeous place to witness the changes of the seasons at.
There are several varieties of sakura at Hasedera; Somei Yoshino bloom near the flagstones by the main temple building, while pink Kanhi zakura (winter cherry), grow by the Amidado hall. Since Hasedera is within walking distance from Kotokuin and its Great Buddha, it might be fun to visit both temples and compare their blossoms.
Address: Kanagawa, Kamakura, Hase 3-11-2
Access: 5-minute walk from Hase Station, Enoden line
Hours: March-Sept. 8:00-17:00 (closed by 17:30), Oct.-Feb. 8:00-16:30 (closes by 17:00)
Admission: Adults 300 yen, children 100 yen
10. Dankazura
Dankazura is the name of the path leading from JR Kamakura Station to Tsurugaoka Hachimangu shrine. This pathway is made up of a promenade that is one step higher than the rest of the road, which is lined on both sides by cherry trees.
During the peak of the sakura season, Dankazura becomes a stunning array of pink, and it almost feels like you have been engulfed in cherry blossoms when you walk along it! If you are going to be paying a visit to Tsurugaoka Hachimangu during the spring, we strongly suggest taking this route and seeing the beautiful pink blooms for yourself.
The Weather and What to Wear in Kamakura in Early Spring
Kamakura is surrounded by mountains in the north and faces the ocean to the south. Thanks to the mountains the cold northern wind is blocked and the temperature during hanami season tends to rise up to nearly 20℃, which is somewhat warmer than Tokyo at that time. It is a good idea to dress in some layers, though, as the temperature will change from morning to afternoon to evening, so having a light jacket or something with long sleeves on hand is a good idea.
However, there is a cool breeze from the ocean that blows across Kamakura near the beach, so having warmer clothing with you is ideal. It is also a good idea to wear proper walking shoes or sneakers rather than something the emphasizes fashion over function as the majority of the hanami spots can be walked to from one another or from the stations.
Hanami Etiquette
Reserving your spot for a hanami party tends to be done either the night before or in the morning on the day of the event. The majority of people stake their space with a blue plastic tarp or other types of ground cover; it is important to not take up too much space though, as others would like to enjoy the cherry blossoms just as much.
There is a possibility that your sheet may be removed if no one is sitting on it, so it is important to have at least one person stay on the sheet at all times, in order to protect your space.
Garbage and recycling bins especially established for the cherry blossom viewing parties may be located at the hanami site, so it is important to throw out your waste in the appropriate receptacle. Rules for how to separate your garbage differ from area to area, so please make sure to follow the instructions carefully.
If you cannot find any such disposal space set up, then you are expected to take your garbage and recycling home with you. Try to find out whether or not there are bins for public use at the site in advance, and if you still aren't sure, make sure to bring some extra garbage bags along with you just in case.
During cherry blossom season, many people stop to take photographs of these short-lived flowers. Although the sakura are very beautiful, it is a complete breach of good manners and common sense to touch or pull on the branches or trunks of the trees.
Sakura trees are relatively fragile living things, and damaging the branches in any way, even for aesthetic reasons, can result in the death of the tree itself. If you are going to be viewing the cherry blossoms in spring, refrain from touching the trees and seat a respectful distance away from them as well.
More information on hanami can be found in How to Save a Seat for Ohanami!, How to Deal with Trash After Ohanami, and Four Basic Ohanami Manners, as well as other articles. Please think of these as your guide to having the perfect hanami in Kamakura!
This is an updated version of an article published on March 18, 2018.


The information presented in this article is based on the time it was written. Note that there may be changes in the merchandise, services, and prices that have occurred after this article was published. Please contact the facility or facilities in this article directly before visiting.