Slam Dunk! Let's Go To Kamakurakōkōmae Station
Along the Enoden local line you will find Kamakurakōkōmae Station, which appeared in the ending of the hit anime Slam Dunk. Let's visit this popular photography spot.
Kanagawa prefecture's popular tourist spots Kamakura station and Fujisawa station are connected by the local train nicknamed the Enoden. More than just a means of transportation to Kamakura, this train takes the scenic route and runs along the coastline, and is an excellent means of reaching Enoshima.

Read also:
Seeing The Sights: How To Travel From Tokyo To Kamakura!
Enjoy Stopovers and Plenty Of Wonderful Scenery From Enoden Train

This Crossing Appeared in an Anime
A certain stop along the Enoden was first recognized by a visitor from Taiwan, and has quickly become a rather unusual yet popular sightseeing spot. This railway crossing is found at Kamakurakōkōmae Station, and was used as the model for a scene in the opening to the well-liked Japanese anime Slam Dunk. On weekends and holidays you are sure to see an endless number of people stopping here to take photos.
"Slam Dunk" was first published in the 1990s in a manga series for boys, and is the story of a high school boys' basketball team, the main character being a delinquent named Hanamichi Sakuragi. Sakuragi and his newfound love for basketball take center stage in the manga, and the uniqueness of all the characters is what drew so many fans to this series. It was later made into an anime and broadcast not only in Japan but also in Taiwan, other parts of Asia and even in Europe; it would be fair to say that it has become internationally known.
"Slam Dunk" was broadcast on TV in Japan in the 1990s. Though about 20 years have passed since its last broadcast, this stop near the station has been continuously visited by photographers ever since.
How to get to Kamakurakōkōmae
It takes 16 minutes on the Enoden from Fujisawa station to reach Kamakurakōkōmae, and costs 260 yen. By the way, you can reach Fujisawa station on the JR Tōkaidō line from either Ueno or Tokyo station, or via Shinjuku or Ikebukuro on the Odakyū lines. Or, you can reach Kamakurakōkōmae from Kamakura station, which takes 18 minutes and also costs 260 yen.
How to reach the Photo Spot
It is a 1-2 minute walk from Kamakurakōkōmae station to the photo spot. After passing through the ticket gates, walk straight down the road directly in front of you.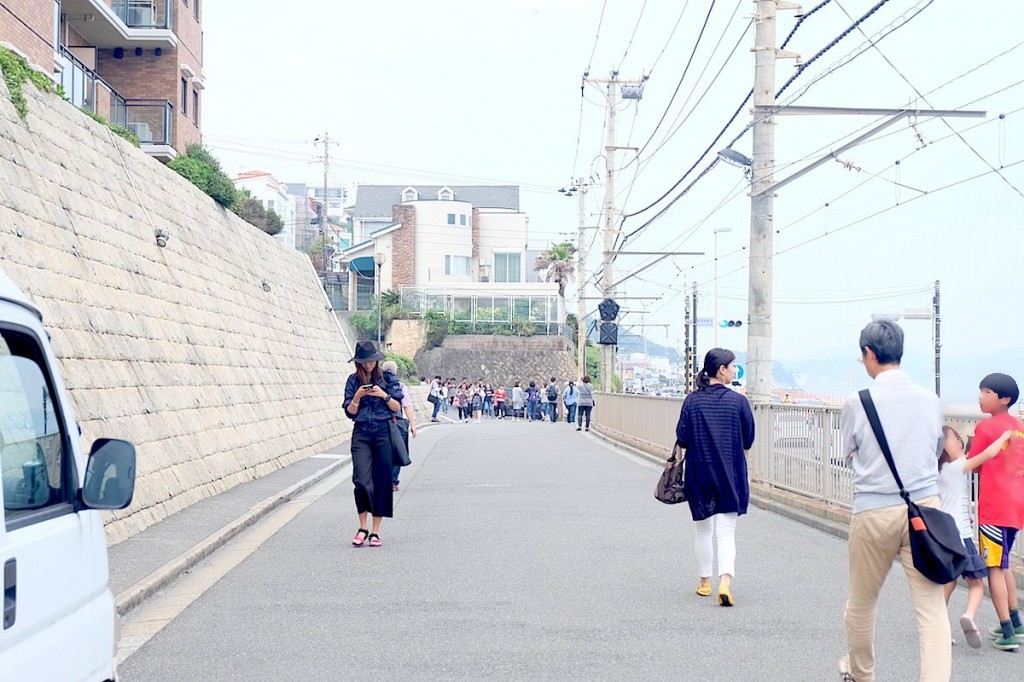 On weekends and holidays you are sure to see a lot of people gathered here with cameras, making it an easy spot to find.
On the day we visited there were plenty of people stopping to take pictures!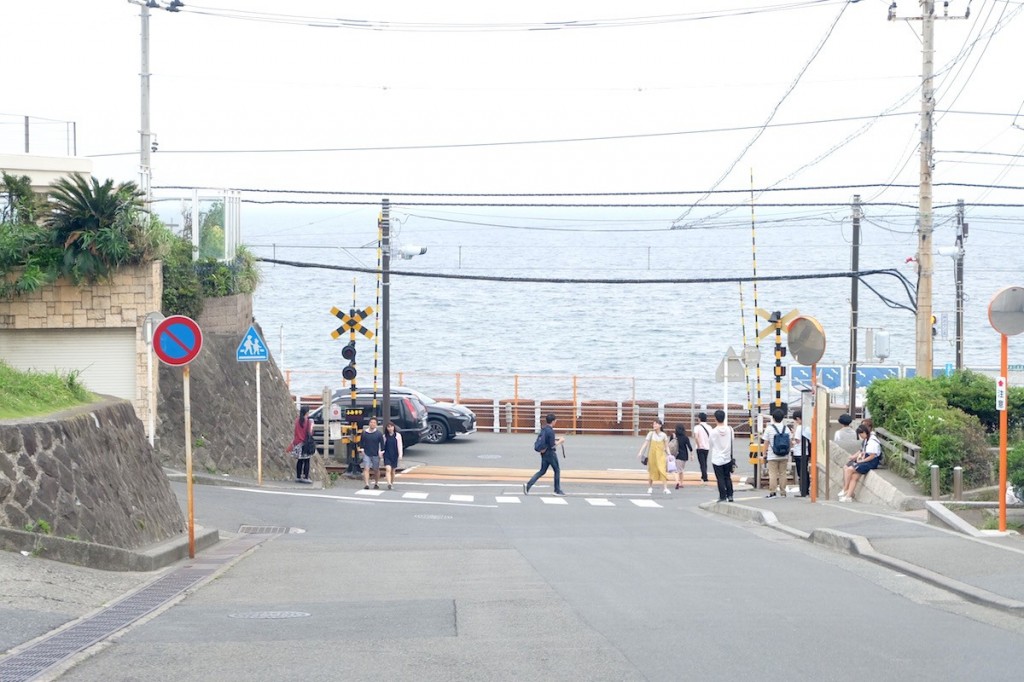 But then, just ahead you see the shot from the anime: the same sea, railway tracks, and crossing. Fans of Slam Dunk, you're sure to really start to feel excited by this sight.
This is also a popular photo spot for train fans hoping to catch a shot of the Enoden as it runs along its coastal route, which is by itself also quite lovely. From the hill next to the tracks and crossing you can see the whole scene as it spreads out before you; this hill is also the perfect place to take photos from.
At the crossing, it goes without saying that there are some people there to take pictures of the Enoden train itself too.
Though it has become a popular photography spot, the hill you are standing on is still an active road so please keep an eye out for cars and other vehicles trying to make their way through.
Top 100 Stations in Kantō
Other than Slam Dunk, Kamakurakōkōmae has appeared in other animes, and has been featured in a music video by the Japanese duet Yuzu. And, in 1997, the Japanese Ministry of Transport (now the Ministry of Land, Infrastructure, Transport and Tourism), listened to the public appeal and selected Kamakurakōkōmae as one of the representative top 100 best stations for the Kantō region.

Other than this famous anime spot, the charms of the station building, the beauty of the sea, the cool sight of the Enoden as it travels by, the brilliance of the sunset... There are so many things to see and take photos of in this one place, you just might wear yourself out from the beauty of it all.

When on your way to Kamakura or Enoshima, why not take a few minutes out of your schedule to see this famous photography spot?


The information presented in this article is based on the time it was written. Note that there may be changes in the merchandise, services, and prices that have occurred after this article was published. Please contact the facility or facilities in this article directly before visiting.