Kanagawa Travel Guide: Enjoy The Best Of Hakone, Kamakura, Yokohama
Located next to Tokyo, Kanagawa is a prefecture full of great beaches, historical sites, shopping spots, delicious foods and amazing seasonal events. Read on to learn more about this exciting prefecture!
Where Is Kanagawa Located?
Kanagawa prefecture is part of the Kanto region. Kanagawa has the second largest population in Japan after Tokyo and is a prefecture full of charms. From city areas full of great shopping spots and foods like Minato Mirai and Chinatown to beautiful nature-rich places like Kamakura, Hakone, and Zushi, Kanagawa really has it all.
And with most places easily reached in an hour from Tokyo, Kanagawa is a great place to visit and go sightseeing.
Table of Contents:
1. Yokohama Travel Information
2. Kamakura and the Shonan Area Travel Information
3. Hakone Travel Information
4. Kawasaki Travel Information
5. How to Reach Yokohama, Kanagawa's Travel Hub
6. Transportation in Kanagawa and Traffic Conditions
7. The Weather and What to Wear in Kanagawa
8. Great Shopping Spots in Kanagawa
9. Kanagawa Events and Festivals
10. Hotels in Kanagawa
11. Dining in Kanagawa
12. Souvenirs from Kanagawa
13. Other Important Travel Information
Yokohama Travel Information
Yokohama is the largest city in Kanagawa prefecture and a place where you will find an incredible number of gourmet spots and amusement areas. Part of its charm is that, depending on where you depart from in Tokyo, you can reach Yokohama in as little as 30 minutes.
The two central sightseeing spots in Yokohama are Minato Mirai and Chinatown, and their surrounding areas. In Minato Mirai, you will find Yokohama's Red Brick Warehouse, Chinatown, the Landmark Tower, the Anpanman Museum, and other wonderful sightseeing spots, as well as plenty of places with beautiful night views, shopping centers, and numerous exciting date spots too.
The largest gourmet hot spot in Yokohama is without a doubt Chinatown. There you will find restaurants serving authentic dishes from Szechuan, Shanghai, and Guangdong, as well as shops selling souvenirs and sundries from China as well.
Two further natural places that are must-see spots in Yokohama are the wide seaside park close to Chinatown, Yamashita Park, and the history-rich Japanese-style garden, Sankeien. And just a short distance from Yokohama, you will find Hakkeijima, with its ocean amusement park, Hakkeijima Sea Paradise, and the Shin-Yokohama Ramen Museum.
To learn more about Yokohama and the surrounding area, check out: Yokohama Travel Guide - Discover Minato Mirai and Other Great Areas!
Recommended Sightseeing Spots in Yokohama
1. Minato Mirai
Minato Mirai is the area covered by the Minato Mirai line, and that around JR Sakuragicho Station. Here you will find Landmark Tower, Queen's Square, the Red Brick Warehouse and other interesting shopping centers. And with a charming park overlooking the ocean, this is a place where you can easily spend the day in comfort.
2. Landmark Tower
Minato Mirai also has a viewing platform located within this incredible commercial building too. Here you can enjoy stunning night views after your shopping trip.
3. The Red Brick Warehouse
Yokohama's Akarenga Sogo, or the Red Brick Warehouse, is a historical building that was originally used as a national storehouse from the latter half of the Meiji Era to the Taisho Era. Now this architectural delight is home to many shops restaurants, and seasonal events held regularly in the event space outside.
4. Anpanman Museum
This is the museum dedicated to the incredibly popular children's anime series, Anpanman. With amazing dioramas showing the cute characters from the series, you will find yourself getting excited right from eating the character-inspired buns and rolls sold here. This is an excellent place to bring kids.
5. Motomachi Chuukagai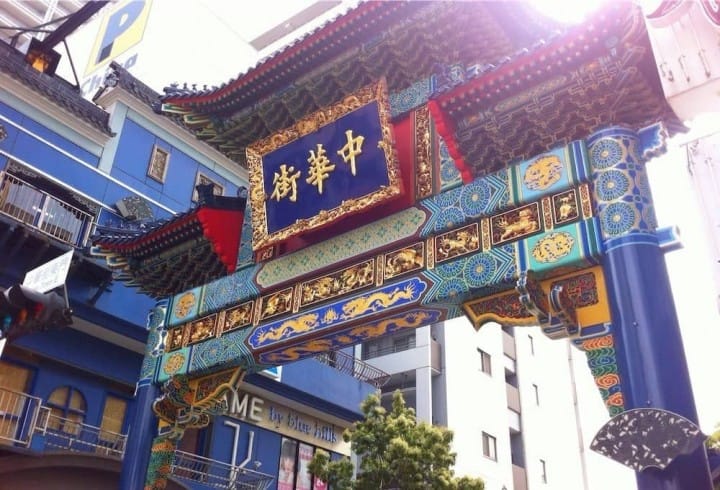 Yokohama's most concentrated gourmet spot is without a doubt Chinatown. There are over 220 different restaurants here to choose from, offering authentic Cantonese and Szechuan cuisine, you can enjoy everything from simple Chinese dishes like dim sum to amazing sweets and beyond.
6. Shin-Yokohama Ramen Museum
The Shin-Yokohama Ramen Museum is a food theme park dedicated to one of Japan's most well-known dishes, ramen. Here you will find 10 ramen restaurants that were hand-selected from all across Japan as serving representative regional ramen dishes. If you or someone you are traveling with is a ramen fan, then this is the place to go.
To learn more about great sightseeing spots in Yokohama, take a look at: 11 Great Places to Visit in Yokohama: Minato Mirai, Chinatown and More!
7. Sankeien Garden
Located in a quiet residential area, Sankeien Garden is a traditional Japanese garden with 17 historical buildings within its grounds. Here you can enjoy cherry blossoms and azaleas in the spring, water lilies and hydrangeas in the summer, cluster amaryllis and wild chrysanthemum and autumn leaves in the fall, plum blossoms in the winter - all while only being a 15 minute bus ride from Motomachi-Chukagai Station. The garden is open from 9:00-17:00, with last entry being at 16:30; admission for junior high school students and up is 500 yen, while for elementary students and younger it costs 200 yen.
For more about this stunning Japanese garden, see Enjoy Matcha Tea In The Heart Of Sankeien Garden, Yokohama.
8. Hakkejima Sea Paradise
©JNTO
Yokohama Hakkeijima Sea Paradise is an entertainment facility with an aquarium separated into several different areas, a marine park, and an amusement park that has a wide variety of attractions. This is not only a great place for families to visit, but also a very popular date spot too. For more about Yokohama Hakkejima Sea Paradise, take a look at Yokohama Sea Paradise: More Than An Aquarium! Play With Sea Creatures!, and for access information to Hakkejima, see How To Get To Yokohama Hakkeijima Sea Paradise.
Kamakura and Shonan Area Travel Information
The Shonan area is made up of Enoshima, Kamakura, Zushi, Hayama, and their surrounding areas. Kamakura in particular is well-known for its numerous temples and shrines and great natural spots, while Enoshima is a small island connected to the rest of Japan via the Enoden line running from Kamakura.
Zushi and Hayama are two famous beach towns, where you can enjoy many marine sports and walks, and popular beach houses and swimming in the summer.
The Shonan area is full of nature, and has lovely cafes and restaurants comparable to the city, making Shonan comfortable place with a charming atmosphere. If you want to get away from the hustle and bustle of Tokyo, then this is the place for you.
Recommended Spots in the Kamakura Area
Kamakura is best known for its Great Buddha statue at Kotokuin Temple, and for Hokuji Temple, affectionately called the Bamboo Temple thanks to its impressive bamboo grove. With plentiful historical sites, gorgeous natural areas, and numerous fashionable cafes, Kamakura is an excellent place for those that want to enjoy a leisurely stroll around town. To learn more about sightseeing spots in Kamakura, take a look at Kamakura Travel Guide: Welcome To Japan's Old Capital In Kanagawa.
1. Tsurugaoka Hachimangu Shrine
Tsurugaoka Hachimangu is known as the symbol of Kamakura. A 10 minute walk from Kamakura Station, it is a very easy to access spot, and the walk down Komachidori road towards, with its many small shops, restaurants and the like, is part of the standard journey to this amazing shrine.
2. Hokokuji Temple
Known as 'Take-dera', or the Bamboo Temple, Hokokuji is a charming temple with a beautiful bamboo thicket spreading throughout its grounds. You can even enjoy green tea amid the bamboo, which is another of this temple's charms.
3. Kotokuin and The Great Buddha Statue
Kotokuin Temple is located a 7 minute walk from Hase Station on the Enoden line. With a seated height of 11.4 meters, the Daibutsu (Great Buddha statue) at this temple weighs 121 tons and is a very popular spot on the weekends, drawing crowds from all over. If you pay the 20 yen fee, you can even go inside the Great Buddha too.
4. Hasedera Temple
Found at the same Hase Station as Kotokuin, Hasedera Temple is a well-known sightseeing spot that is popular with both domestic and international visitors all year long. The sight of the red maple leaves in fall as they are lit up makes for a wondrous, mystical atmosphere that you have to see to believe.
5. Meigetsuin Temple - the Hydrangea Temple
Meigetsuin Temple in Kita-Kamakura is also called "the hydrangea temple" for its amazing garden full of colorful hydrangeas, the Japanese flower of early summer. But Meigetsuin is also known for its other seasonal sights, such as the round "windows of enlightenment," which symbolize enlightenment, truth, and the cosmos. The view of the fall garden through this window is breathtaking. For more information on this temple, read Meigetsuin Temple, Kamakura - Japanese Aesthetics At Its Finest.
6. Zeniarai Benten Temple
It's said that Zeniarai Benten shrine, nestled deep in the Kamakura mountains, can bestow blessings of financial prosperity. Just put your money in a strainer at the shrine and rinse it with spring water that flows there, and according to legend, it will multiply many times over. Why not give it a try? Read Zeniarai Benzaiten Ugafuku Shrine - The Miraculous Water Of Kamakura to learn more.
7. Engakuji Temple
A short walk from Kita-Kamakura Station will bring you to Engakuji Temple, a Zen Buddhist temple. Famous for its Sanmon temple gate and for the, and dragon painted on the temple ceiling, at 6:00 am every morning here a free dawn meditation meeting is held. Check out Refresh In The Morning: Free Zazen At Engaku-ji Temple for more.
8. Enoshima
Enoshima, known for Enoshima Shrine and Enoshima Iwaya, is a small island surrounded by the ocean off Kanagawa. There are many superb views interwoven with the surroundings here. And their shirasu, or whitebait, cuisine and other seafood dishes make for some wonderful gourmet experiences.
See The Top 5 Sightseeing Spots in Enoshima, Kanagawa and 8 Spectacular Sights In Enoshima That You'll Want To Keep Secret for more.
Best Beaches in Hayama and Zushi
The Zushi and Hayama areas are where you will find two spots with great scenery - Isshiki Beach and Morito Beach. This is where you can enjoy evening strolls along the beach, sea kayaking and even wind surfing too. Hayama is also where you will find the summer homes of Japan's rich and famous, giving it an elegant ambience that flows right through the region.
1. Zushi Beach
Photo courtesy of: Zushi City Tourism Department
Zushi Beach is a 15 minute walk away from JR Zushi Station and is one of the most popular beaches in Japan in the summer. The walk from the station to the beach is full of unique, fashionable restaurants too.
2. Isshiki Beach
Isshiki Beach is best known in Japan as being where the Emperor's summer residence is located. There are plenty of trendy beach houses and great spots to swim in the summer, making it a lively place to visit, although it is far more relaxed the rest of the year. With its picturesque mountains and superb beaches, this is a place that you can enjoy all year round.
This area is overflowing with fabulous places to visit, like Hayama Shiosai Park, Chojagasaki, Morito Daimyojin, Hayama Marina and more!
To read more about the Zushi and Hayama areas, take a look at this article: Zushi, A Mini Resort Close To Tokyo: Sightseeing, Hotels, Dining .
Hakone Area Travel Information
Hakone and its surrounding area is the representative hot spring area in Kanagawa. Starting with Hakone Yumoto, other hot spring areas Gora, Yugawara, and Manazuru are very popular as well. On the outskirts of Hakone Yumoto, at Owakudani and other areas, you can take in the transparent waters of Ashinoko and see plumes of smoke coming from the nearby volcano; this mountainous area is simply stunning. And there are numerous art galleries and museums that are enjoyable to visit too. Odawara, another major city in the area, is where you will find Odawara Castle, an impressive reproduction of the original castle that stood on the grounds. This area is easily reached via Odakyu Romance Car from Shinjuku.
Recommended Spots in Hakone
1. Hakone Yumoto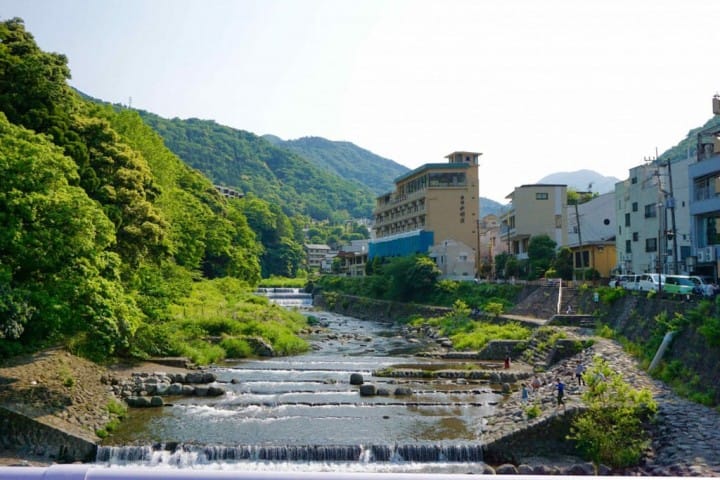 Hakone Yumoto is the main station for arrivals and departures from Tokyo to the Hakone area and is known as the front door of Hakone. Around the station, there are numerous souvenir shops, a lively old shopping street, and many history-rich structures to see as well. But, perhaps the thing that it is most known for is the fact that Hakone Yumoto is home to over 40 different hot spring districts. A short walk from the station will bring you to several hot spring areas, which is quite appealing.
2. Owakudani
Owakudani is an exciting spot in Hakone where you can feel the impressiveness of an active volcano up close. Surrounded by white clouds, the peculiar scenery here has lead this area to be nicknamed 'Jigokudani' (Hell Valley) since the Edo era. This area can be reached by the Hakone Ropeway.
3. Lake Ashi
Formed by an ancient volcanic eruption, Lake Ashi (Ashinoko) is the largest lake in Kanagawa and is where you can take a pleasure cruise on a replica pirate ship to view the scenery.
4. Hakone Shrine
Standing on one side of Lake Ashi is the great torii of Hakone Shrine. When you pay a visit to Ashinoko, you really should call on this shrine as well. You are sure to find yourself caught up in the sacred atmosphere of the mountains when you visit Hakone Shrine.
5. Hakone Open-Air Museum
The Hakone Open-Air Museum is an open art park, where the works are on display amid the impressive natural landscape of Hakone. Here you can enjoy art in a different way than at the museums in the city.
Odawara - Odawara Castle
Odawara is a history-rich city that was a seat of power for the region of particular importance during the Sengoku era. It is the best existing example of a Japanese castle in the greater Tokyo area and an ideal place for a day trip from the city. The castle is open from 9:00-17:00 (last admittance 16:30) and admission is 500 yen for adults, and 200 yen for elementary to junior high students (other facilities within grounds have separate fees). For more about Odawara Castle, see A Castle Surrounded By Pink Blossoms - The Sakura At Odawara Castle.
Take a look at Beautiful Nature and Hot Springs! The Best Places in Hakone - A Guide and What To Do In Hakone - Travel Tips and 6 Must-See Places for more on sightseeing in Hakone.
Kawasaki Area Travel Information
Kawasaki sits between Tokyo and Yokohama, and is mainly known as an industrial and residential suburb today, where you will find a great number of sports facilities and shopping centers. It is also home to Kawasaki Daishi, one of the most visited temples in all of Japan, and has a great number of popular seasonal festivals as well. Kawasaki has many different hidden treasures to discover though, so it is a good spot for urban adventure-seekers to visit.
Recommended Spots in Kawasaki
1. Kawasaki Daishi Temple
Kawasaki Daishi is a temple found in Kawasaki. Originally built in 1128, the monk Kukai Kobo Daishi (774-835) is enshrined here. The closest station to the temple is Kawasaki Daishi Station on the Keikyu line; this temple is best known for its popularity at New Years, and for its summer wind chime festival. Read 3 Million Visitors in 3 Days! Kawasaki Daishi, Kanagawa and Ward Off Evil with Food!? 3 Souvenirs From Kawasaki Daishi Temple for more.
2. Nihon Minka-en
Nihon Minka-en, also known as the Japan Open-Air Folk House Museum, is an open-air museum in Ikuta Ryokuchi Park. It was built in 1967 for the purpose of preserving Japanese traditional private houses, which have become increasingly harder to find outside of preserved townscapes. Here you can see twenty or more houses, some of which were built 200-300 years ago, and all of which are designated as cultural properties by the nation, prefecture or city. This museum is open from 9:00-17:00 (March-October), 9:30-16:30 (November-February), and admission fees are 500 yen for adults, 300 yen for high school and college students and seniors over 65, and is free for children up to middle school age. To learn more about Nihon Minka-en, please see Enjoy The Old Sights Of Japan Amid Nature: Nihon Minka-en, Kawasaki.
3. The Fujiko F. Fujio Museum - Meet Doraemon and Friends
The Fujiko F. Fujio Museum, or Fujiko Museum for short, is a museum where you can find yourself right in the middle of the worlds created by the manga artist Fujiko F. Fujio, the man behind some of Japan's most beloved anime characters, like Doraemon and his friends. Here you can not only see original illustrations, but also learn the history of his work, buy limited edition goods, and even try out fun, interactive displays. The museum is open from 10:00-18:00 (last entry 16:30), and costs 1000 yen for adults, 700 yen for junior/high school students, 500 yen for children aged 4 and up, and is free for children under 3. Take a look at Enter The World Of Doraemon! The Fujiko F. Fujio Museum, and for access and ticket information, please see Visiting The Fujiko F. Fujio Museum - Tickets And Transportation.
4. The Taro Okamoto Museum of Art
The modern Japanese artist Taro Okamoto was born in Kawasaki, and it is at the Taro Okamoto Museum of Art that he majority of his works, many of which were donated by the artist himself, are exhibited in both permanent collections and a special exhibition space, where works by those inspired by Taro Okamoto are displayed. This museum is quite close to both the Nihon Minka-en Folklore Museum as well as the Fujiko F. Fujio Museum, so you can easily visit all three in a day if you are so inclined. Open from 9:30-17:00 (last entry 16:30), the admission fees for the permanent exhibitions alone are 500 yen for adults, 300 yen for high school/university/seniors, and free for junior high age and under. Special exhibitions (includes permanent) prices are 700 yen for adults, 500 yen for high school/university/seniors, and free for junior high age and under. Read Taro Okamoto Museum Of Art - Meet The Artist Behind The Myth of Tomorrow to learn more.
How to Reach Yokohama, Kanagawa's Hub Station
In the vast area covered by Kanagawa, one of the largest sightseeing areas is around Yokohama Station.
Heading to Yokohama Station from Haneda Airport
The transfer-free limousine bus from Haneda Airport is very convenient. It takes 24 minutes to reach the Domestic Terminal 1 from Yokohama Station, and 40 minutes to reach the International Terminal. A one-way ticket for adults costs 580 yen, and 290 yen for children.
Traveling from Narita Airport to Yokohama
There are two convenient routes to take from Narita Airport: the Narita Express and the shuttle bus. Both offer transfer-free trips to Yokohama Station.
The Narita Express takes about an hour and 40 minutes, and costs 4300 yen, while the shuttle bus takes about an hour and a half, and costs 3600 yen.
If you are going to be using the Narita Express, we recommend using the all-you-can-ride railway and bus pass (JR operated companies, the Japan Rail Pass, during your trip. For more information, please take a look at: Tailor-Made Holidays in Japan with Japan Rail Pass.
Heading from Tokyo Station to Yokohama Station
From Tokyo Station, take the outbound Tokaido line to Yokohama Station. It will take about 35 minutes and cost 470 yen. To read more about traveling from major stations to Yokohama, refer to our article: What's the Most Convenient Fare?! How to Get to Yokohama from Tokyo.
Transportation in Kanagawa and Traffic Conditions
JR Lines
With numerous train lines crisscrossing through Kanagawa prefecture, the vast majority of sightseeing spots can easily be accessed by train. The Tokaido line runs from the main city areas of Tokyo through to Yokohama and Odawara, while the Yokosuka line heads from Tokyo to Yokohama, Kamakura, Zushi, and Kurihama. And both Zushi, Kamakura and other stations in the area are JR stations too.
Buses
There are also plenty of useful bus routes to choose from in Kanagawa. There is even the Akakutsu, a great sightseeing bus that travels through Yokohama's Minato Mirai and Chinatown areas.
To see more on this adorable bus, check out: Retro Cute In Yokohama - Minato Mirai's Red Shoes Sightseeing Bus.
The Enoden Train
The Enoden train starts from the eastern part of the prefecture at Fujisawa Station and runs straight through to Kamakura, making it a convenient train for those wanting to visit the various shrines and temple in Kamakura. Kamakurakokomae Station is also very well known as a sightseeing spot.
Our article Enjoy Stopovers and Plenty of Wonderful Scenery from the Enoden Train has more on this.
Keikyu Line
This train travels from Shinagawa Station through to Yokohama, Kanazawa Hakkei, Yokosuka Chuo, Misakiguchi and other major stations. If you are interested in visiting the popular marine theme park, Hakkeijima Sea Paradise, in Kanazawa Hakkei, then this is the best line to use.
Learn more from: How To Get To Yokohama Hakkeijima Sea Paradise.
Odakyu Line
This train line connects Shinjuku, Odawara, Enoshima and Atsugi. If you are interested in visiting everything from the metropolitan area down to the coastline of Enoshima, this is the best line to choose. The Odakyu Romance Car travels all the way from Shinjuku to Hakone Yumoto as well, so if you would like to go sightseeing in Hakone, this is the right train for you.
Toyoko/Minato Mirai Lines
The Toyoko line connects Shibuya Station and Yokohama Station, and the high-speed line from Yokohama connects it to the Minato Mirai line, on which you will find famous sightseeing spots like Chinatown, Motomachi, Minato Mirai, Bashamichi, and others.
Hakone Tozan Train
Hakone's Tozan mountain railway spans from Odawara in southern Kanagawa up to Hakone Yumoto, Kowakudani, Gora and other sightseeing spots, and has its terminal station at Sounzan mountain. If you would like to go sightseeing in Hakone, then this is the best line for you.
See Hakone Tozan Line - Climb The Mountain By Train And Enjoy The Scenery! to learn more.
Rental Car
While there is plenty of public transportation to get you wherever you want to go within the Yokohama area, if you are going to be traveling in Hakone or Zushi, you might find it convenient to use a rental car as well.
The Climate and What to Wear in Kanagawa
Although Kanagawa has a comparatively warm and mild climate, the Hakone area tends to be about 2-3 degrees colder than the Yokohama area. If you are going to be visiting in the winter, then be sure to bring warm clothing and accessories like hats, scarves, and gloves too. If you are going to be traveling here in the summer, then bringing along a shawl or a light jacket might be a good idea for in the evenings.
There are many places to walk to in the Shonan area, so it is a good idea to have a pair of sturdy walking shoes or sneakers with you rather than sandals.
Great Shopping Spots in Kanagawa
If you would like to do some shopping while sightseeing in Kanagawa, we recommend doing so around Yokohama Station and in Minato Mirai. There are numerous large-scale shopping centers like Queen's Square Yokohama, MARKIS Minato Mirai, Mitsui Outlet Park Yokohama Bayside, and others. Check out Yokohama Minato Mirai - 7 Elegant Shopping Spots and Easy Access! 8 Shopping Spots Around Yokohama Station for more shops.
Kanagawa Events and Festivals
As Yokohama was the first port in Japan to be fully opened to the world, this area has many festivals with a uniquely international flavor to them.
February: Chinatown - Shunsetsu
According to the old calendar, this is Shunsetsu, or the Lunar New Year, and every New Year Chinatown holds an amazing New Year celebration. A big part of these celebrations is the parade, which is visited by great numbers of people every year.
Read Dancing Dragons and Lions: Chinese Spring Festival in Yokohama for more on this festival.
May: Kowakudani - Azalea Festival
This is an azalea festival held at Horaien Garden in Kowakudani, Hakone every year. About 30,000 azaleas bloom around this time, and there are small stands selling beer and light meals that you can enjoy as you view the flowers.
June: Zushi - Zushi Beach Fireworks Festival
The Zushi City Fireworks Festival is one of the first of the season in Japan, being put on in June. The sight of the fireworks and the sound of the music they are synced with is magnificent.
December: Yokohama Yamatenishi Western-Style House - World Christmas
There are old Western-style houses that were built and lived in by Americans and the English located in Yamatenishi, in Yokohama. Every Christmas, each house has a country as its theme, and each displays how Christmas is celebrated in their given country, along with some of the traditional ornaments. To see houses formerly owned by Australians decorated in keeping with an Italian Christmas makes for an interesting experience.
They are famous for their equal representation of the Christmas celebrations from countries all around the world, notably Sweden, Brazil, Finland, Vietnam, Japan, and more. They also have winter illuminations, a candle garden and concerts during this season too.
Hotels in Kanagawa
There are numerous hotels to choose from in Kanagawa; everything from business hotels to highly ranked hotels to beach resorts. In the area around Yokohama Station, you will find business hotels and international luxury hotels. When you are planning your stay, make sure to choose the hotel that best fits your budget.
There are numerous hot spring inns and hotels to choose from in Hakone. If you are going to be spending some time in Hakone, why not try staying in a ryokan, where you can enjoy traditional rooms with tatami and shoji, and leisurely enjoy authentic Japanese meals too.
Dining in Kanagawa
Each and every area in Kanagawa has its own specialty foods and dishes.
Yokohama Area
In Yokohama, you will find restaurants serving everything from Western dishes at long-established shops to authentically made Chinese food in Chinatown. You can also enjoy wandering about Chinatown as you snack on freshly made nikuman, which are steamed buns with a delicious meat filling.
Ramen fans will be happy to know that, at the Ramen Museum you can enjoy different types of ramen from all across Japan under one roof.
Shonan Area
Thanks to the close proximity of the ocean, the most recommended dishes in the Shonan area feature freshly caught shirasu, or whitebait. There is shirasu-don, shirasu pizza, and shirasu pasta - plenty of variations using this fish. Kamakura, being an area with excellent vegetables, known as Kamakura vegetables, are beloved by foodies all over. If you are in Kamakura, then trying dishes made with Kamakura vegetables are a must.
Hakone Area
There are many delicious soba restaurants in the Hakone area. With dishes like Tamura Ginkatsutei's simmered tofu to choose from, there are many foods that you can't find anywhere else in the world available in Hakone.
In Owakudani, their onsen tamago, or eggs boiled in hot spring waters, are perhaps the most famous food. The minerals from the water stick to the shell, turning it completely black, giving these eggs a distinctive appearance. Read Enjoy Your Time In Hakone With This One-Day Trip Itinerary! for more.
Souvenirs from Kanagawa
The best souvenirs from Kanagawa also vary by area.
Yokohama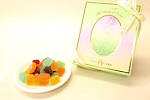 There are many items for sale in this area that feature boats or other marine motifs. And there are many sweets that not only look beautiful but taste wonderful too - if you find something that catches your eye, by all means give it a try!
There are plenty of shops selling very cute souvenirs in Chinatown too. Wamonoya Kaya, a shop selling traditional Japanese-themed goods, is an excellent place to find something very special as a souvenir.
Both The 6 Best Sweet Souvenirs From The Port City, Yokohama and Adorable Japanese Souvenirs in Middle of China Townhave more.
Shonan
For souvenirs from Shonan and Kamakura, Hato Sable cookies come to mind right away. These light shortbread cookies made in the shape of a dove are a perfect match to tea. Other highly recommended souvenirs from the area are Kamakurabori lacquerware and other traditional handicrafts. This is also where you will find Masamune Kogei, the forge continuing the grand sword-making tradition begun by the famous swordsmith Masamune.
Enoshima beer and Hayama beer are two other souvenirs that can only be purchased in this area at supermarkets and liquor shops, so if you know someone that loves beer, this might be the perfect souvenir for them.
Take a look at Kamakura's Best Souvenir: Toshimaya's Hato Sable to learn more.
Hakone
The most recommended souvenir from Hakone is yosegizaiku, or wood marquetry, a traditional handicraft of the area. Wooden mosaics are made up from pieces of different woods that have been arranged together to form intricate designs, similar to a patchwork; this makes each piece a completely unique work. Recently, necklaces and even music boxes made with this traditional handicraft have become available as well.
Check out Get Gorgeous Wooden Craft Items At Hakone Yosegi-zaiku Kiro to see more of these works.
How to Get the Most Out of Your Trip to Kanagawa
With cities like Yokohama, Kamakura, Hakone, and other noteworthy sightseeing places to choose from, as well as the fun Enoshima, Yokohama-Shonan areas and Hakone areas to enjoy, Kanagawa is a convenient 1-1.5 hours away from Tokyo. The sightseeing spots are a bit far apart in Hakone, which will add extra time to a travel schedule - for that reason, we don't recommend trying to visit all of Kanagawa in a single day.
Spending one day in Yokohama and one in Hakone is the best travel plan for those with some extra time in their vacation schedules.
Other Important Travel Information
The article below will show how much the food costs in Japan, so take a look when planning your budget.

If you need to exchange currencies, go to the bank, or try the ATM at 7-Eleven.

If you're short on cash, look for the ATM with the "PLUS" logo, which offers cash advance with credit cards.

The article below will show the simple phrases you can use when checking into hotels.

"Japan Connected-Free Wi-Fi" is a service for the visitors from abroad. Be sure to download the application in advance.

The information presented in this article is based on the time it was written. Note that there may be changes in the merchandise, services, and prices that have occurred after this article was published. Please contact the facility or facilities in this article directly before visiting.