Zen Buddhism - Gardens, Art and Zazen Meditation in Japan
The word "Zen" is known to many people even outside of Japan nowadays. This article delves into the nature of Zen and introduces places where visitors can see Zen art and even practice Zen meditation, known as "Zazen".
Zen in Japan
Famous throughout the world, Zen is one of the schools of Buddhism. The Zen sect's teachings and methodology instructs the practitioners to bring their spirit in balance with their surroundings and the universe in order to attain enlightenment. The founder of the Zen sect was a Buddhist monk from India named Bodhidharma who settled at the Shaolin temple in China.
Zen, in particular, has been the subject of academic study, the teachings of it attempting to divulge the spirit of the historical Buddha, Shakyamuni, without using words or texts in order to save the spirits of men. There are no set doctrines or gods in particular worshiped in Zen.
It is said that Zen was brought over from China in the 7th century by Buddhist missionaries. Afterwards, it took on a form of its own in Japan, not simply content with being another sect of Buddhism, but found its way into popular culture in various capacities.
Zen as a Way of Thought and Zazen
Zen is difficult to transmit via the written word, and there are many Japanese people themselves who do not really understand what Zen itself constitutes. While there are many interpretations as to what Zen actually is, we will attempt to delve into that subject here, so please open your minds and read on.
All the experiences a person has from the time they are born until the time they die, the concepts of objectivity and subjectivity, the self and the other, good and evil are all thought to be relative within the school of Zen thought. Furthermore, while people build a "self" or an "ego" over the course of their lives, according to Buddhism, this concept is a hindrance on the path to enlightenment, shackling the soul to this mortal realm.
In Zen, in order to avoid these hindrances and to realize the true nature of oneself, practitioners practice a type of meditation called "Zazen," thereby eliminating all excessive thoughts and burdens on the soul.
One facet of Zen not found in other sects of Buddhism is that practitioners sit cross-legged for long periods of time without moving, a practice known as zazen. By performing zazen, one attempts to revert back to a stage of nothingness, of no consciousness. During zazen one should not attempt to search one's mind for thoughts or goals, but eliminate all that exists within the mind.
Zen as Art Form
Artwork such as paintings and the like dealing with Zen are renown even in foreign countries, and there are many places for those fond of Zen-inspired art should see while visiting Japan. Later in this article, we will list several temples such as Ken'ninji and Enkakuji where visitors can see beautiful murals painted on the ceilings as well as screen paintings, all of which are truly captivating and beautiful.
In addition to this, artwork that is representative of Zen thought can be found at Kyoto's Ryoanji, a famous temple that even Queen Elizabeth has visited, that is home to a famous rock garden. This garden uses no flora, only utilizing stones, pebbles, sand, and moss to afford the viewer a representation of a body of water. This type of garden can be found at many Zen temples, so if you happen to visit one, be sure to look carefully and reflect on its beauty.
Try Zen Meditation
Finally, we would like to introduce some places where travelers visiting Japan can come to experience Zen through the actual practice of zazen.
Ken'ninji Temple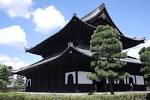 Ken'ninji Temple was founded in Kyoto by a Japanese Buddhist monk who traveled to China named Eisai and is the oldest Zen temple in Japan. With a tranquility that soothes and cleanses the soul, visitors can participate in zazen and shakyo (sutra copying). The temple is also home to many beautiful treasures, so please be sure to visit if you are in the area.
Enkakuji Temple
Located in Kanagawa Prefecture is Enkakuji, a Zen temple where zazen meetings are held every day. Though the temple occasionally hosts afternoon sessions, primarily persons congregate for early morning zazen meetings. Here, visitors can revel in the glorious, crisp air while attempting to lose themselves in the practice of zazen.

The information presented in this article is based on the time it was written. Note that there may be changes in the merchandise, services, and prices that have occurred after this article was published. Please contact the facility or facilities in this article directly before visiting.