How To Enjoy Tea Ceremony In Japan - The Basics of Sadō
Chadō, or tea ceremony, is one of Japan's traditional arts in which hospitality and aesthetics play an important role. In this article you will learn some of the basic points of Chadō.
Japan's Traditional Tea Ceremony - What Exactly Is It?
One of Japan's spiritual disciplines which is not merely watched, but can also be easily appreciated and enjoyed through direct experience is Chadō (Sadō), or tea ceremony.
Even as a traveler, you will have opportunities to come into contact with and be an active participant in a tea ceremony in Japan. In this article, we're going to explain some of the basic but essential points we'd like you to know and keep in mind about tea ceremony.
In Japan, Kadō (Ikebana flower arrangement), Shodō (Calligraphy) and Aikidō (one of the Japanese martial arts), and other traditional arts whereby students are noted for putting in long hours and effort to hone their craft, all contain the word dō (道). In English this character means "road" or "the way of", symbolizing the dedication and discipline required in not just developing one's physical skills, but also one's mental aspect as well.
The art of preparing and drinking green tea originated in China. Japanese priests and monks upon returning from their travels to China helped to spread and popularize this tradition. In Japan, the tea master Sen no Rikyū developed and refined the first model of the tea ceremony in the 16th century.
Tea ceremony is essentially an aesthetic ritual in which tea is prepared and then enjoyed, not by merely tasting it but also by appreciating the entire experience through one's senses. During this process, from start to finish, a series of predetermined steps are faithfully adhered to. Both the host preparing the powdered green tea, and the guests receiving this hospitality, respect and follow the rules as the ceremony proceeds.
For many, the appeal of tea ceremony lies in the beauty of its form and also in the kind consideration for others that is inherent in omotenashi, the act of entertaining a guest with hospitality from the heart.
Incidentally, a Chakai, or tea gathering, is when people get together and follow the steps of tea ceremony and then drink the powdered green tea.
Tea Ceremony Etiquette - Rule No. 1: "Osakini no Kokoro"
Generally speaking, if one does not have knowledge of tea ceremony while at a tea gathering, they will join the other guests receiving the green tea. There are several schools of tea ceremony, and depending on the school, the manners and etiquette can often differ. However, most schools agree that there is one common manner that must be observed by those on the side receiving the tea. This is represented by the word "Osakini".
At tea gatherings, first sweets (kashi) are passed around in a predetermined seating order and after they've been eaten, the tea bowl (chawan) containing prepared green tea is also passed around in the identical order. When your turn comes around, you first turn to the person next in line and greet them with "Osakini" before consuming the sweets and later drinking the green tea. "Osakini (itadakimasu)", meaning "Excuse me for going ahead of you", is an expression used to show consideration and kindness towards the other guests attending the tea gathering. It remains one of the tea ceremony's most important rules of etiquette.
Tea Ceremony Etiquette - Rule No. 2: Showing Respect for the Tea Bowl
Cutting off pieces one at a time, the sweets are slowly savored and it is not until after guests have finished eating, that the green tea arrives.
Here the important point to remember: one does not drink from the front of the tea bowl. Beautiful designs and drawings, and also imperfections and irregularities (especially with hand thrown pottery bowls) are highly valued, and therefore often appear on the front side of the tea bowl.
While showing off the front of the bowl to all the guests, the bowl gets passed around from person to person. So that the guest receiving the tea can also fully appreciate the front of the bowl, and to prevent getting it dirty, a drink is taken from a different part of the bowl, emphasizing one of tea ceremony's most important manners.
The bowl is picked up with the right hand and placed in the palm of the left hand. Then using the right hand, the bowl is slightly rotated in a clockwise fashion. Making sure to avoid the front of the bowl, the mouth is placed on the lateral side of the bowl and a drink is taken. The tea is not consumed in one big gulp, but rather slowly enjoyed by drinking from the bowl about three times.
Read also:
A Recommended Spot for Visitors to Japan
Were you able to understand these two important etiquette rules of tea ceremony? In Japan, at various sightseeing spots such as Tokyo's Asakusa and Kyoto, there are shops where one can easily join a tea ceremony workshop. These opportunities are also available at many Japanese gardens and at municipal culture centers.
In this next section we'll introduce you to a place for tourists in particular, where you can have a first-hand experience with tea ceremony.
Urasandō Garden
Let's go to a place called Ujien. It's inside Urasando Garden, a shop in Tokyo's Omotesando district. Both sides, the staff providing the tea ceremony experience and also the guests receiving this hospitality, merge into one, making this a very enjoyable workshop. Within the same complex, there are restaurants and shops where you can learn about Japanese culture and also purchase items made in Japan.
Wazukacha Cafe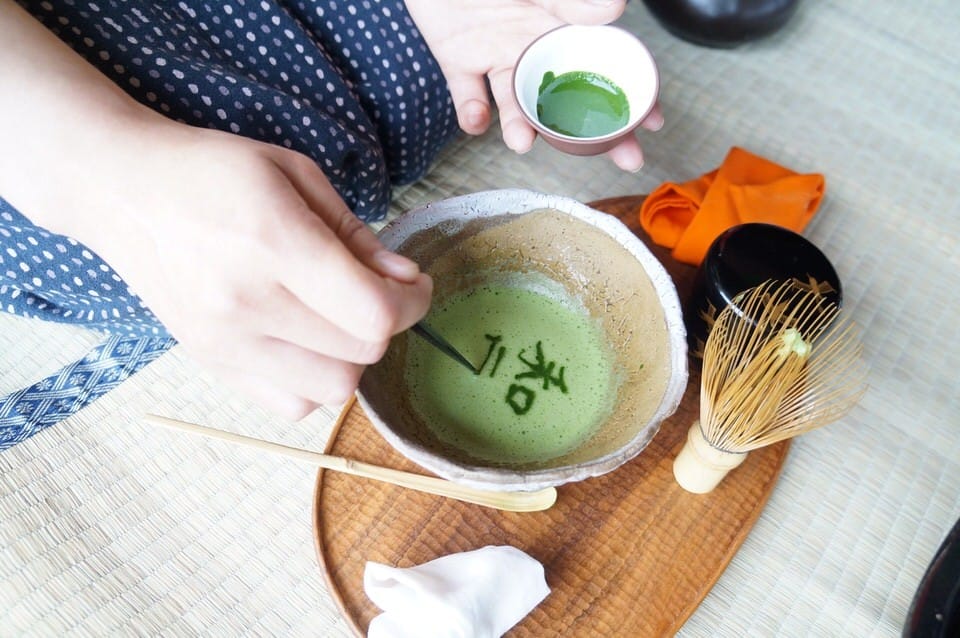 Kyoto's Wazuka-chō district, is proud to be Japan's largest producer of tencha, the raw material for matcha. At Wazukacha Cafe, one can enjoy green tea and browse through the tea-related souvenirs on sale. Also if your schedule permits it, you might want to join a powdered green tea art workshop which is held a few times during the month.
Read also:
And that's it. Today we explained some basics of the tea ceremony which we'd like you to keep in mind should you ever join a tea ceremony workshop or tea gathering, and also introduced spots where you can enjoy green tea.
In tea ceremony, there are innumerable etiquette rules and manners to be followed, so in a short period of time it would be impossible to remember them all. However, while at a tea gathering, even if you don't have knowledge of the subject you can participate by simply observing the actions of the other guests. Just remember, if you make a sincere, heartfelt effort to follow the etiquette of the tea ceremony, that alone might be the most important manner of all.
For More on Green Tea and Matcha-flavored Products
The information presented in this article is based on the time it was written. Note that there may be changes in the merchandise, services, and prices that have occurred after this article was published. Please contact the facility or facilities in this article directly before visiting.