Asakusa Suzukien - The Richest Matcha Gelato In The World!
Suzukien in Asakusa, Tokyo, is one of the few shops in Japan where you can enjoy the richest matcha tea flavored gelato in the world! It is a really popular shop but, trust us, it's sure worth lining up!
When asked to name a taste representative of Japan, many might say soy sauce or miso paste. However, many people would probably also think of matcha green tea.
In fact, matcha tea has always been associated with the image of Japan. This time we will introduce you to a place where you can taste the true flavor of matcha. Suzukien is a shop located in Asakusa, one of the most popular tourist destinations in Tokyo. Here you can try the richest matcha flavored gelato in the world.
Suzukien is a very old teahouse with more than 150 years of history to its name. They sell a wide variety of tea including sencha and gyokuro. Some of these tea variations are believed to be good for the health and skin.
The shop is located near Sensoji Temple. Be sure to look out for its green banner.
At Suzukien you have the opportunity to take a close look at green tea related merchandise such as the chasen, or green tea whisk, and kyusu, a Japanese teapot.
Here we have different types of gelato. The matcha gelato is a product created in collaboration with the matcha sweets factory Nanaya. Nanaya is located in Shizuoka prefecture, famous for green tea production.
In addition to matcha gelato, they also have other Japanese flavors such as hojicha (roasted tea), genmaicha (tea with wheat grains), black sesame, and dainagon azuki (a type of sweet red beans).
The matcha gelato has 7 degrees of richness. No. 7 is said to have the richest matcha flavor in the world. In the gelato industry, No. 5 is believed to be the richest that can be produced. Here at Suzukien, they exceed this limit to No. 7. Try it and enjoy the flavor of the award-winning highest quality matcha gelato in Japan.
Other than the Nanaya retail stores in Shizuoka, Asakusa Suzukien is the only place you can enjoy No. 7.
The left gelato in the picture is No. 1, and the right is No. 7. You can notice the difference in richness from the color.
Here is our report on the world's richest matcha gelato, No. 7.
As soon as we took a bite, the rich green tea flavor ruled all our senses. The strong matcha infused flavor spread in the mouth. Instead of the bitterness associated with matcha, it had the sophisticated taste of a high-quality ingredient.
We also tried No.1, which was a lot more refreshing. Some people find No. 7 to be a bit too rich. We hope you can find the flavor that matches your taste.
You can choose to have a single or a double scoop in a cup or a cone. The single size goes from 340 to 550 yen, while the double one costs from 440 to 650 yen, depending on the degree of richness.
We would like to recommend ordering a double scoop with the combination of No. 7 and hojicha gelato or genmaicha gelato. The taste will be new and fresh. We encourage you to try various flavors and discover your favorite combination.
This matcha gelato has become very popular these days, resulting in lines of customers at the store (as of January 2016). During rush hours, they might hand out numbered tickets. Please be considerate towards other customers and offer your table once you are done eating.
Some customers are so amazed at the delicious gelato that they go home with bags full of matcha products.
Perfect Souvenirs for Visitors!
Here are some items from Suzukien which would make a perfect gift even for those who are not familiar with Japanese tea.
This is NODATE (300 yen before tax). Even if you don't know how to prepare matcha tea in the traditional way, you can do it with this cute product. All you have to do is to use the shaker that comes with it. You won't even need to buy a whisk.
These are individually packed sencha tea bags for one-time use. They cost only 100 yen, and are popular souvenirs because of their Japanese designs, which include kabuki and Mt. Fuji. If you would like to have more tea bags, we recommend the Fuji-san cans (680 yen before tax).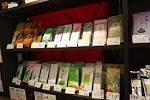 You can also find green tea that almost every Japanese family has at home. Ask a member of the staff to help you find the perfect tea with the right flavor and aroma to suit your palate.
The taste of matcha tea is a flavor deeply associated with Japan. Try the richest gelato and taste the depth of matcha and other Japanese teas at Suzukien.
Information
Asakusa Suzukien
Address: Tokyo, Taito, Asakusa 3-4-3
Hours: 10:00-17:00
Closed: irregular holidays
Wi-Fi: Available
Credit cards: Not accepted
Languages: English
Nearest Station: Asakusa Station (Tokyo Metro Ginza Line)
Access: 10-minute walk from Asakusa Station
Price Range: up to 1000 yen (gelato)
Phone: +81-3-3871-0311
Website: http://www.tocha.co.jp/ (Japanese)
The information presented in this article is based on the time it was written. Note that there may be changes in the merchandise, services, and prices that have occurred after this article was published. Please contact the facility or facilities in this article directly before visiting.