15 Best Ramen Shops In Asakusa And Tokyo Skytree - Chosen By An Expert!
Learn where to eat delicious ramen in the Asakusa and Tokyo Skytree areas from an expert who has consumed over 5,000 bowls of ramen. From restaurants with shoyu ramen to unique flavors, let MATCHA help you decide where to get this iconic Japanese dish.
Asakusa and Tokyo Skytree – Popular Tokyo Travel Destinations
The Asakusa and Tokyo Skytree area is a well-known destination in Tokyo, visited by many international travelers. Due to its many visitors, the number of ramen restaurants in the area has grown, resulting in a competitive ramen market.
As such, our writer, an avid ramen enthusiast who has eaten over 5,000 bowls of ramen and eats around 900 bowls each year, will introduce truly delicious restaurants from the numerous ramen shops in the Asakusa and Tokyo Skytree area.
1. Men Mitsuwi, Asakusa: Asakusa's Best Ramen
Our writer believes that Men Mitsuwi is one of the best ramen shops not only in Asakusa, but in the entire Tokyo area. Shoyu ramen, shio ramen, and ginger ramen are available as standard menu items. On your first visit, try the shoyu ramen pictured above (with added char siu for 1,050 yen including tax).
The light soup is superb with a gentle flavor easy for all customers to eat. Noodles can be selected from either thin, handmade noodles or thick, hand-rolled noodles; our writer strongly recommends the latter. These noodles are so delicious, you'll want to keep eating them forever.
The interior has a very calming atmosphere that, together with the classic ramen, matches extremely well with the old downtown Tokyo area of Asakusa. We also recommend the Sauce Katsudon (*1) from the side menu if you are feeling extra hungry.
*1 Sauce Katsudon: a regional dish from Fukui Prefecture consisting of tonkatsu coated in sauce, then set on top of rice.

2. Yoroiya Ramen, Asakusa: Visit While Sightseeing
One of the especially popular ramen shops in Asakusa is Yoroiya Ramen. Their standard menu consists of shoyu ramen and shio ramen. First, try their Shoyu Ramen (pictured is the deluxe with an added soy-marinated egg and char siu for 1,000 yen including tax).
The light Japanese-style broth combines pork, chicken, and seafood. It isn't particularly unique, but this makes the ramen more enjoyable. The shop is also famous for their large gyoza (pot stickers) that are so popular they're ordered by around half of the customers.
The shop is right by Sensoji Temple, so you can easily try ramen even during a break in your Asakusa sightseeing. Asakusa is often filled with people, and you'll feel even more at ease after entering as the shop has English menus. It is crowded during peak meal hours, so it's best to visit slightly before or after the rush.

3. Fuji Ramen, Asakusa: Visit for Tonkotsu Ramen
If you start craving tonkotsu (pork bone) ramen in the area, then head over to Fuji Ramen. Our writer suggests the Fuji Deluxe Ramen pictured above, with added char siu and a soy-marinated egg (1,190 yen including tax).
The shop serves unique tonkotsu ramen that separates itself from the famous Hakata tonkotsu ramen, known for a moderately rich taste that is easy to consume. The noodles here are handmade and slightly thicker than those found in Hakata ramen and have flavor and body that is not lost in the soup.
Perhaps due to the crowds in Asakusa, it is worth noting the shop does not have the distinct smell associated with tonkotsu ramen. We hope even those that avoid tonkotsu ramen because of the aroma try this ramen.

4. Ramentei, Asakusa: Inexpensive and Delicious
Ramentei has a reputation for its flavorful and reasonably-priced ramen in Asakusa. Their standard ramen is 400 yen for one bowl, which is less than half the normal price of ramen nowadays. Even the Meaty Wontonmen, their most popular menu item pictured above, is priced at just 600 yen.
However, the ramen at Ramentei is by no means what you pay for, as the noodles and soup here are high quality. The ramen here pairs thin noodles in a light soup for a meal that will satisfy all diners.
The shop is also famous for their shumai (*2), made by hand daily. Many customers order this. The size of their ramen is on the slightly smaller side, so our writer recommends ordering shumai or rice together as a set.
*2 Shumai: a type of dumpling filled with minced ground pork and onions wrapped in a wheat dough that is then steamed.

5. Ito Asakusa, Asakusa: Classic and Delicious Ramen
Ito Asakusa is a popular ramen shop that specializes in handmade noodles and niboshi (dried sardine) broth. There are two types of ramen flavors available; our writer recommends the Meat Soba pictured above (the small size, priced at 750 yen including tax).
The shop deliberately does not add any extra toppings, in order to emphasize the foundation of ramen: noodles and soup. This results in ramen with a simple, clean visual appearance. This may be a bit of a surprise to people trying this ramen for the first time, but this delicious bowl will fully satisfy you with only a minimal number of ingredients.
We also recommend one other ramen: Hinaidori Soba. This dish is made with Hinai chickens from Akita Prefecture, said to be one of three best regional chicken breeds in Japan due to their exquisite taste.
Please note that Ito Asakusa has a plain exterior that can be easy to pass by without noticing, so be sure to use a map.
6. Tanaka Sobaten Asakusa, Asakusa: Taste Local Tohoku Ramen
Tanaka Sobaten Asakusa is a popular ramen shop bustling with domestic and international customers near Sensoji Temple. Their ramen is available in two styles. If it's your first time, please try the Chuka Soba pictured above (meaty soba with additional char siu for 1,000 yen including tax).
The shop is inspired by Kitakata ramen from the Tohoku region and combines soft, thick noodles with a refreshing soup. Though not particularly original, their ramen is easily enjoyable and recommendable to all diners. They will also add back pork fat to your ramen for free. If you love rich flavors and want to try this, be sure to let the staff know.
The Yamagata Salty Miso Ramen, local ramen from Yamagata Prefecture, is another choice that is equally delicious. It is made so that the salt-miso is gradually dissolved into a semisweet miso broth, making it unique ramen very different from Sapporo's famous miso ramen.

7. Szechuan Aun Asakusa, Tawaramachi: Superb Tantanmen in Tokyo
Szechuan Aun Asakusa is reputed to have the best tantanmen (dan dan noodles; a Szechuan noodle dish covered in a sesame paste and chili oil sauce) in Tokyo. They serve their noodles with either white or black sesame seeds, and you can order it with or without broth. We recommend the white Brothless Tantanmen (pictured with added meat for 1,000 yen including tax).
If you order the noodles without broth, be sure to mix it very well before eating, as the sauce will collect at the bottom of the bowl. It is an exquisite dish with a pronounced sesame flavor, a sharp heat from the chili oil, and a tingling sensation of the Sansho peppers, making it truly satisfying.
Add an onsen tamago (*3) (100 yen) to mellow out the flavors and make it even more delicious.
The spiciness and tingling flavor can be adjusted when you order. The original is slightly on the spicy side, making it our writer's favorite choice. You will have sauce and ingredients leftover when ordering the noodles without broth, so add a half-bowl of rice (30 yen) to finish off the dish.
*3 Onsen tamago: an egg with a yolk that is soft-boiled and whites that are slightly firm.

8. Hokkaido Ramen Namara, Asakusa: Order the Miso Ramen
If you want to eat miso ramen in Asakusa, then head over to Hokkaido Ramen Namara. Their miso ramen is available in two flavors: regular and spicy. First-time visitors should try the Miso Ramen pictured above (with added char siu for 900 yen including tax).
Despite its rich miso flavor, it is surprisingly refreshing and easy to eat, making this a miso ramen suitable for everyone. It is served with a large helping of vegetables and is relatively large in volume, so even the normal serving will fill you up.
If you wish to eat more, order a set that comes with a half bowl of fried rice, or gyoza. This is a great value and is highly recommended.
Hokkaido Ramen Namara is popular with international visitors, perhaps due to its close proximity to Sensoji Temple. However, it is not recommended to visit with a large party as the restaurant is small.

9. Taizan Sakura, Asakusa: Enjoy Halal Ramen
Taizan Sakura is a popular ramen shop with Halal certification. They also serve curry and other dishes. However, despite not being a specialty ramen shop, their most popular dish is the Tsukemen pictured above (with added chicken char siu for 1,150 yen including tax).
Its thick curry broth, made with a Japanese dashi base, pairs deliciously with the thick noodles. If you aren't careful, your soup will be gone faster than your noodles. It is not overly-spicy and has a strong flavor easy for anyone to eat. We recommend eating the chicken char siu by coating it in the broth.
The interior is bright and clean. Families can take their time enjoying their ramen as the restaurant is fully furnished with table seating. You will find many international customers, including Muslims, as it is already well-known despite opening in 2018.

10. Ramen Watanabe, Asakusa: Rare Tori-Paitan Ramen
Ramen Watanabe is a popular ramen restaurant that distinguishes themselves with tori-paitan (*4) ramen, which is rare to find in Asakusa. The shop has three types of ramen with a tori-paitan soup base. The shop's recommendation is the White Ramen (Shio) pictured above (with an added soy-marinated egg and char siu for 1,100 yen including tax).
The tori-paitan soup is low in oil and aroma, but is still rich in flavor with a mellow, palatable taste. Less salt is used, which helps bring out the flavor of the chicken. The ramen is topped with plenty of vegetables, like bean sprouts and decoratively cut carrots. This results in beautiful ramen with a nutritional balance.
During lunch, rice cooked in their prided tori-paitan soup is available free of charge. We highly recommend enjoying it with your ramen. The shop is relatively less crowded likely due to its modest appearance, in spite of its close location from Asakusa Station and Sensoji Temple. This is a lesser-known restaurant that is a must-visit.
*4 Tori-paitan: a soup of chicken simmered for a long period of time and made into a thick consistency. It looks similar to tonkotsu broth, but often has a mild smell and is easy to eat.

11. Saburoku, Asakusa: An Innovative, Unique Abura Soba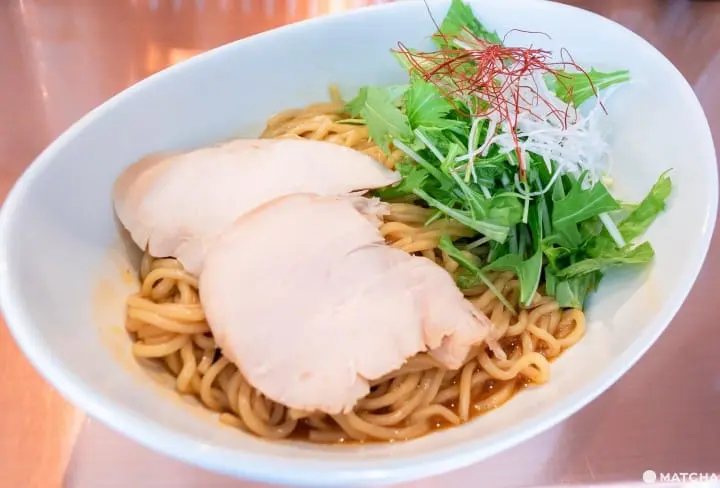 Olive Oil Soba Saburoku is an abura soba (ramen with oil) specialty shop located slightly north of central Asakusa. As its name suggests, they serve abura soba made with olive oil. Our writer recommends the Spicy Olive Abura Soba pictured above (850 yen including tax).
The strong olive oil scent may be surprising at first, but this shows how high quality the olive oil used generously in the dish is. Despite there being quite a bit of olive oil, it isn't greasy like oil from pork or chicken. The flavor-packed, soy-based sauce is also excellent and, when mixed well with the thick noodles, give the dish individuality while being very delicious.
Seasonings are placed on the tables and several toppings (for a separate fee) are also available, so you can enjoy the change in flavor while using these ingredients as you eat. The shop does not get very crowded, as it is slightly separated from the bustling area of Sensoji Temple.

12. Takesaburo, Asakusa: Nothing But Creative Ramen
If you want to eat ramen that's unique around Asakusa, head to Takesaburo. They have tonkotsu ramen on their menu, but their most popular item is the Burning Dragon (800 yen including tax) pictured above. It's a dish that can't be found anywhere else.
The soup is boiled directly in its bowl and is considerably hot, so be careful. Contrary to its appearance, it isn't actually that spicy and is easy to eat. This is a dish that has a taste very different than its appearance due to the great flavors in the tonkotsu broth.
The dish comes with rice and a raw egg on a separate plate. Our writer recommends adding in the egg as you're eating and putting in the rice after you've finished eating the noodles.
The shop is already visited by many international tourists as it is close to Sensoji Temple. There is English and Chinese text printed on the ticket machine where you order. Please note the owner is not able to fluently speak English or Chinese, but he is very friendly and will provide you with warm hospitality.

13. Ramen Kai, Kuramae: Popular And Unique Clam Ramen
Ramen Kai serves ramen made with clams in the broth, which is rare to find in the Asakusa area. They also have other menu items, but you should first try the Clam Shio Ramen (pictured with an added soy-marinated egg and char siu for 1,100 yen including tax).
The broth, made with a generous amount of clams, wafts with a striking ocean flavor that makes it an excellent dish with a different impact than that of plain shio ramen. Their very thick handmade noodles have flavor and texture that complements the soup. 
The bamboo shoots, wakame seaweed, and other toppings go extremely well with the broth.
The variety in seasonal and limited ramen at Ramen Kai offered regularly has created many fans. The shop is often crowded as it is extremely popular, but this is a ramen worth waiting in line to eat.

14. Takesue Tokyo Premium, Oshiage: Ramen with a Performance
Takesue Tokyo Premium is a very popular ramen shop located near Tokyo Skytree. The menu has a wide, unique selection, but our writer's top recommendation is the Chicken Scallop Soba pictured above (900 yen including tax).
The ramen is made with scallop paste added into a tori-paitan broth, which you consume as the paste gradually dissolves into the broth. The flavor of the scallop becomes more pronounced as you eat, while the ramen itself has an exquisite and interesting flavor.
Vegetables and roast beef top the noodles, giving the ramen an aesthetically-pleasing appearance.
The shop also does performances, where employees will place your bowl in front of you and plate your ramen while explaining what each of the toppings is. It's very entertaining to watch.
This is a great ramen restaurant in every aspect, with its bright interior and hospitable customer service.

15. Rokurinsha Tokyo Solamachi, Oshiage: A Well-Known Tokyo Tsukemen Shop
Rokurinsha, a well-known tsukemen shop known by name not only in Tokyo, but throughout the Japan, has a location in the Solamachi shopping and entertainment complex by Tokyo Skytree. They also serve ramen; however, most customers order the tsukemen pictured above (the deluxe with an added soy-marinated egg for 1,060 yen including tax).
The soup, made by combining seafood with a rich tonkotsu broth, was a shock to the ramen world at the time when it was first introduced. It is now the standard in tsukemen. The hearty, thick noodles and soup go very well together, making it irresistible to tsukemen fans.
The noodles and soup meld even more nicely together once you add in buta hogushi, or shredded pork, to the broth. We recommend this option (shredded pork comes as a topping with the deluxe).
Rokurinsha is normally busy due to its popularity. However, groups and solo diners are split into different lines at the Solamachi location. Thanks to this system, the wait in the line is relatively short. Try a bowl of tsukemen from this well-known shop while you sightsee Tokyo Skytree and shop at Solamachi!

Eat up the Ramen of Asakusa and Skytree!
We hope you now have an understanding of how many ramen restaurants are in the Asakusa and Tokyo Skytree area. Most people, more often than not, visit Asakusa and Tokyo Skytree for sightseeing, so definitely include ramen into your plans, too!


The information presented in this article is based on the time it was written. Note that there may be changes in the merchandise, services, and prices that have occurred after this article was published. Please contact the facility or facilities in this article directly before visiting.