30 Great Tokyo Ramen Shops Selected By A Ramen Expert
This service includes sponsored advertisements.
Looking for the best ramen restaurants in Tokyo? Choose from this top 30 list curated by a MATCHA writer who has eaten over 5000 bowls of ramen! Tokyo is home to endless options and variations of ramen. Here are the top restaurants!
Tokyo - The World's Most Competitive Ramen City
Tokyo, the capital of Japan, is home to countless high quality ramen shops. Undoubtedly, Tokyo can described as the world's most competitive ramen city. Ramen in Tokyo comes in many varieties, from classic flavors to truly unique dishes. One is almost certainly to feel lost on where to eat ramen here.
As such, our writer, an avid ramen enthusiast, who has eaten over 5000 ramen bowls in total and eats around 900 bowls each year, will introduce the best ramen shops out of the endless options available here. He has selected restaurants he has tried himself and has them divided by area.
30 Delcious Ramen Shops in Tokyo
Asakusa and Ueno Area
1. Ramen Toy Box (Minowa) - The Ultimate Simple Ramen
Ramen Toy Box is where you can relish top quality shoyu (soy sauce) ramen even after scouring the entire area of Tokyo. Shio (salt) ramen and miso ramen are also available here, but most customers order the shoyu ramen (pictured is the deluxe with additional soy-marinated soft boiled egg and char siu at 1,050 yen plus tax).
The only ingredient in the dashi stock is chicken. There is absolutely no pork, seafood, or vegetables with strong odors added. The soup, combined together with a very fragrant soy sauce, has a fantastic flavor with a pleasant aftertaste.
This may seem like a plain-seeming ramen, but it's so delicious and you won't be left unsatisfied.
We're thankful for the fact that it doesn't get very crowded here. Being able to eat the ramen here without much of a wait is a huge advantage. If you'll be eating ramen in Tokyo, Ramen Toy Box is one of our writer's strongly recommended restaurants that you definitely can't miss out on.

2. Takesue Tokyo Premium (Oshiage) - Ramen and a Show
Takesue Tokyo Premium is a very popular ramen shop located near the famous sightseeing spot of Tokyo Skytree. Out of the unique and large menu here, our writer recommends the Chicken Scallop Soba pictured above (900 yen plus tax).
This is a ramen with scallop paste added into a tori-paitan (*1) soup, which you eat as the paste gradually dissolves into the soup. The flavor of the scallop will taste more apparent as you eat, while the ramen itself has an exquisite and interesting flavor. Vegetables as well as roast beef are added in as toppings, giving the ramen an extremely beautiful appearance.
Takesue Tokyo Premium also has live performances where employees will place your bowl in front of you and plate your ramen while explaining what the toppings are. It's a really entertaining way to enjoy your ramen.
This is quite possibly the perfect ramen shop in every aspect, from the bright and clean interior to the hospitable service.
*1 Tori-paitan: a soup of chicken simmered for a long period of time and made into a thick consistency. It looks similar to the soup in tonkotsu (pork bone) ramen, but has a different flavor.
3. Yoroiya Ramen (Asakusa) - Enjoy Ramen after Asakusa Sightseeing
Located in Asakusa, Tokyo's most popular tourist area, is the popular Yoroiya Ramen. Their menu includes shoyu and shio ramen, but try the Shoyu Ramen first (pictured is the deluxe with an added soy-marinated soft boiled egg and char siu at 1,000 yen plus tax).
The Japanese-style soup, mixed with pork, chicken, seafood, and other ingredients, has a refreshing flavor and is easy to eat. It doesn't particularly stand out in any way, but appears to be a ramen liked by everyone because of this.
The shop's special large gyoza (pot stickers) are ordered by around half the customers here.
The shop is located near Sensoji Temple, so you can easily try ramen even during a break during your stay in in the area. Asakusa is visited often by tourists, and you'll be able to feel at ease as the shop is also fully prepared with English menus. It will be crowded during peak meal hours, so it's best to visit slightly before or after the rush.

Ikebukuro, Otsuka, and Sugamo Area
4. Chuka Soba Shinagawa (Ikebukuro) - The Best Classic Ramen
Ikebukuro is home to a particularly large number of ramen restaurants in Tokyo, and Chuka Soba Shinagawa is our writer's favorite. The star dish is the Chuka Soba (pictured is the deluxe with an added soy-marinated soft boiled egg and char siu at 1,000 yen plus tax).
As a conventional shoyu ramen, there isn't anything particularly unusual about it, but the noodles, soup, and toppings are all of the highest quality. Even the most common of ramen will amaze you with how delicious it is when properly and carefully prepared.
The homemade noodles are especially exceptional and the free upgrade to a medium serving is a bonus.
Although the restaurant is a bit of a distance from Ikebukuro Station, it is well worth the walk if you love ramen. This restaurant has a menu that changes from day to night, so please note that the ramen pictured is only available during the day.

5. Japanese Soba Noodles Tsuta (Sugamo) - The World's First Michelin Starred Ramen
Japanese Soba Noodles Tsuta is the first ramen shop in the world to receive a Michelin star. There are endless options available here, but definitely have the Shoyu Soba if it is your first time (pictured with all toppings, including char siu and a soy-marinated soft boiled egg, placed inside at 1,650 yen plus tax).
The soup, made with quality free range chicken meat and seafood from throughout Japan, is made to be multilayered and have a rich flavor. Despite its complex recipe, the dish is well balanced. It is easy to appreciate the genuinely delicious flavor in one bite. The dish is completely perfect, from its smooth and springy handmade noodles to its black Iberian pork char siu.
This restaurant also has an abundant variety and originality in their rice dishes. Our writer suggests enjoying them along with your ramen.
The shop currently goes by a numbered ticket system, where you first receive a ticket and then return at your ticket's designated time, so please be aware of this fact. However, you are also able to dine here by lining up after 15:00 without a numbered ticket.

6. NAKIRYU (Otsuka) - The Top of the Tokyo Ramen World
NAKIRYU was the next ramen restaurant after Japanese Soba Noodles Tsuta to receive a Michelin star. Out of the extensive menu here, our writer personally recommends either the Tantanmen (Szechuan noodles with a spicy sauce) or the Shoyu Ramen pictured above (with all toppings, such as char siu and a soy-marinated soft boiled egg, 1,100 yen plus tax).
First of all, this dish is extremely beautiful in appearance and has an amazing flavor. Everything from the soup, made using different ingredients with chicken as the main component, to its smooth homemade noodles, and three types of char siu, is perfection. There is nothing wrong with this ramen. The dish is constantly being improved and it becomes more delicious every time you eat it.
The shop has become incredibly crowded following its acquirement of its Michelin star. It is best to prepare yourself for a long wait. The shop may also sell out earlier than their fixed business hours, especially during holidays, and will often close early as a result.

7. MENSHO (Gokokuji) - Connecting Producers and Consumers
MENSHO is a ramen shop with an innovative approach normally not seen at other ramen shops. An example of this is the in-restaurant wheat grinding.
As of June 2018, the shop serves two types of ramen: shio ramen and tsukemen (cold noodles with soup for dipping) – with our writer's personal recommendation being the Stone Milled Wheat Tsukemen (1,000 yen plus tax).
Noodles are directly made by grinding wheat in a millstone, making them into wonderful homemade noodles exceptional in both taste and fragrance. These noodles should be tasted first with just salt and mineral water before dipping into the duck soup. Those that eat this dish for the first time will be surprised at how great the noodles taste with just these two ingredients.
This is a time-consuming method, but the shop does their best to help customers enjoy the original flavors of the ingredients.
In addition to ramen and tsukemen, MENSHO also have a side menu full of unique and delicious items. The interior is also spacious and is great for comfortably enjoying your meal. Surprisingly, this restaurant does not become that busy.

Shinjuku Area
8. Tsukemen Gonokami Seisakujo - Unique and Rich Shrimp Tsukemen
Gonokami Seisakujo located in Shinjuku is home to our writer's favorite Tokyo tsukemen. Out of the three types of tsukemen made with shrimp available here, our writer highly recommends the Shrimp Tomato Tsukemen (pictured with an add soy-marinated soft boiled egg and char siu at 1,180 yen plus tax).
Made by adding shrimp oil to a tonkotsu gyokai-based soup (seafood soup added to a pork bone broth), this dish has a surprisingly rich flavor despite the lack of MSG. The flavor of the shrimp is more pronounced than it is without the oil. Their thick, homemade noodles, made with whole wheat flour, have their own flavor that stands out from the soup, making it a magnificent dish.
Ramen made with shrimp is sometimes found in Tokyo, but the ramen at Gonokami Seisakujo has an extraordinary flavor. Out of all the Tokyo ramen shops introduced in this article, this shop has the longest line, but is well worth the wait to eat.

9. SOBAHOUSE Konjiki Hototogisu (Shinjuku Gyoen) - World Famous and High Quality Ramen
SOBAHOUSE Konjiki Hototogisu is one of Japan's best ramen restaurants. There is so much great ramen that it's difficult to say which one is the best, but our writer hopes you try the Sea Bream and Clam Shio Soba on your first visit (pictured is the dish with added char siu at 1,200 yen plus tax).
The soup has a shining golden color that is a masterpiece filled with flavor. Fragrance is added with porcini mushrooms and white truffle oil, resulting in a one-of-a-kind and overwhelmingly high quality dish. Despite all of its complexity, the dish is easy to eat and well put together as a single bowl of ramen. The flavor is delicious enough to make your body tremor as you eat.
People are always lined up outside this shop, but this is to be expected for this fantastic ramen. The turnaround time for customers is surprisingly fast, so it shouldn't take that long for you to get inside. If you love genuine ramen, this is a famous Tokyo restaurant you must visit.

10. Harukiya Ogikubo - A Long-Standing Tokyo Ramen Shop
Harukiya Ogikubo Honten is one of the most established ramen shops in Tokyo, located ten minutes from Shinjuku on the JR Chuo Line in Ogikubo. They have a simple menu, with only Shoyu Ramen and Tsukemen as options, excluding their seasonal ramens (pictured is the Char Siu Men at 1,350 yen plus tax).
They serve extremely traditional shoyu ramen with homemade curly noodles. These noodles pair well with a delicious soup made with pork and chicken in a Japanese-style dashi stock.
Our writer truly recommends the shoyu ramen here to everyone. It is a great option because of its lack of influence from food trends. This shoyu ramen is a dish that you'll want to eat again and again.
If you want to stick with traditional ramen, don't hesitate to visit here. By the way, Harukiya's recommended way of eating is to add in pepper from the table, and adding in vinegar later on during your meal to enjoy the change in flavors. Definitely please try it out.

Takadanobaba and Waseda Area
11. Ramen Gantetsu (Waseda) - Mouthwatering Homemade Noodles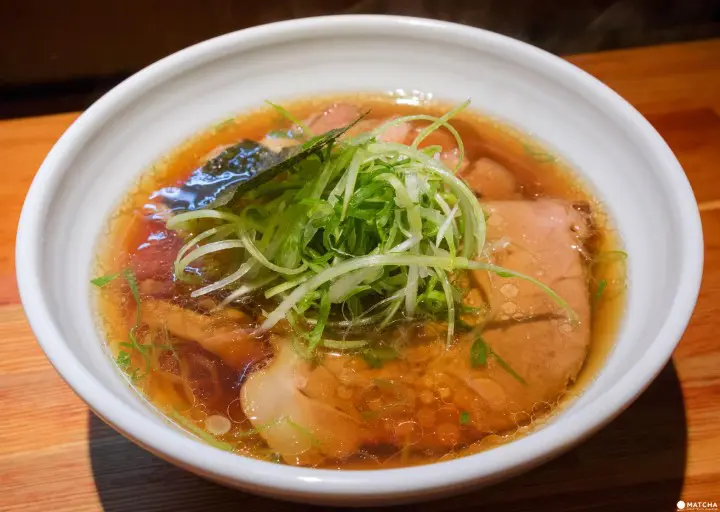 Ramen Gantetsu in Waseda is our writer's current number one go-to spot. The menu has plenty of choices, but definitely try their famous Shoyu Ramen first (pictured with added meat at 1,100 yen plus tax).
The main appeal of this restaurant are the homemade noodles. Their noodles are smooth, chewy, and have their own delicious flavor. The soup is light with a chicken and seafood base that fully enhances the carefully made noodles. This is a ramen that noodle-lovers can't resist.
Another special feature at Ramen Gantetsu is the abundance of limited-edition ramens for every season and day, resulting in several firmly rooted fans of the shop. In particular, the Original Shio Tsukemen, available only in the evenings on Fridays and Saturdays, is luxuriously made with mainly seasonal fish, as well as the occasional rare high grade fish.
Due to this the shop is filled with many customers visiting to try this very dish.

12. Ramen Yamaguchi (Nishi-Waseda/Takadanobaba) - The King of the City
Ramen Yamaguchi is a well-known ramen shop that receives steady ratings in the Takadanobaba area of Tokyo. The menu consists of two options: ramen and tsukemen, but we suggest the Chicken Soba (pictured is the deluxe with an added soy-marinated soft boiled egg and char siu at 1,150 yen plus tax).
The soup, made with free range chicken from the owner's hometown in the Tohoku region, has a very rich flavor while remaining clear. However, it is completely different from a plain light ramen and has a robust flavor. The dish also has a great balance with its extremely fragrant soy sauce. The combination is so perfect that its popularity is only natural.
As the restaurant is open all day without closing, we recommend avoiding peak meal hours if you don't want to wait. You should be able to eat ramen here fairly quickly if you visit generally around 15:00 – 17:00.

13. Muteppo Tokyo Nakano (Numabukuro): Super Rich, Unique Tonkotsu Ramen
Muteppo Tokyo Nakano has gained popularity for having the best rich tonkotsu (pork bone) ramen in Tokyo. It is found in Numabukuro, just under ten minutes from the Seibu Shinjuku Line from Takadanobaba. They have light seafood-based ramen, but the dish our writer hopes you try first is the Tonkotsu Ramen (pictured with added char siu at 1,030 yen plus tax).
The soup is so rich and thick that you can prop your chopsticks in it. This dish is so unique and unlike any other you'd find around. However, the soup does not contain lard and is made only with the collagen from a large quantity of pork bones. As a result, the soup has a surprisingly non-heavy flavor.
However, pork back fat can be added to your ramen, shown in the picture above, if you tell the staff that you want your ramen richer when ordering.
In addition to adding in pork back fat, the staff will also accommodate your wishes and put on extra green onions for free. The combination of Muteppo's tonkotsu soup together with green onions is amazing, so our writer strongly recommends adding in those extra green onions. The gyoza on the side menu is also a popular, and would be great to enjoy with a small glass of beer before eating your ramen.

Tokyo Station and Ginza Area
14. Shichisai (Tokyo Station/Hatchobori) - Made with Handmade Noodles!
Shichisai Hatchobori is where you can taste excellent and healthy MSG-free ramen made with high quality ingredients. The shop also has convenient access from Tokyo Station. Be sure to try the Kitakata Ramen (Niboshi) for your first dish (pictured with an added soy-marinated soft boiled egg and char siu at 1,220 yen plus tax).
The selling point of the ramen here is, their made-to-order homemade noodles. Depending on your where you sit, you'll be able to see the cooks making the noodles right before you. They're made in just a matter of minutes. In addition to the fluffy texture, the noodles themselves have a sweetness that is tasted wonderfully with the strong niboshi (*2) flavored soup. Medium and large servings are the same price.
At Shichisai, they are highly reputed for their unique limited-time ramen, with some that return to the menu annually that several fans look forward to. Typically, there are long lines during peak meal times, so it's best to visit slightly before or after the rush.
*2 Niboshi: small fish (sardines) that have been simmered and dried.
15. Mugi to Olive Ginza - A Favorite in a Sightseeing Area
Mugi to Olive Ginza is a classy and well-known ramen establishment in the lively tourist area of Ginza. Out of the menu offering ramen, tsukemen, and abura soba (ramen with oil), our writer especially recommends the Rich Chicken and Clam Tsukemen (pictured is the deluxe with an add soy-marinated soft boiled egg and char siu at 1,180 yen plus tax).
The rich soup, made with chicken and clams as described in its name, is not too oily, despite its heavy seasoning. The straight-type noodles pair wonderfully with the broth. The dried seaweed is chicken that has been processed using the same method used when making katsuobushi (dried sliced bonito), called toribushi. Toribushi will enhance the flavor of the ramen when you add it to your soup.
For this tsukemen dish, customers upgrade to a large serving for free (extra large is an additional 100 yen). With Ginza being a popular sightseeing location, Mugi to Olive Ginza is frequented by many international visitors.

Akihabara Area
16. Motenashi Kuroki (Akihabara) - A Perfect Version of Shio Ramen
Motenashi Kuroki is an extremely popular restaurant in Akihabara, one of Tokyo's best areas for ramen. The shop is a bit of a distance from Akihabara Station, but it's always filled with customers. The most famous dish here is the Shio Soba (pictured is the deluxe with added toppings at 1,300 yen plus tax).
Up to five types of salts produced in different areas from the ocean, mountains, and lakes, are used in the shio sauce. The great aspects of each type of salt intricately meld together to create an original and complex flavor without relying on salt content. The sauce pairs amazingly well with its thin noodles. The noodles used have been made after dozens of repeated trials, and are full of fragrance from whole wheat flour, with a chewy texture (however, you also have the option of substituting it for hand-rolled noodles instead).
Aside from their standard ramen, Motenashi Kuroki is also highly reputed for their variety in seasonal and limited-time ramen that are released one after another. Many people look forward to these special ramen dishes, making this a well-known shop that you can enjoy visiting repeatedly.

17. Kujukuri Niboshi Tsukemen Shinada - Akihabara's No.1 Tsukemen Shop
Kujukuri Niboshi Tsukemen Shinada is our writer's top recommendation for ramen in Akihabara, where richly-flavored ramen is trending. Definitely try the Pure Concentrated Niboshi Tsukemen as your first dish (pictured is the deluxe with an add soy-marinated soft boiled egg and char siu at 1,090 yen plus tax).
The niboshi soup may be quite thick, but is not greasy, and allows you to enjoy the pure flavor of the niboshi.
You can also get a glimpse into the owner's influence from his Italian background in its somewhat acidic flavor. The soup is delicious with the flat pasta-like noodles. Your soup will rapidly disappear as you eat, but by ordering the large serving you will receive more soup.
Shinada also does special services on certain days. For example, a rice dish for male customers is available on Tuesdays, while a dessert service for female customers is available on Wednesday on "Ladies' Day." The Shrimp Ramen, only available on Wednesdays, and Rich Shrimp Tsukemen, only available on Thursdays, are also must-trys.

Shibuya Area
18. Ramen Hayashi - A Ramen That Doesn't Compromise
Ramen Hayashi is an immensely popular ramen restaurant with high ratings, located in lively Shibuya. The menu is incredibly simple and offers only of a single ramen with a soy-marinated soft boiled egg and char siu on top (pictured is the dish with an egg and additional char siu at 1,100 yen plus tax).
The shop prides itself as a ramen-only establishment and does not offer a side menu or alcohol.
The soup is made from combining seafood, pork, and chicken, creating a masterpiece that is mild and easy to consume. The ramen is of such high quality that it naturally brings customers to the shop: you'll understand why when you try it for yourself. We hope you appreciate the flavors and thoughtfulness from an owner that places a lot of care into the one ramen they serve.
However, Shio Ramen is also available on the secret menu at Hayashi. If you want to eat shio ramen, request that the staff makes your ramen salty when handing them your meal ticket.

19. Yakumo (Ikejiri-Ohashi) - Exquisite Wonton and Char Siu
Yakumo is one ramen shop that our writer has frequented for almost ten years since being in Tokyo. There are usually two types of dishes available: White or Black. Our writer personally recommends the White version (pictured with added wonton dumplings and char siu at 1,300 yen plus tax).
The soup is excellent and has a faint sweetness while maintaining a relatively light flavor. It has a delicious taste you won't tire of, no matter how many times you eat it. The first time our writer ate this dish, he was quite surprised. Their wonton dumplings and char siu are also specialties of Yakumo and our writer especially recommends their firm char siu.
Although we wrote that there are only two types of dishes available, White or Black, you can actually order these two flavors mixed together. If you wish to do so, please purchase a meal ticket for either the White or Black ramen, then tell the staff you wish to mix the two together when handing them your meal ticket.

20. Garyu (Sangenjaya) - Light, Delicious, and Fantastic Tori-Paitan Ramen
Garyu is our writer's favorite tori-paitan ramen shop in Tokyo and is a well-known shop located two stations from Shibuya on the Tokyu Den'en-toshi Line in Sangenjaya. Pictured is the dish with added chicken char siu at 850 yen plus tax.
Garyu is a cozy ramen shop where the owner, who is very friendly despite his appearance, will prepare your food.
The Tori-Paitan Ramen boasts a solid flavor, while being low-fat with a light seasoning. No MSG is used, making this dish a little more healthy. Customers used to a different ramen might be surprised at first, but you'll come to understand the greatness of this dish as you continue to eat it. The soup goes perfectly with the smooth noodles, which have been kneaded with lotus root.
The owner seems to love shochu (*4) as the interior is abundantly lined with alcohol. There are also several homemade side dishes to go with your drinks. Especially during the nights is when this shop is lively with regulars, so it would be completely fine to only order drinks and snacks without having ramen.
*4 Shochu: an ancient Japanese distilled liquor made from potatoes, rice, wheat, and other ingredients.
Kita-Senju Area
21. Matador Gyukotsu Ramen - Unique Gyukotsu Ramen
Matador Gyukotsu Ramen Honten, located in Senju, is a restaurant that advertises ramen made with gyukotsu (beef bones). This is still quite rare even for Tokyo. The shop has an extensive menu of beef bone soup, with our writer's recommendation being the Tsukemen (pictured is the dish with additional soy-marinated soft boiled egg and roast beef at 1,050 yen plus tax).
The soup is made with various ingredients, such as seafood and vegetables, with beef bones as its main component. It is incredibly easy to eat. This dish has a great balance in flavors, while having a clearly distinct taste from pork or chicken. The two pieces of roast beef, too, are not just for appearance, but are arranged on top keeping in mind the compatibility with the soup, making the dish an excellent product.
Every Monday, the name of the shop changes, and they operate as Mazesoba Senmon Matadoru, specializing in soup-less dishes. This shop also has a unique items made with beef, so please try eating here at least once if you have the opportunity.

22. Tanaka Shoten (Rokucho) - Original Rich Hakata Ramen
Tanaka Shoten is an extremely famous ramen shop incredibly popularity all across Japan due to their tonkotsu ramen. There is only one type of tonkotsu ramen on the menu, along with a selection of toppings, rice dishes, and drinks (pictured is the dish with additional char siu at 950 yen plus tax).
The soup is quite rich and is made with various parts of pork, which is simmered over three days. The result is completely different from authentic Hakata ramen, and is Tanaka Shoten's own original dish.
Personally, our writer absolutely loves tonkotsu ramen that is as rich as it is here, so the dish is irresistible. It has amazing compatibility with their fine noodles ordered from Fukuoka.
Arriving here from central Tokyo is quite inconvenient, but this is definitely a place our writer hopes you try if you love tonkotsu ramen. There is usually long line outside due to its fame, but the rotation of customers is very fast, so the actual waiting time is quite short.

Hachioji Area
23. Niboshi Iwashi Ramen En - Perfect Taste and Appearance
Niboshi Iwashi Ramen En is one of the leading and accomplished ramen shops in Tokyo, or rather, the entire country. This restaurant is one place our writer has continued to visit over the years. They serve all types of ramen made with niboshi, however, be sure to try the Niboshi Ramen first (pictured is the deluxe with additional soy-marinated soft boiled egg and char siu at 980 yen plus tax).
The niboshi soup has a deep but refreshing flavor, and undoubtedly one of Japan's best. Their homemade noodles, made with eggs, have a velvet texture that goes outstandingly well with the soup. The plating is also incredibly beautiful, making it possible to call this ramen perfect in every way.
Despite offering extraordinary and wonderful ramen, it's relatively easy to stop by Ramen En if you avoid peak hours. Hachioji is also near Mt. Takao, so it's a great idea to enjoy ramen at Niboshi Iwashi Ramen En before or after hiking the mountain.

24. Hokkori Chuka Soba Motsuke - Strong Flavors in MSG-Free Ramen
Hokkori Chuka Soba Motsuke is a famous ramen shop that is gaining notoriety in western Tokyo. They serve ramen that brings out the flavors of their ingredients without the use of MSG. Their most famous dish is their shoyu-flavored Chuka Soba (pictured is the deluxe with added char siu at 1,000 yen plus tax).
The soup has a lot of flavor and is made with several ingredients, like chicken and seafood, creating it its characteristic solid and strong flavor. It is completely different from a simple light ramen.
The noodles are homemade and have a strong chewiness that enhances when combined with the broth. The shop is constantly improving their toppings to become more delicious every time you visit.
Tantanmen is another signature dish available at Motsuke alongside proactively served limited ramen. There are several dedicated customers for their limited ramen, resulting in the shop always busy with people despite the restaurant's small size.

Other Areas
25. Mengekijo Genei (Roppongi) - Unique Ramen in a Futuristic Space
Mengekijo Genei Roppongi is our writer's favorite ramen shop in Roppongi, another area frequented by tourists. They usually serve two types of ramen, but our writer personally recommends the Genei-Style XO Soy Sauce Iberian Pork Ramen (920 yen plus tax).
To put it simply, the dish is a tonkotsu ramen using XO Jan (*3), a high quality Chinese condiment, in its soup, and is filled with flavor while being a refined dish. This soup is completely different from the typical tonkotsu ramen. The char siu also uses top quality Spain-bred black Iberian pork, which is delicious despite its high fat content.
The quantity is on the smaller side for the price you pay, but you can tell that this dish has been carefully prepared.
It's a good idea to also order the tamago-kake gohan (rice with raw egg) from the side menu if you want to have a substantial meal. The shop's interior is a unique space that feels futuristic, and has an film scene-like atmosphere.
*3 XO Jan: a quality bottled condiment invented in Hong Kong that is made of stir-fried dried shrimp, dried scallop, and other ingredients.
26. Niboshi Tsukemen Miyamoto (Kamata) - The Richest Niboshi Tsukemen
Niboshi Tsukemen Miyamoto in Kamata boasts immense popularity in Tokyo for their richly-flavored ramen and tsukemen. They also have other items, such as a light niboshi ramen, but most order the Tsukemen (pictured is the deluxe and large serving with an added soy-marinated soft boiled egg and char siu at 1,130 yen plus tax).
Their tsukemen has a luxurious and rich broth, tasting as if the niboshi itself were made into a liquid. The soup is sure to surprise people eating it for the first time with its thickness and delicious flavor. It pairs deliciously with their thick homemade noodles and is a dish you'll eat right up.
The two pieces of char siu placed on top are beautiful in appearance and also provide substantiality to the dish.
Whether it is day or night, there will always be a line at this shop. However, customers come, eat, and leave very quickly, and you won't have to wait long if you avoid peak hours. Ramen Miyaro's second location is als in Kamata, just a step away from Miyamoto.

27. Menya Ishin (Meguro) - Impressively Velvetty Homemade Noodles
Menya Ishin was first established in Yokohama, then moved to Meguro, and is now a representative restaurant in Tokyo offering lighter ramen. From the menu containing shoyu, shio, tsukemen, and other options, order the Shoyu Ramen if it's your first time (pictured is the deluxe with an extra soy-marinated soft boiled egg and char siu at 1,050 yen plus tax).
Not only is the soup filled with the aroma of soy sauce, the homemade noodles are also wonderful. It has a memorably smooth texture in place of its lack in springiness that will make you want to keep on eating. The noodles itself are longer than the average ramen noodles. We think the noodles are made so that you can enjoy the fun of slurping your noodles as much as you want.
The shop isn't doesn't get too crowded. Menya Ishin is one of Tokyo's little-known ramen shops. The restaurant is located near Meguro Station and is one establishment we hope more people learn about.

28. Machida Shiruba Shio Ramen Shinka (Machida) - Japan's Best Shio Ramen
Machida Shiruba Shio Ramen Shinka is a very well-known ramen shop found in Machida, located in the western part of Tokyo. Just as their name describes, they are very particular about their shio ramen, so ordering the standard Shio Ramen is a must for first-time visitors (750 yen plus tax).
The soup broth, made with free range chickens as its main component along with seafood, brings out the best of the great qualities of its ingredients. It has a mellow flavor that is truly delicious. The soup tastes wonderfully with the homemade noodles using domestically produced wheat, containing both a smooth and chewy texture. The toppings are simple so as to allow you to enjoy as much as the flavor from the noodles and soup as possible.
The shop is a 20 minute walk from Machida Station, but our writer asserts that this shio ramen is worth walking the distance to enjoy. However, if you still think that it's too far, you can visit their branch shop in front of Machida Station. Their menu will be slightly different.

29. Oshima (Funabori) - Taste Sapporo Miso Ramen in Tokyo
Oshima is where you can taste classic Sapporo miso ramen, which is rarely found in Tokyo (pictured is the Miso Ramen at 800 yen plus tax). The owner trained for many years at a famous ramen shop in Sapporo, and we guarantee its authenticity.
A generous amount of lard is suspended in the hot and rich miso soup seasoned with spices, giving it a heavy flavor while providing a barrier to help the soup retain its heat. The soup pairs exquisitely with the medium curly noodles. You'll find the best miso ramen at Oshima which will warm your body from the inside, especially if you eat it during the winter.
The scent of the miso, which you'll smell the moment the door is opened, and the atmosphere of the warm, wooden interior, is lovely. This is also a place where families can leisurely enjoy their ramen together, as the shop provides chairs and utensils for children.

30. Soranoiro (Kojimachi) - Popular and Healthy Ramen
Soranoiro Japanese soup noodle free style is a restaurant that has earned popularity for their ramen with a flavor you can enjoy every day and unique limited-edition ramen. Their most popular dish is the Deluxe Flavored Dashi Soba (1,100 yen plus tax).
The soup, made from a combination of free range chickens as the main component, together with seafood, is packed with flavor, just as its name describes. The soup may appear light, but it is very satisfying. Their char siu is also a wonderful product made with branded pork.
Our writer suggests trying the gyoza made with this same pork and pairing it with a glass of beer.
The Veggie Soba is ramen made with an ample amount of vegetables and is also one of Soranoiro's star dishes. The shop is frequented by many tourists due to the lack of vegan ramen in Tokyo.

Eat Up the Ramen of Tokyo!
We hope that you now have an understanding of the huge variety of ramen restaurants in Tokyo. Please use this article as a reference as you enjoy ramen in Japan's capital.

Written by

旅と音楽とラーメンをこよなく愛するエンジニア。 中学生のときにオーストラリアでホームステイしたことをきっかけに、学生時代はバックパッカーにハマる。そんな中で改めて日本の良さを実感し、それをもっと世界中に広めたいと思ってMATCHAのライターに。 マイブームはカメラで、最近はHDRとタイムラプスに挑戦中。

The information presented in this article is based on the time it was written. Note that there may be changes in the merchandise, services, and prices that have occurred after this article was published. Please contact the facility or facilities in this article directly before visiting. Some of our articles contain affiliate links. We kindly ask our readers to exercise careful judgement when making a purchase or booking a service online.