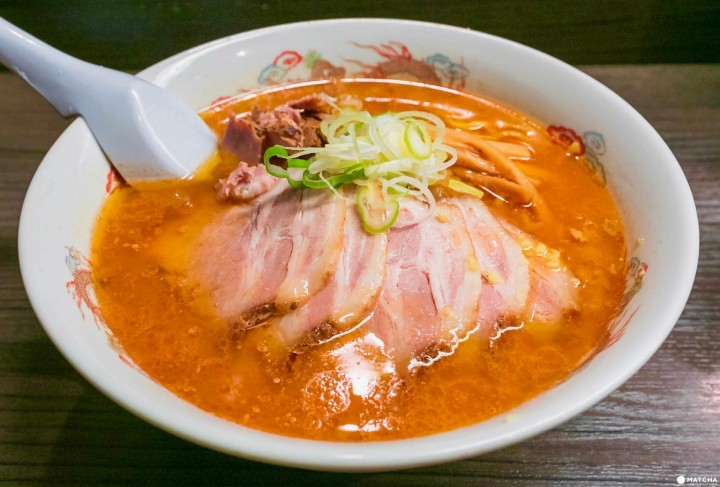 15 Must-Try Ramen Dishes In Sapporo - Recommended By An Expert!
Allow MATCHA's resident ramen expert guide you to the 15 best and tastiest ramen restaurants in Sapporo, Hokkaido. In addition to classic miso ramen, there are many tasty and unique varieties of noodles to enjoy. This is a must-read for ramen fans!
Sapporo - A Nationwide Ramen Hot Spot
With countless ramen restaurants, it is no exaggeration to call Sapporo City in Hokkaido the Japan's number two hotbed for ramen after Tokyo. Along with the classic miso flavored ramen in Sapporo, more types of ramen are beginning to spring up.
This time, we will introduce truly delicious ramen establishments in Sapporo, curated by the resident ramen expert at MATCHA, who consumes over 900 bowls of ramen annually and has eaten a total of over 5000 bowls.
1. World Class Sapporo Miso Ramen at Sapporo Junren Sapporo Branch, Sumikawa
The miso ramen from Sapporo Junren Sapporo Branch is considered the best miso ramen in Sapporo, or even in the world, according to our writer. The photo shows additional chashu (pork fillet) and costs 1130 yen with tax. This ramen truly stands out from among the many miso ramen shops in Sapporo.
The rich and bold soup has an enticing miso and aroma of spices. There is no other word to describe it aside from simply delicious. The generous amounts of lard serve as a cover over the soup, preventing the heat from escaping during the cold days of Sapporo.
In addition to the miso ramen, we also recommend the fried rice on the side menu. Known to be one of the most popular ramen shops of Sapporo, avoid the lunchtime crowd on weekends.

2. Casual Miso Ramen in Central Sapporo at Ramen Senjyu, Odori
For those who would like to try Sapporo's specialty, miso ramen, in the central area of the city, Ramen Senjyu is highly recommended. The miso ramen pictured above is 780 yen with tax.
With a good amount of lard and aromatic spices in the broth, the soup very bold and a staple of Sapporo's miso ramen. The semi-thick, curly noodles are the authentic type of noodles used in Sapporo's miso ramen, resulting in a perfect match between the broth and the noodles.
Definitely order the mouthwatering and cooked-until-tender chashu as an additional topping. Since the store is located in an office district, it will be very crowded with salarymen during the lunchtime on weekdays, so we recommend to avoiding visiting during that peak time.

3. The Best Shoyu Ramen in Sapporo at Japanese Ramen Noodle Lab Q, Odori
One ramen shop in Sapporo that our writer highly recommends is Japanese Ramen Noodle Lab Q. There are three types of ramen, shoyu soy sauce, chicken paitan (*1), and mixed noodles available. For first time visitors, it is highly recommended to try the Chintan Shoyu (850 yen with tax).
The simple but exquisite shoyu ramen is made using ingredients such as local chicken and soy sauce. The noodles are homemade and use flour from Hokkaido. The marriage of the noddles and soup is phenomenal. Additional toppings like the chashu are also just as wonderful.
The shop is located right by the Sapporo clock tower, so you can grab a tasty bowl of ramen while touring around the city. At night, this shop turns into a yakitori, or grilled chicken skewer, restaurant. Customers who indulged in this ramen during the day can also enjoy a few drinks at night as well. Ramen can also be ordered from 17:00-19:30 on Monday to Wednesday nights.
*1 chicken paitan: A white broth soup made using broth from chicken cooked for many hours. It resembles tonkotsu pork broth but it does not have a strong scent and is easy to eat.

4. Tasty Homemade Noodles at men-eiji HIRAGISHI BASE, Minami Hiragishi
Located outside Sapporo City, men-eiji HIRAGISHI BASE is a popular shop that has received extremely high ratings from many. Our editor personally suggests trying the Tsuke BUTO shown in the picture above (ordered with extra chashu for a total of 1130 yen with tax.)
The rich gyokai tonkotsu soup (*2) is delicious on its own, but the homemade noodles made using flour from Hokkaido are even more exquisite. The flavors and the texture of the noodles themselves can be considered to be the finest noodles of Sapporo. It's worth taking a trip to Sapporo just to taste these noodles alone!
There are plenty of other dishes, from miso ramen to lighter ramen varieties, to seasonal ramen offered from time to time. The miso ramen here is also a personal recommendation from our editor, for it unique take on the classic Sapporo miso ramen.
*2 gyokai tonkotsu: A soup made with fish broth added to pork broth. A standard soup used for dipping noodles in Japan.
5. Sapporo's Most Unique Ramen at Ame wa Yasashiku, Shiroishi
If you're looking for a unique ramen you won't be able to find in Tokyo, come to Ame wa, Yasashiku. First-time visitors are recommended to try the miso ramen from among of the standard selection shoyu, salt, and miso ramen offered here (pictured above for a price of780 yen with tax).
The soup uses niboshi (*3) kelp, and other Japanese ingredients instead of pork and chicken are not. This ramen comes with chicken liver paste, which you can dissolve into the soup and eat with the ramen. It starts off light, but gradually gets richer and surprisingly addicting at the same time.
Unfortunately, this shop is quite hard to reach without a car, but this is a must-visit restaurant for ramen lovers. If you cannot go, there is also a second location that recently opened near Sapporo Station.
*3 niboshi: Fish that has been boiled and then dried.

6. The New Wave of the Sapporo Ramen World, Mendokoro Maruha BEYOND, Nakanoshima
The ramen shop that recently joined the popular ramen shop lineup the moment it opened is Mendokoro Maruha BEYOND. Out of four types of ramen on the menu, try the chuuka soba shoyu shown in the photo (750 yen with tax).
The light soup made with a clear pork broth mixed with niboshi is a unique flavor in Sapporo. It is a ramen that seems commonplace, but is truly unique. The ramen is not only delicious, but it is also allows diners to taste a unique harmony of flavors. Not many Sapporo ramen shops use premade noodles, but they do here, and adding to the personality of the dish.
The second location Mendokoro Maruha RISE opened in Sapporo City is also worth a visit. This location offers dishes not found elsewhere in Sapporo, like ramen using broth from shellfish that cannot be found in Sapporo. It is also a popular establishment.

7. Excellent Ramen in a Stylish Space, Bon no Kaze, Nishisen ku jo Asahiyama koen dori
Located slightly away from central Sapporo city, another popular and highly rated ramen shop is Bon no Kaze. There is a large selection on the menu, but be sure to the chukasoba jyun tori dashi shoyu first (750 yen with tax).
The dark soup with soy sauce base may appear to be salty, but it is not overly salty and has an aromatic and mild flavor. It is a ramen that allows diners to relish the simplistic flavors of soy sauce and chicken broth, leaving a fine aftertaste. The presentation of the ramen is beautiful and gives the dish a perfect touch.
The shop itself has a relaxing atmosphere and has table seating in addition to counter seating. It is easy to dine here alone but would also be perfect for a ramen date.

8. Top Notch Chicken Paitan Ramen in Sapporo at Garyumenbu Hien, Sumikawa
Garyumenbu Hie is highly recommended to visitors looking for something other than miso ramen in Sapporo. Their most popular dish is the gyokai shio tori paitan (750 yen with tax).
This broth is made by slowly simmering chicken and fish for a long time, but it is very mild, easy to drink, and not too oily. Despite its light taste, the bowl as a whole is very filling and extremely tasty. This is a ramen that becomes tastier with every bite!
The shop is a bit far from central Sapporo city, but it is definitely a must-visit spot for ramen enthusiasts. The shop owner also recommends the salt ramen that has a unique aroma of grilled lard.

9. Unique and Robust Fish Base Ramen at Aradaki Tonkotsu Araton Honten, Soen/Nijuyon-Ken Station
Aradaki Tonkotsu Araton Honten offers a bowl of unique ramen using fresh fish ara (*4) utilizing the nearby Sapporo outer fish market. The most popular dish at this restaurant is the Araton kaku buta noko tsukemen (1250 yen with tax).
In addition to the ara of the fish, the soup also contains pork broth, creating a rich and impactful flavor. Guests who try this dish become divided, as some like it and some don't, but our editor is a fan. You can order a larger amount of noodles for free, ideal for hungry customers.
One downside of the restaurant is its poor ventilation. In the summer it becomes very stuffy. During lunchtime it is also crowded with customers, so we recommend avoiding the peak lunch hours.
*4 ara: The head and remnants of fish bones with bits of the meat.

10. New Sapporo Gourmet at Ebisoba Ichigen Main Branch, Susukino - Higashi Honganji-mae
Ebisoba Ichigen Main Branch is known for its ramen with pink shrimp broth. Customers can choose between three soup bases with salt, shoyu or miso, as well as from three levels of flavor of the shrimp soup. We suggest trying Ebishio Sonomama in shown in the above photo (780 yen with tax).
The soup is made using pink shrimp extract, and by using shrimp in the flavoring oil, the entire ramen tastes and smells entirely of shrimp. Unfortunately, this cannot be recommended to visitors who do not like shrimp. However, shrimp lovers will become hooked.
This dish has already become known as a new gourmet dish in Sapporo and is usually filled with many customers. As there is a branch in New Chitose Airport, visitors have a way to nicely wrap up their Sapporo trip by eating a bowl of ramen at Ichigen before boarding the plane.

11. Mouth-Watering Niboshi Ramen for One Coin at Chukasoba California, Kikusui
Chukasoba California is a popular and budget-friendly ramen spot in Sapporo. The most popular dish here is Shio Niboshi Soba, pictured above (500 yen with tax.) This dish can be enjoyed using just a 500 yen coin.
The dish contains no bitterness or strange flavors, and has a refreshing but flavorful niboshi soup. A ramen bowl free of chemical additives for 500 yen is hard to believe, and it's a mystery on how they can make a profit with this price setting!
Along with the delicious ramen, the shop is has a very Californian atmosphere and is brightly lit with a white based interior. There are also two table seats so groups and families can relax and savor a bowl of ramen comfortably.

12. Long Line at Night in Sapporo at Isono Kazuo, Susukino
Isono Kazuo is a popular ramen shop that has long lines even at night in Sapporo's busiest quarter, Susukino. While you can enjoy classic Sapporo miso ramen here, nearly 80% of customers order the Sapporo Black pictured above (800 yen with tax).
Sapooro Black has a rich soy sauce based broth that is not overly salty. There is also a garlic flavor in the dish and is delicious. Many customers line up for this unique ramen you cannot find anywhere else in Sapporo. Isono Kazuo also offers half-sized ramen bowls that make a perfect to wrap up the night after drinks.
The restaurants opens at 22:00, and the later becomes, the more crowded the restaurant gets. It is best to visit when they first open. In addition, please note that the shop is inside a small building and is a bit difficult to find.

13. Ramen with Local Ingredients at Ramen Sapporo Ichiryuan, Sapporo Station
Taste one-of-a-kind ramen made using local Hokkaido ingredients at Ramen Sapporo Ichiryuan. Out of the many dishes on the menu, the most popular item is the Genki no Deru Miso Ramen shown in the photo above (850 yen with tax).
Genki no Deru Miso Ramen is an original miso ramen unlike other Sapporo miso ramen, containing slightly bitter flavors, targeted for a mature palate. You can taste the uniqueness through the scrambled egg topping or faint garlic. The homemade noodles made using wheat from Hokkaido are just as tasty as the broth.
Ichiryuan is inside a building connected to Sapporo Station and can be accessed conveniently. Many visitors from outside of Japan come to dine here, and they also have a menu in English. The only downside is the service is slightly slow and if you go at a busy time, you may be waiting for a while.

14. Tasty Menu of Ramen Shingen Minami 6 Jo Branch, Susukino
Ramen Shingen Minami 6 Jo Branch is constantly filled with tourists and local people from Sapporo with its main location in Ishikari City in Hokkaid. There are six types of ramen offered here. In particular, our writer recommends the Echigo Kara Miso (760 yen with tax) pictured above.
This ramen is not as greasy as the standard Sapporo miso ramen and easy to eat, while still being very satisfying. The dishes here are very large, so there is no need to worry about the soup not being enough if you're hungry!
Another item on the menu not to be missed at Ramen Shingen is the fried rice. It tastes as delicious as fried rice you would find at a specialty restaurant. As the evening progresses, this location gradually starts to get busier. If you wish to avoid the crowd, it is advised to visit during the daytime.

15. The Most Well-Known Ramen in Sapporo, Menya Saimi, Misono
The most famous ramen restaurant in not only Sapporo but throughout all of Hokkaido is Menya Saimi. The shop owner trained at a popular ramen shop in Sapporo. One of the most popular dishes is the Miso Ramen pictured above (780 yen with tax).
This dish is a similar type of ramen to the ones found at earlier-mentioned Sapporo Junren or the Ramen Senjyu. However, compared to those two locations, the dish is less oily and has a lighter taste. It is a miso ramen suitable for various tastes and is very popular among tourists that coming to Sapporo.
There is a long line for this restaurant regardless of the day of the week, but the rotation is quick, so visitors are able to go to the shop without waiting too long. In addition to the miso ramen, the spicy shoyu ramen is also just as tasty. The restaurant advertises the spicy shoyu ramen, which has an addictive flavor containing a nice spicy aftertaste.

When in Sapporo, Eat Ramen!
There are countless unique ramen restaurants and shops throughout Sapporo City. Feel free to use this as your guide to ramen for your next visit to Sapporo!