Mt. Fuji Area - 8 Fun Things To See And Do At Lake Yamanakako
Yamanakako is a lake at the foot of Mt. Fuji, popular with travelers internationally. Today we introduce things to see and do, including sightseeing, boat cruises, flower gardens, and hot springs. Learn how to spend a great trip right by Japan's most iconic mountain.
Visit Lake Yamanakako by the Foot of Mt. Fuji
Picture courtesy of Yamanashi Tourism Organization
Lake Yamanakako is a lake in Yamanashi Prefecture's Yamanakako Mura. It is part of the Fuji Goko (*1), five lakes sitting around the base of Mt. Fuji. Covering some 6.57 square kilometers, it's the largest of the five lakes and is also the closest to Mt. Fuji.
The area surrounding the lake affords beautiful views of Mt. Fuji, which is why it attracts so many visitors every year.
In 2013, Mt. Fuji was chosen as a UNESCO World Heritage Site as it is considered a sacred space and source of artistic inspiration.
*1 Fuji Goko: five lakes at the foot of Mt. Fuji consisting of Lake Motosuko, Lake Shojiko, Lake Saiko, Lake Kawaguchiko, and Lake Yamanakako.
The Lake Yamanakako Region
Lake Yamanakako is divided into four smaller areas based on cardinal direction.
The lake's west side has Yamanakako Hananomiyako Park and numerous hot spring facilities (onsen). This is the area most people go through when coming from Tokyo.
From the north and east side, you can get impressive views of the lake and Mt. Fuji. There are many hotel facilities and observation spots in these areas.
The lake's southern area is more developed and features eating and drinking establishments and art galleries, and a boat terminal.
In the vicinity of Lake Yamanakako there are many ways to enjoy yourself, including admiring the incredible views of Mt. Fuji, and dipping into a relaxing hot spring.
How to Get to Lake Yamanakako
The Lake Yamanakako area is accessible via train and highway buses from Tokyo and other parts of Japan. It takes around 2.5 to 3 hours to get there from central Tokyo via bus or a combination of buses and trains. It takes about 1.5 hours via car.
The easiest option for those not wanting to make transfers is riding the Fujikyuko express bus from the Yaesu South exit of Tokyo Station. Tickets can be purchased at the highway bus ticket counter right in front of the bus platforms at Tokyo Station (Yaesu South exit). Click here to see timetables and stops on the route.
1. Get a Close-up Panoramic View of Mt. Fuji!
First of all, let's confirm the best spots in the Lake Yamanakako area for viewing Mt. Fuji.
Lake Yamanakako Panoramic Deck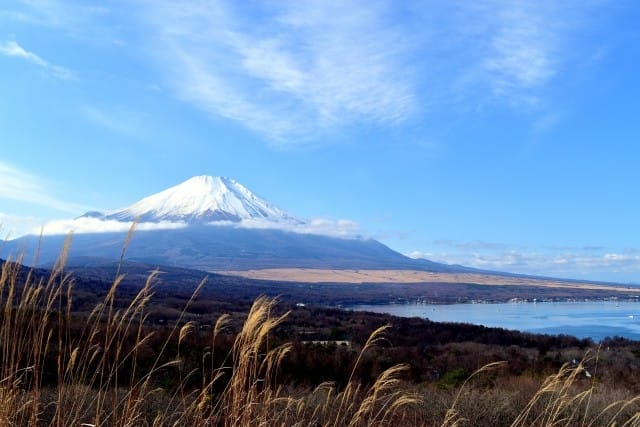 Lake Yamanakako Panoramic Deck is an observation spot sitting on elevated ground on the lake's east side.
From this spot, you can look down on the lake and see the lake and Mt. Fuji together. When dusk approaches on sunny days, visitors are treated to the sight of the surrounding area bathed in a reddish glow.
Summers feature the vivid, bright green foliage of the forest, and in autumn a field of Japanese pampas grass spreads out in front of you.
Access: Take the sightseeing (Fujikko bus) and get off at the Mikuniyama Hiking Course entrance. From there it's a 30 minute walk.
Nagaike Water Park (Upside-Down Fuji, Double Diamond Fuji)
Picture courtesy of Yamanashi Tourism Organization
Yamanakako Shinsui Park (Nagaike Water Park), located on the lake's north side, is well-known as a Mt. Fuji lookout spot. The highlight is the sight of a majestic Mt. Fuji towering over the lakeside area.
Visitors will get to see Upside-Down Fuji, the reflection of the mountain on the lake's surface, and Double Diamond Fuji, the sight of the rising or setting sun directly over the mountain, reflecting off the water. These unique views draw many photographers.
*Double Diamond Fuji is visible during mid-November and mid-February.
Access: Take the sightseeing bus (Fujikko) and get off at Nagaikei Shinsui Koen Mae bus stop.
2. Go on a Scenic Mt. Fuji Cruise
One way of enjoying the lake is by a cruise. Lake Yamanakako has uniquely shaped boats from which passengers can enjoy views of Mt. Fuji. The two cruises listed are highly recommended.
Lake Yamanakako Pleasure Boat - "Swan Lake"
Board the Lake Yamanakako Pleasure Boat - "Swan Lake" to enjoy a leisurely cruise aboard a swan-shaped boat.
The boat's interior has a warm wood-grain color scheme. To enhance your voyage, there are some creative twists such as binoculars on stand-by in various locations and children's seating that comes equipped with handles.
The on-deck seating is popular and allows riders to catch the pleasant lake breeze.
You can board the boat on the lake's south side at the Asahigaoka Sanbashi Noriba or at the Yamanaka Sanbashi Noriba on the west side of the lake.
Location: Asahigaoka Sanbashi Noriba (1 minute on foot from Asahigaoka bus terminal), Yamanaka Sanbashi Noriba (1 minute on foot from the sightseeing boat terminal bus stop).
Cost: Adults 1,000 yen, Children 500 yen.
Boat service: 9:30-17:30, runs every 30 minutes (can change depending on season).
Time required: 25 minutes to circle the lake once.
Yamanakako no Kaba
With its unique eye-catching shape, Yamanakako no Kaba is a water bus that operates on the lake.
The moment the bus first slides into the water is exhilarating. Riders will be very impressed by the resulting water sprays. The windows can be opened, giving passengers a spacious, open kind of feeling.
You can board the bus at the Yamanakako Asahigaoka bus terminal on the south side of Lake Yamanakako.
Location: Yamanakako Asahigaoka bus terminal
Cost: Adults 2,300 yen (2,500 yen in summer), Children 1,150 yen (1,250 yen in summer).
Boat service: 9:00-16:00, runs every 45 minutes (can change depending on season)
Required time: 45 minutes to circle the lake once.
3. Oshino Hakkai - A World Heritage Site
Oshino Hakkai is a tourist spot on the south side of Lake Yamanakako.There are walking trails near the eight ponds in the area, which originate from Mt. Fuji's spring water.
The collection of ponds is designated a World Cultural Heritage Site, having fulfilled the constituent elements of being a sacred place and a source of artistic inspiration.
Visitors can enjoy watching the spring water gushing up from the bottom of the ponds. There are also shops selling souvenirs, and tofu and soba made with fresh spring water.
Photo by Pixta
Here in the springtime, you can take a photo that captures the cherry blossoms, Mt. Fuji, and the stunning lake in one shot.
Access to Oshino Hakkai from Lake Yamanakako is possible via route bus (15 minutes from the sightseeing boat terminal).
Oshino Shinobi no Sato Ninja Village
Photo by Pixta
Not far from Oshino Hakkai is Oshino Shinobi no Sato, a theme park where visitors can experience being a ninja for a day.
Here you can fully enjoy ninja culture, set against the background of an undeveloped woodland area. There are acrobatic ninja performances to watch, and dressed up in full ninja gear, you can try using a throwing star (shuriken) and participate in some athletic challenges.
Cost (admission free pass): Adults 1,800 yen, Children 1,300 yen.
Business hours: 9:00-17:00 (can change depending on the season).
Access: Take the Loop bus and get off at Oshino Shinobi no Sato bus stop (about 20 minutes away from the sightseeing boat terminal).
4. Go for a Leisurely Bike Ride Along the Lake
Picture courtesy of Yamanashi Tourism Organization
For those who would like to have an active outdoor experience, we suggest bicycling along the lake's shoreline. This route is fourteen kilometers in length and takes about ninety minutes to complete. A portion of the route is a paved cycling road.
Along the route, there are plenty of places to stop and take a break such as Yamanakako Bungaku no Mori Park, Asahigaoka Lakeside Parkland, Yamanakako Koryu Plaza Kirara, and Mama no Mori Miharashidai (lookout spot).
Near the lake, there are a handful of shops where you can rent a bicycle.
There's Yamanakako Jupiter (near the sightseeing boat terminal), Yamanakako Marine House momo (near the sightseeing boat terminal), Komeisou Marina (near the Lake Yamanakako village office), and also Yamanakako Drive Center (near Asahigaoka bus terminal). (The websites are in Japanese.)
5. Take a Dip in Mt. Fuji's Hot Springs
Photo by Pixta
Soak in an onsen (hot spring) to lessen your travel fatigue at the end of the day. There are many hot spring facilities and ryokans non-guests can use. You can admire Mt. Fuji's scenery as you relax in the bath.
Ishiwari no Yu (Japanese), located on the lake's east side, is a hot spring where wood and rock give you a warm feeling and the highly alkaline water is soothing and gentle to the skin.
At Benifuji no Yu and Hotel Mount Fuji, the large bath and rotemburo (outdoor bath) offer outstanding views of Mt. Fuji and the lake area.
Spend some well deserved luxurious time here.
6. Let Yamanakako Hananomiyako Park Take Your Breath Away
Picture courtesy of Yamanashi Tourism Organization
At Yamanakako Hananomiyako Park on Lake Yamanakako's west side, visitors can take in the scenery of Mt. Fuji and seasonal flowers covering the park's vast grounds.
The park grounds are divided into two sections; the flower garden and farm area (free admission), and Seiryu no Sato, an area where you can see gently-flowing waterfalls and a flower dome (admission required).
Photo by Pixta
Of course, the best time to see the flowers is when they're in full bloom. In April and May, tulips and baby blue eyes (nemophila) make their appearance, the poppies arrive in June and July. In August you can see the vibrant sunflowers, and from early summer until autumn the zinnia and cosmos flowers take center stage.
Be sure to take lots of pictures of the flowers and Mt. Fuji and relax with delicious soft-serve ice cream from the food stalls after the photography session.

Open season: April 16 - October 15: 8:30 -17:30, October 16 - April 15: 9:00-16:30
Access: Take a sightseeing bus or route bus and get off at Hananomiyako-Koen bus stop.
7. Visit Local Art Galleries
Photo by Pixta
Lake Yamanakako is filled with impressive natural scenery but also has art galleries, museums, and other cultural spots.
TheYamanakako Teddy Bear World Museum (Japanese) features a collection of teddy bears from around the world amidst a warm, at-home kind of atmosphere. It is on the south shore of the lake.
Another lakeside spot is the Santa Claus Museum in YAMANAKAKO (Japanese) where you can feel the festive spirit all year round.
Here you can see a wide variety of Santa Claus dolls and Christmas-related art objects.
In addition, there's also the Mishima Yukio Literary Museum, which displays the written works and historical documents of this famous Japanese writer.
8. Savor the Taste of Yamanashi's Gourmet Food
The Lake Yamanakako area is home to a wide range of eating establishments. Here there are casual eateries serving homestyle dishes and sophisticated cafes and restaurants.
Kosaku Yamanakako, features a Yamanashi specialty called hoto, flat, udon-like noodles. It is a famous restaraunt where you can sample a variety of local dishes.
Also recommended is Watanabe Udon, a popular restaurant that serves the Five Lakes' specialty dish, Yoshida Udon.
Just a short distance from the lake is a shop called Tenshoan where you can eat soba (buckwheat noodles) made using delicious water.
PAPER MOON is a shop that serves flavorful homemade cakes. The shop has a stylish interior and is surrounded by a beautiful garden.
Visitors can enjoy pasta and other meal sets at Mori no Alm, a restaurant set inside a fantasy-filled building.
Getting to Lake Yamanakako from Tokyo and Lake Kawaguchiko
Next we'll explain how to get to Lake Yamanakako from Tokyo and Lake Kawaguchiko.
Access from Tokyo
When leaving from the greater Tokyo area, a direct highway bus is very convenient.
At Busta Shinjuku, the highway bus terminal beside Shinjuku Station, get on a bus headed for Shinjuku-Fuji Goko and get off at Mt. Fuji-Lake Yamanakako.
The travel time is 2 hours and 15 minutes-30 minutes, and the one-way fare is 2,000 yen.
Access from the Lake Kawaguchiko Area
When departing from Lake Kawaguchiko or Fuji-Q Highland, the sightseeing Fujikko Bus is convenient.
To get from Kawaguchiko Ekimae bus stop to Mt. Fuji-Lake Yamanakako takes about fifty minutes. The one-way fare is 630 yen. There's also a Two Day All-You-Can-Ride Free Coupon that sells for 1,500 yen (for one adult).
Hotels in the Lake Yamanakako Area
Lake Yamanakako has many hotels, guesthouses, and other lodgings to accommodate its many visitors.
For example, the Marriot Fuji Lake Yamanaka, a hotel nestled quietly amongst a grove of trees, offers refined and sophisticated guest rooms. Also recommended is PICA Yamanakako Village, a cottage-style accommodation where you can enjoy the great outdoors.
Weather and Climate
Photo by Pixta
Within the Fuji Goko (Fuji Five Lakes) region, Lake Yamanakako sits at the highest elevation with an altitude of 1,000 meters.
Due to its high elevation, it tends to have a cool climate throughout the year. Even in the middle of summer, the average temperature hovers around the 20°C mark, and in the winter it drops down below 0°C.
For summer clothing we recommend bringing a long-sleeved jacket to combat the chilly mornings and evenings and to offer UV sun protection.
For the fall and winter season, it's best to bring a down jacket or heavy coat, gloves, and a wool cap, to fight off the cold. Roads often freeze over so for footwear we recommend non-slip boots.
Visit Lake Yamanakako
The possibilities are endless when it comes to having fun at Lake Yamanakako. There are cycling courses and cruises offering breathtaking views of Mt. Fuji, relaxing hot springs, and art museum tours.

Use this article as a reference for how to experience the gorgeous Lake Yamanakako area for yourself.

Main image by Pixta

The information presented in this article is based on the time it was written. Note that there may be changes in the merchandise, services, and prices that have occurred after this article was published. Please contact the facility or facilities in this article directly before visiting.