Oshino Shinobi No Sato - Family-Friendly Ninja Fun Near Mt. Fuji!
Oshino Shinobi no Sato is a ninja-themed village at the base of Mt. Fuji. Ideal for international visitors and families, there are many unique activities to be enjoyed here, from becoming a ninja to taking gorgeous photos with Mt. Fuji!
Surprisingly Few Family-Oriented Spots around Mt. Fuji
Lake Kawaguchi is a well-known place for visitors who want to see Mt. Fuji. The lakeside provides endless beautiful and magnificent views of the mountain.
There are museums, art galleries, and a host of sightseeing spots nearby. There are many great ways to spend your time here in addition to seeing Mt. Fuji.
However, there are surprisingly few places where parents and children can have fun together. Can you think of any Mt. Fuji areas that are also entertaining for children?
Oshino Shinobi No Sato - Become a Ninja at This Village!
In this article we introduce Oshino Shinobi no Sato, a ninja village located just twenty minutes by bus from Lake Kawaguchi!
At this ninja-themed village, you can spend a whole day of fun engaging in traditional Japanese culture, and of course, ninja.
We guarantee both children and adults will have an entertaining experience!
Everywhere you go, you will sense the traditional Japanese atmosphere, from the Japanese-style architecture to the beautiful gardens.
The village is packed with fun things to see and do, such as ninja activities, a ninja show, Japanese gourmet cuisine, and chances to look at and take photos of Mt. Fuji.
One Day Model Itinerary for Shinobi No Sato
Easy Access - Just One Bus from Kawaguchiko Station
Access to Oshino Shinobi no Sato is simple. Hop on a bus outside Kawaguchiko Station and in just twenty minutes you'll arrive here.
Buses for Oshino Shinobi no Sato leave once an hour between 9:00 and 16:00, so you can leave in the morning or even leave in the afternoon after seeing Mt. Fuji and Lake Kawaguchi.
Today we'll introduce a model itinerary with departure from the Tokyo area arriving at Kawaguchiko Station around 11:00.
Highway buses going directly to our destination also leave from the Shinjuku Bus Terminal. For details refer to the Oshino Shinobi no Sato official homepage.
If we board a bus departing from Kawaguchiko Station at 11:00, we'll arrive at Oshino Shinobi no Sato around 11:20. When we exit the station, we're greeted by a Japanese-style building, as you can see in the picture above.
1. Transform into a Ninja!
Once inside the building, first we'll choose our favorite colored ninja costume and then transform into a ninja!
Choose your favorite color and correct size of tops and pants, then use the cloth belt to adjust the fit. The ninja costumes, regardless of size, are all 500 yen to rent. For an additional fee you can also rent a hood to cover your face for a more authentic ninja look.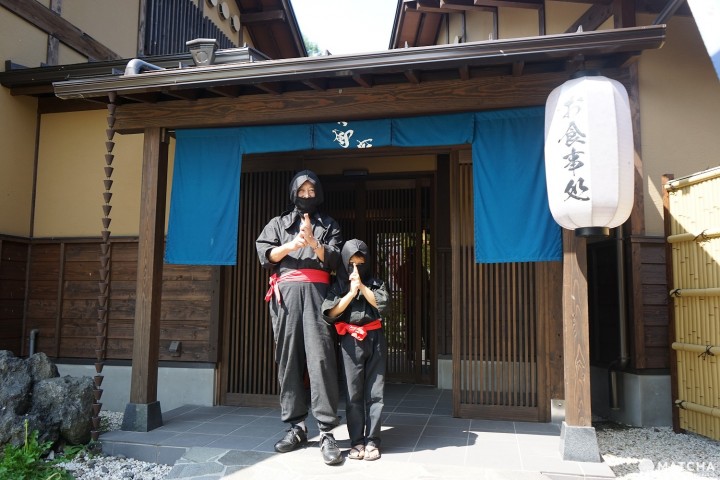 Get dressed up in this ninja outfit and you'll soon become the real thing! Now let's head out for some authentic ninja attractions.
2. Ninja Show - Be Amazed by Ninja Artistry!
One of the highlights of Shinobi no Sato is the Ninja Show. Several performers appear on stage showcasing clever devices and tricks. Their ninja skills are a must-see!
The performances are action-packed, so it isn't a problem even if you don't understand Japanese. English pamphlets are also handed out, so you can easily follow the story.
The performance schedule is listed below:
Program A is fifteen minutes long. Program B, with more content, runs for thirty minutes.
Depending on the day, Program A or Program B may change. For details please check the Oshino Shinobi no Sato official homepage.
Program A
(15 minutes long)
11:00
12:20
14:00
15:30
Program B
(30 minutes long)
10:30
12:20
14:30
16:00
* Please be aware that performance times may change due to unforeseen circumstances.
3. Setsugetsufuka Restaurant - Ninja Gourmet and Japanese Cuisine
The show is over and it's noon. Let's eat at Shinobi no Sato's restaurant, Setsugetsufuka (Snow Moon Flower).
The restaurant has a ninja and samurai-themed interior. While enjoying our delicious meal, we can gaze out at the beautiful Japanese garden with Mt. Fuji in the background.
We suggest the Shinobi no Sato-Specialty Ninja Curry (1,150 yen plus tax). The black colored curry symbolizes the figure of the ninja as they blend into the dark night surroundings.
You can enjoy this unique curry only at Shinobi no Sato. It has a rich flavor that comes from slowly simmering vegetables so that their sweetness comes out.
Crunchy almonds and tomatoes provide a refreshing aftertaste and sit atop the bed of rice, giving this curry rice its simple and fresh taste.
This is the perfect menu for preparing you for a day of fun outside.
For visitors wanting enjoy traditional Japanese cooking, we recommend Yamanashi brand Shingen chicken and seasonal vegetable tempura soba (1,200 yen plus tax).
Shingen chickens are being raised drinking the fresh water at the base of Mt. Fuji. They are known for their minimal fat, delicious taste, and silky texture.
The soba (buckwheat noodles), a special product from Yamanashi prefecture's Oshino area, is wonderfully aromatic. It goes perfectly together with the chicken and the crunchy vegetable tempura.
After your meal, you can also try a Japanese-style dessert. You can choose the dessert that looks most appealing to you from the English menu which has pictures.
4. Take a Keepsake Photo with Mt. Fuji!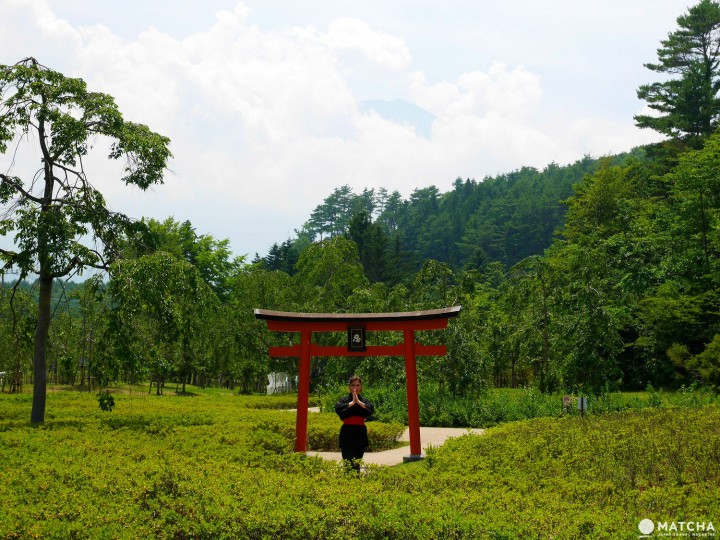 Now that we've regained our energy from our tasty lunch, let's go and enjoy our ninja experience! All the ninja activities at Shinobi no Sato are held on the expansive grounds of the Japanese garden.
The first thing to do is get a picture taken with Mt. Fuji in the background.
The ninja outfit, the red torii gate, Japanese garden, and Mt. Fuji are all captured together in this one unique snapshot!
5. Try Shuriken and Fukiya!
On the garden premises, there's a dojo (special training ground) where visitors can improve their skills in using the shuriken (throwing star) and the fukiya (blow gun), which are two essential weapons in the ninja world.
Both beginners and experts can participate in many different ninja activities. Activities that come with a prize are 500 yen, and the kids ninja activity events are 1,000 yen.
For experts, aim for high score and get a prize in the process. You can receive various types of prizes, ranging from toy shuriken to katana swords.
In addition to the ninja dojo, there's also an athletic playground equipment that visitors can use for free. Train here like the ninja to get a body of steel!
6. Treasure Hunt in the Trick House!
The building next to the shuriken dojo is the karakuri yashiki, or house of tricks and illusions.
This house, which was built in a maze-like fashion, is filled with hidden treasures and secrets that will surprise guests. Use your five senses and explore the inside of this house.
Photos are prohibited inside the house, but in the very last room we visited you can take a fun ninja-esque picture.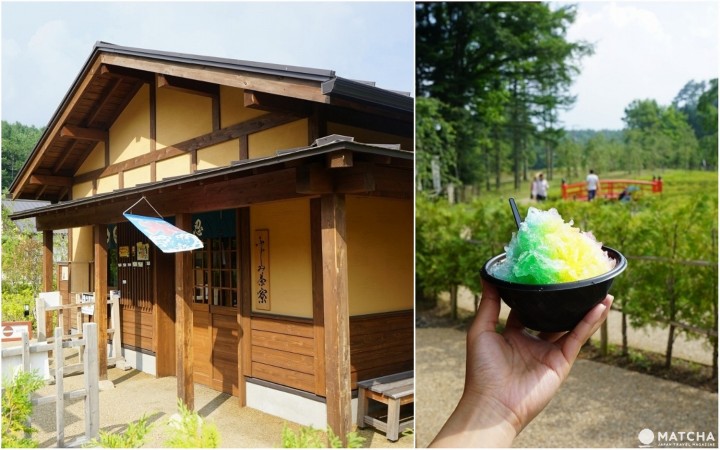 After getting tired out from all the fun, you can take a break at the garden premises at Tea House Fujimi Saryo.
Sit on the outdoor bench and savor Japanese-style sweets like kakigori (shaved ice, 380 yen) and dango (mochi dumplings, 350 yen), along with a refreshing drink (*kakigori is only available during the summer) with Mt. Fuji right in front of you.
7. Mt. Fuji and Ninja Souvenirs!
After a fun-filled day, it's now about 16:00. Let's go back to the shop at the entrance and return our ninja costumes. Finally, let's go and see if we can find some suitable souvenirs.
The Shinobi no Sato shop sells ninja goods and Mt. Fuji themed-local products.
How about buying some Japanese-style sweets with ninja motifs for your friends? The most popular items here are the ninja mug cup and cute ninja stationery.
Don't Miss the Last Bus at 16:35!
Be sure to keep track of time if you are on a day trip. The last bus for Kawaguchiko Station leaves at 16:35.
It's a good idea to allow yourself extra time and leave Shinobi no Sato by 16:30 or even earlier.
PICA Fujiyama - Take in More of Mt. Fuji!
If you feel a day trip is too short or want to spend more time at Oshino Shinobi no Sato and Lake Kawaguchi, we suggest the outdoor resort PICA Fujiyama.

The Kawaguchiko area is known for the rich and abundant nature of Mt. Fuji.

If you wish to enjoy an authentic experience of Mt. Fuji, PICA Fujiyama is the perfect resort, allowing you to stay overnight in a tent or log cabin in the great outdoors.

If you have plans to go to Japan with your family, enjoy Mt. Fuji and Japanese culture at Oshino Shinobi no Sato and PICA Fujiyama!

Written by Ramona Taranu
Sponsored by PICA Resort

The information presented in this article is based on the time it was written. Note that there may be changes in the merchandise, services, and prices that have occurred after this article was published. Please contact the facility or facilities in this article directly before visiting.