Fuji Five Lakes - Enjoy Mt. Fuji, Lake Kawaguchiko, And Lake Yamanakako!
Yamanashi, home to Mt. Fuji, is close to Tokyo. Fuji Five Lakes, or Fuji Goko, is a popular destination at the foot of this iconic mountain, full of the abundant nature of Mt. Fuji and its surrounding lakes. Read this complete guide to learn things you can see and do in this special region.
Visiting Fuji Five Lakes
Fuji Five Lakes, known as Fuji Goko, is a sightseeing area in southeast Yamanashi Prefecture consisting of five lakes at the foot of Mt. Fuji. It takes around one hour direct from Tokyo's Shinjuku Station by highway bus.
Below are the major regions recommended to travelers wanting to make the most of the beautiful lakes and Mt. Fuji area.
Lake Kawaguchiko
Lake Kawaguchiko is an area with great access to highways and train stations.
With resort hotels, art galleries, and various leisure facilities including a ropeway, there are many spots in the vicinity that you'll want to visit.
Visitors can enjoy Mt. Fuji, the Fuji Goko lakes, and flower gardens, and many other sights. These include Fuji-Q Highland, famous for its scream-inducing rides; Chureito Pagoda, where you can get a stunning view of Mt. Fuji together with a five-story pagoda; and the Yoshida Trail, a starting point for climbing Mt. Fuji.
Lake Yamanakako
Lake Yamanakako is a resort area with many vacation homes, hotels, and ryokan.
This lake sits at the highest elevation of the five lakes and has a refreshing climate reminiscent of a highland area.
During the summer, visitors can enjoy stand-up paddleboarding (SUP) and windsurfing, and in the winter there are fun activities such as fishing for pond smelt.
The nearby Oshino Hakkai area has ponds filled with Mt. Fuji spring water, and a ninja theme park.
Lake Saiko
On the shores of Lake Saiko, visitors can try outdoor activities such as camping and fishing for Kokanee salmon (landlocked salmon).
Nearby there's an ice cave where you can see icicles even in the summer; Fujiten Snow Resort is where you can enjoy skiing and sledding. At Saiko Iyashi no Sato Nenba, you can wander through a theme park of recreated Japanese rustic traditional homes.
Lake Shojiko
Lake Shojiko is the smallest of Fuji Goko's lakes.
There are no buildings to obstruct the gorgeous nature here, so you can get a panoramic view of Mt. Fuji, the surrounding forest, and the lake.
You can also enjoy the beauty of Upside-down Fuji, the reflection of Mt. Fuji on the lake's surface; Kodaki Fuji at an observation point near the lake; and numerous activities including canoeing, fishing for crucian carp, and camping beside the lake.
Lake Motosuko
The deepest lake at Fuji Goko is Lake Motosuko. Its waters are said to be some of the clearest as well.
For that reason, activities such as windsurfing, canoeing, and fishing are popular here.
You can see the inverted reflection of Mt. Fuji on the water near the lake, too. This memorable view is even featured on one side of the Japanese 1,000 yen bill (as of 2019).
Continue reading to learn activities offered by each lake and how to get to each area.
Lake Kawaguchiko
See Mt. Fuji and Take a Memorable Photo!
Picture courtesy of Yamanashi Tourism Organization
When visiting Lake Kawaguchiko, be sure to first take a photo that includes the lake and Mt. Fuji.
There are two major viewing spots on Lake Kawaguchiko's north shore (opposite side from Mt. Fuji). One is Enkei Hall, from where you can take a picture that includes Lake Kawaguchiko's Ohashi bridge and Mt. Fuji; the other is Oishi Park, which is ideal a stroll while admiring lavender and other flowers in the garden.
We also recommend the Mt. Fuji Panorama Ropeway which gives an all encompassing view of the town that sits at the base of Mt. Fuji and Lake Kawaguchiko.
Climb to the top of Tenjoyama Mountain for a memorable photo of the impressive view from the observation deck.
Fuji-Q Highland - Thrilling Attractions for All!
Photo by AC
Fuji-Q Highland is an amusement park that's famous for its many scream-inducing rides. It has unique roller coaster rides such as FUJIYAMA, Takabisha, and Eejanaika, offering excitement for all thrill-seekers.
Some attractions are even recognized by Guinness World Records for their height and speed. This is a theme park where visitors can have a one-of-a-kind day of fun and thrills.
There's also unique local cuisine at the food court, an area that replicates the famous picture book "Lisa and Gaspard", a haunted house, and a gigantic maze, so you'll be able to have fun for an entire day here.
Itchiku Kubota Art Museum - See Traditional Fabrics and Stroll in a Garden
Picture courtesy of Itchiku Kubota Art Museum
There are many museums in the Lake Kawaguchiko area, but our recommendation is the Itchiku Kubota Art Museum.
In 2009 it received 3 stars from the prestigious Michelin Green Guide Japan.
Inside the traditional Japanese-style museum building, you can take your time and admire the works of Itchiku Kubota, a textile artist who was instrumental in resurrecting traditional fabric dyeing techniques in Japan.
After observing the museum, go to the Japanese-style garden on the museum grounds. In the fall, when the leaves change color, you can get a close-up look at the autumn foliage as you go for a leisurely walk.
Chureito Pagoda - Enjoy Picture Postcard Japanese Scenery!
Picture courtesy of Fujiyoshida Tourism Promotion Service
One place that you need to visit is Chureito Pagoda, accessible from Lake Kawaguchiko.
You can reach this observation point by climbing to the top of the stone-paved stairway in Arakurayama Sengen Park. From here you can take a picture capturing Mt. Fuji, a cherry tree-lined path, and five-story pagoda, all in one shot.
The Arakurayama Sengen Park Cherry Blossom Festival is held during mid-April when the cherry blossoms are in full bloom, and the area becomes lively and crowded with visitors and photography buffs.
Access to Lake Kawaguchiko
By train: At Shinjuku Bus Terminal, board the Fuji Goko Line Bus, and get off at Kawaguchiko Station.
*Please be advised that it's not possible to use a Japan Rail Pass on the Otsuki-Kawaguchiko Fujikyuko Line or the highway bus. A separate fee will be required.
To get navigate around Lake Kawaguchiko, ride the Lake Kawaguchiko Sightseeing Bus or the Mount Fuji World Heritage Loop Bus at Kawaguchiko Station.
Lake Yamanakako
Mt. Fuji - Enjoy Cycling and a Leisurely Cruise
Photo by AC
Lake Yamanakako is the closest to Mt. Fuji out of the five lakes, and is a resort area with a refreshing, pleasant climate.
One activity that allows you to experience Lake Yamanakako's nature is a boat cruise with a stunning view of Mt. Fuji from the water.
You can enjoy the scenic views by hopping aboard the Yamanakako "Swan Lake" Sightseeing Boat or a waterbus called Yamanakako no Kaba.
Picture courtesy of Yamanashi Tourism Organization
Or, how about enjoying the lakeshore scenery on a bicycle? A route runs alongside the shore and a portion of it is a paved cycling road. The route takes about ninety minutes to complete and is suitable even for beginners.
There are a number of bicycle rental shops dotting the lake's shoreline.
Oshino Hakkai and Oshino Shinobi no Sato Ninja Village
Photo by AC
Another fun destination is the Oshino area. Oshino Hakkai is located on Lake Yamanakako's southwest side. The Oshino area has eight ponds, all originating from Mt. Fuji's spring water. There are walking trails to enjoy, and you can also sample soba and tofu made with this spring water at local shops.
For those visitors who would like to experience Japanese culture, head to Oshino Shinobi no Sato, a ninja theme park. Parkgoers can get a glimpse into the life of the mysterious ninja by trying on traditional ninja clothing, using a throwing star (shuriken), and enjoying powerful and acrobatic ninja performances.
Access to Lake Yamanakako
By highway bus: At the Shinjuku Bus Terminal hop on board a Shinjuku-Fuji Goko Line (headed for Yamanakako Asahigaoka). Traveling from Shinjuku Bus Terminal to Fujisan-Yamanakako takes about 2 hours and 30 minutes.
Fixed-Route bus: At either Kawaguchiko Station or Fujisan Station, board a tour bus (Fujikko Bus). Traveling from Fujisan Station to Fujisan-Yamanakako takes about 45 minutes.
Lake Saiko
Lake Saiko is one of the lakes among Fuji Goko that still has an abundance of nature remaining. The area is suitable for people who want to enjoy outdoor activities and relax.
Camping and Fishing for Kokanee Salmon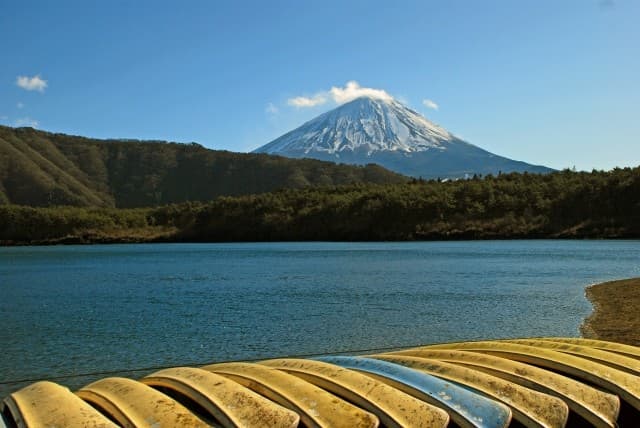 Photo by AC
There are a number of campgrounds in the local area that have stunning natural surroundings.
It's also possible to go fishing for Kokanee salmon in the lake. Accommodation facilities offer boat and fishing rod rentals, so you don't need to bring anything in order to enjoy yourself.
Explore the Caverns at Mt. Fuji's Base
Photo by AC
A large coniferous forest called Aokigahara Jukai lies between Lake Saiko and the foot of Mt. Fuji.
Inside the forest are several caverns made from lava, including Lake Saiko Bat Cave and Narusawa Ice Cave.
Ice pillars remain even in the summer inside Narusawa Ice Cave, so visitors can escape the heat during a visit.
Access to Lake Saiko
At Kawaguchiko Station, get on a Saiko Line Sightseeing Bus (green bus). Traveling from Kawaguchiko Station to Saiko Higashiguchi takes about 30 minutes.
Lake Shojiko
Freshwater Fishing
Picture courtesy of Yamanashi Tourism Organization
With an area of 0.5 square kilometers, Lake Shojiko is the smallest of Fuji Goko's five lakes.
The area also attracts many anglers hoping to catch freshwater fish. Crucian carp and black bass can be taken from spring until the autumn, and smelt becomes plentiful in winter.
Boat and fishing supply rentals are available at the nearby accommodations and at the cafeteria.
Enjoy Views of Kodaki Fuji and the Autumn Foliage
Mt. Fuji appears to tower over Mt. Omuro, a smaller mountain, from Lake Shojiko's north side. It resembles a mother holding an infant in her arms, giving the name Kodaki Fuji, which means "Fuji craddling a child".
On sunny days when there is no wind, you can also see Upside-down Kodaki Fuji, the inverted reflection of Mt. Omuro on the lake's surface.
Every year in October and November, you can enjoy the autumn foliage as the leaves turn brilliant red.
Access to Shojiko
At Kawaguchiko Station get on a Narusawa/Lake Shojiko/Lake Motosuko blue line sightseeing bus. Traveling from Kawaguchiko Station to Kodaki Fuji Viewpoint takes about 40 minutes.
Lake Motosuko
Fully Enjoy Marine Sports
Picture courtesy of Yamanashi Tourism Organization
Lake Motosuko is the deepest of Fuji Goko's five lakes and is famous for its clear water. Every year it attracts many outdoor enthusiasts.
Within the vicinity are campgrounds and other accommodations, and you can even savor wild game meat (gibier) at one of the restaurants.
On Lake Motosuko, there are guided tours for canoeing and stand-up paddleboarding (SUP). Visitors can easily join as well for a memorable day outdoors.
See the View of Mt. Fuji Featured on Japanese Currency
Photo by AC
Lake Motosuko is where you can admire the scene featured on the Japanese 1,000 yen bill.
You can reach the observation deck in thirty minutes by climbing up from the shoreline. On sunny days you can see Upside-down Fuji, Mt. Fuji's reflection on the lake's surface.
The Gorgeous Shiba-Sakura Festival
Photo by AC
The Fuji Shiba-Sakura Festival occurs from the middle of April until the end of May annually at the nearby Fuji Lake Motosuko Resort.
When the brilliantly colored Moss phlox (known as Shibazakura in Japanese) bloom, the ground transforms into an ethereal pink carpet (see photo above) for as far as the eye can see.
During the festival, visitors can enjoy an observation deck cafe, food stalls selling local dishes, an ashiyu foot bath, and other special activities and places.
The Shiba-sakura Liner (in service during the festival) is the most convenient form of transportation, taking passengers from Kawaguchiko Station directly to the festival grounds.
Access to Lake Motosuko
From Kawaguchiko Station, ride the Narusawa/Lake Shojiko/Lake Motosuko blue line sightseeing bus. Traveling from Kawaguchiko Station to Lake Motosuko takes about 50 minutes.
Getting Around the Fuji Five Lakes Area
When touring Fuji Goko, start from Fujikyuko Line's Kawaguchiko Station to navigate conveniently around the area.
From here you can board one of five types of Fujikyuko Buses, each offering a different route. At the station, get a discount ticket which allows for unlimited bus rides in the designated area (Japan Rail Passes are not valid).
Kawaguchiko Sightseeing Bus: runs about every 15 minutes
Saiko Sightseeing Bus: runs about every 30 minutes
Narusawa/Lake Shojiko/Lake Motosuko Sightseeing Bus: runs five times per day
Fujiyoshida/Oshino/Yamanakako Sightseeing Bus (Fujikko Bus): runs about once per hour
Mount Fuji World Heritage Loop Bus (Chureito Pagoda, Oshino Hakkai, etc.):runs five to six times per day
For visitors who'd like to travel at their own leisure and not worry about buses, consider renting a car.
Luggage Storage Information
People with large suitcases can use the Kawaguchiko Station coin lockers. Storage facilities are also available at accommodation facilities and bicycle rental shops.
Hotel Information
Below is a list of suggested accommodations in the Fuji Five Lakes area. There are several hotels and ryokan, campgrounds, and guesthouses not included in this list, as well.
Area
Hotel/Ryokan/Guesthouse
Campgrounds/Cottages
Lake Kawaguchiko
UBUYA, Mizno Hotel,
The KUKUNA Resort and Spa, Kagelow
Retreat Camp Mahoroba
Lake Yamanakako
Hotel Mount Fuji,
Fuji Marriott Hotel
PICA Yamanakako (Japanese), Forest Cottage (Japanese)
Lake Saiko
Lake Hotel Saiko (Japanese), Ma Maison (Japanese)
PICA Fuji Saiko (Japanese), Camp Village Gnome (Japanese)
Lake Shojiko
Yamadaya Hotel (Japanese), Lake Shojiko Mount Hotel
Shojiko Camping Village (Japanese)
Lake Motosuko
Motosu View Hotel, Villa Motosu
Motosuko Campground (Japanese), Kouan Campground
In this article we introduced the attractive features of Fuji Five Lakes, where you can experience Japanese culture at the foot of Mt. Fuji and its surrounding abundant nature and beautiful scenery. Enjoy a trip to this gorgeous, iconic area for yourself.

Main image by Pixta

The information presented in this article is based on the time it was written. Note that there may be changes in the merchandise, services, and prices that have occurred after this article was published. Please contact the facility or facilities in this article directly before visiting.