12 Things To Do And See In Yamanashi - Mt. Fuji, Lakes, And Gourmet Dining
Yamanashi Prefecture, located west of Tokyo, is home to Mt. Fuji, Lake Kawaguchiko, and many other fun spots. Lake Kawaguchiko is accessible by train or bus in 2 hours from Shinjuku Station. We'll introduce sightseeing spots and activities to enjoy travel in this prefecture in the Chubu region.
Yamanashi - An Enjoyable Day Trip from Tokyo
Sitting to the west of Tokyo, Yamanashi Prefecture has many tourist spots worth visiting—most notably, Mt. Fuji and Lake Kawaguchiko. There are also other highlights, including hot springs offering scenic vistas and locally brewed sake.
It's easy to access Lake Kawaguchiko and Kofu by both train and highway bus from Shinjuku Station. Via the JR Chuo Line Limited Express train, it's about two hours from Shinjuku to Lake Kawaguchiko (headed for Lake Kawaguchi), and about 90 minutes from Shinjuku to Kofu (headed for Matsumoto).
In today's article, we've compiled a list of fun things to see and do in Yamanashi Prefecture.
1. Get Scenic Views of Mt. Fuji
Firstly, let's admire the breathtaking view of Mt. Fuji. It's Japan's tallest mountain, boasting an elevation of 3,776 meters, and became a registered UNESCO World Heritage site in 2014.
Every year, it attracts hundreds of thousands of climbers who have aspirations of reaching the mountain's summit.
In addition to its height, another attractive feature of Mt. Fuji is its beautiful symmetry in which both sides gently slope down to the mountain's base.
Historically, it has been depicted in many works of art, including paintings and woodblock prints.
The local area has numerous Mt. Fuji viewing spots, including Lake Kawaguchiko, Lake Yamanakako, and the five-storied Chureito Pagoda.
2. Climb Mt. Fuji via the Yoshida Trail
Picture from Mount Fuji - How To Climb Japan's Famous Mountain Safely
Mt. Fuji has many climbing trails on both its Yamanashi and Shizuoka prefecture sides. But the most popular trail by far is the Yoshida Trail, which originates from Yamanashi's Fujiyoshida City.
Mt. Fuji is open for climbing from early July to early August. You can reach the 5th Station by bus or car and then begin making your ascent to the summit.
The most standard itinerary is a one-night, two-day return trip that includes staying at a mountain hut along the way. The early sunrise (goraiko) seen from the summit is truly dazzling.
3. Chureito Pagoda: Picture-PerfectJapanese Scenery
Picture courtesy of Tourism Fujiyoshida
A spot boasting the best view of Mt. Fuji, Chureito Pagoda has received a lot of attention from international visitors in recent years. This impressive structure is located in Arakurayama Sengen Park, not far from Shimoyoshida Station (Fujikyuko Line).
From here, you can take a photo that captures Mt. Fuji against a path lined with cherry trees and a five-storied pagoda all in one shot.
In April when the cherry blossoms are in full bloom, the Arakurayama Sengen Park Cherry Blossom Festival is held. At this event, visitors can enjoy food stalls selling local cuisine and other fun activities. Information in various languages is available at the festival.

4. Fuji-Q Highland - Attractions That'll Make You Scream!
Picture courtesy of Fuji-Q Highland
Fuji-Q Highland is an amusement park situated near Lake Kawaguchiko. It's known for having a wide variety of thrilling, scream-inducing rides.
Particularly popular are four large coaster rides that offer unlimited excitement and fun.
For example, FUJIYAMA allows you to see Mt. Fuji and DODODONPA reaches up to speeds of 180 kilometers per hour. Takabisha features a terrifying steep drop of 121 degrees, and Eejanaika is a coaster where passenger seats rotate during the ride.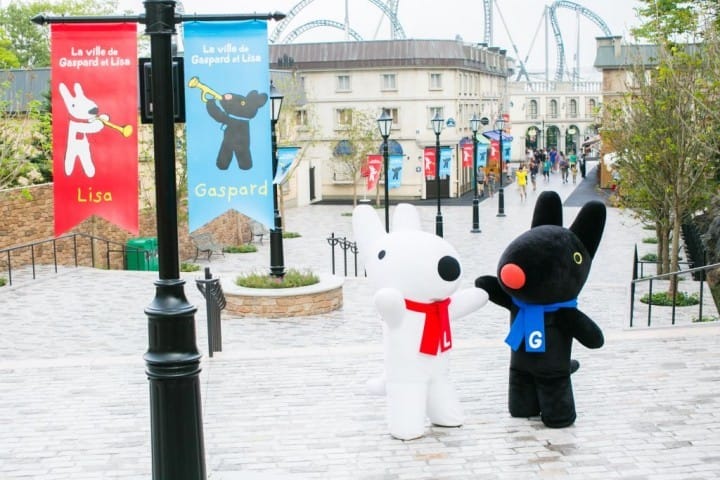 Picture courtesy of Fuji-Q Highland
In addition to these scream-inducing rides, there's also a gigantic maze called Desperation Fortress (Zetsubo Yosai). Don't worry! There are plenty of other attractions from Thomas Land to Lisa and Gaspard Town for families to enjoy an entire day here.
5. Lake Kawaguchiko - Take in Scenic Sites
Picture courtesy of Yamanashi Tourism Organization
Lake Kawaguchiko, situated at the foot of Mt. Fuji, is one of the lakes belonging to Fujigoko (the Fuji Five Lakes located near Mt. Fuji). It's a spot boasting beautiful nature and breathtaking views of Mt. Fuji, an art museum, a hotel, and restaurants.
How about taking a photo of Mt. Fuji and Lake Kawaguchiko from one of the many scenic spots? Oishi Park, for example, has a field blanketed with lavender flowers between late June to late July annually. Another great photography spot is at the summit of Mt. Tenjo, which is accessible from the Mt. Fuji Panoramic Ropeway.
You can also enjoy seasonal events such as the Herb Festival and the Autumn Leaves Momiji Festival.
Itchiku Kubota Art Museum - A Suggested Visit Near Lake Kawaguchiko
Picture courtesy of Itchiku Kubota Art Museum
There are several art museums in Lake Kawaguchiko's vicinity. However, our recommendation is the Itchiku Kubota Art Museum, which received three stars from the prestigious "Michelin Green Guide Japan" in 2009.
This impressive, Japanese-style building houses the collection of Itchiku Kubota, a textile artist who was instrumental in resurrecting fabric dying techniques.
The museum also features a Japanese-style garden where the color of the changing leaves is a charming sight in autumn.
6. Go on a Tour of Fujigoko
Including Lake Kawaguchiko, the Fuji Five Lake region (Fujigoko) contains Lake Yamanakako, Lake Saiko, Lake Motosuko, and Lake Shojiko.
The closest lake to Mt. Fuji is Lake Yamanakako. Depending on the season and time of day, visitors can see the sunrise or sunset directly above Mt. Fuji's summit: a sight known as Diamond Fuji(see photo above).
There are also many leisure spots such as Yamanakako Hananomiyako Koen (a flower garden), cafes, and hot springs, to name a few.
At Lake Saiko, Lake Motosuko, and Lake Shojiko, travelers can do outdoor activities such as rainbow trout fishing, canoeing, and camping.
The montage of the beautiful lake and mountain's green foliage will fill you with the presence of Mother Nature.
7. Visit Wineries and a Whiskey Distillery
Yamanashi is known as a leading wine production area in Japan. Grapes and peaches are grown extensively in Koshu City, and there are many wineries in the Fuefuki City area. As you pass through this region on the JR Chuo Line, you can see the vineyards spreading out before your eyes.
At Château Mercian in Koshu City's Katsunuma area, you can join a winery tour (reservations required). The tour includes wine tasting while enjoying a meal on a terrace with a vineyard view.
In addition to wine, Yamanashi Prefecture also produces whiskey. At Suntory Hakushu Distillery, in Hokuto City in northern Yamanashi, visitors can go on a factory tour to see how high-quality whiskey and other spirits' production. You can also shop for rare beverages here.
Picture courtesy of Yamanashi Tourism Organization
Renowned for its water and rice, the prefecture's sake production also flourishes.
There are many well-known sake brands including Shichiken, which is produced by Yamanashi Meijo in Hokuto City and Sasaichi (Japanese) by Sasaichi Sake Brewery in Otsuki City. These also make ideal souvenirs.
8. Go for a Stroll Near Oshino Hakkai
Photo by Pixta
At Oshino Hakkai, near Lake Yamanakako in Oshino-mura, visitors can get a close-up look of the pure water from Mt. Fuji.
Picture courtesy of Yamanashi Tourism Organization
Enjoy going for a walk in and around eight different ponds that originated from Mt. Fuji's riverbed. You will notice water gushing out from the bottom of the transparent bodies of water.
There is a row of souvenir shops near the ponds. If you wander a short distance, you'll find restaurants where you can sample soba (buckwheat noodles) and tofu made with fresh, local water.
9. Shinsekai Kanpai Street - Entertaining Nightspots at Mt. Fuji's Base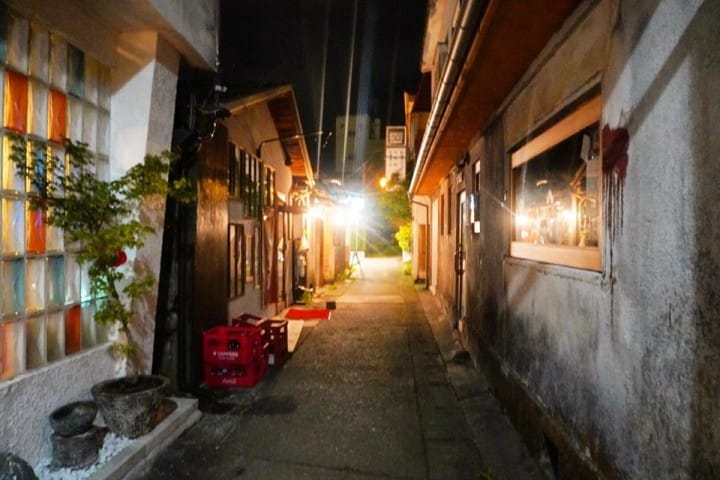 Picture courtesy of LLC Shinsekai Kanpai Street
Although the Mt. Fuji area has a limited nightlife, you can always head to Fujiyoshida City's Nishiura district. The area has retained traces of the time it flourished as an entertainment district. Even today, bars and izakayas dot the retro-style street.
Be sure to stop into Shinsekai Kanpai Street, a back alley in the area where empty buildings have been renovated into shops.
There are one-of-a-kind eating and drinking establishments on this street. Some eateries include an old-fashioned yakitori (grilled chicken) shop, an Italian restaurant serving Yamanashi wine, and a ramen shop that's perfect for ending a fun-filled day. Here we recommend a night of bar-hopping.
10. Take a Dip in a Scenic Hot Spring
Hottarakashi Onsen. Photo by Pixta
Take a relaxing soak in a hot spring when your body is tired from a long day of sightseeing.
There are many famous onsens (hot springs) in the local area, including Isawa Hot Spring Resort in Fuefuki City and Hottarakashi Onsen in Yamanashi City.
With a rotenburo (open-air bath) offering a panoramic view of the Kofu Basin, Hottarakashi Onsen is known as a day-trip onsen and visited by many people.
There are also day-trip onsen facilities in the Mt. Fuji and Lake Kawaguchiko area. Notable among them is Fuji Yurari Hot Spring, located right next to Michi-no-Eki (Roadside Station) Narusawa in the village Narusawa. You can get an impressive view of Mt. Fuji from the outdoor bath.
11. Sample a Hearty Prefectural Dish Called "Hoto"
Picture courtesy of Yamanashi Tourism Organization
Hoto is a Yamanashi delicacy you'll surely want to try. This tasty noodle dish is made by slowly simmering thick wheat noodles, kabocha squash, green onions, and other vegetables in a broth flavored with miso. It's very filling and makes the perfect lunch.
Some popular restaurants serving hoto are Kofu Hoto Kosaku, which has shops in many locations including Lake Kawaguchiko, Kofu, and Isawa Onsen. Another is Hoto Fudo, an eatery with multiple locations in the Lake Kawaguchiko area.
Yoshida no Udon. Photo by Pixta
There are many other gourmet dishes unique to Yamanashi Prefecture.
For example, Yoshida no udon, a popular noodle dish in the Fujiyoshida area, has a chewy texture and toppings that include cabbage and baniku (raw horse meat). There's also Torimotsuni, a local specialty made with liver and other chicken innards simmered in sweet-and-spicy soy sauce. For sweets, shingen mochi is a confectionery topped with kinako (roasted soybean powder) and kuromitsu (Japanese black sugar syrup).
12. Sample an Unexpected Delicacy with Local Sushi
Yoshida no Udon. Photo by Pixta
Despite being an inland area away from the ocean, Yamanashi Prefecture surprisingly has the largest number of sushi shops per capita in Japan.
Two possible theories offer an explanation. During the Edo Period, refrigeration methods were unavailable, which made this a region where only fresh fish was consumed. Another speculation is how fresh fish—highly prized and often served at celebratory events—became endearing to Yamanashi citizens.
For these possible reasons, the sushi shops here are considered to be of exceptionally high quality. Three well-known restaurants are Wakazushi, which has two locations in Kofu City; Sushi Ryori Hanada, located at the Isawa Hot Spring Resort; and Sushi Hana, offering stunning views of Mt. Fuji.
Visit Yamanashi
Yamanashi Prefecture has must-see spots from Mt. Fuji and Lake Kawaguchiko, and delicious local food and drinks like Koshu wine and hoto.

Spend time in this unique region and allow yourself to be charmed by all the region offers!

Main image by Pixta

The information presented in this article is based on the time it was written. Note that there may be changes in the merchandise, services, and prices that have occurred after this article was published. Please contact the facility or facilities in this article directly before visiting.