Fuefuki: Exquisite Wine, Fruit, And Hot Springs Near Mt. Fuji
Fuefuki, a city in Yamanashi, is near Tokyo and Mt. Fuji. Famous for peaches and grapes, this beautiful city is sought by visitors for its relaxing hot springs. This article covers exciting activities and places to visit in Fuefuki, from wine tasting and fruit picking to local cooking classes.
Discover the Fabulous Wine, Peaches, and Hot Springs of Fuefuki
Yamanashi is a popular weekend getaway for those who live in the Tokyo area because it's close to both the capital and Mt. Fuji. Fuefuki is a city in Yamanashi famous for its production of peaches and grapes, as well as its excellent wine. Fuefuki is also known for its onsen (hot springs), which attract many visitors during colder months.
We'd like to introduce the tranquil Fuefuki area, what to enjoy there when visiting, and where to stay!
Getting to Fuefuki from Tokyo by Train
For those staying in Tokyo, Fuefuki is easy to reach by train. The Limited Express Kaiji and the Limited Express Azusa go directly from Shinjuku to Isawaonsen Station in Fuefuki. The trip takes about an hour and a half, and costs 3,890 yen one-way.
Once you arrive, we reccomend that you rent a bicycle at the Isawa Onsen Tourist Information Center. There are buses that will take you around Fuefuki, but they are somewhat limited.
You can start sampling some of Fuefuki's famous wine right at the information center!
1. MARUSA MARUCHE - Juicy Peaches, Grapes, and Local Dishes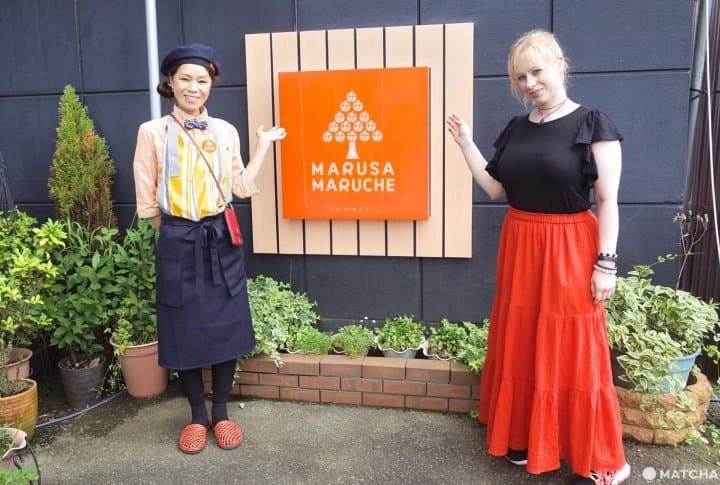 In Japan, Fuefuki is known as Peach City. Japanese peaches are very big and juicy, and some of the most delicious in the world. Most of Japan's peaches come from Fuefuki. Peach season lasts from June until October.
MARUSA MARUCHE is one of the most popular places to find fresh peaches. Their orchard and facilities host many fun activities!
One of the activities is fruit picking. We were surprised to learn that peaches are not actually the kind of fruit you pick and eat right away; they should be firm when picked, and ripen to a softer texture over a couple of days.
Freshly picked peaches can be used to make preserves and compotes. At MARUSA MARUCHE, you can make your own peach preserve or compote with the fruit you pick!
If you're looking for a unique souvenir, you can make your own chopsticks from peach tree wood. The chopsticks are precut, but you shape and smooth them yourself.
MARUSA MARUCHE also owns a grape orchard, so you can try two of Japan's famous fruits at the same time––plain, or as delicious desserts. Grapes are in season from August to October.
MARUSA MARUCHE is popular with locals and visitors alike for their delicious and unique homemade food. During the fruit season, they offer special treats featuring peaches and grapes, like the peach pizza shown above.
Pictures courtesy of Fuefuki Tourism Organization
They also serve raho, a soup made with of Yamanashi's signature hoto noodles. MARUSA MARCHE's version has a miso base, and is topped with plenty of fresh local vegetables.
Raho is only available in Yamanashi, and every restaurant puts their own unique twist on the dish.
2. Lumiere - Sip on the Amazing Wine of Yamanashi
Pictures courtesy of Lumiere
Yamanashi boasts a long history of winemaking, and is one of the main suppliers of wine in Japan. Many Japanese wineries here have their vineyards in this area.
Lumiere is one of the most famous wineries is Fuefuki. It's family owned, and has been in operation for more than 130 years! The winery offers tours, including an introduction to the history of winemaking in Japan.
Lumiere's stone fermentation tank is a designated cultural asset. ISHIGURA, a red wine made with Muscat Bailey A grapes, is the only wine fermented in this stone tank. ISHIGURA is a dry wine with a suprisingly light flavor, and is easy to enjoy in any season.
The winery offers a wide variety of wines, and some can be sampled in their shop.
Koshu, Yamanashi's most famous wine, is made from a white grape variety grown primarily in Yamanashi's Koshu Valley. Even though the grapes' skin is pinkish in color, the wine made with them is white. This wine is light, with a nicely balanced sweetness.
A rather unique creation at Lumiere is the nigori wine. Nigori usually refers to unfiltered Japanese sake. This wine has the same creamy color and smooth mouthfeel as its namesake.
All of the wines are available in the Lumiere online shop, and can be shipped anywhere in Japan. Once you've tried them in-person, you'll want your future wine nights to include these spectacular varieties!
3. Edoya - Make Hoto, the Local Noodle Speciality
Hoto is another local specialty of Yamanashi. It's a kind of broadly cut noodle, similar to udon, often served in a miso-based soup.
Edoya offers a two-hour hoto class to introduce you to this local specialty and the fun of making it yourself. The class is led by a mother and daughter, and the lesson is enjoyable at any age. The class includes history, a cooking lesson, and dancing!
The vegetables used in hoto differ depending on the season, but the dish is always overflowing with the fresh vegetables that are plentiful in Yamanashi. After making your own hoto noodles, you can try some for yourself, and take two portions of noodles home.
If you want to try making hoto at home, Edoya's shop sells hoto flour, as well as the flavorful local miso.
Edoya is also famous for its handmade sesame tofu. This specialty has a rich, vivid sesame taste and can be bought in gift packages at their shop. The sesame tofu can also be ordered online.
4. Kikyoya Honsha - Visit the Shingen Mochi Factory
Shingen mochi is a very famous souvenir from Yamanashi. It consists of soft rice cakes covered in roasted soybean powder, and dipped in black sugar syrup. Kikyoya is the main producer of the souvenir-style shingen mochi, and their factory is located in Fuefuki.
They offer factory tours as well as an all-you-can-stuff shingen mochi experience for 220 yen. The bag comfortably holds at least 10 shingen mochi, but stuffing masters can fit up to 22 pieces. It is a fun activity for family and friends and it gives you the opportunity to get the delicious mochi at a bargain price.
The factory also has a shop and an outlet corner. These sell items produced by Kikyoya, as well as treats from local shops and farmers. The Yamanashi limited Shingen Mochi KitKat is just one of the many shingen mochi flavored delights you can purchase here.
5. The Shakado Museum of Jomon Culture - Travel back to Ancient Japan
Tucked away behind a rest stop is the Shakado Museum of Jomon Culture. Fuefuki  hosts the largest number of Jomon sites in Japan. Jomon is an ancient culture that existed roughly 10,000 years ago.
The museum offers an electronic guide with various language choices, including English.
The people of the Jomon era made most of their daily items from clay. The most impressive items found in this area are a large variety of clay puppets depicting deities. They range from simple to very intricate. It is believed that they are dedicated to a male and pregnant female deity. The mortality rate of children during those times was very high, so it is believed that the pregnant female idol was used to pray for the wellbeing of mothers and children.
The Shakado Museum of Jomon Culture offers workshops where you can make your own clay doll head. The base shape is always the same, but after that, you can be as creative as you like.
6.Daizokyoji Temple - Connect with Art and Nature
Daizokyoji Temple is a secret gem for lovers of art and Japanese gardens. This temple is home to a stunning Japanese garden with a flawless, picturesque beauty.
Daizokyoji also boasts one of the largest religious art collections in Japan. The rooms of the temple are filled with breathtaking paintings depicting scenes of religious importance including Kannon Boddhisatva (the goddess of mercy), and powerful dragons. These pieces have been collected or received as gifts by Daizokyoji from across Asia.
7. Kikori Ryokan - Stay the Night to Savor Local Food and Natural Hot Springs
Fuefuki is famous not only for its fruit, but also for its natural hot springs. If you want to stay overnight, we reccomend the Isawa Onsen area.
One of the best places to spend the night is Kikori Ryokan. It is located just 7 minutes from Isawaonsen Station by free shuttle bus.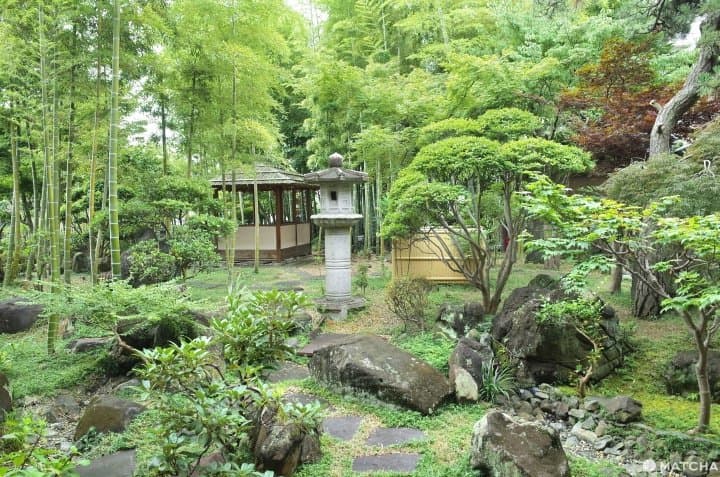 Kikori is completely furnished with natural wood and offers rooms with tatami flooring and a view of their stunning garden.
Indoor and open-air hot-spring baths are available. Some rooms even include a private hot spring bath!
At Kikori Ryokan, you can savor traditional kaiseki (small dish) cuisine for breakfast and dinner. All the dishes are very appetizing, and are served on decorative plates that reflect the colors of the season.
Kikori Ryokan is the perfect place to relax and take in the beauty of Fuefuki.
Fuefuki - Tasty Treats and Stunning Nature near Mt. Fuji
There are many other fascinating places to visit throughout Fuefuki. If you're interested in historical architecture, Ashigawacho, in northern Fuefuki, is the place to go. This area is home to a traditional thatched-roof house that is over 100 years old!
If you'd like to take the less traveled path and experience Japan's local fruit and vegetables, Fuefuki is a great travel destination. The citizens are friendly and relaxed, and, if visibility is high, there are several spots in the area from which to see Mt. Fuji.
Time will fly by as you enjoy fresh peaches with a glass of local wine in the quiet town of Fuefuki.
In cooperation with Fuefuki Tourism Organization
The information presented in this article is based on the time it was written. Note that there may be changes in the merchandise, services, and prices that have occurred after this article was published. Please contact the facility or facilities in this article directly before visiting.