Mt. Fuji-Gazing And Forest Bathing At The One-And-Only HOSHINOYA Fuji
Surely many visitors to Japan dream of a chance to gaze at Mt. Fuji. They can have that superb opportunity from the comfort of their room at HOSHINOYA Fuji! They can also experience glamping and relax surrounded by the wondrous nature of Mt. Fuji.
HOSHINOYA Fuji in the city of Fujikawaguchiko in Yamanashi prefecture is a proud pioneer among the glamping resorts (*1) in Japan. Still, what this hotel has to offer is more than just glamping. Actually, it also provides a spectacular opportunity to gaze at Japan's highest mountain, Mt. Fuji, from your hotel window.
In today's article, we will introduce the superb HOSHINOYA Fuji, a resort-hotel that will prove to be a heaven-like place for anyone who cares about the beautiful nature of Japan.
*1 Glamping: a word combining "glamorous" and "camping"; camping in nature while enjoying the comforts of various facilities or equipment.
HOSHINOYA Fuji Official Website
5 Reasons to Stay at HOSHINOYA Fuji
1. A Warm and Caring Welcome to Soothe Your Heart
This photograph shows the first facility the customers visit upon arriving at the resort. The lovely ambiance owes some of it fascinating charm to the spectacular panorama of Mt. Fuji, and there you can finish up your check-in procedure and prepare for the glamping experience.
Hanging on the wall are various backpacks and shoulder bags, making it a lovely, colorful sight.
Actually, these bags are part of the equipment the customers are provided with at HOSHINOYA Fuji. You can choose your preferred design and use it to your liking during your stay at the resort.
Packed inside the bag you will find a water bottle and insect repellent, a headlamp, binoculars, a cushion, and other things that might prove useful during outdoor activities, as well as a pack of biscotti for a quick snack. On the map of the resort, which you'll also find in your bag for your convenience, you can look up information on the walking routes and activities at the facility.
Once you get your bag on the shoulder and hit the road, you can take on many amusing activities such as bird-watching, or you can simply take your cushion out and lay it wherever you find pleasing for a nice break from hiking, all while absorbing the healing atmosphere of nature.
For customers who don't speak Japanese, the reception staff will gladly offer their services in English, as well. There are also pamphlets in English at your disposal at the resort, so that any potential concerns can quickly be dealt with, and you can enjoy your stay at the hotel to the fullest.
2. Cozy Cabins for the Ultimate Mt. Fuji Viewing Experience
Here are the cabin-like lodging facilities of HOSHINOYA Fuji. In order to provide their customers with the ideal view of Mt. Fuji, they've adjusted their cabins quite a bit. Not only have they made one of the walls into a gigantic window for an undisturbed panorama of the area, they've also put a lot of thought into the positioning each cabin, changing the way they're positioned slightly to get the perfect view of their surroundings.
During our visit in November, when we inquired for an interview, we could see kotatsu tables, an indispensable piece of furniture for cold winter days, set on the balcony. It is, of course, the observant and sensible mindset of HOSHINOYA Fuji, to let their customers admire one of the most beautiful landscapes of Japan, Mt. Fuji, all while staying warm and cozy under the kotatsu blanket.
Needless to say, Mt. Fuji is a breathtaking view to enjoy from your cabin, as well. We are only sorry that this photo isn't able to truly do justice to the overwhelming presence and atmosphere of the view.
Guests are welcomed with various amenities that will make their stay as enjoyable as possible, such as a lavender soap, herb salt, a private coffee blend, and other products made from local specialties. Also, if, by chance, you happened to visit this resort not quite dressed for the elements, they've got you covered – you'll find a long down jacket and a pair of high boots in your room, waiting for you to take them on a walk around the resort.
For further information on the cabins, check out the official website of HOSHINOYA Fuji.
3. Appreciate Nature and Delicious Dishes Prepared with Local Ingredients
Photo courtesy of HOSHINOYA Fuji
There are numerous types of dishes you can relish at HOSHINOYA Fuji, and each is designed to compliment the camping atmosphere.
The one we chose was the Dutch Oven Dinner, meant to be enjoyed at the terrace in the forest.
By choosing the Dutch Oven Dinner, you will get the chance to ravel in the finest game food such as wild boar meat or venison, with more than 10 different types of mushrooms on the side, and various other unique and delicious blessings the nature has to offer each season.
One of the most exciting-to-be events for the evening might even be the cooking – although the resort's chef is in charge of the preparing the ingredients, guests get the chance to prove themselves as culinary masters. But there is no room for stress or insecurity – the chef will kindly and thoroughly explain the preparation process so that all that is left to do is to get your apron on and enjoy some cooking time.
The apron-wearing and cooking parts truly make the whole experience camping-like. The meal is meant to be savored under the blue sky, but there is no need to worry about the cold weather at all – there are electric blankets and heater packs at your disposal to defend you from the chilly air. Preparing the food under the wide, starred sky, while enjoying the sound of the night breeze, is an unforgettable sensation for sure.
As for the beverages you can savor alongside your delicious meals, there are alcoholic and non-alcoholic ones for everyone to enjoy. The beverages available are a hand-picked collection of the best local products, so there is no doubt that everyone will find something to their liking.
The breakfast of our choice, the Morning BOX, was delivered to us in our room so that we wouldn't miss an opportunity to gaze upon marvelous Mt. Fuji while our taste buds get a lovely treat.
The box is, of course, full of delicious surprises – a kefir yogurt, Spanish omelet with seasonal vegetables inside, sausages, salad, soup, and bread baked in the Dutch oven. If you have ever wondered how it would feel to have a picnic from the early morning, we suggest you pick this breakfast, as it really makes the mood exciting both taste and choice-wise.
If you want to know more information about your meal options, visit HOSHINOYA Fuji's official website.
4. Delight in Music in front of a Bonfire on the Open-Air Terrace
If you climb the stairs near your cabin, you'll arrive at a wonderful platform-like facility built to bring your glamping experience to a whole new level of enjoyment – the Cloud Terrace.
We recommend visiting this unique terrace in the evening, for then not only can you have great time absorbing the natural settings all around you, but you can do it while giving your palate a treat, thanks to an assortment of sweets and aperitifs. Roasting marshmallows on a bonfire is an old-but-never-out-of-style camping activity, and you can have this wonderful experience here at this resort.
If you're more of a night person, you'll be pleased to hear that there are concerts held here as well. It is a wonderful chance to watch a concert while sitting near a bonfire, and something you don't get to experience every day.
For those who crave a higher level of wildlife-style camping experience, there are special workshops such as making smoked dishes. With the help of the glamping master, you can make smoked venison sausages, smoked rainbow trout, and experiment with many other ingredients to level up your culinary skills.
Perhaps the most extraordinary characteristic of this food-smoking event is the wood chip used to prepare the food – unbelievable as it sounds, for the wood chip, you'll be using dismantled barrels that were once used to store a famous Japanese brand of whiskey, Suntory's Hakushu. The mild whiskey aroma adds to the original flavor of the meat, so the smoked meat has a flavor that you can't find anywhere else, and won't soon forget.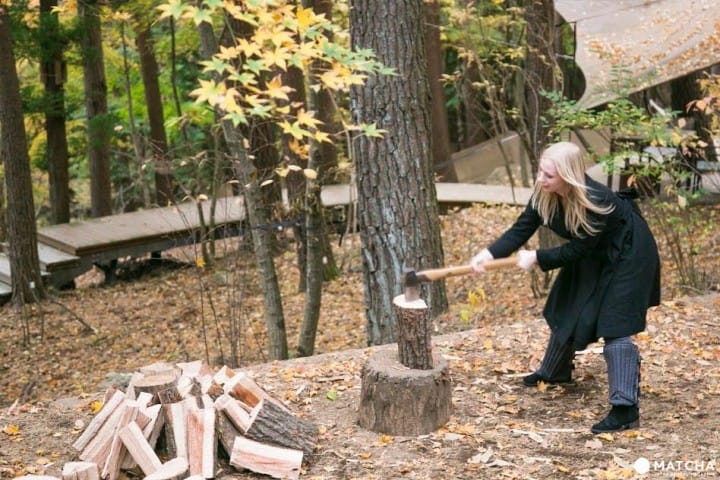 Another quite thrilling activity you can partake in is wood-chopping in the forest. The glamping master will reveal all the know-how so you'll be able to awe your friends and family in no time, all while having great fun re-discovering your survival skills!
5. Fall in Love with the Outdoor Life with the Help of Special Facilities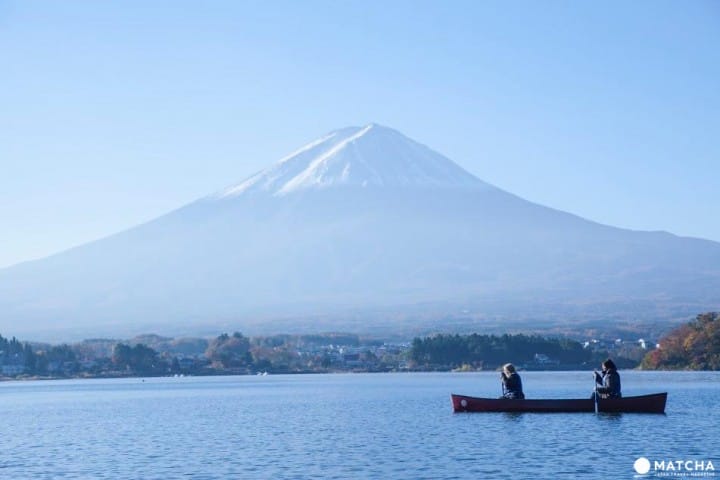 Other than the previously mentioned experiences, there are numerous other outdoor activities you can take part in, arranged by HOSHINOYA Fuji but held outside of the hotel grounds – which include woodland tours, trekking, horse-riding, and more.
The activity that stole the visitors' hearts the most is Early Morning Canoeing at Lake Kawaguchi. If you haven't had the chance to ride in a canoe before, there is no need to panic – the instructor will explain everything and show you how the whole activity is supposed to look. The explanation is in Japanese but the participants are free to ask questions in English, as well. HOSHINOYA Fuji's staff will make sure you get the best out of this exquisite experience.
Of course, the greatest feature of this activity is the superb opportunity to marvel at Mt. Fuji from up close. Choose the canoeing activity and grab this once-in-a-lifetime opportunity to witness the grandiose Mt. Fuji, not from the ground, but while floating on the water surface.
To learn more about these and other outdoor activities, visit the official website of HOSHINOYA Fuji.
Create Beautiful and Long-Lasting Memories at the Foot of Mt. Fuji!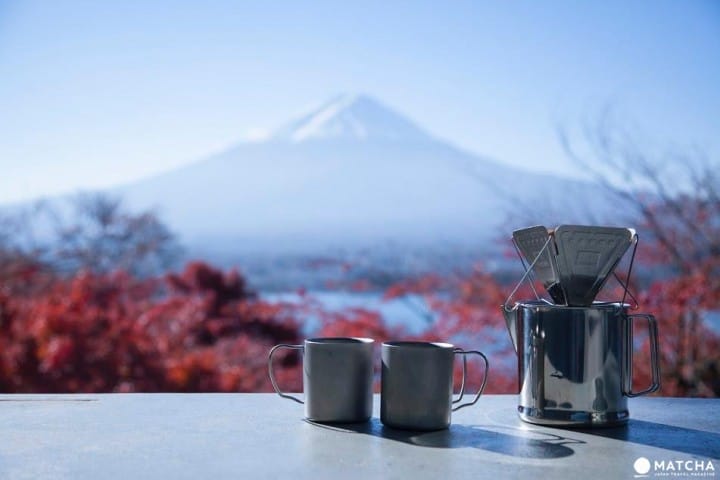 Spending time at HOSHINOYA Fuji is bound to leave you with unforgettable memories and excitement for days to come. And the most amazing part is that this experience certainly isn't of a one-time variety.
The main reason for this is that the beauty of the foot of Mt. Fuji lies in its ever-changing seasonal views. In spring, one can admire Mt. Fuji enrobed with an enchanting cloak of cherry blossoms, while in autumn the autumn foliage makes Mt. Fuji lively and yet serene with color, and in winter, the snow gives this glorious mountain a white mantle to charm its viewers with - each time you visit, there will be different spectacles and activities that you can pass the days doing at this resort.
Now all that is left to do is to plan out your unforgettable trip to HOSHINOYA Fuji.
HOSHINOYA Fuji Official Website: https://hoshinoya.com/fuji/en/
HOSHINOYA Fuji Lodging Reservation Website
Sponsored by Hoshino Resorts
Hoshino Resorts operates hotels and ryokan (Japanese inns) in more than 40 locations. Their facilities are ideal for travelers who wish to fully enjoy the charms of Japan.
Each facility has English speaking staff who make sure that visitors from all around the world experience the full breadth of Japanese hospitality without inconveniences.
The Hoshino Resorts brands include HOSHINOYA, KAI, RISONARE, OMO, and BEB.
The information presented in this article is based on the time it was written. Note that there may be changes in the merchandise, services, and prices that have occurred after this article was published. Please contact the facility or facilities in this article directly before visiting.