Living As One Of The Islanders In Okinawa At HOSHINOYA Taketomi Island
HOSHINOYA Taketomi Island is a village resort located on Taketomi, an island in Okinawa. Taketomi is a small place with a population of just about 350. It is a quiet, inspiring getaway where traditions and nature are valued.
Does the summer vacation of your dreams include relaxing in tranquility on a beautiful beach with a clear blue sea? Your dream will turn to reality if you stay for a few days at HOSHINOYA Taketomi Island.
HOSHINOYA Taketomi Island is located on Taketomi, one of the Yaeyama Islands in Okinawa.
Taketomi is a quiet place with only about 350 people living on the island itself and it is the perfect getaway if you dream of peace and tranquility.
HOSHINOYA Taketomi Island Official Website
Traveling to HOSHINOYA Taketomi Island
Picture courtesy of Hoshino Resorts
In order to travel to Taketomi Island, take the plane to Ishigaki and you'll travel by ferry from there. From Ishigaki, it only takes 10 minutes by ferry to reach the quiet little island. A shuttle bus departs from Taketomi Port to HOSHINOYA Taketomi Island every 30 minutes.
Enjoy a cup of herbal tea and yokan while you complete your check-in procedures. The yokan is wrapped in a shell ginger (getto) leaf, which is used in the tea as well. In addition to its relaxing smell and taste, it is said to have health benefits.
For further details on how to get to HOSHINOYA Taketomi Island, please refer to their official website.
HOSHINOYA Taketomi Island - The Fourth Village
Picture courtesy of Hoshino Resorts
HOSHINOYA Taketomi Island is considered one of the villages of the island and it is built with this concept in mind. Nonetheless, the guests can taste the life of the islanders without missing the comfort of a luxurious hotel. It is also called "the fourth village of Taketomi Island" as it was built with the other three villages of the island in mind.
The visitors will stay in their own villa, which is designed with a high red tile roof and wooden interior, just like the other houses on the island. HOSHINOYA takes great pride in becoming part of the surroundings where they are located rather than altering those surroundings. If you don't know that this is a resort, you might just think it is one of the villages.
Picture courtesy of Hoshino Resorts
The large windows let the Okinawan summer breeze inside your room. Relax in your own private garden and enjoy the sunshine or count the stars at night.
To take a look at all the features of the villas at HOSHINOYA Taketomi Island, please visit their official website.
Entertainment and Relaxation - Discover the Traditions of Taketomi
HOSHINOYA Taketomi Island gives the guests the opportunity to discover the rich culture of the island through their wide variety of activities and workshops.
Mix Your Own Herbal Tea and Relax with Okinawan Music
Visit the lounge at any time of the day to enjoy a relaxing break. Guests are welcome to mix their own tea using the many tea varieties available in the lounge.
After checking the pamphlet that explains the ingredients, make your favorite tea combination. The getto (shell ginger) mentioned before is one of the options and highly recommended by the staff.
You can also listen to a sanshin (Okinawan Traditional three-stringed instrument) performance every afternoon. The performer will tell you the stories and the meanings of each song and even teach you how to sing part of them. You'll already feel like one of the islanders by now.
Learn Local Crafts
In the mornings, you can join a crafting lesson which uses plants gathered on the island to make small objects. The staff might even show you how the different materials are made and what plants stand at their origin.
You can also learn how to weave your own minsa, a traditional piece of cloth made from cotton.
The pattern has a deep meaning as it was traditionally given to men as a positive answer to their proposal. The combination of four and five squares imply eternal love. The patterns that resemble the legs of a centipede tell your loved one to come back to you again.
For more information on the workshops offered by HOSHINOYA Taketomi Island, please take a look at their official website.
Food - Savor Okinawa's Original Island Cuisine
There are many different ingredients that are unique to Okinawa and HOSHINOYA captures their essence perfectly in each dish.
Breakfast - Start Your Day with Local Cuisine
Picture courtesy of Hoshino Resorts
One of the Japanese style breakfast choices consists of the multilayered casserole known as usanmi which is specific to Okinawa. It contains bite-size local delicacies and is great if you want to sample many different Okinawan flavors.
Alternatively, you can choose a meal that includes Japanese rice porridge (okayu) with Okinawan yushi dofu (unsolidified tofu). Yushi dofu is a type of tofu unique to Okinawa. It is rich, soft and has a strong flavor.
The Japanese rice porridge is served with typical Okinawan vegetables such as sea grapes and goya (bitter melon) as well as seafood.
Dinner - Okinawa Nouvelle Cuisine
Picture courtesy of Hoshino Resorts
Dinner at HOSHINOYA Taketomi Island is a true discovery of Okinawa's cuisine and culture presented in a new light. The menu is based on French cuisine while highlighting the specific of Okinawa food. The dishes are served on blue plates reminiscing of the color of the sea. These plates are one of the representative features of the facility.
From juicy local beef served with a sauce made with Okinawan-style fermented tofu to desserts and soups made with local fruit, the menu is a truly scrumptious delight from start to finish.
To learn more about the dining options at HOSHINOYA Taketomi Island and the concept behind them, please visit their official website.
Cocktails and Desserts in the Lounge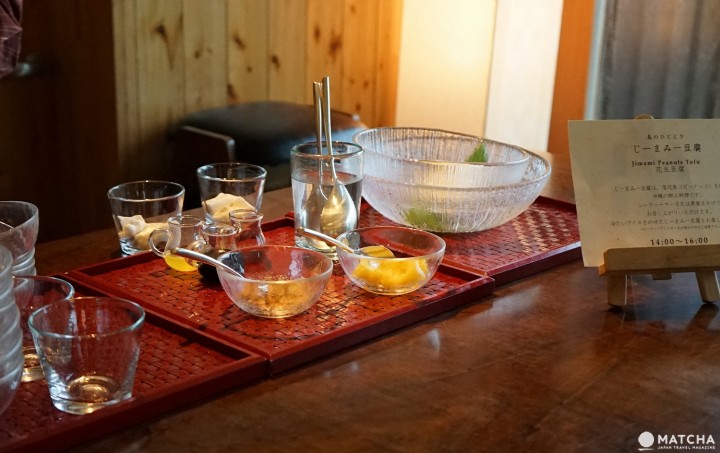 In the afternoon, the bar in the lobby will be serving Jimami dofu, another type of tofu that is specific to Okinawa. Jimami dofu is made from peanuts. Chewier than regular tofu, it has a rich and creamy taste. It is slightly sweet and can be eaten as a dessert or as a snack.
Depending on the season, a different type of sessert is offered.
In the evening, you can mix your own Awamori cocktail. Awamori is an alcoholic beverage specific to Okinawa. It is made from long grain indica rice. You can choose to drink it on the rocks or mix it with soda water and one of the homemade syrups available.
Explore the Surroundings and Meet the Islanders
Picture courtesy of Hoshino Resorts
The island surrounding HOSHINOYA Taketomi Island is serene. There is no public transportation to ruin the tranquility of the island. Nevertheless, there are other fun ways to get around.
The Famous Water Wagon Buffalo Tour
Taketomi is famous for its tours on a wagon pulled by water buffalos. The islander in charge of the water buffalo will tell stories about the island and sing traditional songs.
The water buffalos are work animals but you can see that their owners have a deep bond with them. They talk to them gently, praise them and hoose them down with water on the way if they get hot.
Rent a Bicycle
If you would like to explore more of the island, you might want to rent a bicycle at HOSHINOYA Taketomi Island.
Riding your bicycle, you'll be able to explore all the unique shops offering local food such as Soki Soba (pork rib soup noodles) or Sata Andagi (Okinawan doughnuts). On your way, do stop by the charming shops with handmade items such as the famous Okinawan glassware or by the beautiful beaches of Taketomi Island.
Take a Stroll
The island might seem small but it would probably be very exhausting to explore the whole island on foot. However, taking a stroll around the other villages and discovering peculiar fruits, vegetables, and plants as well as meeting the islanders, human as well as animals, can be a lot of fun.
You might be surprised how quiet the island is. At times you only hear the sand crunching under your feet and the wind whispering in the trees.
For further details on the activities offered by HOSHINOYA Taketomi Island, please refer to their official website.
Enjoy Endless Beaches and the Emerald Sea
Picture courtesy of Hoshino Resorts
No trip to Okinawa would be complete without a visit to the beach! No matter if you just want to sit on the sand and relish the sight of the endless waters of the sea or if you want to take a long walk along the shore, you shouldn't miss out on the Taketomi Island beaches.
Recharge on a Quiet Island
If you need a break from your busy everyday life, why not enjoy some time in your own villa located in a quiet little paradise? At HOSHINOYA Taketomi Island, you can travel back in time and enjoy being surrounded by nature and tranquility without missing any of the amenities of a luxurious resort.
Chat with the friendly locals and you'll feel the time running a little slower here on Taketomi Island.
HOSHINOYA Taketomi Island Official Website: https://hoshinoya.com/taketomijima/en/
Reserve your room at the best rates through the
Hoshino Resorts booking website
Written by Chiara Mischke
Sponsored by Hoshino Resorts
Hoshino Resorts operates hotels and ryokan (Japanese inns) in more than 40 locations. Their facilities are ideal for travelers who wish to fully enjoy the charms of Japan.
Each facility has English speaking staff who make sure that visitors from all around the world experience the full breadth of Japanese hospitality without inconveniences.
The Hoshino Resorts brands include HOSHINOYA, KAI, RISONARE, OMO, and BEB.
The information presented in this article is based on the time it was written. Note that there may be changes in the merchandise, services, and prices that have occurred after this article was published. Please contact the facility or facilities in this article directly before visiting.