The Ultimate Inn! Savor Divine Hospitality And Food At HOSHINOYA Tokyo
Those who wish to experience Japanese hospitality at its best should stay at HOSHINOYA Tokyo. With relaxing guest rooms and refined cuisine to delight the five senses, guests can enjoy a distinctly Japanese aesthetic experience only at this luxury inn.
Stay at a Ryokan Near Tokyo Station! What Is HOSHINOYA Tokyo?
A long awaited journey to Japan. For those who wish to experience the most satisfying Japanese trip possible, staying at a ryokan, a Japanese traditional inn where you can receive the greatest level of hospitality possible, is highly recommended. When one speaks of ryokan, the image of a traditional hot spring accommodation may come to mind, but did you know that you can stay at a ryokan inn even in the heart of Tokyo?
Built with the concept of a "tower style inn" in mind, HOSHINOYA Tokyo is a 17 storey luxury inn located beside Tokyo Station.
In addition to enjoying beautiful rooms unique to Japan and creative gourmet dishes featuring seasonal Japanese ingredients here, you can also enjoy special accommodation features that have been prepared for your consideration, as well as various different opportunities to experience Japanese culture during your stay as well.
Photo courtesy of: HOSHINOYA Tokyo
Following the path through the wooden automatic door at the entrance, once you step into the lobby, you will have the distinct impression that a special experience awaits you.
The lobby which follows the spacious entrance has a calm atmosphere and is full of Japanese beauty. Seasonal flowers placed in tasteful ikebana arrangements are bringing the sight of nature indoors.
Experiencing Japanese Culture in Your Accommodation: Feel the Depth of Japanese Culture at HOSHINOYA Tokyo
Experience Japanese Culture 1: Wear A Kimono and Enjoy Japanese Culture
Staying at HOSHINOYA Tokyo grants its guests a valuable opportunity to experience Japanese culture.
The guests, after taking off their shoes at the entrance, are guided to their rooms where they can change into a kimono especially designed for the guests of HOSHINOYA Tokyo. This kimono is very soft and easy to wear, which means that even those who are unfamiliar with kimono can wear one comfortably. You can not only wear this kimono in the halls of the inn, but, should you feel like taking a stroll, you can wear it outside as well.
Photo courtesy of: HOSHINOYA Tokyo
When wearing a kimono, you may strangely find yourself adopting the attitude and style of the Japanese. If you would care to know more about how to wear a beautiful kimono, then we recommend taking part in one of the workshops that they hold in the hall. Not only can both men and women learn how to move, sit and stand elegantly in kimono, but you can also learn all about how to use and handle accessories such as folding fans.
This is a valuable opportunity to feel the depths of traditional Japanese culture via the kimono.
Experience Japanese Culture 2: Watching Traditional Arts While Tasting Sake
In HOSHINOYA Tokyo, both sake and domestic wine are served in the lobby on the second floor every day from 17:00 to 19:00, and a variety of activities for guests are also prepared at this time.
On the small stage in the lobby, various performances of Japanese traditional arts are held. Beginning with acrobatics, gagaku music and kagura dance performances, which are normally only seen in shrines, and other performances featuring traditional Japanese musical instruments are shown. One of the unique aspects of HOSHINOYA Tokyo is the opportunity to witness aspects of Japanese culture that are difficult to otherwise find. Here you can see a treasured side of the Japanese spirit.
Experience Japanese Culture 3: Enjoy a Hot Spring in the 17th Floor Open-air Bath
After dinner, why not enjoy a relaxing bath in the hot spring found on the rooftop? The waters of this large bath on the 17th floor come from a hot spring pumped from 1500 meters below the ground. There is also a open-air bath here as well, where guests can enjoy the stunning night views of the area as they luxuriate in the waters.
Towels, hairdryers, cosmetics and other toiletries are freely available to guests and found in the change rooms.
Photo courtesy of: HOSHINOYA Tokyo
These are just some of the fabulous Japanese cultural experiences available for guests to enjoy at HOSHINOYA Tokyo. In addition to these activities, there are also some designed to heal the everyday fatigue of the mind and body, such as deep breathing exercises performed before bedtime, morning exercises based on the Japanese art of kendo to relax the body, and guests may also wish to participate in cultural workshops such as tea ceremony and kodo, or a traditional incense ceremony.
Please visit their official site to learn more about the various activities and events offered at HOSHINOYA Tokyo.
Rest in Guest Rooms Designed With Beauty and Consideration
Photo courtesy of: HOSHINOYA Tokyo
Guests can choose from three types of rooms. In this photo, you can see the SAKURA room, which is designed for two people and comes with either twin beds, or a double bed.
Other than the SAKURA rooms, there are the YURI, corner rooms with large windows also for two people, or the KIKU rooms, which are double the size of both the SAKURA and YURI, and can accommodate three people.
Each guest room has tatami flooring and fine wooden furniture throughout. Being able to leisurely relax in a peaceful room such as this is sure to help alleviate any tiredness that your trip may have caused, making it disappear as though it had be nothing but a figment of your imagination.
All of the rooms are equipped with private bathrooms and toilet facilities and come with hot water pots and a refrigerator.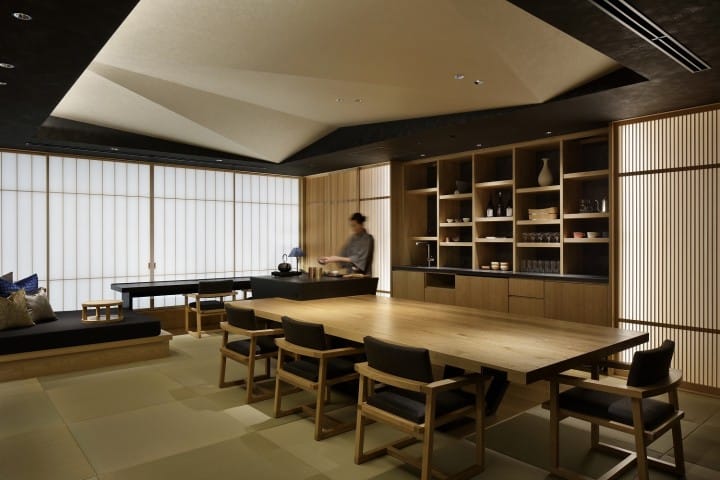 Photo courtesy of: HOSHINOYA Tokyo
There are also cozy little lounges known as an Ochanoma on each guest floor. Here you can enjoy a cup of tea, chat, read a book or newspaper, and enjoy yourself as though you were in your own living room. Sweets and drinks that you can enjoy freely are also on hand.
There are staff in the lounges every morning and guests are invited to ask them for advice regarding their travel plans in Tokyo, or other points. The Ochanoma Lounge is only available to those guests staying on that floor, so it is also a great place to stop and visit with other guests and exchange travel information and tips.
If you would like to learn more about the rooms of HOSHINOYA Tokyo, please see their official site.
A Story Built Piece by Piece: Savoring the Cuisine
HOSHINOYA Tokyo is built on the place where the residence of a noble family used to stand. The residence belonged to the former Sakai family, who enjoyed a close relationship with the Tokugawa Shoguns during the Edo period (1603-1868). This fact is reflected in the concept of the restaurant at HOSHINOYA Tokyo, where you can relish the history of the story as you dine on exquisite dishes.
For example, the plate used to serve the first dish comes from a part of the pillar of the samurai residence excavated at this site. The combination of new wood and the old wood excavated during the course of construction is an apt metaphor for the history of Tokyo itself.
The head chef of HOSHINOYA Tokyo, Mr. Noriyuki Hamada is an award-winning chef honored at international French cuisine competitions. Not only are the ingredients carefully selected, but they are designed to tell a story that is sure to impress.
Photo courtesy of: HOSHINOYA Tokyo
This is one of the masterpieces created by Chef Hamada, who has packed the five tastes (salty, sweet, pungent, bitter, and sour) into a small dish served on stones. By eating each part of this dish in a particular order, your appetite is further stimulated for later dishes.
Being able to learn more about each dish from the friendly staff as you enjoy them with relish is one of the great pleasure of dining, and one that is sure to make your enjoyment of them grow. By knowing the history of the dish, you will find yourself wanting to take longer to eat and truly savor each flavor as deeply as possible.
Ichi-go-ichi-e, or cherishing a once in a lifetime encounter, is the essence of Japanese traditional arts, which is masterfully reflected in the dinner course at HOSHINOYA Tokyo. The importance of savoring each taste and cherishing the experience is a valuable one that guests of HOSHINOYA Tokyo are sure to appreciate.
The dishes served here are just as exciting as the sightseeing experiences to be had outside the inn and are sure to make for treasured memories of your time in Japan.
Please refer to the official website for more information regarding meals at HOSHINOYA Tokyo.
The Imperial Palace and Kanda Shrine: Tokyo's Representative Attractions Nearby
As HOSHINOYA Tokyo is near Tokyo Station, it is also ideally situated for those wanting to sightsee in Tokyo. The main gate of the the Imperial Palace is just an eight minute walk away from the inn. Not only that, but one of the most beautiful shrines of all those in Tokyo, Kanda Shrine, which was also beloved by the shoguns that resided at the former Edo Castle, is also nearby.
Both Yurakucho and Ginza, two of the elegant urban areas of Tokyo, are also within walking distance, and the nightlife and views you can enjoy in this areas are highly recommended as well. Even if you must return home to busy everyday life, the richness that you take in from your experiences while staying at HOSHINOYA Tokyo will remain with you, and help you to cherish future encounters as well.
In Closing
A "tower ryokan inn", the charm-filled HOSHINOYA Tokyo. A place where not only Japanese traditional culture and the sophistication of contemporary times coexist, but also one where guests may take part in a wonderful story shaped by their experiences of Japanese culture.
When visiting Tokyo, please consider an enriching stay at HOSHINOYA Tokyo.

HOSHINOYA Tokyo Official Website: http://www.hoshinoresorts.com/en/resortsandhotels/hoshinoya/tokyo.html
Sponsored by Hoshino Resorts
Hoshino Resorts operates hotels and ryokan (Japanese inns) in more than 40 locations. Their facilities are ideal for travelers who wish to fully enjoy the charms of Japan.
Each facility has English speaking staff who make sure that visitors from all around the world experience the full breadth of Japanese hospitality without inconveniences.
The Hoshino Resorts brands include HOSHINOYA, KAI, RISONARE, OMO, and BEB.
The information presented in this article is based on the time it was written. Note that there may be changes in the merchandise, services, and prices that have occurred after this article was published. Please contact the facility or facilities in this article directly before visiting.