Hoshino Resorts KAI Hakone - Enjoy A Luxurious Stay At A Ryokan
With its spacious rooms, amazing open-air hot spring bath and high-class food, Hoshino Resorts KAI Hakone is the perfect place to enjoy the best of Japanese hospitality and the local charms of Hakone.
KAI is a chain of luxury hot spring ryokans (*1) located all around Japan and operated by Hoshino Resorts. At each establishment, you can experience a different atmosphere and the lifestyle typical to each region.
*1 Ryokan... a traditional Japanese inn where the guests can enjoy a relaxing stay, hot springs and the best of the local dishes.
Picture courtesy of KAI Hakone
Hoshino Resorts KAI Hakone is one of the facilities in this ryokan chain, located in the heart of the well-known hot spring town of Hakone, 90 minutes away by train from Tokyo.
From Odawara Station, take the Romancecar Hakone 29 to Hakone Yumoto Station, then take the bus towards Moto Hakone-ko and get off at Kuzuhara. KAI Hakone is just 3 minutes walk from there.
KAI Hakone is well-loved by customers who seek relaxation in a beautiful natural environment and professional service. On Tripadvisor it is rated as a 4 star hotel, with the majority of the travelers' feedback being "excellent".
KAI Hakone - A Japanese Inn Imbued with Local Atmosphere
Upon reaching the ryokan, you will be warmly received by a professional crew. You can enjoy a welcome drink in the elegant lobby while waiting for the staff to show you around and explain how to make use of all the facilities effectively. 
The lobby is a common space for all the guests to use freely.
Picture courtesy of KAI Hakone
Here you can relax on the comfortable sofa while enjoying some coffee or tea from the self-service drink corner, or browse through the collection of travel books in their library.
Picture courtesy of KAI Hakone
If you are interested in Japanese craftsmanship, do check out the Yosegi craft exhibition in the lobby, or take a look at their souvenir shop for some impressive gifts for your family. Yosegi is a type of traditional wooden parquetry, a craft that originated in Hakone.
Spacious Rooms with Mountain and River View
Picture courtesy of KAI Hakone
KAI Hakone has a total of 32 guest rooms available in both Western and Japanese styles. Each room can accommodate from two to five people.
The limited number of rooms allows the staff to serve all their guests carefully and design the facilities to match the guests' expectations. Staying here, you will receive heartwarming attention from the staff while enjoying your own private time and space.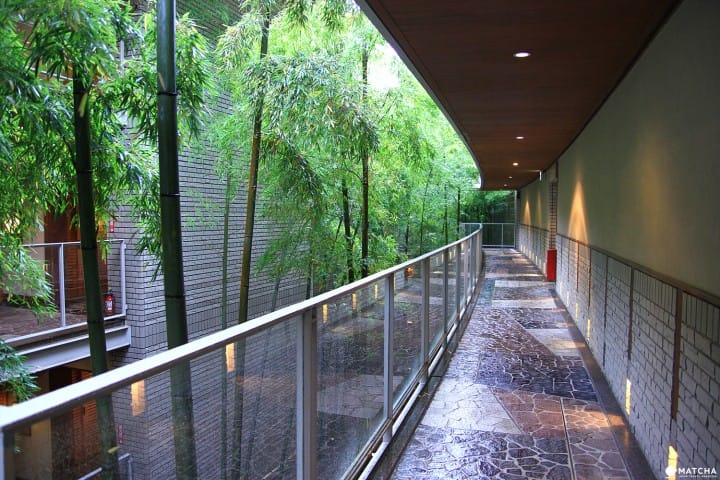 On the way to your room, you will pass through an open-air corridor that overlooks the Japanese garden below.
The typical stone lamps and green bamboo trees make for a wonderful view. Especially during the rainy season, the bamboo looks greener and the light reflecting on the stone surface creates a calm and romantic atmosphere.
Picture courtesy of KAI Hakone
A typical Japanese room at KAI Hakone consists of four areas: the entranceway that connects to the bathroom, the hall with a drinking corner and a refrigerator, the bedroom with original bedding, and the terrace with a fabulous view to Yusaka Mountain and Sukumo River.
The room is so spacious that you will feel like you're staying in a real Japanese house, not a hotel room.
The entire space is furnished with Japanese traditional items such as tatami mats, shoji screens, and especially Yosegi furniture and tableware which you cannot find anywhere else except in Hakone.
If you love onsen (hot springs), then you'll have a great time at the private hot spring within the facility. However, if you prefer to relax in your room in the evening, we recommend choosing a room with an open-air bath on the terrace.
After the bath, there's nothing better than to pamper your body and mind with a massage and some healing music.
If you would like to learn more about the features of the rooms available at KAI Hakone, take a look at their official website.
Become One with Nature in an Open-Air Bath!
KAI Hakone is famous for its open-air hot spring bath with the water surface reflecting the forest scene outside. There are two bathing spaces, each with its own size and interior design, that are switched between men and women in the morning and in the evening, so that the guests can enjoy both of them.
Picture courtesy of KAI Hakone
Soaking in the large bathing area with the water "dyed" in the same color as the forest outside, you will find yourself becoming one with the mountain. Furthermore, as you are not separated from the outside by any glass wall like at a normal onsen, you will be able to feel the cool mountain breeze, the rain, the smell of the soil, and to listen to the sound of the river flowing nearby. The experience is truly unique and unforgettable!
You can read more about the features of the hot spring bath at KAI Hakone on their official website.
Enjoy the Exquisite Local Cuisine of Hakone
Picture courtesy of KAI Hakone
Dinner and breakfast are served in a traditional Japanese style restaurant where you can enjoy the finest food in a private room with one member of the staff attending you as your personal waiter. They will also guide you and explain what each of the dishes consists of.
During the multicourse dinner, the guests will be served around ten different dishes from sashimi, tempura (deep fried fish and vegetables) and rice dishes to sweets for dessert.
Picture courtesy of KAI Hakone
The food is arranged beautifully with an eye-catching color combination which whets the diner's appetite. Throughout the course, the diners will be able learn more about how abundant and rich is the natural environment of Hakone.
Picture courtesy of KAI Hakone
Not only delicious but also beautifully decorated, the food can satisfy even the most sophisticated tastes. In order to prepare these dishes, only the finest and freshest seasonal ingredients are used, after being selected based on strict criteria of quality. Thanks to the staff's explanation, you can learn a lot about the local cuisine, customs and environment of Hakone.
You can find out more about the dishes served at KAI Hakone by visiting their web page.
Experience the Real Hakone During Your Stay at the Ryokan
At 9 PM every night, the guests are invited to take part in a Yosegi craft workshop. Yosegi is a type of wooden parquetry originating from Hakone. The workshop is being held in the dim lit lounge room where many festival lanterns are hung on the wall. You'll feel like being immersed in the atmosphere of a quiet Edo night.
A member of the staff wearing traditional clothes will tell you the story of how Yosegi craft has formed and developed, what makes it so unique and well-loved by people and how you can create your own design based on basic patterns.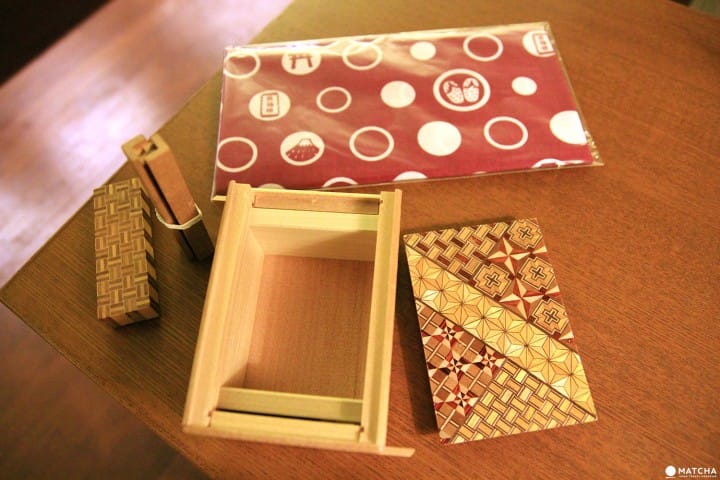 You will also get the chance to try your hand at opening a secret box, one of the most popular Yosegi items, which is created just like a puzzle. If you can open the box within 3 minutes, you will receive a gift from KAI Hakone.
Moreover, for 3,000 yen you can try three different types of high-quality kamaboko (Japanese fish cake). You can have it delivered to your room by room service. This dish comes along a small bottle of Japanese sake, and you can taste for yourself how well they go together.
The activities offered to the guests at KAI Hakone are a great opportunity to learn more about the local culture and traditions. If you would like to see what other activities are available, please check the official website of the facility.
In Conclusion
Easily accessible from Tokyo, Hoshino Resorts KAI Hakone is the perfect place for nature lovers and their families to spend their weekend together. The professional service at this luxury inn and the magnificent landscape outside will help you forget all about the daily troubles and enjoy your stay to the fullest.
It would be great if you can arrange to visit the surrounding area as well during your stay. Just one train stop away toward the west on the Hakone Tozan Line, you will be able to enjoy a ride on the Hydrangea train during the rainy season (in June and July).
Lake Ashi, Mount Fuji and many other wonderful sightseeing attractions are also in the area. For more details on sightseeing in Hakone, please refer to our article: Enjoy Your Time In Hakone With This One-Day Trip Itinerary!
If you'd like to stay at KAI Hakone, you can book your room HERE.
Enjoy your stay at the elegant KAI Hakone and have a great time in Hakone!
View Information
Hoshino Resorts KAI Hakone
| | | |
| --- | --- | --- |
| | Address | Kanagawa, Ashigarashimo district, Hakone, Yumoto-chaya 230 |
| | Business Time | 24 hours |
| | WiFi | Available |
| | Accepted Credit Cards | VISA,MASTER,JCB |
| | Languages | English, Japanese, Chinese, Korean |
| | Menu/Pamphlets in Other Languages | English, Chinese, Korean |
| | Nearest station | Hakone Yumoto Station |
| | Access | From Odawara Station, take the Romancecar Hakone 29 to Hakone Yumoto Station, then get on the bus towards Moto Hakone-ko on Hakone Kyukaido line and get off at Kuzuhara. KAI Hakone is just 3 minutes walk away from there. |
| | Telephone number | 050-3786-0099 |
| | Website | http://www.hoshinoresort.com/resortsandhotels/kai/hakone.html |
KAI Hakone Official Website: http://www.hoshinoresorts.com/en/resortsandhotels/kai/hakone.html
Sponsored by Hoshino Resorts
Hoshino Resorts operates hotels and ryokan (Japanese inns) in 35 locations all around Japan. Their facilities are ideal for travelers who wish to fully enjoy the charms of Japan.
Each facility has English speaking staff who make sure that visitors from all around the world experience the full breadth of Japanese hospitality without inconveniences.
The Hoshino Resorts brands include HOSHINOYA, KAI, RISONARE, and OMO.
The information presented in this article is based on the time it was written. Note that there may be changes in the merchandise, services, and prices that have occurred after this article was published. Please contact the facility or facilities in this article directly before visiting.