Watch Japanese Performing Arts Up Close! 5 Reasons To Dine At SUIGIAN
At SUIGIAN, a theater-style restaurant located in Tokyo's Nihonbashi area, visitors can casually enjoy shows of Japanese performing arts such as Noh theater, puppet theater, and Japanese dance. It's an amazing experience to see them up close!
Enjoy Traditional Performing Arts in the Heart of Tokyo
Picture courtesy of SUIGIAN
Have you ever been moved by images of Noh masks so much that you wanted to watch a Noh theater performance someday? Enjoying traditional performing arts such as Noh (*1), Kabuki (*2) and Nihon Buyo (*3), which have been refined over hundreds of years, is one of the highlights of any trip to Japan.
However, many visitors may hesitate in going to the theater because of the language barrier or the long length of the performances.
SUIGIAN is a theater-style restaurant, located in the Nihonbashi area of Tokyo, close to Tokyo Station and Ginza. At this restaurant, visitors can casually watch performances of Noh, Kyogen and Nihon Buyo, while enjoying sushi and sake during intervals.
Remember to check the special discount coupon information at the end of this article.
*1 Noh: A traditional performing art combining dance, chant and masked acting established in the Muromachi period (c. 1336 to 1573). It was patroned by the members of aristocracy and of the warrior class, serving as ceremonial entertainment during the Edo period.
*2 Kabuki: A performing art combining acting, dancing and music that developed as a popular form of entertainment in the Edo period.
*3 Nihon Buyo: A style of traditional Japanese dance.
SUIGIAN - A Theater-Style Restaurant
Picture courtesy of SUIGIAN. Left: Kanze School Shite-kata's Takeda Fumiyuki (*4)
Nihonbashi is the cradle of Tokyo's vibrant urban culture that developed during the Edo period. This includes a wide variety of entertainment, performing arts and fine cuisine. SUIGIAN opened in 2018 as a place for everyone to enjoy the rich traditional Japanese culture rooted in Nihonbanshi in a casual fashion.
*4 Shite-kata: The leading actor in a Noh play.
Picture courtesy of SUIGIAN
A Noh stage is at the center of SUIGIAN, with an oimatsu (old pine tree) drawn by an Edo period artist in the background. The old pine tree is a symbol of longevity and represents the world of Shinto deities, which has a deep connection to the worldview of the Japanese people.
Matinee and soiree performances of Noh, Kyogen (*5), Nihon Buyo dance, Bunraku puppet theater (*6), and Gagaku (*7), are held every day on this stage. The guests can watch the stage up close and feel the strong presence of the highly-skilled performers.
*5 Kyogen: A comical drama performed as an intermission between Noh acts.
*6 Bunraku: Traditional Japanese puppet theater.
*7 Gagaku: Japanese classical music that has been played at the Imperial Court since ancient times.
For details and reservations, click here.
Check the discount coupon at the end of the article.
Five Reasons to Visit SUIGIAN
For those who want to experience Japanese culture, a visit to SUIGIAN will surely a lasting memory. Let us introduce five reasons why we recommend SUIGIAN.
1. Watch the Climax of Noh Plays! Just 20 Minutes of Performance
Kanze School Shite-kata's Kuwata Takashi
If you're interested in Japan's performing arts, visiting a theater is the best thing to do. However, the shows may take longer than two hours, the language may be difficult to understand, or the program you want to see may not be performed when you can go.
At SUIGIAN you get to see the climax of popular plays, which means that the performance will not take longer than 15 to 20 minutes. From Tuesday to Friday, there is only one performance in the evening, but on Mondays, weekends and holidays there are three performances: two matinees and an evening show. Pamphlets with an English explanation of the plays are provided.
The guests can enjoy the performance with a drink in hand, which is another great appeal of this restaurant.
2. Featuring All Performing Art Styles
Picture courtesy of SUIGIAN. Tachikata (*8) Fujima Kyonosuke
Most Japanese performing arts require a specialized stage. To watch Noh, you need to go to a Nohgakudo (Noh theater). To watch Kabuki, you'll go to a theater like Kabukiza, and to enjoy a performance of Nihon Buyo, you'll need to go to a ryotei (Japanese-style restaurant).
At SUIGIAN, after the daily performances of Noh or Bunraku, guests can also enjoy Nihon Buyo dance, which is performed during the bar & lounge hours after 20:30. This means that guests can enjoy two types of traditional performing arts in a single day.
In addition, all the styles of Noh theater, which has five schools, can be seen on the stage of SUIGIAN. The guests can thus appreciate the differences in their performance style.
Taking photographs of shows is prohibited at most theaters, but at SUIGIAN the performers come out to the stage after the show for photo sessions. Occasionally, they will even offer a short lecture on the program.
*8 Tachikata: In Nihon Buyo, this term refers to the dancer.
3. Tasting Delicious Edo-Style Sushi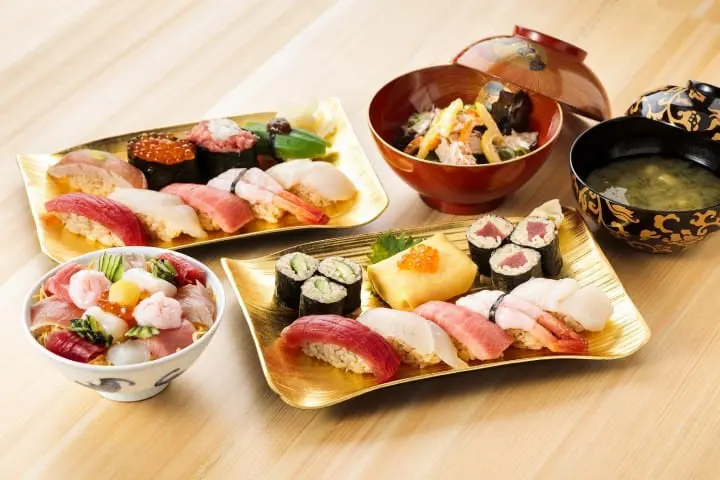 Picture courtesy of SUIGIAN
At SUIGIAN, visitors can enjoy authentic Edomae sushi. This type of sushi developed in the Edo period and is known for enhancing the taste of the ingredients with techniques such as pickling in vinegar, boiling and grilling.
The sushi is made by a well-established restaurant which is said to be the oldest of its kind. Looking at the various sushi on their plate, visitors may feel like they have wandered into the city of Edo 300 years ago.
The sushi, served with salad and miso soup, reflects the essence of traditional Japanese meals.
Matcha tea and seasonal traditional sweets are also on the menu. They are made by a Kyoto-based company that has a distinguished history.
4. You're Surrounded by Japanese Crafts! An Exquisite Interior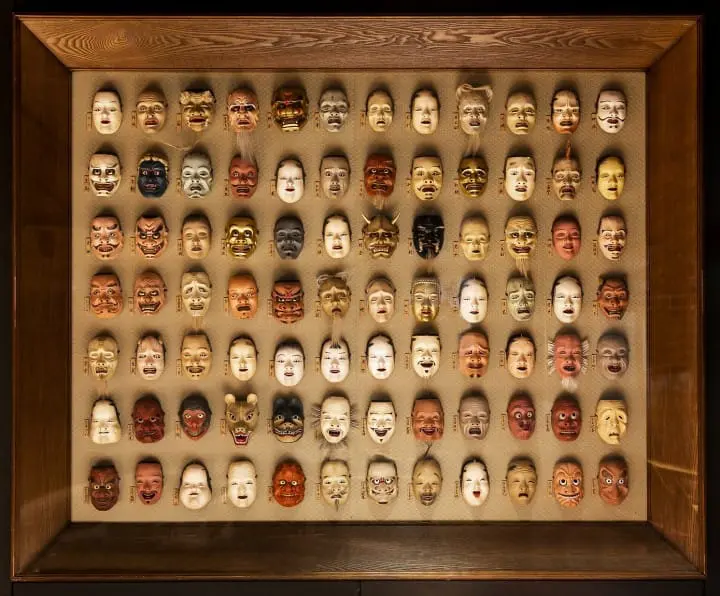 Picture courtesy of SUIGIAN
SUIGIAN is decorated with an array of traditional furnishings.
The 84 miniature Noh masks placed on the wall across from the stage were originally created at a workshop specializing in objects used on the Noh stage and used to decorate the hall of a Noh theater in Osaka. These masks display the diversity of characters, both human and deities that appear in Noh plays, with their individual expressions.
Beautiful tools used in tea ceremonies are displayed at the bar counter and in the tea room. The matcha tea served at SUIGIAN is made using these tools. If you have the chance, ask the staff to tell you more.
Distinguished woodblock prints illustrating scenes from famous Noh plays are displayed at the entrance. These block prints were created by Tsukioka Kogyo (1869 - 1927), a famous Japanese artist.
5. See Enchanting Traditional Dance in the Momokawa Lounge
Picture courtesy of SUIGIAN. Tachikata Mizuki Karen
After 20:30, SUIGIAN transforms into a bar & lounge space called Momokawa Lounge.
From the Edo to the Meiji period, there was a famous restaurant named Momokawa in Nihonbashi. It was frequented by persons of culture who gathered there to enjoy refined cuisine and the art of geisha performers.
At Momokawa Lounge, visitors can enjoy Nihon Buyo by performers called Geinagon who work exclusively with SUIGIAN. The lounge offers a la carte dishes along with sake, Japanese wine and cocktails.
For details and reservations, click here.
Check the discount coupon at the end of the article.
SUIGIAN - Access and Reservations
Picture courtesy of SUIGIAN
SUIGIAN is directly connected to the B1 floor of Coredo Muromachi 2, which is a short walk from the A6 exit of Mitsukoshimae Station (Tokyo Metro Ginza Line/Hanzomon Line). It can also be reached by descending the stairs on the right-hand side of Fukutoku Shrine, which located across Coredo Muromachi 2.
To check the performances and the menu, please visit SUIGIAN's schedule page. The performances start at 11:15, 13:45 and 19:00**.
** Please note that the performances starting at 11:15 and 13:45 are held only on Mondays, Saturdays, Sundays and public holidays.
After choosing the performance you want to watch, make a reservation via telephone, e-mail or the official reservation page. You can choose from four types of seats.
SUIGIAN - Find Japanese Culture in Every Detail!
Picture courtesy of SUIGIAN
Because SUIGIAN thrives to capture the intricacies of Japanese culture in every detail of their services, guests get to use objects with an impressive story or background. For example, rugs woven in Saga Prefecture in a style that was created in the Edo period, or tableware with more than 300 years of history - these are just two examples of SUIGIAN's efforts to introduce authentic Japanese culture to its guests.
Do visit SUIGIAN and experience traditional Japanese art and culture in its elegant interior!
Official Website: https://suigian.jp/en/

Written by Ramona Taranu
Sponsored by SUIGIAN

The information presented in this article is based on the time it was written. Note that there may be changes in the merchandise, services, and prices that have occurred after this article was published. Please contact the facility or facilities in this article directly before visiting.