An Array Of High-Level Spas! 3 Healing Retreats To Try In Okinawa!
An Array Of High-Level Spas! 3 Healing Retreats To Try In Okinawa!
We will introduce three spas you'll want to stop by on your Okinawa trip. Kanucha Spa, Ryukyu Onsen Ryujin no Yu, and CREER DU Qi Ocean Spa are influential facilities that were chosen as part of the top 10 spas in Japan in the Crystal Awards.
After fully enjoying themselves with snorkeling or diving at beautiful beaches and sightseeing in Okinawa, many people find themselves worried about their weariness from traveling. Why not have both mind and body healed by beauty salons and spas before departing from Okinawa and returning home, so you can feel refreshed and relieve your fatigue?
Secure and Safe Services At Okinawa Esthetics Spa Cooperative Society Facilities
Okinawa is the land of spas. There are so many beauty salons and spas within the prefecture that there are times when people might worry, "I don't know where I should go..." When that time comes, we recommend facilities that are a part of the Okinawa Esthetics Spa Cooperative Society.
The Okinawa Esthetics Spa Cooperative Society is an association that holds the role of developing and improving the quality of the Okinawan beauty salon and spa industry. The association sets strict certified facility and human resources systems and aims for the establishment of the Okinawan Esthetics Spa brand.
As a result, only high-level facilities that offer secure and safe services can associate themselves as members of the society.
The beauty salons and spas that fulfill the necessary criteria and are certified by the society will have a glass membership certificate called OESC (Okinawa Esthetics Spa Cooperative Society Certification) like the one above on display. It would be best to use this certificate as an indicator when choosing a relaxation facility in Okinawa. Additionally, you can check the list of facilities that are part of the Okinawa Esthetics Spa Cooperative Society on the society's website.
In this article, we will introduce three facilities from the society. These are the best spas that were chosen as part of the top ten spas in Japan, as voted by spa users in the Crystal Awards.
Kanucha Spa: A Luxurious Ocean View
To go to the spa, it will take 80 minutes from Naha Airport by the hotel shuttle bus. You will travel by cart or shuttle bus at Kanucha Resort in Nago as the resort boasts a vast land of approximately 800,000 tsubo (2,644,628 m2).
Kanucha Spa, located in the new cottage area, is a spa that holds influence as part of the top ten in the 2014 Crystal Awards. They offer trustworthy technology and services.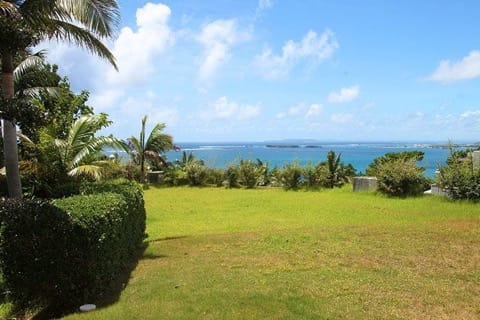 A cottage surrounded by a green lawn and vivid subtropical plants is used as the spa facility. The treatment rooms inside can be used as a one or two person room for your party. All rooms have an ocean view and are ideal relaxation locations where you can gaze at the blue ocean outside the windows.
This spa is operated by Clair Okinawa, a cooperate group of Clair Co., Ltd that also manages Aigasho Beauty College in Okinawa.
The spa uses Clair cosmetics, natural cosmetics that do not use mineral oils, synthetic dyes, or synthetic perfumes which were developed in-house by Natural Beauty Remedies Co., Ltd of the Clair group, in all of their treatment options.
The most popular treatment is the Aroma Full Body & Facial, a 130 minute treatment that costs 26,000 yen (before tax). After having a ten minute counseling session, your therapist will select three types of aroma oils from a choice of fifteen to match your mood and physical condition. They will create a blend made up of this original mixture to use.
The secret to the popularity of this spa are treatments that are made to be suited to each person. Would you like to experience high-quality relaxation in a quiet, stylish treatment room?
After treatment, staff will provide appropriate advice and will support the customer's healthy lifestyle through after counseling. You can also purchase the cosmetics and aroma oils that are used in the treatments.
View Information
Kanucha Spa
CREER DU Qi Ocean Spa: Shiseido Cosmetics in a Warm Atmosphere
It will take approximately two hours from Naha Airport by limousine bus to travel to the spa (bound for Kanehide Kise Beach Palace Hotel, 2000 yen for adults and 1000 yen for children).
CREER DU Qi Ocean Spa is located on the second floor of the Wing Tower at the entrance of the Okinawa Kariyushi Beach Resort Ocean Spa Hotel. The spa offers services with results from the customer's perspective, and was part of the top ten spas in the 2013 Crystal Awards.
The spa uses a product line from the major Japanese cosmetics brand Shiseido called Qi. They are basic skincare products that were born from the concept of regulating the rhythm of your body and skin.
The most popular treatment is the Qi Body Treatment, a full body treatment that heals your fatigue after sightseeing, that is 60 minutes long and is 13,500 yen (plus tax). The treatment will raise your metabolism by pushing your acupuncture points and will rejuvenate the poor condition of your body.
The grand menu includes with a footbath in a special footbath room where a sense of quality will hang in the air. You can experience exquisite relaxation in a private room as well.
After your treatment, you receive an after-drink service in the lounge where you can look out at the trees outside the window. You will be given first-rate relaxation with herbal tea developed by Esthetics Pro Lab that efficiently uses the vitality that exists in nature.
Ryukyu Onsen Ryujin no Yu: Soak While Gazing at the Blue Ocean!
There are not only beauty salons, but also popular, high-quality spas in Okinawa. This spa is the Ryujin no Yu and was part of the top ten in the 2015 Crystal Awards.
It is an onsen facility in the Ryukyu Onsen Sengajima Hotel located on the small, 1.5km long island of Senagajima. It takes approximately fifteen minutes by taxi from Naha Airport to reach this spa.
The smooth texture given to your skin by the natural hot springs that well from a source 1,000m below ground is a characteristic of the baths. It is also called Kodakara no Yu because of its abundant quantity of water, filling at 500 liters per minute, and warm 50℃ hot springs. The onsen provides several types of baths and saunas filled with personality. It is an ideal location as customers can gaze at the ocean or sunset from rotemburo (open air baths).
The men's and women's baths can be used every day; there are two types of large public baths called Kinryu no Yu and Ginryu no Yu. If you stay at the hotel, you can utilize a different bath at night and in the morning.
Of the several types of baths found here, the onsen is characterized by tsuboyu, or one person bathtubs. The popular tachiroten (standing open air baths) that look out over the ocean are a depth of 120cm. The bottom of the bathtubs is covered in round rocks and produces a foot massaging effect.
If using only the onsen, you will be provided with a bath and hand towel set. The entrance fee is 1330 yen (plus tax) on the weekdays and 1540 yen (plus tax) on the weekends and holidays for adults while it is 720 yen (plus tax) for children (elementary school students and above). Tops and bottoms to wear inside the building can be rented for 200 yen with basic items necessary to enter the hot springs also being provided.
Let's Relax at Okinawan Spas Before Leaving
The three beauty salons and spas that were introduced can be utilized even if you are not staying as a guest at each facility. The Okinawan sightseeing season is expected to be busy, so we recommend making advanced reservations if you want to take advantage of the treatments at these beauty salons. Reservations are not required to utilize the onsen.

These spas are within easy reach by taxi from the airport and are locations that you can smoothly travel from by limousine bus to Naha Airport. How does having a carefree Okinawa trip and returning home without any travel fatigue sound?

***
Please check the official website for a list of salons that are members of the Okinawa Esthetics Spa Cooperative Society.

Visitors are being asked to take part in surveys at some of the Okinawa Aesthetic And Spa Association facilities. At that time, if you mention "I read about this place on MATCHA", you have the chance to receive some of the following special privileges (first come, first serve basis, only valid until March 31st, 2018).

- At Creer Du Qi Ocean Spa location: free use of the Mori no Yu/Umi no Yu in the hotel.
- At Ryujin no Yu Hot Spring: receive a free Sengajima Hotel original water.
- At Amami Spa: get an optional head massage (10 minutes), or add a hot stone treatment option to your visit for free. And, you can receive a 2000 yen gift certificate to use on your next visit (limited to the first 30 customers).

To learn more about special privileges available at other facilities, please inquire at that specific facility.

Written by Miyako Endo
Photos by Miyako Endo, Kanucha Spa, Ryujin-no-yu.
Sponsored by Okinawa Esthetics Spa Cooperative Society

The information presented in this article is based on the time it was written. Note that there may be changes in the merchandise, services, and prices that have occurred after this article was published. Please contact the facility or facilities in this article directly before visiting.