Fusaki Beach Resort - An Invigorating Stay On Okinawa's Ishigaki Island
Okinawa's Ishigaki Island is a popular resort accessible from Taiwan, Hong Kong, and all parts of Japan. Fusaki Beach Resort Hotel & Villas is a stylish beach resort where you can enjoy your Ishigaki stay in comfort.
Let's Head to Okinawa's Popular Ishigaki Island!
With its warm, subtropical climate, Okinawa is considered to be a top resort area in Japan. Kabira Bay's stunning scenery and beautiful star-filled skies have made the outlying island of Ishigaki an increasingly popular travel destination.
Ishigaki Island is located some 400 kilometres south of Okinawa's Naha City. By plane, it's three hours from Tokyo and just one hour from Naha.
Ishigaki Island can also be directly accessed from Taiwan Taoyuan International Airport in roughly one hour. From Hong Kong International Airport, this outer Okinawa Island is accessible in about two hours, so visitors from other parts of Asia can enjoy a weekend stay here.
Ishigaki Island has been long coveted by visitors for its beautiful ocean. How about staying overnight at this seaside hotel and enjoying the gorgeous ocean vistas?
Fusaki Beach Resort Hotel & Villas - Take the Sparkling Blue Ocean and Sky
Fusaki Beach Resort Hotel & Villas (Fusaki Beach Resort) boasts a full lineup of marine activities and cuisine prepared with local ingredients—not to mention the panoramic views in the guest rooms. It is the best place to fully enjoy a stay on Ishigaki Island.
The logo of Fusaki Beach Resort is symbolized by eight stars representing the sky, stars, sound, wind, earth, sea, heart, and rain. These are the eight attractive features of Ishigaki Island that guests can experience here.
In fact, MATCHA's editorial staff experienced an overnight stay. This article will provide you with a full report on the hotel's distinctive features!
1. Complimentary Shuttle Service from the Airport
Fusaki Beach Resort is easily accessible from Painushima Ishigaki Airport. Just hop aboard a shuttle bus that takes roughly 40 to 50 minutes.
This complimentary service is available to hotel guests. You can get on board from the Reserved Bus area, located on the left hand side after exiting the airport terminal. The sign displayed in the photo above will serve as your guide.
2. A Full-Service Beach Resort with Stylish Rooms
After arriving by bus, you'll pass through the lobby lounge at Central Village that was renovated and newly reopened in 2018.
Visitors can enjoy the view of the hotel's pool and Fusaki Beach from the spacious lobby. The complex features artwork that beautifully depicts the sea around Ishigaki and the natural surroundings.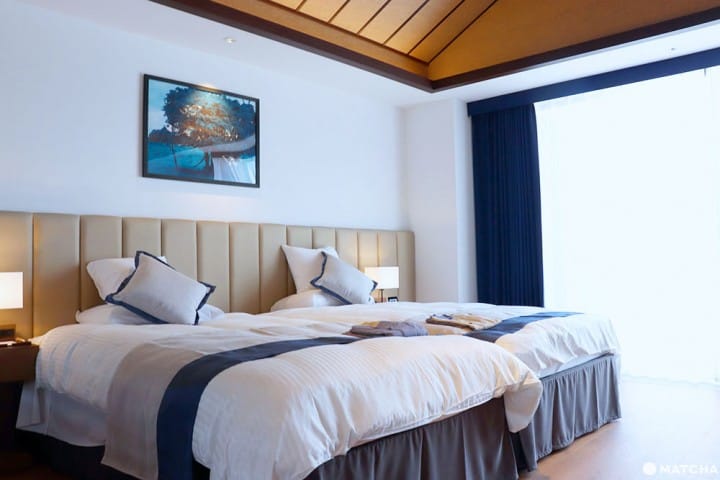 The writer stayed in the hotel's North Wing, a separate building that reopened in July 2019.
The blue-colored interior reflects the atmosphere of a tropical resort coupled with the nature, wildlife, and culture of Ishigaki. The ceiling fan also adds to the trendy ambiance.
And speaking of the rooms, the lodging accommodations are very comfortable! They come equipped with a full range of amenities—including a coffee maker—and the exquisite bathrooms feature rain shower heads.
The room temperature can be freely controlled, and when you venture outdoors, the air conditioner is kept on. It was wonderful to be greeted by a cool, refreshing room on a sweltering day.
As you can see above, our room featured a panoramic view of the glistening blue ocean.
In the North Wing of Fusaki Beach Resort, there are a total of eleven types of guest rooms. This includes barrier-free access rooms with no steps or floor level changes and Japanese-Western-style rooms featuring tatami sections. In addition, the cottages at the Garden Villas are ideal for family visits.
So whether you're traveling with family, your signifiant other, or a group of friends, there will be a room that suitably fits the needs of each and every guest.
For details on Fusaki Beach Resort's accomodations, please refer to their official homepage for guest rooms (Japanese).
3. Marine Activities and a Family-Friendly Seaside Pool
Fusaki Beach Resort is directly facing the beach and one of its most desirable features is that guests can head directly to the ocean or pool right after checking in!
Pictures courtesy of Fusaki Beach Resort Hotel & Villas
A full range of marine activities is available at Fusaki Beach Resort. Simply rent the necessary equipment at the Beach Station and you can enjoy snorkeling and the popular flyboarding (hydroflight sport).
Next to the beach is the Aqua Garden, a pool area exhibiting a genuine resort atmosphere. The writer, who regretted not packing a swimsuit, saw men and women of all ages enjoying a dip in the swimming facility.
There's also a children's pool available, which allows the whole family to partake in some outdoor fun. Additionally, the day care center for young children allows adults to freely head to the pool by themselves or enjoy a drink at the bar (featured later in this article).
For details on Fusaki Beach Resort's marine activities and pool, please have a look at their activities page (Japanese).
4. Food and Beverages Showcasing Ishigaki Island Ingredients
Upper right photo: Ishigaki Beef Classic Hamburger 1,600 yen (left); Veggie Burger using island vegetables 1,500 yen (right); All prices include tax.
If you're hungry after romping about on the beach or at the pool, then head to Seaside BBQ Kachibai. Made with Ishigaki beef, the house burger is filling and satisfying. The restaurant's original shimarakkyo (*1) pickles make the perfect accent to this robust meal.
The hamburgers—which are served in their own special basket—are available for takeout, so you can easily enjoy them at the beach, too!
*1 Shimarakkyo: a type of shallot grown in Okinawa. Small in size, they have a distinctly strong flavor.
For visitors who would like to leisurely enjoy their meal indoors, we recommend ISHIGAKI BOLD KITCHEN. This buffet-style restaurant serves dishes showcasing Ishigaki Island's fresh ingredients.
The morning, lunch, and dinner buffet offers a full selection of about 100 different dishes (weekday lunches offer 50 dishes). In addition to Japanese-style food, there is also Chinese and Western-style cuisine as well.
The salad featured various kinds of vegetables grown locally on Ishigaki Island, including goya (*2) and handama (*3).
You'll also find famous Ishigaki fare served here, including kakuni rafute (Okinawan style braised pork belly stewed in a flavorful broth) and Yaeyama soba (*4).
Depending on the day of the week, freshly caught local fish is served sushi-style alongside some rather unique dishes, such as yakogai (*5) gratin.
It's no exaggeration to say that if you come to ISHIGAKI BOLD KITCHEN, you'll be able to sample all of Ishigaki's signature cuisine!
*2 Goya: a melon from the squash family with edible skin and flesh (seeds are usually removed beforehand). The vegetable is characterized by its bitter taste.
*3 Handama: a vegetable resembling spinach grown in Okinawa. Its leaves are edible.
*4 Yaeyama soba: a hearty noodle soup eaten on Ishigaki Island, Taketomi Island, and other parts of Okinawa's Yaeyama region. These flour noodles are boiled then served with a Japanese-style dashi broth made from bonito flakes and konbu seaweed.
*5 Yakogai: giant sea snails that are found in Japan's Kagoshima and Okinawa areas. The shells are also used in a lacquering technique that uses mother-of-pearl (radenzaiku).
The writer recommends tasting the chef's homemade specialty Okinawan-style popoyaki crepes. The chewy texture of these thin pancakes paired with a scoop of the hotel's purple sweet potato ice cream makes an irrestible match!
In the evening, we suggest winding down at THE STAR BAR, which is conveniently located near the beach. As you feel the gentle ocean breeze, why not order a satisfying drink to cap off a fun-filled day?
For details on Fusaki Beach Resort's restaurants and bar, please have a look at the their facilities page (Japanese).
5. Ishigaki-Centric Select Shop Overflowing with Souvenirs
After dinner, the writer took a peek inside the hotel's souvenir store, RESORT SHOP & MARKET. The shop sells roughly two thousand different items with a focus on sweets and food seasonings, traditional crafts, and art—all made on Ishigaki Island.
Many items here aren't available at Ishigaki Airport, so be sure to purchase something you like before leaving for home.
For details on Fusaki Beach Resort's shops, please check out the facilities page on their official homepage (Japanese).
6. Reservations Available in English or Traditional Chinese! On-Site English Service Also on Hand!
The staff at the hotel front desk can assist guests in English, so overseas visitors can have a stress free check-in. When staying at Fusaki Beach Resort, reservations can also be made on their homepage.
The reservations page is available in English, Traditional Chinese, Simplified Chinese, and Korean.
Experience a Luxurious Time at This Seaside Resort
Whether you're sipping on a cocktail and watching the sunset or waking up early to take part in a beach yoga session, you'll see that one of the attractive features of staying here is being able to have a fun experience that is unique to a beach resort.
While sitting on a sandy beach, the writer spent the evening gazing up at the beautiful starry sky.
The expansive grounds of Fusaki Beach Resort—which measures roughly 4,900 square meters—houses many subtropical plants, such as the Adan tree (or "umbrella tree") which produces hibiscus-like flowers and fruit that resembles pineapples.

You can also head out for a walk while immersing yourself in the shoes of a southern local.

The writer admittedly wanted to stay a bit longer after enjoying Ishigaki's ocean, nature, delicious food, and the resort's stylish and comfortable guest rooms!

For visitors planning a trip here, we recommend extending the length of your stay because time will swiftly pass by.

In cooperation with Fusaki Beach Resort Hotel & Villas

The information presented in this article is based on the time it was written. Note that there may be changes in the merchandise, services, and prices that have occurred after this article was published. Please contact the facility or facilities in this article directly before visiting.