Hoshino Resorts Tomamu - A Unique Stay Above Hokkaido's Clouds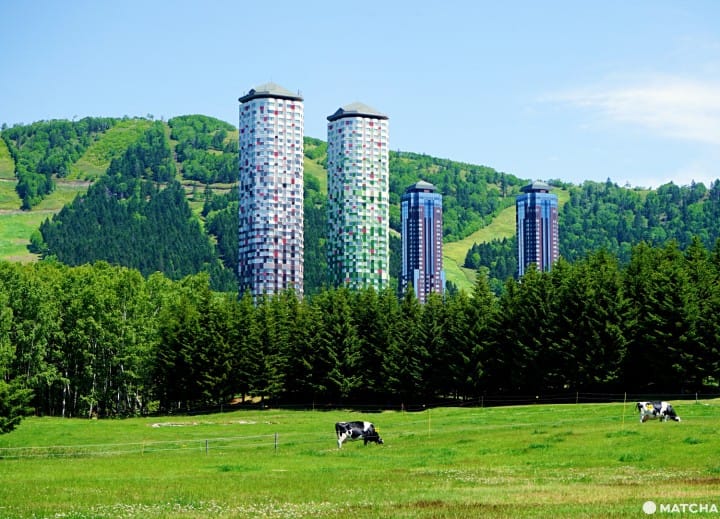 Hoshino Resorts Tomamu in Hokkaido is a resort recognizable by its iconic towers. Guests lodge high in these towers amidst Hokkaido's great outdoors, enjoy local dishes, and seasonal activities, like seeing a sea of clouds.
Hoshino Resorts Tomamu - Relax High in the Sky, Surrounded by Nature
Top-left, top-right, and bottom-right pictures courtesy of Hoshino Resorts
Nestled in central Hokkaido Prefecture, Hoshino Resorts Tomamu is a luxurious resort where guests stay in iconic towers and experience relaxation inside and outside.
Tomamu operates during summer and winter, with each facility allowing guests to experience the best of Hokkaido's gorgeous nature, from unkai, a sea of clouds during the cool summers, to skiing in powder snow in the winter.
There are two accommodations on the vast grounds of Tomamu: RISONARE Tomamu and Tomamu The Tower, along with many dining options and activity facilities that guests can explore via bus. Continue reading to learn more about the differences in lodgings, restaurants, and features of Tomamu that make it a must-visit destination in Japan.
RISONARE Tomamu - Lounge in Spacious Rooms and Luxury
The north tower
The brown and blue-colored pair of towers at Tomamu is RISONARE Tomamu, a high-end resort with a noticeable focus on comfort. From this lodging, guests can make use of the shuttle bus to get to other areas of Tomamu, like the ropeway to unkai terrace to view the sea of clouds, and Farm Hoshino.
Picture courtesy of Hoshino Resorts
There are different types of rooms to suit different travel needs, from family-oriented options to rooms designed in a cloud theme, inspired by the resort's famous unkai. Each elegant room is 100-square meters or larger, and comes with jet bathtub and sauna.
The view from a RISONARE room.
Guests stay high up in the towers at Risonare, so the view from each room is simply spectacular. Depending on where your window is, you will be able to see the daily fireworks display at Tomamu, which occurs from 20:00 to 20:05.
Guests at RISONARE Tomamu can make use of Books&Cafe, a lounge with floor-to-ceiling windows, with books, coffee, and other beverages. The natural light flows in through the large windows, allowing visitors to enjoy views of the picturesque nature outside while they read and relax. Books are available in Japanese and English.
Please see the official website for more information on the facilities at RISONARE Tomamu.
Tomamu The Tower - Leisure for the Active Traveler
Picture courtesy of Hoshino Resorts
Tomamu The Tower is a pair of towers in brown and green, symbolizing winter and summer. The towers themselves are very sleek and architecturally interesting, and the rooms are stylish and cozy to match.
Picture courtesy of Hoshino Resorts
Guests at Tomamu The Tower can enjoy the stunning grounds via their rooms, too, as well as views of the nightly fireworks (mentioned above).
Close to the GAO Outdoor Center, Farm Hoshino, two outside activity facilities, and Hotalu Street, a shopping and restaurant area, The Tower is a convenient accommodation ideal for active guests. It is very easy to explore the surrounding resort grounds. To navigate to farther areas at Tomamu, guests can board the shuttle bus.
Please see the official website for more information on the facilities at Tomamu The Tower.
A Foodie's Paradise! Choose from 20 Restaurants
Hoshino Resorts Tomamu has around twenty different restaurant and dining options, providing something to satisfy all guests' tastebuds and moods. Restaurants are located in each lodging, various locations on the grounds, and Hotalu Street. Some restaurants are open for breakfast and dinner, and others operate during lunch hours.
The menus are all different at each restaurant, but many offer Hokkaido specialties, including fresh seafood, local meat, and dairy products. There are also restaurants with traditional Japanese cuisine, like shabu-shabu, and even ramen.
At Forest Restaurant Nininupuri, an all-you-can-eat, buffet-style restaurant, guests can savor a selection of regional flavors, like made-to-order pork bowls, Hokkaido karaage fried chicken, and fresh vegetables. During dinner, there is an all-you-can-drink beer menu with refreshing local and national beer selections, as well as soft serve ice cream made from milk from the nearby Farm Hoshino.
Buffet dining hal, another all-you-can-eat establishment, has a cloud-inspired dessert (shown being made above) and also offers an extensive menu of exquisite seafood. The restaurant interior is cozy, and the big windows allow diners to enjoy views of the lush forest outside.
More casual options include AFURI, a branch of a famous ramen chain restaurant, located on Hotalu Street, and Green Kitchen, close to the GAO Outdoor Center.
To see the food and drink options at Tomamu, refer to the official website.
*Please note that menus and dishes available are subject to change. If you have an allergy or specific food request, please inquire at the time of your reservation.
Enjoy Hokkaido's Best with Shopping and Dining on Hotalu Street
Hotalu Street is a recreational area of Hoshino Resorts Tomamu, linked directly to Tomamu The Tower, and close to RISONARE Tomamu. Guests will find restaurants, cafes, and shopping in this picturesque square right by the mountains.
Guests can frequent the casual restaurants and dessert shops here as well. For shopping, there are stores carrying stylish outdoor apparel and gifts.
Seasonal events are regularly held here, as well. For example, in the summer guests can enjoy Melon & Champagne Fest, a delicious evening of fun with Hokkaido melon, famous for its sweetness and flavor. There is also a beer garden where guests can unwind with hearty Hokkaido brews and other Japanese beers.
Hotalu Street is also a great place to view the evening fireworks. Be sure to stop by after sunset to take in the gorgeous scenery and catch the show.
Let Tadao Ando's Chapel on the Water Mesmerize You
Chapel on the Water, a masterpiece by internationally-renowned architect, Tadao Ando, is a must-see for any fan of art and architecture and art. Located on Tomamu's resort grounds, this surreal chapel is used normally for weddings, but it is open for viewing in the morning (6:30 to 7:15*) or in the evening (21:00 to 21:25).
Viewing it during in the daylight, the sun shines through the trees, creating a soft, serene scene.
*The morning hours viewing hours are only for the summer. Please note that these operating times coincide with the hours of UNKAI TERRACE.
At night, the area is illuminated, resulting in an otherworldly, romantic atmosphere. Be sure to see this amazing architectural work during your visit.
For more information on visiting the Chapel on the Water and weddings, view the official website (Japanese).
Tomamu Activities - Adventure Above Clouds, Explore a Farm, and Relax!
Top left and bottom right pictures courtesy of Hoshino Resorts
Another aspect that makes Hoshino Resorts Tomamu special is its plethora of activities and things to do. During the summer season, guests can view the ethereal sea of clouds (unkai) that float around Mt. Tomamu in the morning, and spend the afternoon picnicking and playing with animals on Farm Hoshino. Tomamu also has an outdoor hot springs and boasts Japan's largest indoor manmade beach.
Ice village. Picture courtesy of Hoshino Resorts
In the winter, when temperatures can drop to below 30 degrees Celsius, the resort transforms into a snowy white wonderland. Tomamu is an ideal destination for skiing, snowboarding, and winter sports. There is also an Ice Village with an ice chapel and other thrilling winter-limited activities for guests.
Please see the article below for more information on what you can experience at Hoshino Resorts Tomamu.
How to Get to Hoshino Resorts Tomamu
To get to Hoshino Resorts Tomamu from Tokyo or Osaka, it is suggested to fly into New Chitose Airport, which is connected to major domestic airports, including Haneda, Narita, and Kansai International Airport. A shuttle bus daily, directly from the airport to the Tomamu resorts, operates daily. For the shuttle schedule, please click here.
If your travel schedule makes it difficult to ride the bus, you can use public transportation. Take the JR train from the airport to Minami Chitose Station, and then board the Super Tokachi bound for Obihiro. Get off at Tomamu Station and board the shuttle bus to Hoshino Resorts Tomamu.
Hoshino Resorts Tomamu - Experience Luxury in Hokkaido's Great Outdoors!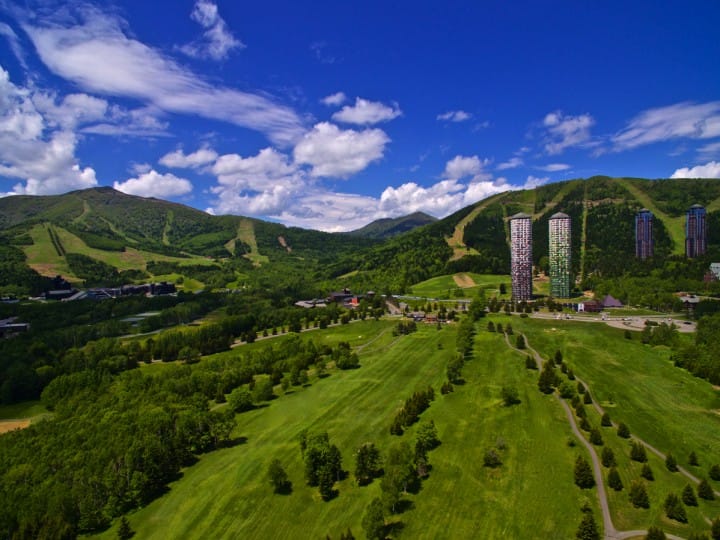 Picture courtesy of Hoshino Resorts Tomamu
Ideal for the traveler wanting to relax and get away from the fast pace of everyday life. From the impressive tower facilities to the great outdoors, Tomamu is an ideal destination to experience rural Japan in comfort.
Nearby the resort are Biei and Furano, famous for boundless lavender fields and a glowing blue pond, are also close and provide further chances to get in touch with nature. Obihiro, a nature-filled area known for its powder snow, hot springs, and delicious food, is another nearby destination.
Hoshino Resorts Tomamu Official Website: https://www.snowtomamu.jp/summer/en/
Written by Jasmine Ortlieb
Sponsored by Hoshino Resorts
Hoshino Resorts operates hotels and ryokan (Japanese inns) in more than 40 locations. Their facilities are ideal for travelers who wish to fully enjoy the charms of Japan.
Each facility has English speaking staff who make sure that visitors from all around the world experience the full breadth of Japanese hospitality without inconveniences.
The Hoshino Resorts brands include HOSHINOYA, KAI, RISONARE, OMO, and BEB.
The information presented in this article is based on the time it was written. Note that there may be changes in the merchandise, services, and prices that have occurred after this article was published. Please contact the facility or facilities in this article directly before visiting.