7 Exciting Summer Holiday Destinations In Japan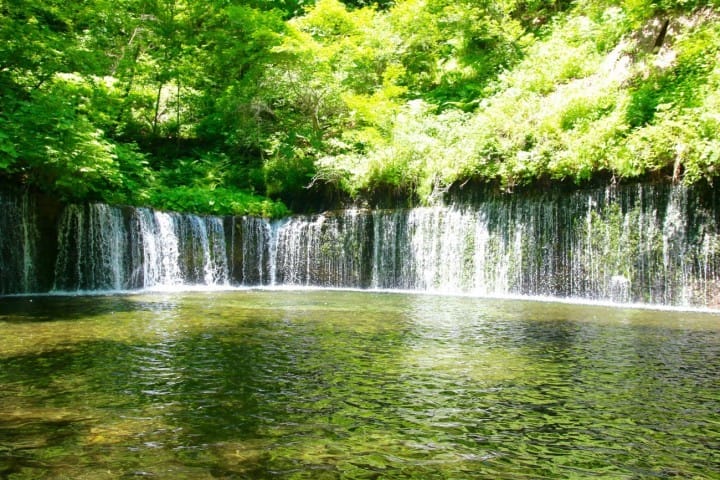 Summer in Japan is an exciting season with traditional festivals, firework displays and great outdoor activities. It is also known for its fiercely hot and humid weather. We introduce seven destinations that allow you to escape the heat while having fun.
Summer, the Best Time to Enjoy Japan's Nature
Summertime in Japan offers a lot to travelers, with the many outdoor activities available and traditional festivals being held all over the country.
However, the weather is known for being hot and humid, with the popular destinations of Tokyo and Kyoto usually reaching the upper 30s Celsius (80s or 90s Fahrenheit). The heat can be an obstacle for those not used to this intense weather.
Nevertheless, certain regions of Japan are actually pleasantly cool during the summer months, and have plenty to keep your travel plans full. In this article, we recommend seven different areas in with breezy climates where travelers can enjoy the great summer season in Japan.
1. Biei-Furano - Travel North to Hokkaido
Picture from Sapporo's Horomitouge Lavender Garden Is Just Too Beautiful!
Hokkaido, Japan's northernmost island, is well-known for its wonderful snowy landscapes in the winter and its mild summer weather, which make it a popular travel destination year-round.
In the summer, median temperatures are in the low 20s Celsius, or 70s in Fahrenheit. In particular, the Biei and Furano areas in central Hokkaido, stand out for their beautiful nature in this season.
One of the activities that you shouldn't miss out once you're in this area, is visiting the lush lavender fields at the Tomita Farms in Furano, where you can enjoy the exquisite view of the blooming lavender and discover special lavender-themed merchandise.
Furano And Biei In Hokkaido – A Summer Escape To A Fairytale World
Another spot not to miss is Biei's ethereal cobalt pond, Shirogane Blue Pond. The piercing blue waters and surrounding greenery are best viewed during the summer months on a clear day.
If you are staying in Hokkaido for a few days, we also recommend making a trip to the nearby city of Asahikawa. Visitors will find the famous Asahikawa Zoo, scenic gardens, and a number of restaurants and shops that offer some of Hokkaido's tastiest cuisine.
2. Hakuba, Nagano - Hike the Northern Alps
Picture from Nagano Travel Guide - Sightseeing, Ski Resorts, Local Food And More!
The Japan Alps is a mountain range covering the Hida, Kiso, and Akaishi Mountains, spanning across the Chubu region, or central Japan.
Comparable to the size of Mount Fuji, these mountains are among the tallest in Japan, with several peaks reaching 3,000 meters, or around 9,000 feet. The high elevation means the summer season stays cool in these areas.
Visitors coming to Hakuba in Nagano Prefecture will appreciate the northern Japan Alps, ideal for backpacking, hiking, and enjoying the outdoors. We recommend hiking on the Happo-one Nature Study Course for stunning views of the mountains, and trekking through the high-elevation wetlands in Tsugaike Nature Park.
3. Karuizawa - A Charming Resort Town by Tokyo
Picture from Karuizawa's Scenic Nature Spots - Shiraito Falls And Kumoba Pond
Karuizawa, located in eastern Nagano Prefecture, is a resort town known for both its winter sports as well as beautiful nature in the summer. Its reputation has a long history, as the town has been a favorite summer getaway since the 1900s for those living in Tokyo.
Recently, Karuizawa has also gathered popularity due to its connection with "Terrace House", a reality television program.
Visitors will find plenty to do in the city of Karuizawa itself, with the villages of Shin-Karuizawa, Kyu-Karuizawa, and Naka-Karuizawa. All areas offer a variety of dining and entertainment options. If you enjoy shopping, head to Karuizawa Prince Shopping Plaza, one of Japan's largest outlet malls.
For scenic nature spots, Shiraito Falls and Kumoba Pond are picturesque and highly recommended.
4. Nagaoka, Niigata - Watch a Once-in-a-Lifetime Fireworks Show
Picture from Giant 650 Meter Fireworks! Nagaoka Hanabi in Niigata
The city of Nagaoka in Niigata Prefecture is famous for its annual Nagaoka Festival Fireworks event held in early August.
This fireworks festival is known as one of Japan's Three Major Firework Festivals due to its magnificent displays and scale, which make it truly a once-in-a-lifetime experience for those watching. Due to its northern coastal location, summers in Nagaoka are relatively cool.
In addition to the fireworks display, the close-by Mount Yahiko has hiking trails as well as a ropeway to the peak of the mountain. Niigata Prefecture is also a prefecture worth exploring, with its renowned Tsunan Sunflower Field and delicious Japanese sake breweries.
5. Yatsugatake - Relax in the Southern Alps
Picture from Nagano Travel Guide: Sightseeing, Ski Resorts, Local Food And More!
Yatsugatake in Yamanashi Prefecture is a resort town in the southern region of the Japan Alps. Reachable in around two and a half hours via train from Tokyo, the Yatsugatake is easily accessible.
The area offers fantastic outdoor activities along with luxurious high-class accommodations. In fact, this area is also known for its delicious Japanese wineries and is home to resorts where travelers can taste the famous wine.
Experienced hikers looking for a challenge can climb the gorgeous Mount Kitadake, Japan's second tallest peak. The hike to the top is 3,193 meters or 10,476 feet, and the view of Mount Fuji from the peak is unrivaled in beauty.
6. Western Tottori - Enjoy Nature and Pop Culture
Picture from Japan's Most Beautiful Starry Sky! Night Tours And Lodgings In Tottori
Tottori Prefecture, approximately two and a half hours away from Osaka, is another location where travelers can escape the heat and enjoy summer activities in Japan. The western region of the prefecture is home to Mount Daisen, known as Japan's western Mount Fuji. You can hike along the trails and visit Daisenji, a famous temple on the mountain.
Tottori is well-known for its beautiful starry skies. In the Daisen area, stargazing tours and events are being held regularly, so how about joining such an event? It will surely become a treasured memory of your summer trip to Japan!
In addition to the great outdoors, there are many other interesting destinations close by. Anime and manga fans shouldn't miss taking a trip to the city of Sakaiminato to photograph Mizuki Shigeru Road, a street in the town dedicated to "GeGeGe no Kitaro", a popular manga and anime character created by Mizuki Shigeru.
In the summer, beautiful mountain lilies and black-eyed susans bloom at Japan's largest flower park, Tottori Hanaikairo Flower Park, allowing visitors to enjoy the flowers with a beautiful view Mount Daisen in the background.
7. Aomori Prefecture - Celebrate Summer Traditions
Picture from Feel The North's Summer Heat At The 2017 Aomori Nebuta Festival!
Every summer, the iconic Nebuta Festival in Aomori Prefecture in the Tohoku region attracts and captivates many viewers. The festival's main events include a magnificent parade featuring colorful, illuminated floats, as well as traditional dance performances.
In the evening, there is also a spectacular fireworks display. Taking place in the middle of summer in early August, temperatures will be warm, but as Honshu's northernmost prefecture, Aomori is relatively cool.
There are also many other things to do in Aomori in addition to the Nebuta Festival. The northern, coastal location of Aomori means a lot of tasty seafood cuisine is made here. The city of Hachinohe is an ideal location for traveler's wanting to sample some of Aomori's delicacies.
Discover the Charm of Japan in the Summer!
Picture from Weather In Japan - The Year Round Climate And Temperatures

With plenty of destinations in Japan with mild summer temperatures, you can travel during this dynamic and exciting season without having to sweat over the intense heat.

Summer is a perfect time to enjoy outdoor activities such as hiking, relaxing at resort towns with luxury shopping, and celebrating local festivals. By traveling to at least one of these seven spots, you will discover there is a lot to be explored and enjoyed during the summertime in Japan.

The information presented in this article is based on the time it was written. Note that there may be changes in the merchandise, services, and prices that have occurred after this article was published. Please contact the facility or facilities in this article directly before visiting.