Visit Asahikawa In Hokkaido! A Recommended Hotel And Places To Visit
Some of the most beautiful places to visit in Hokkaido such as the Blue Pond and Furano's lavender fields are close to Asahikawa. Stay at Hoshino Resorts OMO7 Asahikawa and explore this amazing area!
Asahikawa, Hokkaido - Beautiful Places Everywhere!
There is no end to the charms of Hokkaido, where nature is vast, the food is excellent, and one can enjoy fun snow activities. Though Hokkaido is known for sightseeing areas such as Sapporo, Otaru, and Niseko, Asahikawa is the city that is steadily gaining fans for its fun zoos and beautiful gardens.
Let's check out the best sightseeing spots in Asahikawa, which is situated in central Hokkaido, alongside Hoshino Resorts OMO7 Asahikawa, a hotel that will make your trip even more enjoyable.
Make Your OMO7 Asahikawa Reservations Here!
Asahiyama Zoo – So Many Impressive Animals!
When you think of places that you can't miss when visiting this area of Japan, the Asahikawa City Asahiyama Zoo, filled with fun, elaborate exhibits, is what comes to mind. The zoo is popular for its penguin and seal enclosures where you can watch animals swimming from various angles.
The extremely thrilling polar bear enclosure is a must see. You'll be able to watch the polar bears as they walk right beside you from a translucent capsule above ground!
Ueno Farm – Like the World in a Picture Book
Ueno Farm is a facility that made use of Hokkaido's climate and soil to create beautiful, original gardens. With such a romantic garden spread out before you, you'll most probably experience a wonderful feeling, almost as if you've wandered into the world of a picture book.
If you're feeling hungry, then take a break at NAYA café in the garden. Here, you can try light meals and drinks made with fresh Hokkaido ingredients.
Blue Pond - A Mystical Scenery Accessible from Asahikawa
The Blue Pond, located about 30 minutes by car from Asahikawa in Biei, is a spot you'll want to visit by going a slightly further distance.
Though it may be an artificially made pond, minerals from the soil dissolve into the water to make it unexpectedly appear blue. The color of the water is especially clear in the mornings of sunny days. You can witness a fantastic sight as the surface of the water shines blue.
Furano, famous for its lavender fields, is also a 30-minute car ride from Asahikawa. It might be thus a great idea to make Asahikawa the center of your Hokkaido travels!
OMO7 Asahikawa - Make Your Sightseeing Even More Enjoyable
If you're visiting the city of Asahikawa, then be sure to also stop by 5-7 Furarito, a restaurant street loved by locals. Many people have become captivated with the nostalgic atmosphere that still remains from the Showa period (1926 - 1989).
Located a minute's walk from 5-7 Furarito, OMO7 Asahikawa is located in an area where you can experience the local atmosphere of Asahikawa to your heart's content. The hotel is a renovation of the former Asahikawa Grand Hotel and is scheduled to open on April 28th, 2018.
5 Fun Things About OMO7 Asahikawa
OMO is a new style of hotel created by Hoshino Resorts, which operates luxury accommodation facilities in Japan. It differs from an ordinary business hotel and appears to be built in a way that will make the stay itself fun!
We have collected five unique characteristics of OMO7 Asahikawa, a hotel built with the concept of "a stay that shouldn't end with just sleeping."
Make Your OMO7 Asahikawa Reservations Here!
1. OMO Base – A Comfortable Lobby Lounge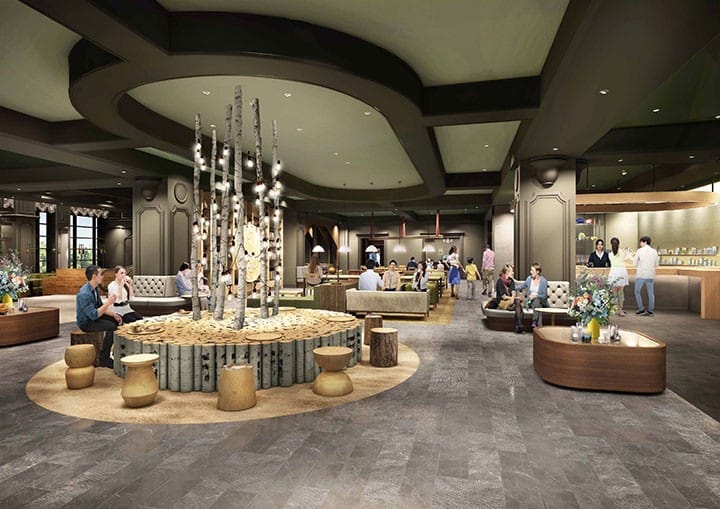 The lobby lounge OMO Base is the first area you'll see when you visit OMO7 Asahikawa. The lounge is decorated with an imaginative interior that includes Japanese white birch tables. The staff will also be there to warmly welcome you, making it so comfortable that you'll want to stay there forever.
There are also times when you're immediately brought back to reality after returning to your modest hotel after sightseeing. However, when you check into OMO Base, you can head to your room while maintaining that excitement from being on a trip.
2. Plan Your Day in Asahikawa at the DANRAN Room!
There are also interesting guest rooms that are designed to raise the mood of your trip. The DANRAN Room, a two-person guest room decorated with an efficient interior, is a small, but functionally comfortable space. The colorful interior will also make you excited.
The room is great for discussing your plans for tomorrow while sitting on the beds, which can also become sofas, or opening your suitcase and organizing the souvenirs you've purchased, or even relaxing and immersing yourself in the memories of your trip.
By using the DANRAN Room, which is designed to be used however you please, you'll be able to spend a wonderful time even while you're in your hotel room.
3. A Beautiful Hokkaido Breakfast Buffet
Breakfast at the hotel consists of several dishes made with fresh ingredients which are served in buffet style. Both the flavors and appearance of this outstanding breakfast will boost your energy before you go out exploring the area.
We recommend the waffles; each and every waffle is cooked to order with a crunchy outside and fluffy inside. Waffles are either savory, made with ingredients such as salmon, or sweet, with jam and syrup poured on top, making it the start to a wonderful day where you can enjoy all of Asahikawa in Hokkaido.
4. The Atmospheric OMO Café & Bar
The OMO Café & Bar is another area where you can have your breakfast. The menu here changes every hour and the cafe is also open for lunch and drinking. You can spend a fulfilling day even without leaving the hotel by utilizing this café on days with bad weather or days when you want to take it easy.
5. The Loft-Like Book Tunnel
Located in a corner of the lobby is a space called the Book Tunnel, the home to books in both Japanese and English. Since this is a space where you can freely come and go, try using it as a meeting spot or for looking up information for your trip.
Make Your OMO7 Asahikawa Reservations Here!
Written by Asuka Yoshida
Photos courtesy of Hoshino Resorts and Asahikawa City
Sponsored by Hoshino Resorts
Hoshino Resorts operates hotels and ryokan (Japanese inns) in more than 40 locations. Their facilities are ideal for travelers who wish to fully enjoy the charms of Japan.
Each facility has English speaking staff who make sure that visitors from all around the world experience the full breadth of Japanese hospitality without inconveniences.
The Hoshino Resorts brands include HOSHINOYA, KAI, RISONARE, OMO, and BEB.
The information presented in this article is based on the time it was written. Note that there may be changes in the merchandise, services, and prices that have occurred after this article was published. Please contact the facility or facilities in this article directly before visiting.