Japan In Winter: 10 Must-See Snow Festivals! 2019-2020
Wintertime in Japan is enjoyable with snow festivals in Sapporo, Aomori, Niigata, Tochigi, and other regions! Learn about the stunning ice sculptures and illuminations you can see, when these festivals are, and how to make the most out of winter in Japan in 2019 and 2020.
Visiting Japan in the Winter? Go to a Snow Festival!
Japan is known for its large-scale festivals, which occur year-round. In winter, northern Japan, like Aomori, Niigata, and Hokkaido, typically experiences heavy snowfall. As a result, the communities in these areas celebrate the snowy landscape and the seasons with special events and festivals.
One way to experience the weather is with a visit to a snow festival. From the Sapporo Snow Festival with its larger-than-life snow and ice sculptures to heartwarming igloos in Nikko, these festivals give visitors a firsthand chance to enjoy the cold and gorgeous winter landscape.
This article introduces snow festival sites across Japan and when to see them, along with the average periods for snowfall. Continue reading to learn more about how to take advantage of winter travel in Japan.
1. Hokkaido: Sapporo Snow Festival 2020
Picture from The Sapporo Snow Festival 2018, An Extravaganza Of Snow And Ice!
In Hokkaido, snow starts to fall around the end of October and early November.
As the northernmost region of Japan, it sees the earliest snowfall in the country. Sapporo, Hokkaido's center of government, is host to the annual Sapporo Snow Festival, Japan's largest snow festival, which takes place in February.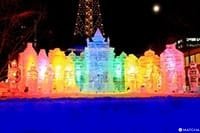 Picture courtesy of Sapporo Economy & Tourism Bureau, MICE Sightseeing Promotional Dept.
The venue for the festival is the Sapporo City center, including Odori Park.
The main appeal of the festival is how these impressive architectural creations are completely made out of ice and snow. People come from all over the country to view the rich variety of snow and ice sculptures. There's more to the festival than just enjoying the world of ice; with many food and drink booths and rest areas all over the venue, it's easy for families to join the festivities.
2020 Sapporo Snow Festival
Schedule: February 4 - 11, 2020 (Odori Park and Susukino), January 31 - February 11, 2020 (Tsudome)
For more details, check out The Sapporo Snow Festival 2018, An Extravaganza Of Snow And Ice!

2. Hokkaido: Asahikawa Winter Festival
The Asahikawa Snow Festival is also held in Hokkaido in Asahikawa. The city is located slightly north of Sapporo, so its snow season starts somewhat earlier.
Asahikawa is known for its Asahikawa Zoo, a famous and very popular spot. However the standout of the snow festival is the Guinness World Record-holding giant snow sculptures, which is an extraordinary scene only visible in winter.
This ice sculpture depicts Shuri Castle, an Okinawan World Heritage site. This might be the only place where you can see Shuri Castle in gleaming silver and white.
The sculptures are on display for about a month, and the World Ice Sculpting Championship is held at the same time; the atmosphere becomes quite romantic after night falls, when the sculptures are all illuminated.
2020 Asahikawa Winter Festival
Schedule: February 6 - 11, 2020
Website: http://www.city.asahikawa.hokkaido.jp/awf/ (external site translation)
3. Aomori: Hirosaki Castle Snow Lantern Festival
Picture courtesy of Aomori Tourism Federation
In Aomori Prefecture in Japan's northern Tohoku region, snowfall begins at the start of November.
Once the winter comes and the snow starts to pile up, Aomori becomes a world of pure white. The prefecture is the host of the annual Hirosaki Castle Snow Lantern Festival held in Hirosaki Park, a national historical landmark.
Picture courtesy of JNTO
The eponymous lanterns are essentially modern-day streetlights.
The Hirosaki Castle Snow Lantern Festival has been held since 1977, when the local citizens decided to make lanterns in order to liven up the town during the long and cold winter. This warm event can only be enjoyed for a few days, so please check the schedule carefully.
Near Hirosaki Park, you'll also find a Starbucks built in one of Aomori's Tangible Cultural Properties too. Why not stop by and check out this building and get a warm drink after sightseeing?
2019 Hirosaki Castle Snow Lantern Festival
Schedule: February 8 - 11, 2019
Website: http://www.hirosaki-kanko.or.jp

4. Aomori: Aomori Yukiakari Matsuri
Picture courtesy of Aomori City Economy Dept. Tourism Division
The Aomori Yukiakari Matsuri (Snow Light Festival) is a week-long festival celebrated by the citizens of Aomori city, with handmade snow lanterns and candles. It's very conveniently located too, in the Nebuta House Warasse West Plaza, just a minute's walk from JR Aomori Station.
The sight of the carefully made lanterns illuminated by candlelight is fantastic, and one of the highlights of this festival. During this event, there is also a Wish Candle, where if you draw a wish on the candle holder, your wish may come true.
Wouldn't you like to make your own wish at this amazing event?
2019 Aomori Yukiakari Matsuri
Schedule: January 25 - 27, 2019
Website: https: //www.city.aomori.aomori.jp/kanko/bunka-sports-kanko/kankou/shiki-event/fuyu/01/01.html
5. Iwate: Iwate Snow Festival
Picture courtesy of Iwate Tourism Association
This year marks the 50th anniversary of the Iwate Snow Festival.
In 2019, the main venue was at Iwate Takahara Snow Park, with various other events taking place at six venues in total. Here you'll be able to see numerous different large snow statues at the main venue.
Picture courtesy of JNTO
At the Iwate Snow Festival you can try something a little different too. Here you can enjoy one of Hokkaido and the Tohoku region's signature dishes, Genghis Khan (grilled lamb) inside a kamakura (snow hut)! You can try this at the Koiwai Farm venue.
In the Amihari Onsen Ski Resort, you can relax in a bath with a snow view, and at Shizukuishi Ski Resort, you can go sledding and take a snowy cruise. Plus, at the Morioka Handmade Crafts Village, you can purchase special regional handicrafts, or at the Takizawa Nature Information Center, you can go snowshoe trekking or try other snowy experiences too.
Information about this festival is frequently updated on their official website, so please make sure to check it often to learn more.
2019 Iwate Snow Festival
Schedule: February 2 - 11, 2019

6. Akita: Yokote Snow Festival
Picture from Yokote Kamakura Snow Festival In Akita - A Fantastic Winter Landscape!
The first snow falls in Akita in early November. The Yokote Snow Festival takes place each year from January to February in Yokote, Akita.
During the Yokote Snow Festival, you can not only relax inside kamakura (snow huts), but also see dedications of bonden, a special implement used by Shinto priests as well.
To learn more about the festival itself, check out Yokote Kamakura Snow Festival In Akita - A Fantastic Winter Landscape!
2019 Yokote Snow Festival
Schedule: Yokote Snow Huts Feb. 15 - 16, 2019, from 18:00 - 21:00
7. Akita: Inukko Festival
Picture courtesy of Akita Tourism Federation
The Inukko Matsuri is a festival that has taken place in the Yuzawa district of Akita prefecture for about 400 years. At the main venue you will find statues of puppies made from rice flour standing guard; these dogs protect each house from burglary and are where the festival starts from.
This festival takes place in and around the Yuzawa City Athletics Gym, which is a 20-minute walk from JR Yuzawa Station. Other highlights of this festival include a fireworks display, and projection mapping, huge snow statues of dogs, and a special prayer for dogs event, where the health and happiness of dogs are prayed for.
Dog owners from across Japan and around the world come to take part in this irresistible, historical event for dog lovers.
2019 Inukko Matsuri
Schedule: February 9 - 10, 2019
Website: http://akitayuzawa.jp/event/inukko-2018.html
8. Yamagata: Yamagata Snow Festival
Picture courtesy of Yamagata Tourism Culture And Sports Dept. Tourism & Hospitality Promotion Section
The Yamagata Snow Festival is an event-filled celebration that began in 2015. It is held at the Mogamigawa Furusato Park, which is a ten-minute drive from JR Sagae Station.
With a large snow sculpture as its symbol, here you can enjoy illuminations and fireworks at night in a charming, romantic atmosphere.
There are also food stalls selling gourmet treats from Yamagata and events where you can experience the life and culture of a "snow country". There are even spots where you can make your own mini snow sculptures too, so there is plenty to enjoy both day and night at this festival.
2019 Yamagata Snow Festival
Schedule: February 1 - 3, 2019
Website: http://www.yamagata-yukifes.jp/ (Japanese)
9. Niigata: Tokamachi Snow Festival
Picture courtesy of Tokamachi Snow Festival Executive Committee Office
The concepts behind the Tokamachi Snow Festival, which draws huge crowds every year, are "friendship with snow" and "enjoying the snow."
It is known as one of Japan's three great snow festivals along with the Sapporo Snow Festival in Hokkaido and the Minami Uonu.
10. Tochigi: Yunishigawa Kamakura Festival
Yunishigawa Kamakura Festival is held in the popular Yunishigawa Onsen hot spring area in Nikko, Tochigi Prefecture. The area starts to receive snow in mid-November. The change between fall and winter in this area is gorgeous.
This festival is a popular winter event with daytime activities like sledding and barbecues. In the evening, hundreds of small kamakura (igloo) light up in the evening. Go at night with a loved one or friends for a special time.
Yunishigawa Kamakura Festival 2019
Schedule: January 26 - March 3, 2019
Website: https://www.tochigiji.or.jp/event/1064/
Snow Festivals in Japan
Festivals occur year-round in Japan, from ones with traditional parades and floats, like Kyoto's Gion Matsuri, to the Kanamura Matsuri near Tokyo, an event for fertility. January, February, and March are great times to take in the festive environment with events snowy northern Japan.
The information presented in this article is based on the time it was written. Note that there may be changes in the merchandise, services, and prices that have occurred after this article was published. Please contact the facility or facilities in this article directly before visiting.