Hoshino Resorts Oirase Keiryu Hotel - A Snow And Ice Outdoor Adventure
Explore northern Japan's nature in comfort at Hoshino Resorts Oirase Keiryu Hotel. Ride the Shinkansen and the free hotel shuttle to take in the dynamic seasons close to a national park with guided nature activities, hot springs, and regional food.
Enjoy the Nature of a Japanese National Park
Picture courtesy of Hoshino Resorts Oirase Keiryu Hotel
Experience the abundant outdoors of northern, rural Japan at Hoshino Resorts Oirase Keiryu Hotel, a resort that allows its guests to get in touch with nature. Three hours by shinkansen from Tokyo and close to Towada-Hachimantai National Park, there is much to explore at the hotel and in the surrounding areas.
The hotel offers plenty of exciting activities that allow guests to enjoy the wonderful nature of Aomori to the fullest. In the winter, try snowshoeing tours and seeing frozen waterfalls at night, and even sports on Mt. Hakkoda. You can equally relish your time indoors relaxing in hot springs, curling up with a book at one of the cozy hotel lounges, or trying a hands-on workshop.
In this article, we introduce the features of the refined Hoshino Resorts Oirase Keiryu Hotel, a facility that is worth traveling all the way to Aomori to visit!
1. Cozy Rooms that Emphasize Nature's Beauty
Picture courtesy of Hoshino Resorts Oirase Keiryu Hotel
The rooms at the hotel are a combination of modern Japanese and Western elements. A majority of the wooden elements are made out of Japanese beech, commonly found in the forests in this region.
We had a room overlooking the Oirase Keiryu stream, an ecologically-important river flowing in the prefecture. The design of these rooms is slightly slanted, intended to draw the eye towards the window and to the mountain stream below. The couch was perfect for relaxing on, reading, and observing the nature outside.
Guests can choose between different room types, including those with Japanese-style beds and soft tatami flooring. For more details on the rooms at Hoshino Resorts Oirase Keiryu Hotel, look at their official homepage.
2. Exciting Activities -
Discover the Forests, Mountains, and Rivers of Northern Japan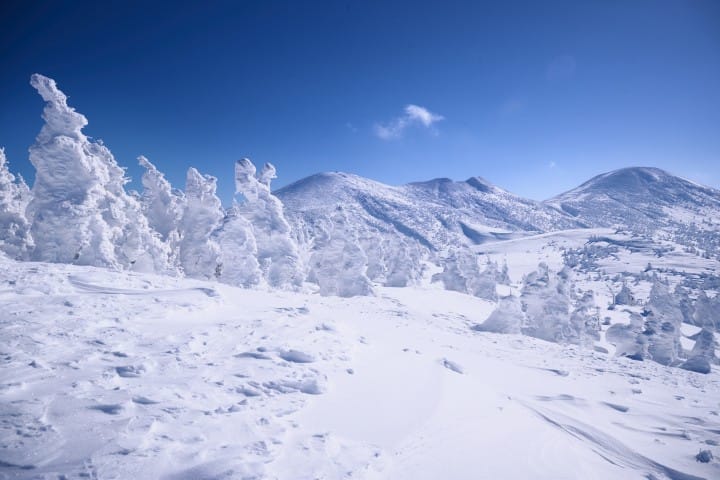 Picture courtesy of Hoshino Resorts Oirase Keiryu Hotel
Guests can choose from a wide variety of outdoor and indoor activities year-round. For example, guests can try snowshoe tours and evening trips to see waterfalls that are frozen when powder white snow blankets the ground in winter. Winter brings a higher chance of encountering charming wildlife, like badgers, owls, and even wild goats.
Mt. Hakkoda, reachable directly from the hotel via bus, is a mountain known for its gorgeous powder snow. It is ideal for skiing and snowboarding. There is also a ropeway that provides riders with a breathtaking view of mysterious snow-covered trees pictured above.
The activities offered at this facility change throughout the year to reflect the seasons. There are plenty of opportunities to take in the snowy wonderland in the winter, but visitors can also have fun at other times of the year. You can appreciate the flowers and bright greenery in spring and summer with guided strolls. The trees of the forests lining Oirase Keiyru stream turn a vibrant yellow in the autumn, making it an ideal time for exploring, too.
Snoe Shoeing Tour Suitable for Beginners
We joined the Snow Shoeing Tour, a guided and beginner-friendly activity where you snowshoe around streams and waterfalls. If you make a reservation by the day before, it is free to partake in.
Before you go out in the snow, you will receive some instructions on how to wear and walk in the snowshoes properly. Even if it is your first time, the activity was relatively short and supervised so there is no need to worry. If you have any concerns, feel free to ask a staff member.
You can view the beautiful partially-frozen waterfall up-close. The thirty-minute tour is entertaining and an excellent opportunity to take pictures of the winter scenery.
Frozen Waterfall Night Tour Only for Hotel Guests
Picture courtesy of Hoshino Resorts Oirase Keiryu Hotel
Oirase Keiryu Hotel runs an evening bus tour that takes you around nearby waterfalls and streams that have frozen over. This is an activity that only hotel guests can take part in. The frozen waterways are illuminated for better visibility, and transform into different hues with the colored lights. These areas are part of Towada Hachimantai National Park and therefore are only lit up during this tour.
This is unlike anything you have seen before: the different colors have a stunning effect at night! This is a great opportunity to take in the beauty of nature in winter and capture some special photos. It will be cold, so make sure to dress warmly and bring a scarf and hat.
Make Your Own Souvenir! Gourd Lamp Making
One fun indoor option the Oirase Lamp Workshop, where you will make a lamp inspired by the diverse and abundant moss supported by the Oirase Keiryu stream. With guidance from the instructor, participants use a piercing tool to carefully create the pattern on a dried gourd.
These gourds are harvested from a local farm, and the thickness of the gourd varies by location. The key is to be gentle as to not crack the gourd while applying just enough pressure.
We chose a simple design. The varying thickness of the gourd's skin creates a warm, gentle light that changes slightly with each hole you poked. This is a special souvenir you can take home with you and remember your trip each time you use it. You will receive a lightbulb and stand to use, too.
The activities offered at Oirase Keiyru Hotel change throughout the year. For example, from spring through fall, visitors can enjoy a guided nature tour through the Oirase Keiyru stream. To learn about all the seasonal activities available, refer to this page.
3. Refined Cuisine -
Delight in Delicious Apple-Inspired Meals
For breakfast and dinner, head to Aomori Ringo Kitchen. The name of this buffet-style restaurant is inspired by ringo (apples), as well as its interior. The vibrant red decorations and apple patterns pair well with the modern, bright design of the kitchen.
Apples are available for you to take fresh, and you can also try them in different dishes. For dinner, we were recommended to try the savory and creamy chicken, and appetizers with apple and with salmon. It may be difficult not to overeat with so many options, from vegetables to seafood, to meat dishes.
For dessert, don't forget to indulge in a sweet, freshly-baked apple pie baked to order.
Breakfast is also buffet-style and features both Japanese and Western breakfast items, along with refreshing apple juice. All food is labeled and listed with allergens in Japanese and English.
Guests can enjoy the view from the window during meals, including falling snow in the winter. The winter scene in particular is beautiful and very calming to watch as you eat.
Picture courtesy of Hoshino Resorts Oirase Keiryu Hotel
The main restaurant is currently under renovations, guests can have lunch at the Mori no Shinwa (pictured above), a spacious lounge with a bronze sculpture by the famous artist Taro Okamoto in the centerpiece. The whimsical designs on the sculpture are inspired by the abundant nature in this area, including the nearby forests and streams.
All the tables have an excellent view of the outside landscape and the Oirase Keiyru stream running along the hotel grounds. It is very peaceful and relaxing to eat lunch here.
The menu is also inspired by apples and uses fresh ingredients to create delicious options. You can even order apple curry, a Japanese-style curry infused with the fruit. They also serve coffee made with spring water, which is an ideal way to energize in the afternoon after your meal.
To learn more about the refined cuisine that can be enjoyed at Oirase Keiryu Hotel, please refer to their official website.
*Dining at Lounge Shinwa no Mori ended March 10, 2019. Lunch is now offered at a separate facility.
4. Relaxing Hot Springs with a Unique Design -
Dip into Warm Waters Surrounded by a Glacier
Nothing is as nice as soaking in hot springs at the end of the day. In the winter, water around the outdoor bath becomes frozen, creating a magical sight with the snowy surroundings. The warmth from the water will keep you at a comfortable temperature.
There is also an indoor bath with a nice view of the wilderness outside. Soak in this bath before going to the outdoor bath to warm up before heading outside.
The hot springs at Oirase Keiryu Hotel provide guests with a truly special experience. Learn more about them by visiting their official website.
Immerse Yourself in Nature at Oirase Keiyru Hotel
Located inside Towada Hachimantai National Park, visitors can enjoy Japan's mountains, rivers, and forests with a trip to Oirase Keiyru Hotel. This is a great chance to unwind from the hustle of daily life and get back in touch with nature. The attention paid to every detail of your stay, from the hands-on activities to the room design to the cuisine, will impress you and make your time memorable and enjoyable. Come have a winter adventure in Northern Japan!
Hoshino Resorts Oirase Keiyru Hotel Official Website: https://www.oirase-keiryuu.jp/en/
Check room availability on this booking page.
The winter season at Hoshino Resorts Oirase Hotel ends March 30, 2019. The spring season starts April 13, 2019.

Written by Jasmine Ortlieb
Sponsored by Hoshino Resorts
Hoshino Resorts operates hotels and ryokan (Japanese inns) in more than 40 locations. Their facilities are ideal for travelers who wish to fully enjoy the charms of Japan.
Each facility has English speaking staff who make sure that visitors from all around the world experience the full breadth of Japanese hospitality without inconveniences.
The Hoshino Resorts brands include HOSHINOYA, KAI, RISONARE, OMO, and BEB.
The information presented in this article is based on the time it was written. Note that there may be changes in the merchandise, services, and prices that have occurred after this article was published. Please contact the facility or facilities in this article directly before visiting.