Hoshino Resorts Aomoriya - Vibrant Festivals And Amazing Hot Springs!
Enjoy Japan's exciting festival culture year-round at Hoshino Resorts Aomoriya in Aomori, northern Japan. Get ready to be entertained by the famous Nebuta Festival and local culture. The performances, hot springs, and winter snow are not to be missed!
Discover Northern Japan's Vibrant Culture at Aomoriya
Aomori Prefecture, the northernmost prefecture on Japan's main island, is renowned for the summer Nebuta Festival, beautiful nature, and delicious, unique cuisine from the sea and mountains.
At Hoshino Resorts Aomoriya, guests can experience all of this in comfort and luxury. Located three hours by Shinkansen from Tokyo, this resort is a great opportunity to experience northern rural Japan and make wonderful memories.
Feel Aomori Hospitality in Rooms with Views
Picture courtesy of Hoshino Resorts
The entire interior of Aomoriya is very inviting to guests, and the rooms are no exception. There are five types of rooms to choose from. Each features a modern Japanese interior design with tatami. The rooms are a comfortable fusion of traditional and contemporary, making them ideal for relaxing in.
Pictured above is the charming Azumashi room, which is the Aomori expression for "cozy." The window overlooks the hotel grounds and provides a stunning view of the surrounding nature.
During winter, you can enjoy the picturesque snow and decorations outside from the comfort of your window. We recommend sipping on a hot beverage on the sofa, taking in the views, and forgetting about the stress of everyday life.
Each room incorporates traditional Aomori crafts and art, from wooden carvings to textiles. Horses are an important part of the history and culture of Aomori Prefecture and are prominent accents in the room design and around the resort.
For more details on the rooms available at Hoshino Resorts Aomoriya, look at their official homepage.
Soak in Four Soothing Hot Springs
Picture courtesy of Hoshino Resorts
You can experience firsthand Japan's hot spring culture at Aomoriya. All four baths here are kept at comfortable temperatures, and guests with tattoos coverable with stickers can enter, too. Also, if you are unsure about how to use the baths, you can watch a video on onsen manners in English in the changing room.
The first bath, featured above, is Uki Yu, an outdoor bath that faces the snow and illuminated festival floats from the Nebuta Festival in winter. The water will warm you up and the chilly air above is very therapeutic. At other times of the year, you can enjoy a variety of scenery, like Aomori's gorgeous fall foliage.
Picture courtesy of Hoshino Resorts
The second bath is Hiba Yu, a relaxing indoor bath made out of Japanese cypress. The bath is separated into two areas with different water temperatures, so you can choose a warmth level suitable for you. A third hot spring is Moto Yu, an onsen with a classic Japanese-feel, accessible via bus from the hotel.
The fourth is a foot bath in the park. After a day of exploring, you can take in the serene outdoors while you soak your feet.
Put on a Yukata and Dive into Aomori Culture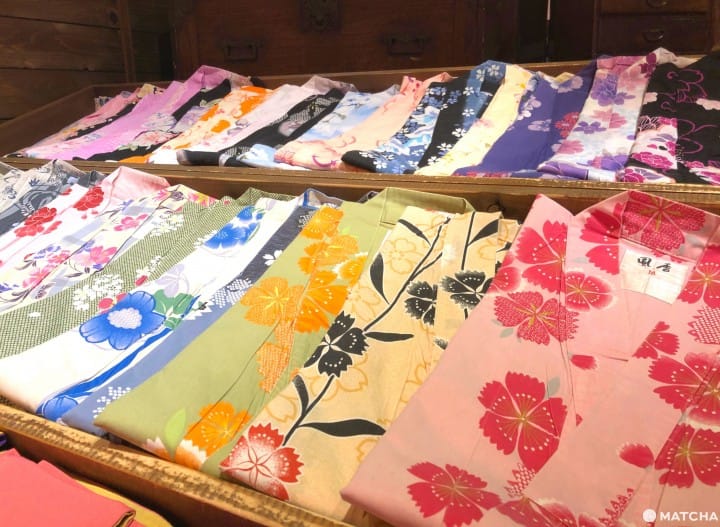 Aomoriya has a plethora of seasonal entertainment and activities for its guests, centered on Aomori culture. The changing activities allow you to have a new experience each visit and appreciate the lush nature year-round.
After arriving, choose a yukata (a lightweight kimono) and wander around the resort in traditional Japanese attire. If it's cold, put on a hanten, a short Edo Period-style winter coat.
Winter Illuminations and Events
During Aomori's chilly winter there are special events enjoyable even for guests not used to the cold, like the stunning Nebuta Snow Lanterns around the park, and festive decorations in the hotel.
Visitors can also learn origami and take photos with friendly employees dressed as adorable Yukinko, creatures from northern Japanese folklore.
After venturing outside to see the lit-up floats and decorations, go back inside to see the traditional lanterns in the halls inside the hotel. The atmosphere is exciting and will put you in a festival mood.
Don't forget to take a bite into chilled crispy apples, an Aomoriya specialty, from the fun Yukinko-style vending machine.
Winter events and activities are held from December 2018 until around March 2019. For more information on specific activities, please refer to the official website.
Stroll Around the Park and Visit a Cozy Lounge
Picture courtesy of Hoshino Resorts
Aomoriya is home to a spacious park with a path that takes visitors around a picturesque pond. It takes around 40 minutes to circle the lake and explore the park's surroundings, making it ideal for a leisurely break surrounded by the forest.
After a stroll through the park, you can relax at the foot bath overlooking the pond. Throughout the seasons the landscape changes, with delicate springtime cherry blossoms, lush greenery in the summer, vivid foliage in the fall, and snow dusting the ground in the winter.
There is also the Yawatauma Lounge (pictured above), a cozy building where you can relax with your choice of beverage (including locally-brewed sake) and a snack. In the winter, make sure to take in the magical view of the Nebuta Snow Lanterns from the window in the evening.
The expansive park has several other structures you can visit, like horse and pony corrals and a restaurant in a traditional thatched-roof building.
A Fairytale Come True: Horse-Drawn Carriage Ride
Picture courtesy of Hoshino Resorts
Another fun activity is a carriage ride around the grounds. Aomori was historically an area where humans raised and coexisted with horses like family, which is part of local history Aomoriya continues to honor. The charming, strong horses here are well-cared for, and the friendly handlers will let you pet their soft manes, too.
The carriage takes you around the park. In the winter, there is a heat stove inside the carriage that will keep you warm. An employee dressed as a Yukinko will deliver ice cream mochi for you to enjoy during the ride.
Traditional Songs and Shamisen Performance
Picture courtesy of Hoshino Resorts
Every evening you can enjoy performances of Aomori folk songs and shamisen at a show. This is a rare chance to hear traditional Japanese singing and instrumental performance in such an intimate space. The quality of the performance is high and the performers are very energetic.
Towards the end, you can get on stage and practice the "shovel shamisen," which is, as its name suggests, a shovel played humorously like a shamisen. There is also dancing, which even the employees of the hotel join in. It is a very festive experience not to miss!
Dinner and a Show: Festival-Inspired Local Cuisine and Traditional Floats
Picture courtesy of Hoshino Resorts
For dinner, dine at Michinoku Matsuriya, a restaurant at Aomoriya serving Japanese dishes blending ingredients from the nearby ocean and mountains. The meal features regional specialties, like fresh seafood and hearty senbei (rice cracker) soup. With advanced notice, Aomoriya can accommodate guests with dietary restrictions or allergies, including vegetarian visitors.
At dinnertime, guests can enjoy a performance with music and recreations of the Nebuta Festival and other major summer celebrations with the actual floats used in the events. Be prepared to be get up and dance, as the employees and performers will invite you to try a traditional dance step used in the Nebuta Festival. The food combined with the show is a unique, once-in-a-lifetime experience.
Picture courtesy of Hoshino Resorts
For breakfast, head to Restaurant NORESORE, a buffet-style restaurant with a wide variety of Japanese and Western cuisine, fresh salad, and beverages. "Noresore" is an Aomori phrase that describes dedication, and all the carefully-prepared food here is satisfying and reflective of this principle.
Read about the restaurants at Aomoriya at the official website.
Join in the Festivities at Aomoriya
Take an adventure to northern Japan to experience Aomori's rich traditions for yourself at Hoshino Resorts Aomoriya. The festive atmosphere of the resort, seasonal events, delicious cuisine, and outdoors are enjoyable year-round and make an unforgettable experience. Visitors wanting to sightsee in the prefecture can receive advice and also join tours to try winter sports in the nearby mountains and hiking.
From the Nebuta Festival to hot springs and local delicacies, visitors can take in all that Aomori has to offer at this first-rate lodging.
Hoshino Resorts Aomoriya Official Website: https://noresoreaomoriya.jp/en/
Check room availability on this booking page.

Written by Jasmine Ortlieb
Sponsored by Hoshino Resorts
Hoshino Resorts operates hotels and ryokan (Japanese inns) in more than 40 locations. Their facilities are ideal for travelers who wish to fully enjoy the charms of Japan.
Each facility has English speaking staff who make sure that visitors from all around the world experience the full breadth of Japanese hospitality without inconveniences.
The Hoshino Resorts brands include HOSHINOYA, KAI, RISONARE, OMO, and BEB.
The information presented in this article is based on the time it was written. Note that there may be changes in the merchandise, services, and prices that have occurred after this article was published. Please contact the facility or facilities in this article directly before visiting.