Relish The Fall Colors! Five Hoshino Resorts Accommodations
The beautiful foliage is one of the best reasons to travel to Japan in the fall. We introduce five lodgings operated by Hoshino Resorts where guests can enjoy the majestic autumn leaves along with delectable dishes, hot springs, and seasonal activities.
Each season brings a completely different scenery in Japan. The fall season evokes imagery of landscapes vividly colored by the red and golden leaves. Those planning to visit Japan between October and December should arrange their lodging near famous fall foliage spots to enjoy the majestic scenery to the fullest.
Hoshino Resorts operates unique lodgings all over Japan. We introduce five facilities that are ideal for enjoying the gorgeous fall colors.
1. HOSHINOYA Fuji - Mt. Fuji and Fall Foliage
HOSHINOYA Fuji is the first glamping facility (*) run by Hoshino Resorts in Japan.
*Glamping... Glamorous camping.
Located in Fujikawaguchiko in Yamanashi, this is a facility where guests can relish the fall foliage with Mt. Fuji in the background. One of the unique activities offered here is a private fishing tour on one of the lakes at the base of Mt. Fuji. This is one of the best places to delight in Japan's idyllic fall.
HOSHINOYA Fuji, located on the hillside by Lake Kawaguchi, has cabin-type guestrooms which offer a sprawling view of the lake and Mt. Fuji.
Gingko and cherry trees in the forest display beautiful colors each season. In autumn, guests can admire the crimson-colored leaves from their rooms.
Those staying here can appreciate the serene forest scenery even while dining. Game dishes composed of deer and wild boar—alongside other delicacies that can only be sampled here—are served at this hotel.
Guests can leisurely spend their time lounging on benches and hammocks arranged inside the forest or bask at the elegant glamping facility Cloud Terrace.
Koyo Fuji Glamorous Fishing, an exclusive fall event, will be held from October 25 to November 25, 2019. This is a fly-fishing tour at Lake Motosu, a location famous for the marvelous sight of Mt. Fuji's reflection on the lake. One group (up to two people) per day can participate in the tour.
A camp will be set up by the lake with kokanee salmon served for lunch.
The fishing lessons will be supervised by professionals, so first-time anglers need not to worry. This is a unique opportunity to enjoy a luxurious fishing experience.
HOSHINOYA Fuji
Address: Yamanashi, Minami Tsuru, Fujikawaguchiko-machi, Oishi 1408 MAP
HOSHINOYA Fuji Official Website
2. HOSHINOYA Kyoto - Fall Foliage off the Beaten Track
Arashiyama in Kyoto has been drawing a large number of visitors every year with its renowned fall scenery. Although Arashiyama is synonymous with famous sightseeing spots such as the Togetsukyo Bridge, there is a particularly stunning area called Oku-Arashiyama that is a little further into the mountains.
It is not as crowded in comparison to other areas, which makes it the ideal place to quietly enjoy the colorful fall foliage.
HOSHINOYA Kyoto is a high-end ryokan (Japanese-style inn) in Oku-Arashiyama by the Oi River, nestled in the valley of Mt. Ogura.
All the guestrooms offer a sweeping view of the river. The magnificent autumn leaves are visible on both sides of the river.
The facility was designed by architect Rie Azuma. Guests can enjoy the autumn leaves in close proximity from rooms filled with the essence of Japanese architecture.
Tsukihashi is a luxurious room offering a breathtaking view of Mt. Ogura—with scenery that changes every season—and the Oi River, dotted with boats sailing downriver.
This is a room you'd want to stay in at least once to experience the real charm of Kyoto in the fall.
Asa no Momijibune is an event held from November 20 to December 5, 2019. Bonkei kashi—confections arranged to resemble nature scenery on a tray—will be served to the participants while they admire the fall foliage during the early morning river cruise.
HOSHINOYA Kyoto will have a charming fall ambience at this time of the year. If you have the chance to stay here, enjoy the season with all of your senses.
HOSHINOYA Kyoto
Address: Kyoto, Nishikyo, Arashiyama, Genrokuzan-cho 11-2 MAP
HOSHINOYA Kyoto Official Website
3. Aomoriya - Exciting Fall Events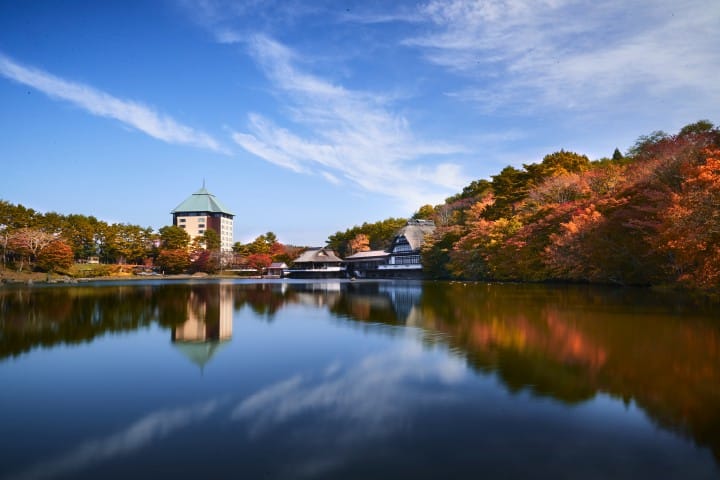 Aomori is famous for foliage spots such as Lake Towada and Oirase Gorge. Aomoriya, located in Misawa City on the prefecture's eastern side, is a Japanese-style inn with hot springs where guests can take in both the stunning scenery and the local culture vibrantly exhibited at festivals.
Aomoriya expands over about 730,000 square meters (about 180 acres) and is one of the largest properties in the Hoshino Resorts group. It offers a unique assortment of activities making use of its sprawling grounds.
One of the traditional fall events enjoyed by the Japanese locals is otsukimi (moon-viewing). The moon shines brightly during this season and many people appreciate its beauty by eating glutinous rice dumplings (dango) resembling a full moon.
Aomoriya will host a one-of-a-kind activity based on this seasonal event. The Otsukimi Carriage will tour the grounds from September 1 to November 24, 2019. Participants will take a ride on a lacquer-coated carriage decorated in the Tsugaru-nuri (*1) style inside the beautiful park of the facility.
Guests will be able to enjoy the view of the moon and the moonlit foliage while listening to traditional music played with local instruments, such as the three-stringed Tsugaru-jamisen.
*1 Tsugaru-nuri: Traditional lacquerware of Aomori Prefecture.
Aomori boasts the largest production of apples in Japan. Aomoriya will host an Apple Festival where guests can participate in an auction. There will also be lectures about the types, taste, and production of various apples, so auction-goers will be able to learn about the local culture as well.
During this period, apple juice will be available free of charge on tap at faucets located near the apple trees. Guests can savor a drink either after meals or while soaking in the onsen.
If Aomori happens to be on your fall itinerary, why not book a stay at Aomoriya and take in its unparalleled atmosphere while partaking in a host of unique activities?
Aomoriya
Address: Aomori, Misawa, Furumagiyama 56 MAP
4. KAI Matsumoto - Beautiful Fall Foliage, Wine, and Hot Springs
Nagano, traditionally known as Shinshu, has some of the best foliage spots in the Koshin'etsu Region. Hoshino Resorts KAI Matsumoto is an onsen ryokan where guests can experience the rich, natural environment, and art of Shinshu.
KAI Matsumoto is located in the hot spring resort of Asama Onsen in the northeastern area of Matsumoto City. It offers various bathing facilities where you can admire the gorgeous outdoors.
Guests can leisurely enjoy the fall scenery while soaking in the outdoor bath. Be careful not to spend too much time in the bathtub looking at the leaves as you might become dizzy.
Nagano is well-known for its wine production. When the harvest period from September to October rolls around, nouveau (green wine)—which typically circulates in the local region—is available for purchase.
KAI Matsumoto has an exclusive reservation package offering Japanese nouveau to guests checking in from November 15 to 28, 2019. It's the perfect, refined refreshment to unwind with friends.
More than fifty types of Japanese wine are available at this ryokan so wine-loving guests can have fun comparing the plentiful assortment. The elaborate menu also emphasizes local produce grown in the rich, natural environment of Matsumoto.
KAI Matsumoto offers not only stunning foliage, but excellent hot springs and wine as well. A popular destination in Shinshu, this lodging is highly recommended for connoisseur of fine food, too.
KAI Matsumoto
Address: Nagano, Matsumoto, Asama Onsen 1-31-1 MAP
KAI Matsumoto Official Website
5. KAI Sengokuhara - Scenic Hot Spring Baths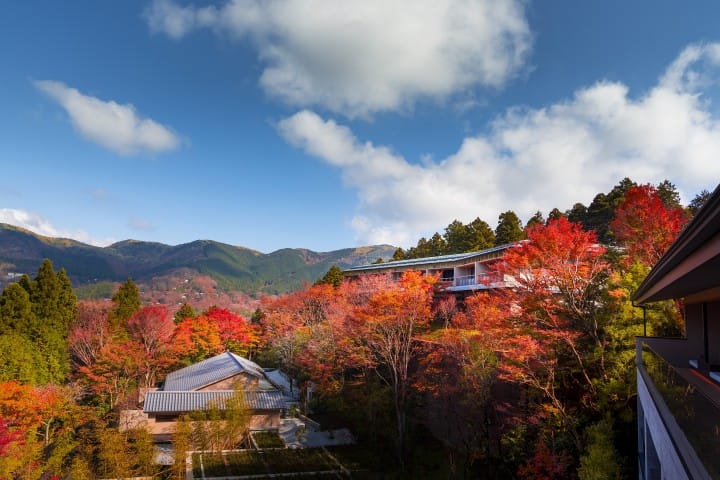 Hakone in Kanagawa is one of the premier sightseeing spots in eastern Japan. While the location is acclaimed for Hakone Onsen, it is equally well-known for fall foliage spots such as Owakudani, Hakone Ropeway, and Choanji Temple.
KAI Sengokuhara is a ryokan that allows guests to enjoy the natural environment and art of Hakone to the fullest.
While the vast stretch of swaying golden pampas at Sengokuhara Pampas Grass Fields is a unique part of Hakone's autumn landscape, the foliage also must not be missed. At KAI Sengokuhara, the pampas against the backdrop of the red and yellow trees is viewable from the lounge and guestrooms.
Be sure to take a photograph of the gorgeous field during your stay.
Hakone is renowned for its relaxing and restorative hot springs. The onsen at KAI Sengokuhara utilize opaque water drawn from the active volcanic valley of Owakudani. Some rooms come with an outdoor bath, allowing guests to bathe while looking out onto different scenery every season.
Relax in the luxurious onsen and take in the striking Hakone foliage. Staying at KAI Sengokuhara offers a chance to take a break from the city and experience something extraordinary.
KAI Sengokuhara
Address: Kanagawa, Ashigarashimo, Hakone-machi, Sengokuhara 817-359 MAP
KAI Sengokuhara Official Website
Hoshino Resorts in the Fall - A Seasonal Stay to Remember
The Hoshino Resorts accommodations offer more than just a great view of the fall foliage. They always offer superb regional cuisine, unique activities related to traditional events, and an immersion into the local art and culture.
These unmatched features will surely create an enduring memory of your fall trip to Japan. If you're planning a visit, consider one of the lodgings above for a unique stay amid crimson and golden leaves.
Written by Kazuma Takahashi
Sponsored by Hoshino Resorts
All photographs courtesy of Hoshino Resorts

Hoshino Resorts operates hotels and ryokan (Japanese inns) in more than 40 locations. Their facilities are ideal for travelers who wish to fully enjoy the charms of Japan.
Each facility has English speaking staff who make sure that visitors from all around the world experience the full breadth of Japanese hospitality without inconveniences.
The Hoshino Resorts brands include HOSHINOYA, KAI, RISONARE, OMO, and BEB.
The information presented in this article is based on the time it was written. Note that there may be changes in the merchandise, services, and prices that have occurred after this article was published. Please contact the facility or facilities in this article directly before visiting.